12/26/2012
Sting 2012 - Interviews | Videos | Photos | In The Press
12/28/2012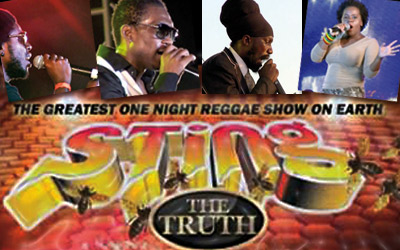 STING 2012 - The Greatest One Night Reggae Show on Earth took place on December 26th @ Jamworld in Kingston, Jamaica.
Watch some live clips of Busy Signal, Sizzla, Chronixx, I Wayne, Lutan Fyah & Etana below and check VIDEOS for more.

➜ INTERVIEWS with BUSY SIGNAL & ETANA & CHRONIXX
➜ STING 2012 IN THE PRESS...
Sting 2012: The Best In Years [Jamaica Observer]
Except for a physical confrontation between deejays Ryno and Popcaan, the 2012 version of Sting may be considered the annual show's best in recent years. The event, held at Jamworld in Portmore on Wednesday, featured tag team lyrical clashes and outstanding performances from upcoming and established acts. However, the show-stealer was deejay Busy Signal. […] read the complete article here
Varied, Successful Sting 2012 [Jamaica Gleaner]
Ninja Man officially passes clash title to Kip Rich
While Sting 2012 was built heavily around the clashes, the impending lyrical tag team involving Ninja Man, Kiprich, Merciless and Matterhorn promoted on the large stage screens throughout the over 10-hour marathon concert, the large audience (the biggest since the 2008 Mavado/Kartel clash) appreciated some amount of musical diversity.[…] read the complete article here
Out Of Many Feuds, One Clash At Sting 2012 [Jamaica Star]
Sting 2012 was built on the foundation of clashes, and despite the fact that patrons had to stand several hours to see some action, the promoters did deliver on their promise.
With several feuds in the dancehall circle, patrons expected that a clash would have been forthcoming from as early as 1 a.m., but despite the numerous name calling, no artiste dared to take up the microphone and challenge their rivals. read the complete article here


Laing May Take Legal Action Against Ryno [Jamaica Star]
Patrons looked on in shock during Popcaan's set when Ryno made his way to the front of the stage and began performing. This did not go down well with Popcaan who immediately pushed Ryno off the stage and a tussle ensued. Both artistes were separated by security personnel and after a few minutes, a militant Popcaan returned to the stage and professed his loyalty and support to their one-time leader, Vybz Kartel.[…] read the complete article here


I Did Not Run From The Clash - Macka Diamond [Jamaica Star]
"I have my usual show on Boxing Day in Kellits so I called a Downsound representative who told me I would be performing at 5:04 a.m., or 5:45 a.m. When mi look mi see 6 a.m., come and still no clash, so mi leave and go mi other show. Mi not even did aware say we did a go clash cause when mi ask, dem tell me say dem never pay mi fi clash so I wouldn't be clashing," Macka Diamond said.[…] read the complete article here