04/24/2011
Cancelled: Vybz Kartel - European Tour
04/24/2011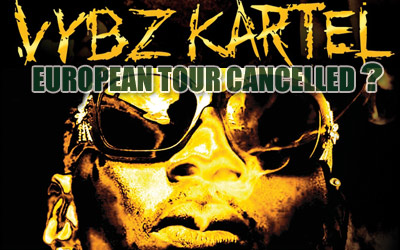 It doesn't look good for the european Kartel fans who want to see him in the next days.
It seems like Vybz Kartel will not touch ground in Europe this week to headline big events in Holland and France. The first scheduled show on saturday (April 23rd) in Lahr, Germany has been cancelled!
Also the show in Wuppertal, Germany @ U-Club on April 29th has been cancelled officially by the promoter today.
We keep you up to date, if there will be any other official statements for the rest of the shows!
UPDATE - here is the official statement about the cancellation of the tour:
Due to the fact that the artist "Vybz Kartel" did not receive his passport from the UK Embassy in Jamaica, he won't be in Europe again this week! We will try and reschedule his tour for June, 2011, when he will be touring both the UK and Europe. We are very sorry for this massive disappointment, and inconvenience to all dance hall fans, and most importantly, "Vybz Kartel" fans.