08/15 - 08/22 2012
Report: Rototom Sunsplash 2012
08/20/2012 by Valentin Zill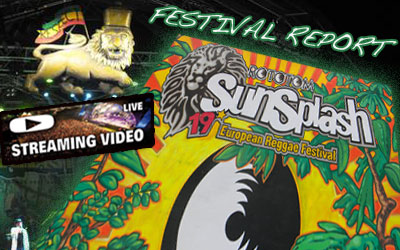 REVIEW - DAY SEVEN [AUGUST 22nd 2012]
★★★ PHOTOS HERE ★★★

If you ever asked yourself the question how one survives seven days of festival nonstop, you haven't remotely spent that much time on festivals, most probably. The one question that lingers in your head after seven days on a festival is likely the one about how you can smoothen the transition process back to your regular every day life. One step that surely helps a bit is to take stock of the festival's great moments and conserve these memories in your head. We'll do that in a bit.

As always, Reggae University goes first. Today's session has motivated dub lovers from the UK to fly here: the panel features Jah Shaka longside Neil Perch of Zion Train and Prof. Christopher Partridge from the University of Lancaster. The latter is the author of Dub in Babylon: Understanding the Evolution and Significance of Dub Reggae in Jamaica and Great Britain, From King Tubby to Post-Punk. Talking about the emergence of sound systems in Jamaica, Jah Shaka referred to them as the "media of the poor" and underlined their significance with an easy-to-grasp comparison: One tune in the dance hall could change one's evening, one's life, he said and added that it could therefore alter the lives of other people as well. All speakers agreed that reggae transports Jamaican values, is indeed political - whether explicitly or not - and characterized the genre as the "music of the oppressed".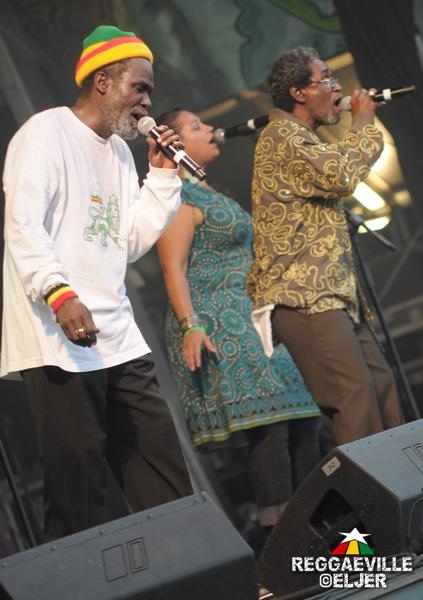 A very special treat was the Wailing Souls' performance. Winston "Pipe" Matthews and Lloyd "Bread" McDonald are the two elders who survived various line-up changes. The Wailing Souls have worked under various names with Studio 1, with Channel One, King Jammy, Junjo and others. Their show at Rototom was a rare opportunity to see them perform in Europe, and the two elders delivered. Although they did not have enough time to rehearse with the Ruff Cutt Band, the latter perfomed considerably better than the day before with Johnny Osbourne. And just like Osbourne's, the Wailing Souls' voices seem to only get better with age.

Up next was Obrint Pas, a local band from nearby Valencia. At times they sounded solemn and melancholic, providing thus the perfect soundtrack to slowly say goodbye to Rototom Sunsplash. Most parts of their set, however, were too fast, too edgy and too punky to please the general massive. Zion Train teamed up with Jazzmin Tutum and Sis Bethsabees on vocals and Fyah Brass to present their new album State Of Mind. A quite stunning show, one as thrilling as it was unorthodox. A bit too experimental for this slot and stage maybe.

The last day's headliner on the main stage was Alpha Blondy & The Solar System. As a regular guest at Rototom Sunsplash, Alpha knows what is expected of him here. Based on the number of people he draw, he seems to be a clear favorite of the Rototom massive.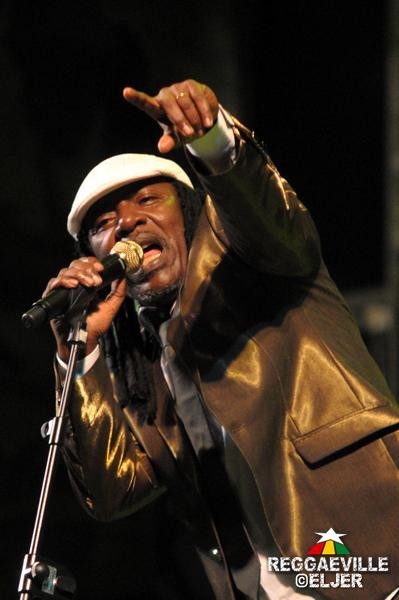 Many people had equipped themselves with self-painted banners, flags and fan merchandise. The Solar System currently tours with only one keyboard player and its brass section lacks a trumpet. Skilled and experienced as their musicians are, the concert experience was not too different from how it used to be. The Rototom crowd kept screaming for more, even after MC Lampa had closed the festival officially.

For those who still weren't tired enough to call it a day, Jah Shaka provided first class entertainment at the Dub Station - for no less than eight consecutive hours. This legendary UK foundation dub selector doesn't travel to mainland Europe too often, so for many Rototom visitors from outside the UK, Jah Shaka set yet another festival highlight.

When the sun rose the next morning - with Shaka still entertaining the Dub Station, of course -, melancholy was lingering in the air. This 19th edition of Rototom Sunsplash was maybe the most thouroughly organized festival I have ever been to, with the most interesting general program and a main stage line-up that was more than agreeable. My personal highlights this year were Beres Hammond, Morgan Heritage, Alborosie & Friends, Raging Fyah, and Barrington Levy. Much more important than the shows, however, is the general ambiance Rototom offers. This feeling of oneness and togetherness mostly, this caring about each other. Go to any other festival of shorter duration and you'll find it much more littered, you'll find people more stressed and less open. The organizers of Rototom Sunsplash want to prove that a different world is possible indeed, and the 19th edition of Europe's largest reggae festival has proven that emphatically.


REVIEW - DAY SIX [AUGUST 21st 2012]
★★★ PHOTOS HERE ★★★
So what day is today? What calendar date do we have today? Not that these questions would matter at Roto tom Sunsplash. Not at all. It's just that... Day six? It is the second to last festival day here, and the idea of leaving Rototom village to return to a daily nine to five routine seems absurd. Exactly, it is post-festival depression that kicks in now. Time to adjust my perspective: two days left equals two thirds of a standard three-day festival. And my smile comes back slowly when I check out the programm.

Time to take it slow, I think, and decide to have lunch in Benicàssim first. It's more like breakfast at dinner time, but you guess it, by now I'm already used to it. Benicàssim is a touristy place, so finding a restaurant is a pain-free process. Seafood at the seashore? Italian? Chinese? It's all there. Even Spanish delicacies can be found in some places. I skip the dessert and hop on the shuttle bus to the festival site instead, to arrive just in time for today's class at the Reggae University. Visiting professors today: Johnny Osbourne and Clive Chin. Bwoy...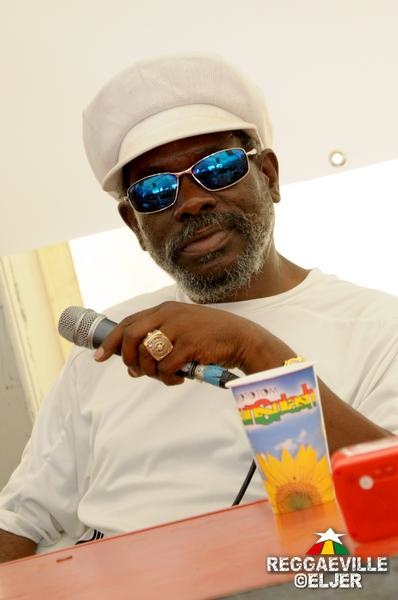 Osbourne talked about his days at Alpha Boys School - for which Rototom Sunsplash collects funds this year by selling artwork - and his experiences in Canada. He migrated there in 1969, to return to Jamaica ten years later, where he started to work with Studio 1. Chin gave a lecture on the history of Randy's/VP Records. He is currently preparing the release of more than 8,000 reels of lost tape recorded by his father and himself at Randy's. Clive Chin decided to release them after his soen Joel was murdered last year in Jamaica. For him, to do anything for Joel was to do what he had asked him to do. Chin, when talking about his son's sudden death, was not the only one inside the university tent who shed tears. The story he told was a stark reminder for all the "students" present of how ephemeral life is.

Johnny Osbourne opened the main stage on this second last festival day, pleasing the crowd with a solid performance - especially his Studio 1 set was stunning - that was only spoiled by the Ruff Cutt band. They have been playing quite a few shows here, but at this one it was too obvious that they hadn't rehearsed enough together with Osbourne. C-Sharp's show was cancelled due to visa problems unfortunately. A few cancellations per reggae festival are totally normal, and most festival organizers plan accordingly.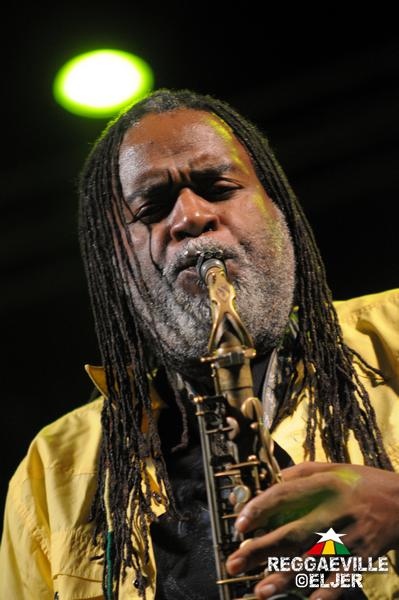 In this case however, there was no replacement for C-Sharp, so the shows just started later. With just three to five shows scheduled per day, this is a real downer.

Up next were Calle 13 from Puerto Rico. This rap duo has already won numerous South American music awards. While their appearance at Rototom might be a highlight for the Spanish speaking, for the rest it was nothing extraordinary.

Tarrus Riley and Dean Fraser were the ones who saved day six at Rototom Sunsplash. Both of them - and the Black Soil Band, of course - guarantee best musical entertainment. They easily set another festival highlight.
REVIEW - DAY FIVE [AUGUST 20th 2012]
★★★ PHOTOS HERE ★★★

On day five of Europe's coolest reggae festival, the festival routine takes over. That is nothing negative, au contraire: knowing one's way around the huge festival site speeds up things considerably, and people are taking it easy, budgeting their powers to still enjoy what is offered. Quite a lot of the more local visitors seem to have left Rototom already, so getting food or drinks has become a much smoother process. Talking about food, Rototom almost feels French in terms of the variety of international cuisine offered. The standard pizza? Go for the Italian hippies at the left corner of the festival site if you come from the main stage. Adequate nutrition for a roots festival? Opt for injera with vegetarian wot at one of two Ethiopian restaurants. If your schedule is tight, just grab it and have lunch at the Reggae University.

Today's panel discussion featured Wailing Souls, The Congos and Monica Haim, director of the Awake Zion movie that was screened after the session. It led deep down memory lane and shed light on the history of both groups. Haim's film Awake Zion looks at connections between Judaism and Rastafari.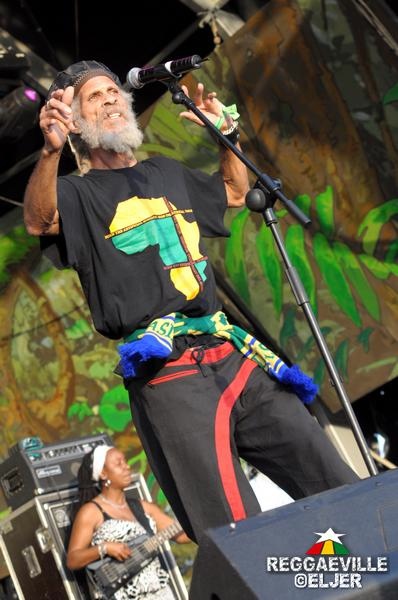 First to grace the stage on day five were The Congos. Their heavy, thick roots vibrations promised a highly enjoyable evening, one of Rototom at its very best. Backed by the convincing Charmax Band, the Congos went through their most important classics, including The Heart Of Congos and Ark Of The Covenant. After an obscenely short 40 minutes, Cedric Myton & Co. had to leave. Max Romeo took over, backed by the same band. After an initially relatively strong performance, he handed the mic over to his sons. The massive grew considerably when Max had started with War Ina Babylon, but many walked away disappointed when his kids took over. For the rest of the show, Romeo had them singing much of the lead vocals, leaving the massive with the impression that he was either too old or too unmotivated to meet the fan's expectations. As often as Max Romeo is touring Europe, one would think that a festival like Rototom would be a wonderful opportunity to prepare something more outstanding. Charmax Band meanwhile saved much of the concert experience.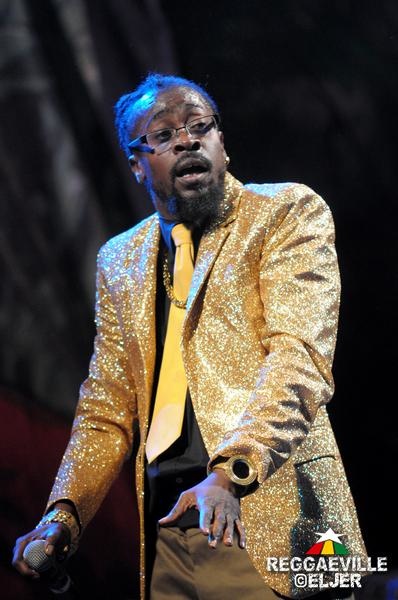 Cultura Profética from Puerto Rico celebrated their first appearance on a European stage. The turn-out wasn't to overwhelming if we take their slot into consideration, but they obviously have a faithful fanbase here already.

In the end, it was Beenie Man who got the (generally!) rather tired Rototom massive largely reunited in front of the main stage and actually dancing. Tired and hoarse from an insanely complicated travel day, he did his very best to entertain the large crowd and satisfy their party needs. Throughout his set, he accelerated the pace continually. For the dancehall-loving part of the Rototom family, Beenie's performance should have been the icing on the cake. And Black Chiney and Shashamane International in the dancehall area made sure the party had just started.
REVIEW - DAY FOUR [AUGUST 19th 2012]
★★★ PHOTOS HERE ★★★
Most festivals would be over by now, at Rototom, it's not even half time yet. Post-festival depression has not yet kicked in, but it already takes some effort to keep it away and focus on what is left to enjoy. Fortunately, day four greeted us with some clouds and five degrees Celsius less than the previous day. What a most welcome relief!

An excellent day to check out the program offered at Rototom's Sun Beach, to take dancing lessons there or simply enjoy the music provided by some sound systems. [watch a video of SunBeach here] Refreshed by the Mediterranean Sea, it is time to hop on the festival shuttle to make it in time.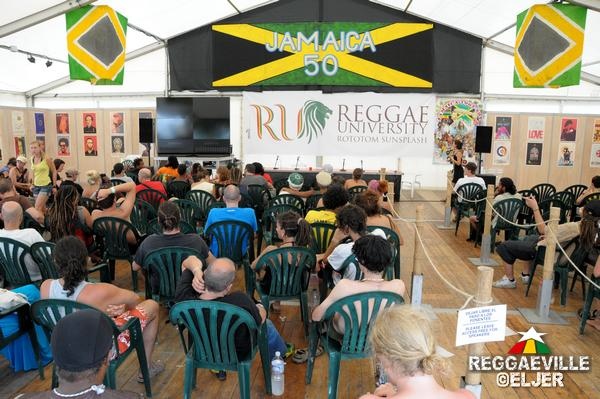 The daily Reggae University sessions start at 6PM. Today's guests: Raging Fyah, Stone Love's Rory and Storm Saulter, the director of the Better Mus Come movie. Unforeseen problems with the computers available led to an interuption of the scheduled film screening. The university students took it easy - soon come - and enjoyed the panel discussion first. Storm Saulter talked about his interest in World War II and Cold War history that ultimately led him to direct Better Mus Come. He linked the events last year in Jamaica around Dudus Coke to the Cold War and its proxy wars. Raging Fyah and Rory talked about the emerging roots reggae renaissance in Kingston, underlining that the talented people are there, but need support to get more national and international exposure. Upcoming talent Jah9 could not attend the panel, as her visa request for Spain had been denied.

Four days earlier than scheduled, Etana took to the stage. Backed by the compelling French band Dub Akom in their best form, she performed material from her albums The Strong One and Free Expressions, before she turned to the mandatory tribute-to-the-legends part of the show. Etana ranks easily amongst Jamaica's most talented vocalists these days, why she was given such an early slot remains a mystery. Jah Mason followed suit, but couldn't keep up with Etana - she had risen the bar so high that it took one Barrington Levy to further impress the audience. Mason was also backed by Dub Akom.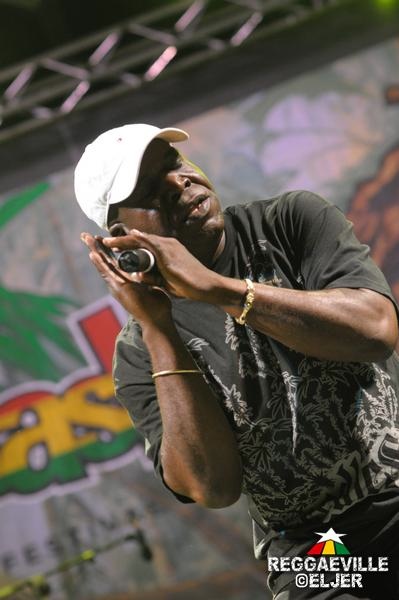 Similar to Beres Hammond on the first night of the festival, Barrington skipped through his boom tunes without too many interuptions. His voice hasn't suffered at all through the years. Barrington owned the crowd from the first tune on and delivered day four's concert highlight. Since the schedule here is not as tight as on other festivals, Rototom gives you enough time to relax and enjoy. Not missing anything while the shows are on means that there is plenty time to link up with friends, with artists, sound systems, hardcore reggae fans, collectors and festival junkies. Just walking around the festival site for half an hour proves that it is mostly key figures of the various European reggae scenes congregating here. Many attend other festivals, go to concerts regularly and live reggae every day. Rototom is the perfect place for networking and meeting like-minded people, Rototom is the European reggae music fair.

The UK's greatest Steel Pulse closed the main stage today. While their set list was close to my expectations, their performance was not. No, it wasn't boring or sleepy or unmotivated. It just lacked that last 1% that lets a show stand out. Many fans were a bit disappointed, and rare enough are the opportunities to see Steel Pulse perform in mainland Europe.

Coppershot Sound and One Love Hi Powa entertained the dancehall aficionados the whole night long.
REVIEW - DAY THREE [AUGUST 18th 2012]
★★★ PHOTOS HERE ★★★
96 degrees in the shade? Benicàssim offers a bit more than that on the third day of Europe's biggest reggae festival. The merciless heat and the high humidity almost force the people of Rototom Village to start the day tranqui, as they say in Spain.

The heat was still unbearable when Niney the Observer longside Michael Rose opened the day's Reggae University session. Both legends provided their hungry audience with lots of food for thought, spiced up with anecdotes collected in decades at the heart of the reggae business. Niney talking about working with Lee "Scratch" Perry, Dennis Brown and King Jammy - that is edutainment at its best.

The main stage line-up was a bit on the weaker side, but only if we're taking Rototom's superior standards into consideration. After the Bluebeaters, the winners of this year's European Reggae Contest, Irie FM from Serbia took to the stage.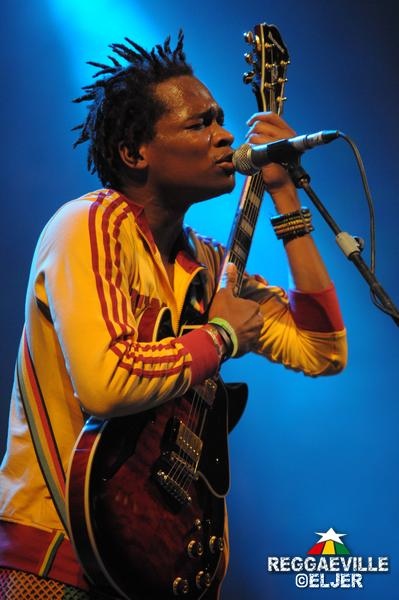 The main stage massive grew considerably when Raging Fyah, hyped rightfully as the spearhead of the more recent Jamaican roots reggae renaissance, started their first ever show in Spain. Raging Fyah are currently touring Europe for the first time, and the reception has been huge everywhere so far thanks to intensive media coverage all over the continent. The relaxed, confident and optimistic vibes they spread on stage perfectly match the uniquely laid-back ambiance of Rototom Sunsplash. Rebel music played by rebels for rebels - the sense of unity created by them could literally be felt. "We are one with ourselves innah Raging Fyah!" They didn't leave the stage without an encore, proving that Raging Fyah already deserves headliner slots. And they deserve such a dedicated crowd. Asked whether they prefer Jamaican festivals to the big reggae festivals in Europe, Raging Fyah didn't have to think long. "No. No. This is it!"

You have to expect the unexpected at festivals, and although Rototom's organization seems superior to most other festivals in Europe, changes in the schedule can't always be avoided. Marcia Griffiths had to switch her headliner slot with Freddie McGregor. Griffiths can obviously assess her contributions to reggae music reasonably and knows where she stands, so she took it with grace and delivered. Backed by the Ruff Cutt Band, she presented an array of her own material. The crowd went mad when she continued with a set to pay her tribute to the foundation legends, including Desmond Dekker's Israelites, Millie Small's My Boy Lollipop and Toots' 54-46 Was My Number. She interrupted her performance every know and then to lecture a bit on Jamaican music history, being well aware of this year's motto at Rototom: 50 years of Jamaican independence. Time to call two sons of Jamaica's greatest legends ever on stage: Andrew Tosh presented his father Peter's greatest classics, before Ky-Mani Marley took over with a set of Bob Marley's musical heritage. The best moment, however, was the Wailers' tribute by Marcia, Andrew and Ky-Mani together. It's these moments that separate Rototom Sunsplash from those other festivals, mainly.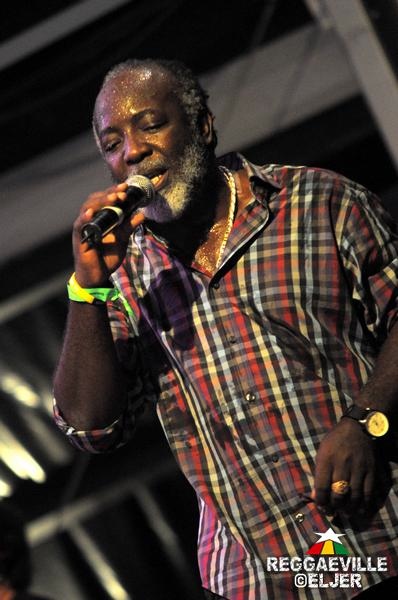 Another highlight for many was Freddie McGregor's appearance. Also backed by Ruff Cutt Band, he went through a bit of his classical and more recent material - from Africa Here I Come to I See It In You, before he reminded the crowd of Alton Ellis (Let Him Try), Derrick Harriott (The Loser) and, of course, Dennis Brown ( Here I Come). His show came to an end with Wings Of A Dove, to the massive's greatest appreciation.

The night was still young, though. Rory of Stone Love provided royal entertainment in the dancehall area. Unfortunately, Jamaican shooting star Jah9 could not attend as her visa request had been refused. As far away as Babylon seems from Rototom, from time to time you'll get reminders...
REVIEW - DAY TWO [AUGUST 17th 2012]
★★★ PHOTOS HERE ★★★
On a festival of such long duration as Rototom, one can't party every day as if there was no tomorrow. You need a rest day every now and then to recharge your batteries. Don't expect such a day off on weekends, though. Rototom's second day fell on a Friday, and many Spanish people who don't live to far away from Benicàssim decided to support the strong massive here for the weekend.

Most people here decide to start their day at the beach, and beaches are plenty here. Those looking for a tranquil spot away from it all settle down a few hundred meters away from the festival's official beaches, which are obviously the first choice for those party animals who never feel the need to relax. Dancing under the hot Spanish mid-day sun is not everyone's favorite activity.

In the meantime, just about 20 minutes by bus from the beaches, the Reggae University people prepared their tent for more intellectual entertainment. Today's focus was on the women in Jamaican music. With Marcia Griffiths, Etana and Tanya Stephens, three of reggae's most talented queens from different generations discussed the difficulties women face in Jamaica's male-dominated music scenes. Marcia Griffiths, the grande dame of reggae music, recalled that when she started her professional career, her and Hortense Ellis were the only ladies in the business. She thanked Bob Andy for being a highly supportive father figure to her. Later on she added that she was proud and honored that I-Wayne calls her his biggest musical influence. "Most definitely, [the business] is no longer male dominated", she closed.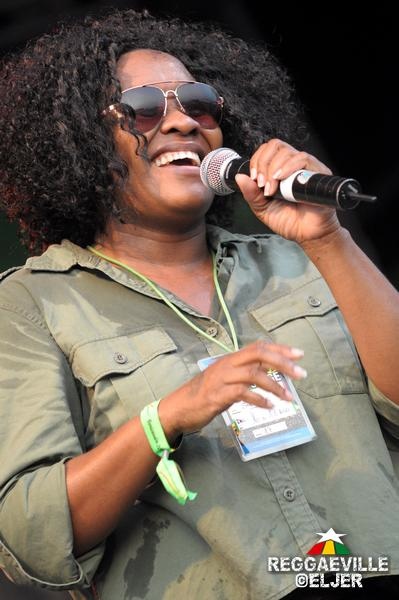 Tanya Stephens opened the second night's main stage with a huge performance. Whether she sang her greatest hits, newer material or paid tribute to the legends with classy interpretations of tunes like Gregory Isaac's Night Nurse, the stunned audience couldn't get enough. No less a pleaser was Michael Rose. Especially his Black Uhuru material made the massive scream. Talking about the public here - it was considerably more difficult to find a decent position to watch the concerts than yesterday. Stocking up on drinks before Alborosie entered the stage was a wise idea. For Pupa Albo, Rototom is almost a home game. Rototom Sunplash moved from Italy to Spain three years ago after quite some trouble with the Italian law authorities, but since they brought most of their original staff, the festival is as Italian now as it is Spanish.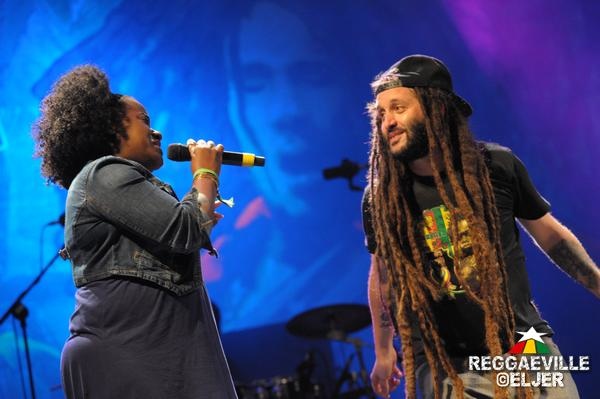 Alborosie didn't forget to mention that he, just like the festival, has no intention to feel intimidated by the Italian executive. His very appearance on stage had him owning the massive. Thanks to his Patois, Italian and Spanish skills, his connection to the Rototom massive seemed closer than that of most other artists. Especially stunning were his opera singing skills, an eclectic and surprising averment of his Italian roots. Albo underlined his status in the European reggae scene by presenting an all-star show featuring Michael Rose, Etana, Ky-Mani Marley and Ikaya. His backing band, the Shengen Clan, was in top form, turning this rare all-star slot into another unforgettable festival highlight.

Thus warmed up, the party simply continued on the various other stages the festival offers. For many visitors, the Dancehall Area was the first choice. RDX, Northern Lights and Urtica Sound showed the Rototom massive how to party Jamaican style.
REVIEW - DAY ONE [AUGUST 16th 2012]
★★★ PHOTOS HERE ★★★
Tropical heat, intense sunshine, reggae music on every corner and ganja smoke wherever you are: the geographic distance between Benicàssim and Kingston seems to have melted down to mere kilometers. People from all over the world are heading to this unique highlight of the festival calendar, and at air travel hubs, at rest stops along the highways closer to Spain and in trains towards Benicàssim, a quick glance is often all it takes to identify like-minded people heading to the same destination.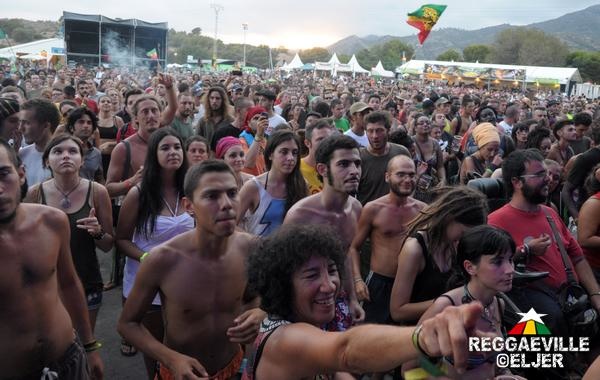 Benicàssim itself seems almost quiet compared to other festival towns, and in parts that is certainly due to the relaxed feeling of being on vacation that most visitors bring. However, the closer one gets to the festival site, the more euphoric facial expressions get. Everyone enjoys Rototom's unique ambiance. This festival seems bigger and better than most others in Europe, yet few are as stressless as this week-long dreadlock holiday attended mainly by people who see reggae music as a constituent part of their life.

The first be-there-or-regret event of this year's edition was a Reggae University session with the very special guests Sly Dunbar, Tyrone Downie and Derrick Morgan. Presented by David Katz and the editors in chief of RIDDIM magazine, Ellen Köhlings and Pete Lilly, the foundation legends obviously had a lot of fun recalling the early days of reggae music and reflecting the role of their works in the context of Jamaican independence and the country's development ever since.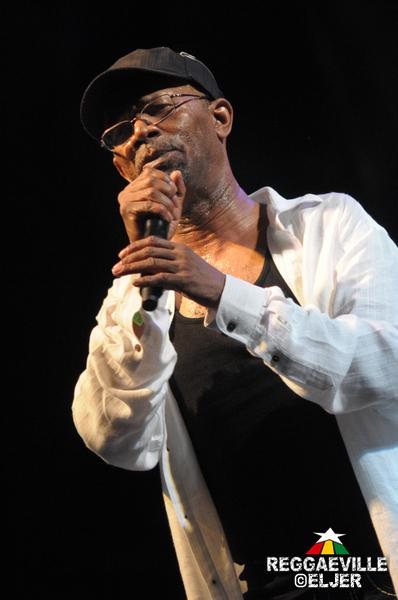 Derrick Morgan opened the main stage shortly after with a nice set of classics, before Beres Hammond took over. Beres hasn't really toured mainland Europe much in the last years, so for many visitors his performance was a rare chance to catch up. And bwoy, did he deliver. Backed by his Harmony House band - easily the tightest I have seen in years - Mr. Soul Reggae shot sharp with super hits non stop, without pull-ups. He never sang more than a few verses of each - the encore beeing a welcome exception, though. While Beres' voice has become a bit more raspy over the time, he seemed incredibly energetic for his age. He competently toasted Buju Banton's part of Who Say with a rarely shown rough edge in his voice. The massive support he got from his background choir and horns section was an additional icing on the cake, as Hammond clearly still has the power to entertain any crowd with nothing but his own voice. A dirty rock guitar solo towards the end of this early festival highlight underlined that this was one of the rare shows were people still talk about years later.

The package Jamaican Legends feat. Sly & Robbie together with Ernest Ranglin and Tyrone Downie, kept up the stunning musical quality of Rototom's first night. Robbie Shakespear's elaborate, extravagant bass lines, Sly Dunbar's powerful and sophisticated beats, Ernest Ranglin's stunning guitar melodies and Tyrone Downie's piano tempests satisfied even the most discriminating connoisseurs. The undisputed highlight of their performance was Bitty McLean's appearance - as young as he still is, this British gentleman par excellence already deserves full headliner slots. Bitty reminded the Rototom massive of the 50th anniversary of Jamaican independence from the UK as well as of Marcus Garvey's birthday. Bitty left the stage way to early.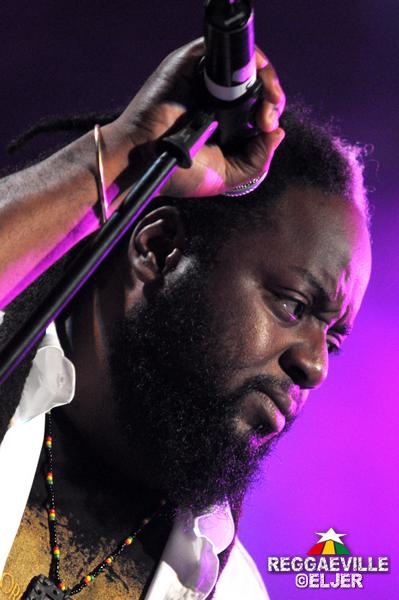 The reunited Royal Family of Reggae, Morgan Heritage, proved that they are back for good with a splendid show. They hadn't played in Spain for several years and presented their excuses for that. Each family member got their time to shine, but all of them together establish a musical force that tears down everything. It felt like a relief to have Morgan Heritage back, and they seemed to enjoy it themselves to the fullest. Daara J and Gramps' son Jemere Morgan were invited on stage as special guests, both got huge forwards.

The first night's dancehall highlight were the Jugglerz feat. Baby Cham. Shotta Paul and DJ Meska (ex Sentinel Sound) entertained the crowd until six in the morning - right on time to catch the first shuttle to the city of Benicàssim.
★★★ PHOTOS HERE ★★★
WATCH THE LIVE STREAM DAILY FROM 8PM CET