03/30/2018
Anthony B, Romain Virgo & Junior Kelly @ Reggaeville Easter Special 2018
02/01/2018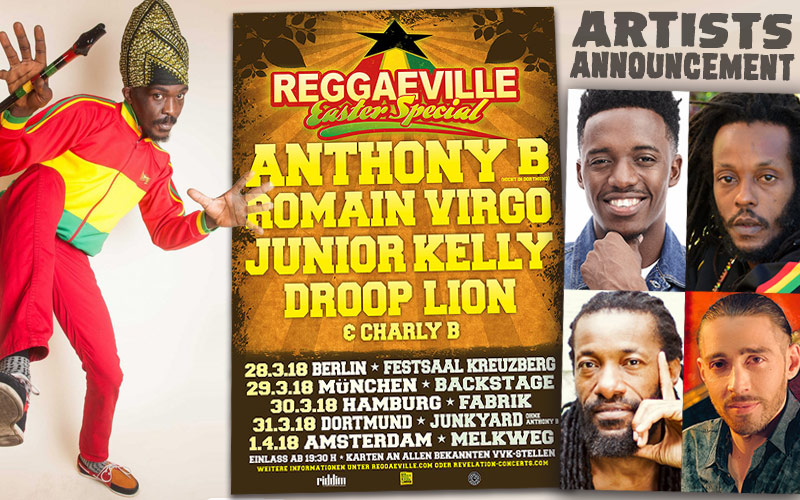 We proudly present the line-up for the 6th edition of the Reggaeville Easter Special concert series:

✘ Anthony B & House of Riddim (not in Dortmund)
✘ Romain Virgo & Unit Band #LoveSickTour
✘ Junior Kelly
✘ Droop Lion
✘ Charly B
✘ Jugglerz (only in Dortmund)

DATES:
March 28, 2018 in Berlin, Germany @ Festsaal Kreuzberg
March 29, 2018 in München, Germany @ Backstage
March 30, 2018 in Hamburg, Germany @ Fabrik
March 31, 2018 in Dortmund, Germany @ Junkyard
April 1, 2018 in Amsterdam, The Netherlands @ Melkweg

After one year hiatus we will be back in Berlin and for the first time we will make a stop in Amsterdam @ The Melkweg.

Romain Virgo recently announced his new album LoveSick to be released on March 30th and he will kick off his LoveSick Tour in Berlin.

Make it a date, get your tickets early and get ready for good vibes!