04/20/2014
Review & Photos: Reggaeville Easter Special in Hamburg - April 20th 2014
04/24/2014 by Gardy Stein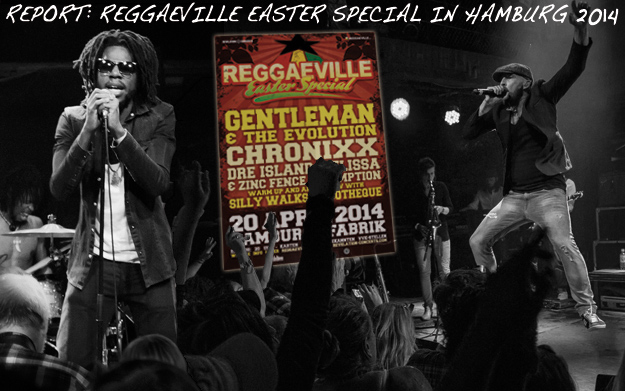 Oh, how time flies! Has it really been 12 months already since we enjoyed the last Reggaeville Easter Special? Let's slow down a bit to review the moments of this year's edition of the event that brought to us a whole festival-load of artists.

➜ VIEW THE PHOTOS HERE

Easter Sunday, 8:30pm: arriving at Fabrik in Hamburg, first thing that catches our eye is the huge tour-bus of the Dread & Terrible Team. To the disappointment of many photo-hunting fans, it had already been stripped off its excellently designed artist-stickers, since this was their last show of the tour. But who needs stickers if the stars of the night can be seen live?

With a little delay, the Zinc Fence Redemption Band rushed on stage and opened the show at 9:20pm with the question "Hamburg, do you love Reggae Music?" Of course, the answer was a whole-hearted YES to which Kelissa entered the scene and started the evening with Slow Down. Contrary to this pledge, she ploughed through her set of six songs in less than 20 minutes, leaving the people to wonder what had hit them. The petite singer impresses with a strong voice and a conscious message, things that seem to be basic requirements to become part of the Dread & Terrible Project.


The next member of the team meets both. When Dre Island took over the mic and beamed his gorgeous smile at the audience, I'm sure my heart wasn't the only one skipping a beat. Although the trained pianist presented five songs only (of which Reggae Love proved to be the catchiest tune for me), he took the chance to fill every minute of his performance with a special vibe, inviting everyone present to go to Jamaica with him. Who would refuse that? His appearance was over much too quick - good thing this talented young artist has an EP coming up, aptly entitled Now I Rise, that will hopefully prepare the ground for a solo-tour in the near future!

In the meantime, both drummer Elijah Allis and percussionist Hector Lewis (who acted as moderator, presenter and background-singer as well) had gotten rid of their T-Shirts - a clear sign that they had warmed-up enough for "Mr. Trouble" to take over. Without much ado, the long awaited Chronixx started off his show, clad in black pants, shirt and sunglasses. The first three songs were quickly unreeled; worth mentioning here is the harmonious drift into a dub part in Start A Fyah, where Joshua Jones on bass, Evan Mason on keys and Nnamdi Robinson and Stephen Coore on guitar excelled. There must have been a genius on the mixer too, whose name I didn't find out, though.

When the massive went wild with the chorus of Ain't No Giving In, I expected a first pull-up (which didn't come). No big deal, but I was really astonished when Smile Jamaica was played through from A to Z without stopping. No Intro mentioning local heroes and riddim producers Silly Walks? No Pull-Up? No sing-along with the audience? How easy it was to make the location burn showed the next song: Here Comes Trouble finally saw the pull-up, jumping and shouting needed for the real concert feeling. This is what we came for! Very aesthetically, Chronixx extended the piece into versions of Jah 9, Jesse Royal and Iba Mahr, ending up in another dub-session with covers of World A Reggae and Promised Land before coming back to the frenetically chanted chorus "Left, right…".


After three more songs and a total of around 40 minutes stage time, Chronixx and his band left for good. Technically and vocally perfect, his set was certainly a joy to listen to. Vibe-wise, however, something seemed to be missing. The unintrusiveness that makes the 21-year-old such a likeable artist in normal circumstances weakened down to a feeling of distance in this show. Of course, there are reasons that can serve as an excuse for this impression (it was their last show of the tour; they had to go back to Jamaica that same night; the schedule was unusually tight with Gentleman coming up…), but still it's a pity that he didn't use the full potential of exchanging the love and passion people had ready for him.

After a short intermission, Gentleman and The Evolution did exactly that - they stormed stage and made the audience release the energies that were yet untouched. Singers Treesha and Tamika started the show with two of their own tunes, in the wake of which Gentleman filled the next hour with songs that everyone present seemed to know and love. Entertainer to the core, he kept up a heart-warming communication with the massive and his band, taking his time to introduce every member of it. He also kept asking for applause for Chronixx and his crew and, as a prelude to his serious It No Pretty, he talked about the experiences he had recently made in Ethiopia, recommending the work of Viva con Agua, whose efficiency he was able to experience in situ. "We can't imagine what it means to live without water." the singer pleaded, "So please support their projects, because in this world, we are all connected!"

Definitely, a feeling of connectedness had spread to every corner of the sold-out Fabrik by now. Lighters, arms and voices were lifted to sing along Gentleman's tunes, and as if to top all that, he still had a surprise for us.
Announcing him as "one of the most underrated artists in Jamaica right now", he called Torch on stage, who did a breath-taking rendition of his Good Reggae Music. After another round of vibe-explosion with Dem Gone (yes, it still works!), Superior and Heart Of A Rub A Dub, the concert came to an intimate close with a vocal interpretation of Redemption Song to which the crowd chimed in. Pure niceness! With all these wonderful artists in our ears, the evening was far from being over. Attention shifted to the DJ-desk, where Joscha and Olli (Silly Walks Discotheque) did their very best to keep up the vibes till the early morning hours.

Waking up Easter Monday after a few hours of sleep, the impressions and the music of last night are still very present and make me smile while I hide some Easter Eggs for my kids, humming Me Nah Follow Nobody to myself. And I realize once more that Kelissa has created the perfect soundtrack for our hectic times: Slow Down!

Slow down to fully enjoy the moment, your friends, family, spring… and music. A big shout-out to the artists who make our life richer every day!

➜ VIEW THE PHOTOS HERE