02/03/2021
Reggae Wednesdays Series Remembers Colleagues with special Tribute Show
01/27/2021 by Press Release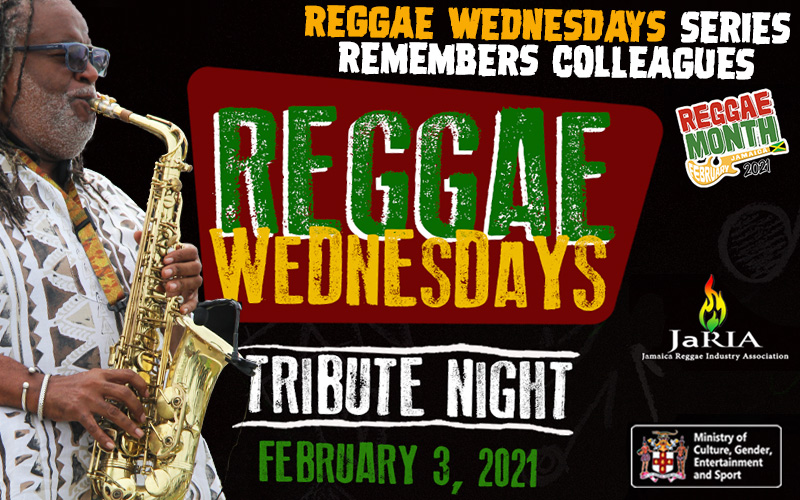 REGGAE MONTH 2021 LIVE STREAMS HERE

Reggae Wednesdays opens on February 3 with a special tribute to the over thirty members of the music and entertainment fraternity who transitioned over the last year. This show will pay homage to their lives through a celebration of their musical contributions from a stellar lineup of performers led by Dean Fraser and the All-Star Band featuring performances by Sarina Constantine, Droop Lion, Roots Percussionist, Tony Curtis, Pam Hall, Dubwise, Cassanova and Lacadco, among others.
Reggae Month Committee Chair of the JaRIA Board, and Entertainment and Talent Manager of Bebble Rock Music – Abishai Hoilett reflects – "our final Reggae Wednesday concert in 2020 saw us end the month on a high with a headlining performance from the Legendary Toots Hibbert. Here we are, a year later paying tribute to him and a host of other stalwarts and worthy contributors to the culture and industry of Reggae. In a lot of respects, we approach the month with a heavy heart as we continue to ponder on the ones we have lost, their contributions and magical moments shared. It is an honour to have the opportunity to help to bring about some sense of peace, hope and love for the Reggae Family yaad and abroad."
The first in the series of concerts for the month will be produced by Truckback Records producer and bass player Steve Locke, Tribute Night and will be hosted by Debbie Bissoon. The Tribute Show celebrate the lives of Toots Hibbert, Lyford "Hux" Brown, Keith "Bob Andy" Anderson, Edward O'Sullivan "Bunny" Lee, Gamal Jawara "Tosh I" McIntosh, Drew Keys, Yvonne Sterling, Frederick "Tippa" Moncrieffe, Courtner "Likkle Wicked" Boyd, Henry "Mr. Chicken" Dwyer, Labba Labba, Anthony "Purple Man" Jones, Hartley "Pad" Anthony Wallace, Bobby Digital, Barry O'Hare, Dalton Browne, Dobbie Dobson, Richie "Mac" McDonald, Webby Jay, Father German, Millie Small, Sam Clayton, Andy Capp, Count Shelly, Gil Bailey, Johnny Nash, Sis Charmaine and Warren Smith.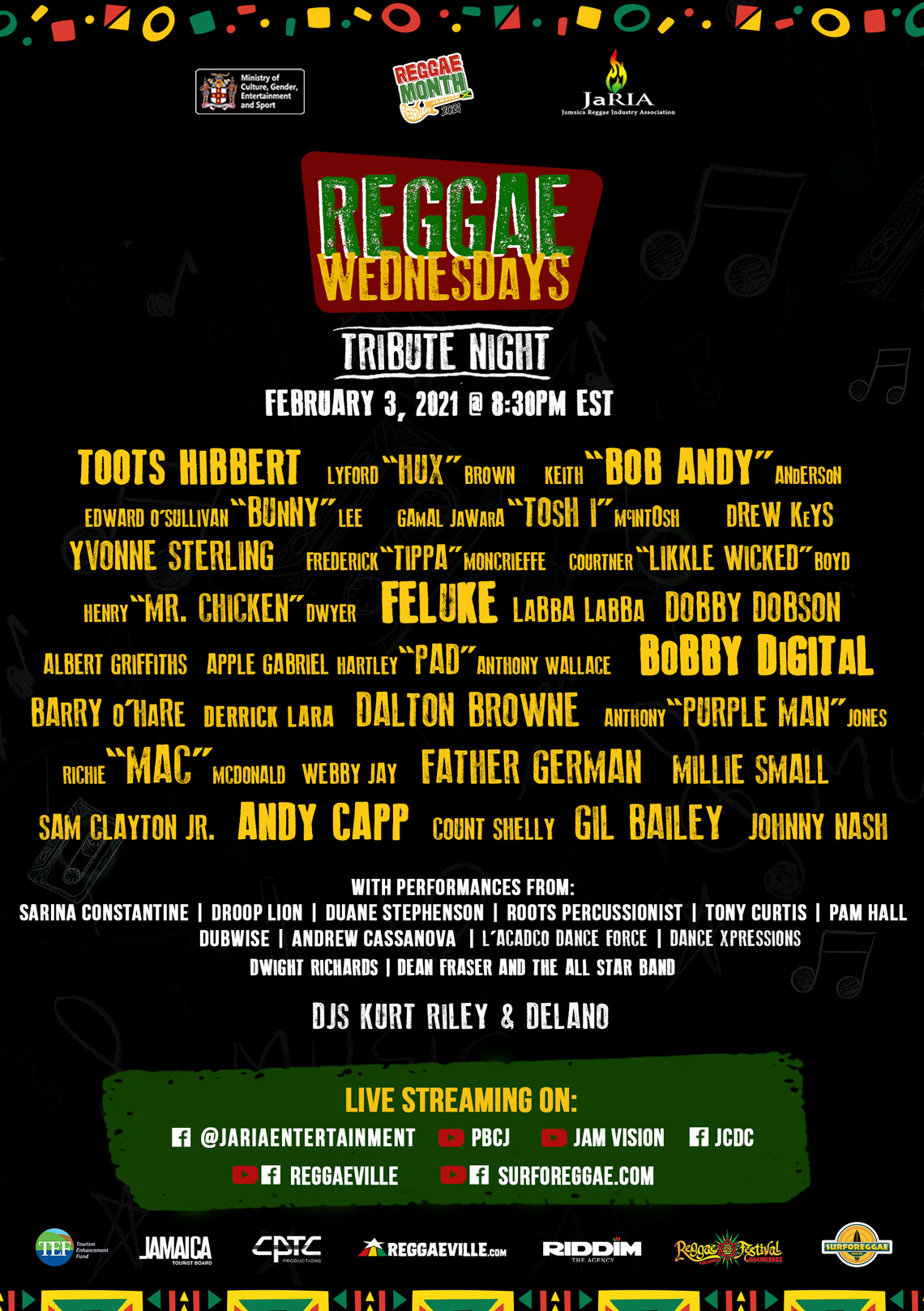 The Reggae Wednesdays 2021 series are presented from the CPTC Studios through the support of the Ministry of Culture, Gender, Entertainment and Sports, executive producer, and main sponsor of Reggae Month. JaRIA's Signature events continue on Thursday February 4 with its' first Reggae Open University which will explore the state of the music and entertainment industry in a pandemic and share best practices for survival with presenters Walshy Fire of Major Lazer, PM Youth Awardee for Culture Saeed Thomas of M-1 Productions, Martin Price (OneRPM) and Keith Kirk exploring the importance of Metadata and having proper music catalogues.
The event will be streamed live at the Reggae Month official platforms - PBCJ YouTube | Jam Vision YouTube | JCDC Facebook. See all Reggae Month events at the official Reggae Jamaica App [ANDROID / iOS] and JaRIA updates at JARIAENTERTAINMENT.com.
JaRIA's Signature events are sponsored by the Ministry of Culture, Gender, Entertainment and Sport and partners the Jamaica Tourist Board, Tourism Enhancement Fund, CPTC and the CHASE Fund with further support from international media partners Reggaeville, Reggae Festival Guide, SurfoReggae and Riddim Agency.

REGGAE MONTH 2021 LIVE STREAMS HERE