08/02 - 08/04 2019
Reggae On The River 2019 Line-Up Announcement - Sizzla Cancelled!
05/25/2019 by Reggaeville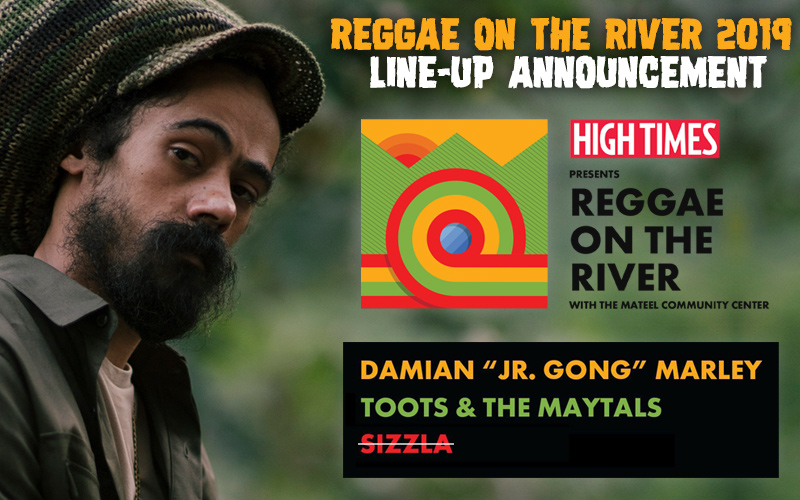 Reggae on the River (presented by High Times & Mateel Community Center) has announced the first names for the 2019 edition. The 35th edition takes place at French's Camp, Garberville. California from August 2 - 4, 2019.

The announcement on Thursday (May 23, 2019) revealed the headliners Damian Marley, Toots & The Maytals and Sizzla.

More artists are circulating on social media like Anthony B and The Gladiators feat. Droop Lion, but they are not officially confirmed. Only Kabaka Pyramid is set as you can see from his video message on top of this news.

A great line-up for the first announcement, but only two days later, Sizzla has been pulled off the line-up!
The Eureka Times-Standard headlines
HIGH TIMES CANCELS SIZZLA at 2019 REGGAE ON THE RIVER
"The Times-Standard has confirmed today with High Times Productions that the company has canceled Sizzla's performance. […] As recently as 2018, a Sizzla performance scheduled at the Mateel was canceled after outcry and a vote by the board of directors. […] The Mateel Board of Directors released a statement Thursday evening stating they have no control over the acts selected for the Reggae on the River show." READ THE FULL ARTICLE @ TIMES-STANDARD.com

The cancellation left many fans upset... on Reggae On The River's Instagram post the user rasceylon wrote: "Sizzla gave a beautiful and positive performance in 2016 @reggaeontheriver and now u gonna submit to political agendas and cancel him???? Come on @hightimesmagazine y'all better than this!"

Watch the full performance of Sizzla Kalonji @ Reggae on the River 2016 here: