07/29 - 07/31 2016
Festival Report - Reggae Jam 2016
07/30/2016 by Gardy Stein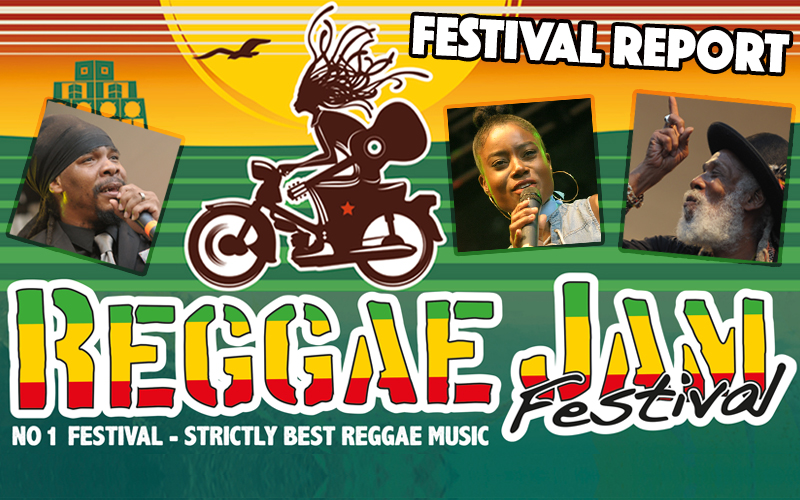 Day Zero - Thursday, July 28th 2016
WHERE HAVE ALL THE WHISTLES GONE?
Back home! When, once a year, thousands of colourful people invade the small town of Bersenbrück, when the bass wafts over the fields of northern Germany, when international singers, musicians and soundbwoys arrive hourly, it's Reggae Jam time. Time for the Reggae family to reunite and celebrate the music we love!

Wednesday is bustling with activity already. People try to secure the best camping spots (which is difficult, because wide areas around the school have been fenced off) while the crew is busy setting up everything from sanitary facilities to stages and stalls. With all in place and sorted out, there is ample opportunity to chat with friends and re-discover the festival surroundings.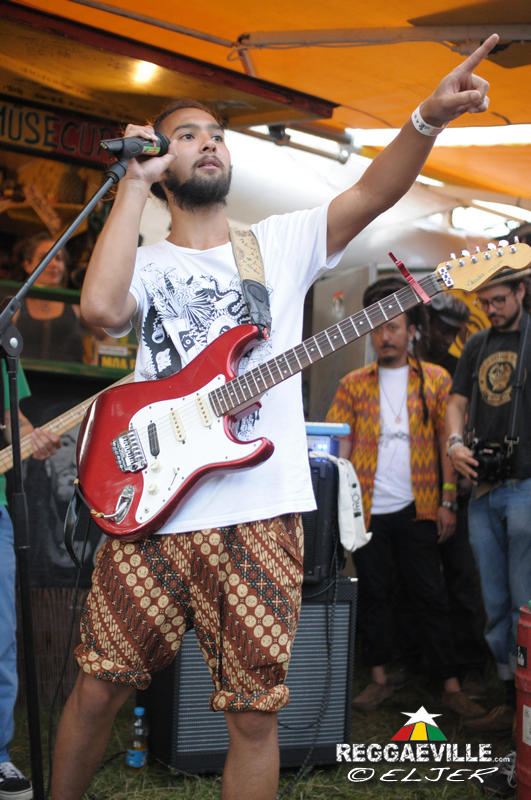 Thursday morning starts relaxed. The first fixed date is 7 pm at Sandwichmaker: a showcase with Toké and the SoulTree Collective longside Ras Muhamad and Trixstar are announced in the printed festival program. And since the corner at Sandwichmaker is the closest a European equivalent can get to Vinyl Thursdays in Kingston, there are more surprise guests showing up to hold a vibe. Rassi Hardnocks knocks it hard, chatting away on the live riddim the SoulTree Collective provides, and then gives it over to Amlak Redsquare who had just reached the area an hour earlier. Freestyle session!

Moving on to the Dancehall tent, the traditional Opening Party is about to break loose. Exceptional chief-organizer Sheriff welcomes the guests from near and far and announces Tippa Irie, who is one of the finest opening acts I've ever experienced. In less than a minute he has the tent boiling, to which both the temperatures and the contagious spirits the artist contribute. From early Dancehall over Foundation riddims to modern tunes he plays an amazing set, sharing out some anxiously grabbed copies of his hot-off-the-press album Living The Dream. General Levy takes over mic and vibes, and soon the happily dancing massive is covered in sweat. While a strange creature called Hugo Hard appears hooded and masked, the cool outside air is a wonderful refreshment and invites for a stroll. Our feet follow their own will and carry us to the Dubtent, where we enter the bass massage. Roots Plague and Chalwa Sound are on the controls, supported by a powerful female singer called Nish Wadada, who announces her full showcase for Saturday night. On the way back to our tent I muse about this evening's musical experiences, and something that I've unconsciously realized before strikes my attention: neither at the live session at Sandwichmaker, nor at the Dubcamp, nor even at the Dancehall-Tent I heard whistles. Well, I heard one while General Levy was on stage. What happened? 20, 15 or even 10 years ago, no party was held without a least a handful of folks that made your ears ring with the sound of shrill, excitement-inducing whistling...


FESTIVAL REPORT: VIDEOS | PHOTOS

Day One: Friday, July 29th 2016
A GOOD START
Sunshine is here, people wake up slowly and start the day with a breakfast of Ackee and Saltfish at Pelican's (in my case), a bath in the Hase river or a few body-loosening moves at the Dubtent. A guest DJ from New Zealand called Hawk-I is selecting and plays a wicked Dub version of the Tenement Yard riddim which provides a fine soundcloud to hover over to the festival area. Everything is on time: at 5:30 sharp, Ganjaman opens the stage in his usual likeable manner and draws the people who are arriving in ever bigger numbers closer. And since Reggae Jam is a people's festival, we want to make you have your say in this review. So, after every showcase, there'll be this Reggaeville reporter asking you questions - share your thoughts!

The opening act is a sharp contrast to last night's. Asked for their opinion on the band Staxx who seem to cover every song from Green Day to Nirvana, two friends lounging in the grass say: "I've never heard of them. They are ok while we are sitting here, but I didn't come to see them. We came to see Chronixx!" That's an answer I get to hear often today.

The crowd that turns to the left stage has grown considerably, and they send a warm welcome out to Nattali Rize and Band who took the long trip from Australia to play for us. She is an energetic performer and impresses as much with her vocals as she does with a sexy drum interlude. Not many people know her, but they like what they see, as two people confirm. A man adds: "I knew her before, but I've never seen her play live. It's great!"

Turbulence inherits a good-spirited crowd and rocks them with tunes like Freedom and Ethiopia Awakes, while taking his time to talk to the crowd in between. "There is too much killing in this world, we should live in love. Stop killing each other, stop looking at colour. When I see people, I don't see colour, I see people. Bun racists!" He continues with a medley paying tribute to Buju, Bounty and Sizzla, then livicates Bob Marley's One Love to the children of this world. He invites the audience to join in, then hands his mic over to a brother in the crowd who boldly sings verse and chorus and gets a big forward from his fellow spectators. Crazy vibes! "It's a great starting to see Turbulence perform. And the weather is nice too, so Jah bless!" says a smiling fan after the show. And another: "When Turbulence started to sing in the off, I had goosebumps already. The way he lets his voice hit the high notes in Feel Irie is great... I saw him perform 2013 already, but it's always a pleasure!"

For Sevana it's the first time to perform at Reggae Jam. She masters this challenge gracefully, making people acquainted with her music and her voice, which shines in all its glory during a Winehouse-cover of Valerie. While looking around for people to ask about her performance, many little details catch my eye that might otherwise have gone unnoticed, details that make this festival the energy-charging, joyful and fulfilling experience it is. A man holds up a soap-bubble machine, letting the wind carry the bubbles over the crowd. A group of friends up front plays with a blinking bally thing, involving the people who surround them. The sinking sun illuminates people who chat and laugh with each other, or just hold hands and move in time to the beat. Connecting!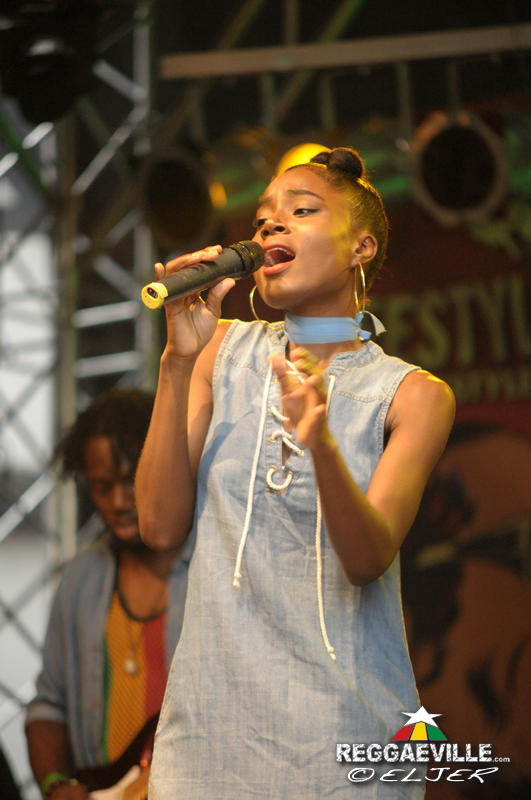 A guy who, by his appearance, looks more like HipHop than Reggae answers my question thus: "I just arrived and can't say anything about Sevana. I have to admit that Reggae is not my genre and I don't know many artists who perform here. But in retrospective I have to say that I really liked Tippa Irie last night. He said he is versatile and he really is. And all his tracks were great, Ska, Roots, Modern stuff, very great!" A young lady called Josie who parties with her friends says: "I think she was great, but if you are here to dance and party, it's not the right thing." Asked which other artists she is looking forward to, she laughs: "I have no idea! It's my first time here, so we just let ourselves be surprised!"

Attention now shifts to the main stage where Big Youth gets ready to appear, backed by the band Rockaz Supreme who formed especially for the Reggae Jam, providing the soundtrack for the artist's dub poetry. His appearance is a glamourous one, sparkling shirt and all, and the veteran simply is a joy to watch. An intense performer, he keeps up a constant interaction with the cowd, joking (as in giving the song We're Jamming a whole new definition by unambiguous hip movements) but also with serious talk. "The ignorance in this world today, it's only we who can stop it. We have to stop killing innocent people. The solution is a revolution, but not with gun, a revolution of the mind, for better thinking, better living. We don't want no war, we want peace and unity."
And love, we should add, at least that's what the artist gets: "I like the concert. It's very nice to see this living legend, my first time to see him. I don't know how old he is, I think he is in his middle seventies or so, but he's really good." says a long-time fan, "Tomorrow I'm looking forward to the Congos, and The Tennors on Sunday." Another man answers: "How many years I know Big Youth? Man, I know him from 1972... all along. Oh my God, it's so good to see him live!"

From Jamaica to Africa: Rebellion Da Recaller is up next, and apart from his African brothers who cheer him wildly, he even manages to be liked by the locals, as an elderly couple confirms: "We come here every year to have a look at this place. And we like it! We don't listen to this music at home, but it's fun to watch." Asked for their opinion on the festival and its artists, a family father called Jens says: "We are looking forward to Sunday. To Alborosie and most of all to Kabaka Pyramid. This festival is special because we can always come with the whole family, we come for ten years and it's always been a nice experience."

While the stage switches again, I check the Riddim tent, where the Meet & Greet sessions are in full swing. Big Youth spikes many people's interest, and a man who just returns from a photo-session with his idol says: "I saw him on stage and now I get the chance to say thank you in person! That made my day."

More people's day is made by the next artist called General Degree. It is a bit like a time travel to the nineties (no wonder his new album is called From The Nineties), and the General firmly rules his audience. "I know him since 15 years, he is an amazing artist I've been looking forward to see. Apart from him, I'm most interested in Patrice and Jahcoustix and Alborosie." says one spectator, and another: "I only got to see the last twenty minutes of his show, but in this time he played all the songs that I wanted to hear. I wanted to see Sevana to see what she looks like, but I came too late. Tomorrow I'm looking forward to Runkus. That's an exciting artist!"

Johnny Clarke, another veteran, is on stage now, accompanied by members of the original Ras Ites. Musical teachings a gwaan! Says a festival visitor called Matthias who just arrived in time to see Clarke: "The show was absolutely great. I saw him for the first time live and I am blown away. And the Ras Ites to back him... I'm also looking forward to Harrison Stafford. I've never seen him without Groundation, so that will be interesting."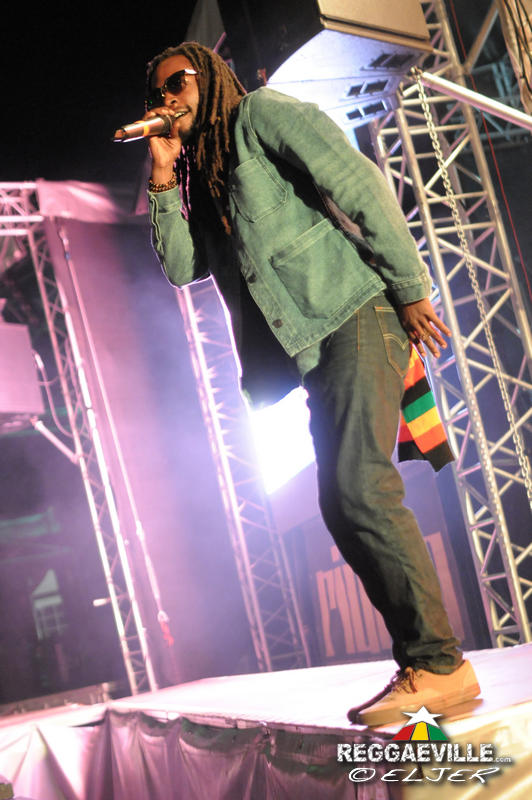 Now it's anniversary time. 25 years of Silly Walks deserve a concert in the pool position, especially if accompanying artists such as Patrice and Assassin are announced. The soundsystem celebrates their freshly released album Smile Jamaica on which both artists have a feature, and Patrice is the first one to deliver his to a crowd equipped with hundreds of little anniversary flags. And then Silly Walks drop a huge surprise by producing Jesse Royal on stage, as if out of thin air. What? Hardly anybody knew, but now the real Jesse is there, striking the well-known notes of Backbiters and making the stunned crowd go wild. His cover-version of Roots & Culture hits a nerve and the whole place is skanking. Before some realized what hit them, Jesse says his good-byes and leaves stage with his slogan "People power!"
Joscha then announces the next act: Assassin! I think it can be said without exaggeration that his show is the climax of this first night, at least when it comes to crowd movement and -response. This artist is pure energy - Dancehall Again! "Sasco was amazing. And Jesse Royal was a real surprise. When I saw him, I moved up front. He's my favourite artist! Him and Kabaka, I'm really looking forward to his show as well."

And as people flow out of the festival area to continue the party with Silly Walks in the Dancehall tent or with the Irie Ites Crew ls. Kunterbunt Sound and Roots Plague at the Dubcamp, one sentence keeps ringin in my head: it was a good start!

FESTIVAL REPORT: VIDEOS | PHOTOS


Day Two: Saturday, July 30th 2016
DON'T LET THEM SCARE YOU!
Hours seem to have melted to minutes when it's time to get up on Saturday morning. Surprisingly, the festival area is already packed with people at 1:30 pm, so the revolutionary words Ganjaman starts the day with are received by many. "How long will we let one percent of the world's population rule us? We are 99 %, let us not longer sit and watch, let us no longer be afraid - don't let them scare you!" the singer tells us and continues with the song Lass Los from his new album Sinnphonie. Most of all, he says, it's important to unite and connect, something there is ample opportunity for during this festival.

The two girls I ask first didn't know Ganjaman and are only here to enjoy the general vibes, not to see any artist in particular. A young man states: "His music is very relaxed, and if you listen to his words, in his lyrics and what he says in between, it's something special. He really ponders things. It goes deeper than what average artists say." His friend adds that for him, the most important thing is that the artists are true to their words.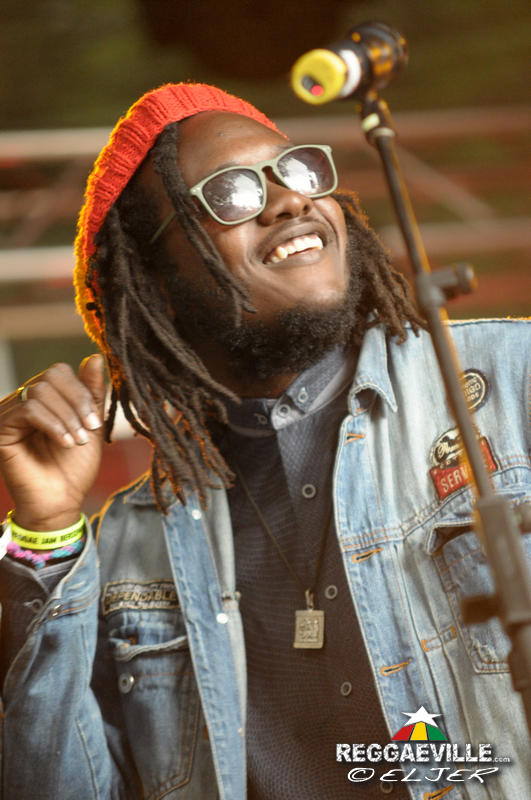 Samory I is up next, a star on the rise who debuts with a contribution on the Silly Walks album and now on the Reggae Jam stage. His back-up band is House Of Riddim, so the instrumental quality is secured. Coupled with his velvety voice, Samory's performance is a joy to watch, despite the sudden strong rain shower that prevents me from recording any audience comments.

During the next concert I don't have to make an effort to record any. Runkus and The Old Skool Band (introducing: Mario on drums, Jack on keys, Richie on bass, Jay on guitar, Zo and Ashani as backing vocals) are on stage now, and, I swear, these musicians and especially their enigmatic lead singer transport us all into a different reality. Maad! All around, I hear statements like "Wow, this guy has swag! His style is unbelievable!" or "This is amazing. What's his name, Runkus?" Damn right. He has an album out called Move In, and in case you liked what you saw today, check it out.

Sophia Squire plays a lively set which however doesn't quite reach the people who still seem to be under Runkus' spell. A former backing vocalist for the likes of Gregory Isaacs, she now rocks stages on her own, and together with the House Of Riddim Band, she keeps the vibes flowing.

Back to the main stage, where a minimalistic iLLBiLLY HiTEC set (Alex on drums, Benny on the DJ table and Gabriel who controls guitar, saxophone and sound effects alternatingly) welcomes MCs Longfingah and Kinetical who sure know what they are doing when it comes to toasting and riding a riddim. "Close your eyes and feel the vibes!" is their advice, and if you do, you get carried away by what they call Reggaetronics. Fresh! Surprise guest Dr. Ring Ding mashes up the place along with the former two: "We love Reggae Jam, we stand strong, no bad mind fashion!" The message is received, it seems. "I saw them in Münster already, but this concert was something else again... I came here especially to see them today." says a lady called Nina who is having fun. Asked what, for her, is the special thing about this festival, her answer is: "Everything! There are so many corners where things are going on, Sandwichmaker, Dubcamp... and now this concert. Tomorrow I'm looking forward to Chronixx and Alborosie."

Taking a quick deturn to one of the so mentioned corners, Sunfire Soundstation offers a stage to countless artists who are up and coming. I arrive just in time to experience Amlak Redsquare holding a vibe on the mic with Judge, the first single of his upcoming album. As I re-enter the festival premises, I can't believe what my ears tell me - the artist on stage is yodling! Obviously, Leroy Gibbons masters this southern German style of... well, is it really singing? Amazing vocalist he is, he delivers an acapella version of Power Of Love before continuing with his set of Roots Reggae tunes. Says a festival visitor: "Leroy was super. I knew his songs before, but I've never seen him live. So I really loved it. He is the first artist I'm experiencing today, I came to see him and the one who is up next. That's also an artist who is exceptional, so I'm very happy to be here!"

Turning to the right stage, the person who is thus anticipated appears: Jahcoustix and band! "Are you ready to fight racism? To say something against it? We have to stop being afraid!" he picks up the headline set by Ganjaman earlier on. It's a pure pleasure listening to the songs live that Jahcoustix' current album Seriously Positive holds. Stretching the Roots spectre thus opened further to the past, Admiral Tibet brings to life that magic feeling called Reggae with songs like Leave People Business Alone. I feel that chasing statements is not necessary - just taking a look around at the glowing faces and shuffling feet is enough to understand the power of this music. But then, in a conversation, someone drops a comment that deserves to be shared: "I love this variety. The line-up so far has been really diverse, new artists and back to the foundation now with Admiral Tibet and later Freddie McGregor!"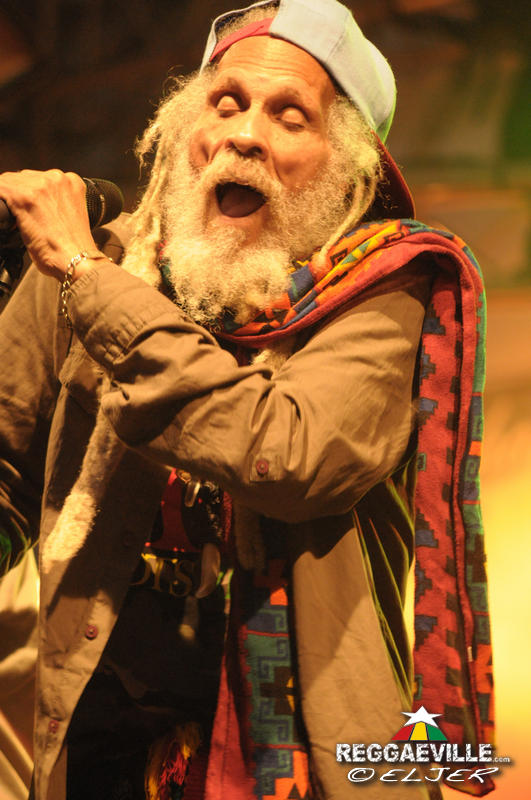 The beginning of the performance of yet another veteran formation, The Congos, collides with the second rain shower of the day, but festival visitors wouldn't be festival visitors if they wouldn't be able to handle that. Umbrellas and raincoats in all colours bump in beat to the music of the four men who, taken together, certainly bring more than 300 years on stage. Exactly this stark contrast in age makes me curious to know if the couple beside me (neither of them a day older than 17) knows the group? "No, we didn't know them. But their music is great, we enjoy our first Reggae Jam!" It's a generation combination thing!

Meanwhile, Fisherman is frenetically cheered, and since The Congos are formed by four individual artists, they should be introduced at this point: Roydel Johnson, Watty Burnett, Cedric Myton and Kenroy Fyffe aka Talash - maximum respect to you!

The voice of Tinga Stewart accompanies a stroll around the festival area where the appetizing smell of dozens of different cuisines from Jerk Chicken over Falafel to Roasted Almonds is in the air. Returning to the stage, it is so packed that there is hardly a way through. I am reunited with a circle of friends when the Big Ship Crew is announced who will take a musical sailing trip with Freddie McGregor and Family. What a vibe! The brothers Chino and Stephen "Di Genius" McGregor give us a taste of their energetic performance before Dad takes over the mic again. To experience Just Don't Wanna Be Lonely, Push Come To Shove or Big Ship in the middle of a crowd who sings along with the well-known words is (right after Runkus) my highlight of the day. The comments come from an African brother behind me: "Original foundation artist! Original roots Reggae music! Tell dem, singer!"

A lot to tell has the next artist as well. "Lutan Fyah is colourblind!" he says repeatedly, making the audience lift hands and say NO to racism. "It was my first time to see Lutan Fyah live, he's really cool. Look how he moves the people! I will check out his music later." says a young man who initially told me that he wasn't the right one to ask questions since he's not into Reggae too much. But hey, whether or not you know an artist, if you feel the music, you can share your thoughts, right? "What I can say is that I'm really curious to see Queen Ifrica. Friends have told me about her, and they said she is a real explosion on stage."

Well, his friends didn't exaggerate. The power mumma is a whirlwind, pushing her band, her voice and the audience to extremes. "I take this stage very seriously!" says Queen Ifrica and closes the evening with a similar revolutionary reasoning as the day started with. "We are the masses that have to be heard. We want a style of governing that includes love, regardless of creed and race and dem ting. We have to have unity among ourselves, that's what we need. Make me hear you! Lift up your hands!" she shouts, and people promptly comply. She brings the chef of the backstage catering on stage and sings a song he said he loves: Daddy Don't Touch Me. Ending her show with the sung words "We don't need no more trouble!", people are released into a night filled with magical musical moments to look back to. And teachings to heed. Be aware of the power you have, and most of all, don't let them scare you!

FESTIVAL REPORT: VIDEOS | PHOTOS

Day Three: Sunday, July 31st 2016
TALK TO EACH OTHER


Getting up in time for the first act on Sunday morning proves impossible. Too long the booming speakers of the Dubtent have bass-massaged brain and body, accompanied by the voices of Nish Wadada and Mad Marek. After I do manage to be on my way to the main entrance, a 7-year-old boy tells me all about the puppet show I've missed: "Once upon a time there was a big commotion in the Reggae Forest. A huge pink crab was seen to be on her way to the forest, and the King and his ministers were afraid it might destroy their home and thought about ways to protect themselves. Should they build walls around the forest or strew poison or kill the crab with weapons? Only Reggaehase Booo (the clever rabbit) suggested to talk to the crab first. As it turned out, the crab only wanted to come to a concert held in the forest that night." Talk to each other, people!

The announced opening act couldn't make it, and Owen Casey has been given the slot to play a relaxed intro into the day. Right after his show, the HELP-Jamaica lottery tickets are drawn, and the lucky winner with number 539 gets a Reggae Jam 2017 ticket and a Riddim shirt. Congrats!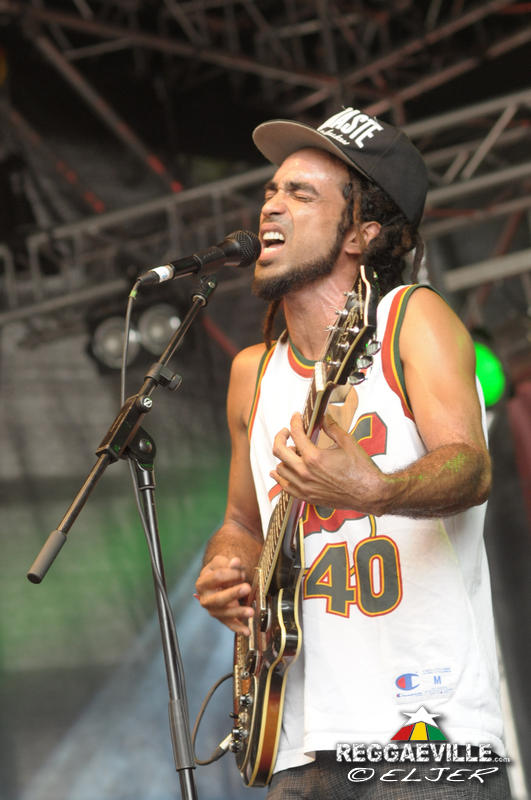 Sebastian Sturm and Exile Airline (the band with the most agile keyboarder I've ever seen) rock the crowd which is hesitantly growing. By the end of his set, many more people have arrived and the festival feeling is back, at least for the couple that agrees to answer my questions: "Of course I know the band! We only saw the last four songs, but that's a good start in the day. Yesterday, The Congos were the highlight. Today we are looking forward to Harrison Stafford!"

Before he'll appear, another big name is ready to start: Inner Circle prove that they are much more than Alalalalalong, and I'm instantly impressed by their outfits. Socks, knee protection, suits... I'm not alone: "I like their style and their music a lot. I first heard them 26 years ago when I was in Hungary!" says a lady who rocks away with her partner at the edge of the crowd. Since Jacob Miller's passing, there had been several singers, but Trevor Bonnick aka Skatta seems to fit best and performs an energetic set. As yesterday, alternative action spots are a tempting factor, and I decide to sacrifice the second half of the main stage performance to a Jam Session announced at Roots Plague. At least 10 musicians are already playing, and a wide array of MCs take turns on the mic. Rastimbo outta Cologne, Lenzi Banton aka Dubticker, Marian and Melchior spit a few lines to the multi-instrumental beat provided. The latter sings about how to solve problems you have with other people, and his advice sticks: "Come, let's sit down on a table to talk."

Professor Harrison Stafford has meanwhile started to play, and none less than Horsemouth is sitting behind the drums. The artist who comes from US-band Groundation is currently promoting his solo-album, probing if the audience likes him on his own as well. This one does!

It's not even 6 pm, but the place is already as packed as it was last night at Queen Ifrica's show. Maybe even more. No wonder - Chronixx is about to appear! The Zinc Fence Redemption band firmly installed and ready, the concert so many people I spoke with have been looking forward to starts. Showered with words, sound and rain, the crowd is moving along to the artist's vibes. "This will be the final song of our Roots and Culture Tour!" says Chronixx at the end of his set before he takes his last farewell. "We're going home from here. Thanks to all who saw us perform, to everyone who supported us along the way. It's all about love, you know, music will continue to grow!"

Inevitably, this weekend is drawing to a close. But not yet, there are big things ahead of us still! After the storm of applause Chronixx left in his wake has subsided, attention is drawn to the left stage on which The Tennors are bound to appear. From the vocal trio, only one is left, and in a very "last man standing" style, he runs through his set. As with Queen Ifrica's backing band yesterday, there are some misunderstandings as to when to stop playing and so on which disrupts the flow a bit, but to hear original songs like Ride Mi Donkey and Pressure and Slide is reward enough to overlook these little flaws. And the final Carry Go Bring Come works out perfectly well, with thousands of feet shuffling to the Ska beat Dr. Ring Ding accompanies on trombone.

It's almost ridiculously perfect: while the last notes subside and announcements are made who is up next on the main stage, the clouds disperse and a late sun submerges the scenery in its golden light right before Julian Marley makes his appearance on stage. With his band he takes us on a trip to his interpretation of Roots and Rock and Reggae. In between his own songs, he picks up the guitar and intones some of his Dad's biggest hymns, well received by the audience: "Julian was so great, I really loved it. His dad was a legend and I think it's a good possibility to show what his vision was. It's important to keep the legacy going!"

Legacies in the making are brought up on the Special Stage to the left. Kabaka Pyramid and the Bebble Rockers take over and their performance is pure fire, both lyrically and energetically. During World Wide Love, the lyricist takes his time to spread truth: "People are fighting because of class and colour - but we are one! Put up your hand if you believe in love!" More hands and lighters are up when he introduces his "brother from another mother", Koro Fyah. He is the newest addition to the Bebble Rock Camp, and someone to watch out for. Kabaka keeps up a constant positive interaction with the crowd, hails his idols Capleton, Sizzla, Buju and Mega Banton and leaves an awed audience: "I never heard of him before, but I'm impressed. They are playing a special style... I mean, it's still Reggae, but on a deeper and more prolific base. He was awesome!"

Standing in the middle of the crowd and enjoying the close-ups of the artist on the big screen, the amazing amount of work done behind the scenes becomes obvious. For the video-stream alone, the intricate network of at least 5 different cameras is well orchestrated by a team of technicians backstage to enable visitors to follow these emotional pictures on the screen, as well as the live stream sending the festival impressions out into the world. Other experts make sure the lights provide special effects and artists are well illuminated. Dozens of soundmen secure the tonal quality of the musical greatness experienced by us, as well as the smooth sequence of concerts by doing a soundcheck parallely to the live shows, and thus guaranteeing the astonishing on-timeness of this weekend. Efficiency!

All this expertise, in a final effort, flows into Alborosie's spectacular stage show. Songs like Poser or Strolling taken from his new album Freedom & Fyah develop momentum played live by his band, the Shengen Clan. And when Albo strolls the stage, roaring his lyrics, or the trumpet-player does some quick-footed dancesteps, the human carpet that covers the whole area ripples with appreciation. The most beautiful comment any artist could wish to get is this: thundering applause, screams, and intense whistling accompany the last artist of this festival off stage.

Farewell! Ganjaman, Dr. Ring Ding and D-Flame express their gratitude, to the artists, the peaceful visitors and the crew of hundreds of helpers who make this festival possible. And after Sheriff calls his team on stage for the traditional JUMP!-picture as well as the traditional concert of the marching band, this homecoming is almost over.

Almost, because there is still this night ahead of us, connecting with friends and letting the excitement slowly subside. One lesson the comment-hunt taught me is how rewarding it is to talk to people, even if they are complete strangers. Try it. In comes my favourite comment of the day: "The people here, all over the festival, are so friendly. They shared the love and I think it's a wonderful thing. Now we can certainly look forward to more exciting artists next year!"