08/02 - 08/03 2019
Best Moments... Reggae Geel 2019
08/06/2019 by Angus Taylor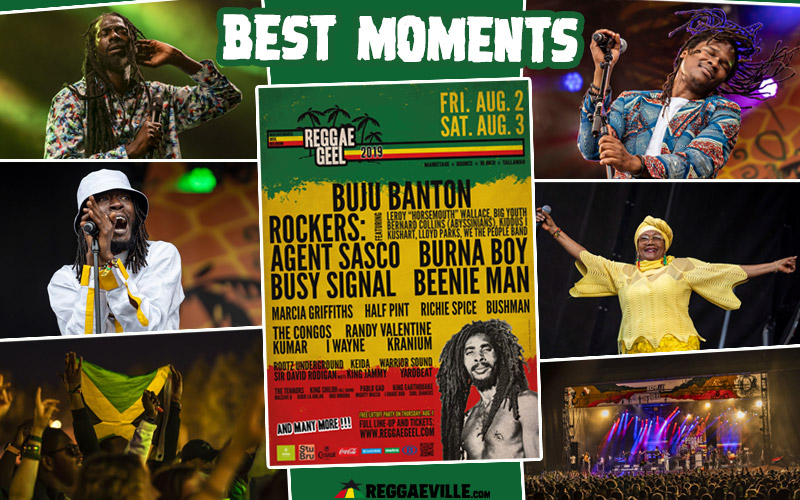 By all accounts, the 40th anniversary of Reggae Geel last year was a contender for the most memorable event of summer 2018. Yet for their 41st, Europe's oldest reggae festival returned bearing a line-up that stood out as one of 2019's stronger offerings. Historic roots and rocksteady artists were well represented lower down the bill, with the overall headline flavour slanted towards vintage dancehall: topped by Buju Banton, on his ever-expanding post-incarceration tour, as the biggest draw on the Saturday night.

With its Main Stage, woodland sheltered 18 Inch roots sound system area, dancehall tent and Tallawah stage all within easy reach, Reggae Geel is the perfect sized festival to wander in a circle and stop at what takes your fancy. As a result, on an initially rainy Friday night, it was rare to watch an entire set by any one artist – so most of these best moments were literally great moments rather than in depth reviews.

The Congos and Pura Vida make the most of the rain – Main Stage
The skies opened during the Main Stage's introductory set by roots harmony veterans The Congos and their Belgian recording buddies, Pura Vida. Having shared Congoman, Open Up The Gate, Children Crying and La La Bam Bam from 1977's Lee Perry produced classic LP Heart of the Congos, Cedric Myton, Ashanti Roy, Watty Burnett and Kenroy Fyffe had not one, but two rain songs in their repertoire for just such a purpose. The quartet sang Food For The Rainy Day from 1979's Image of Africa album, before Burnett's bass voice took the lead for his cover of Rainy Night In Georgia (changing the lyrics to "Belgium" and the often damp Jamaican location of "Portland"). It was also nice to see Cedric's Hey Youthman, elevated from connoisseurs' favourite to the set closer, thanks to it featuring on the latest Inna De Yard album (although oddly, the group left without performing their biggest Heart of the Congos tracks – Row Fisherman Row or Ark Of The Covenant).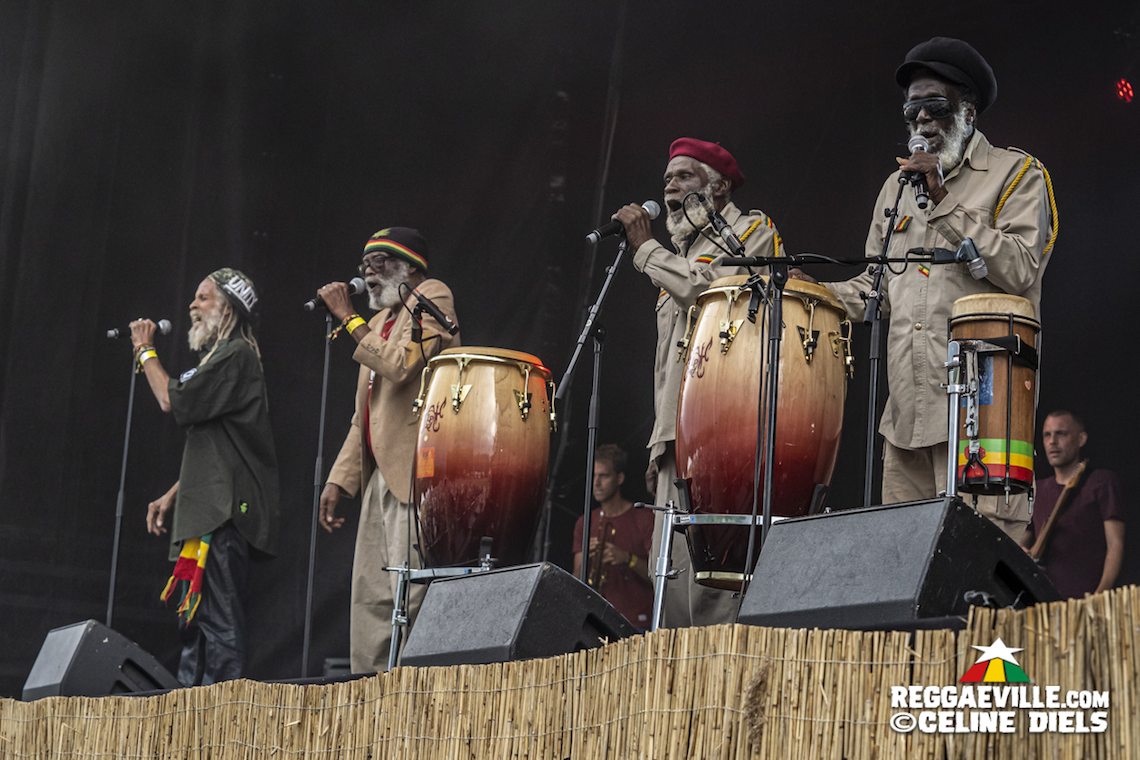 I Wayne and Bushman's voices sound just like the record – Main Stage
Two contrasting Rasta reggae voices from the late 90s and early 2000s rang out loud and clear on the Main Stage. Whatever you might think of his lyrics, the vegan-milk tones of I Wayne brought his music to life perfectly, and his sound system honed ability to work a crowd were impressive. "If brother Bob was here…" he teased, switching his Don't Worry on the Waiting In Vain rhythm to a brief snatch of Marley's original before wheeling into the next tune. Afterwards, the deep calling bass baritone of Bushman was in fine form, both for his own material and a tribute to another Wailer, "one of my inspirations", Peter Tosh with Bush Doctor and Igziabeher (as covered on 2011's Bushman Sings The Bush Doctor album).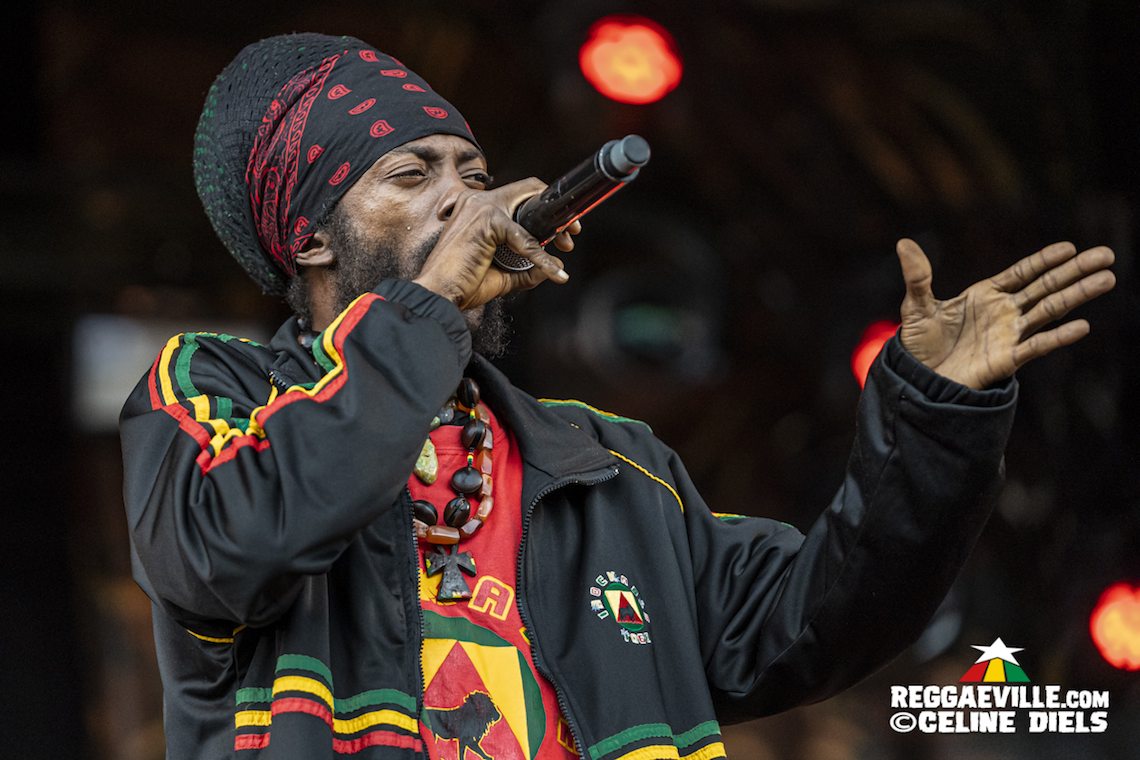 Pablo Gad warns: Don't Push Jah – 18 Inch Corner
The elusive UK based roots singer Pablo Gad, on a welcome outbreak of touring this summer, is best known for his late 70s/early 80s sound system staples Hard Times and Bloodsuckers. So it was gratifying to hear him opening his set on Amsterdam's hefty King Shiloh sound with one of his best early 2000s steppers, the Barry Isaac/Conscious Sounds collaboration, Don't Push Jah. Gad seemed to be in a trance as his delicate yet unflinching voice decried Bush era foreign policy – with lyrics that are just as relevant to the Trump age. "That was a harsh one" he laughed, before taking it down a notch with the only slightly less militant Beggar Man's Child.

Agent Sasco respects the Foundation – Main Stage
Those eager to see Buju the following night could content themselves with the similarly granite voiced lyricist Agent Sasco on the Main Stage. Like Buju, the deejay is now equally comfortable over both uptempo and one drop reggae rhythms – and it was the latter that really stood out in a live band setting. Highlights were Stronger and the Mix Up (on the Heavenless rhythm) from 2016's Theory of Reggaetivity album. But even when he raised the tempo he saluted the foundation: following his Idiot Ting Dat with Capleton's cut on the same Stepz rhythm, and later covering Chaka Demus and Pliers' Murder She Wrote, Mr Vegas' Heads High and - another artist due to play Saturday - Beenie Man, with Who Am I?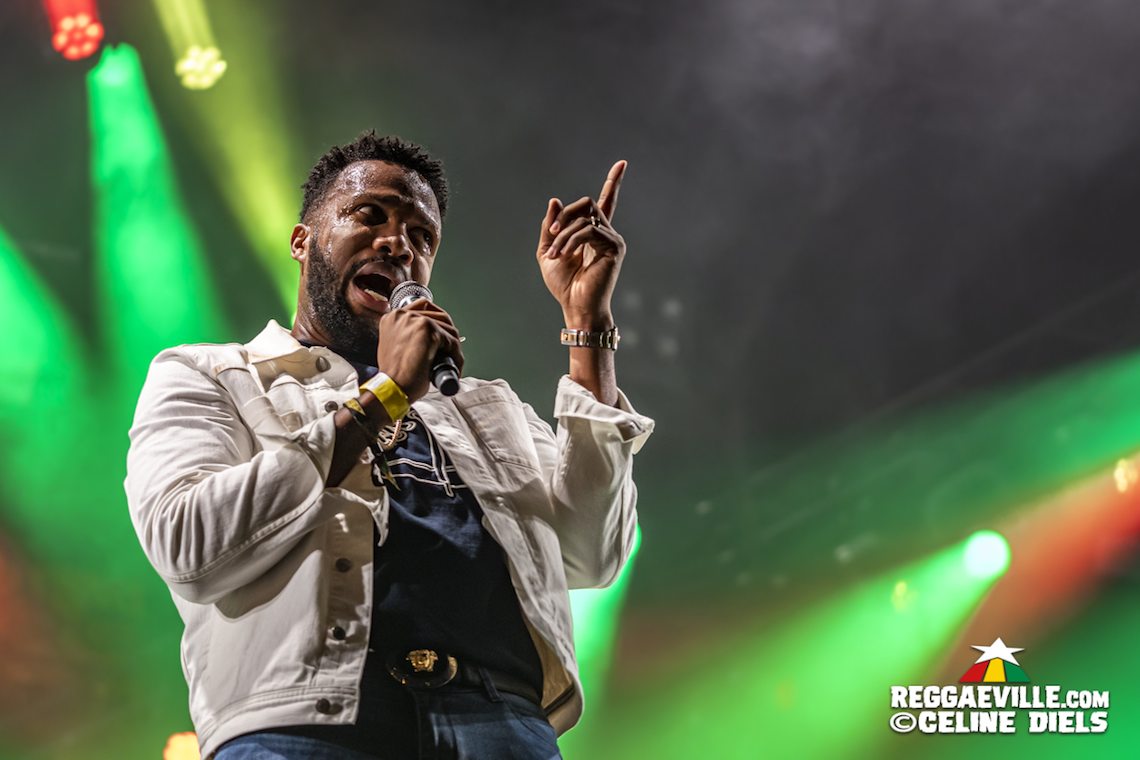 The Tennors leave everyone bawling for more – Tallawah stage
The one set that simply had to be watched from start to end was a marathon of joy by rocksteady and early reggae harmony group The Tennors. Founder member Clive Murphy, Howard Spencer and dreadlocked replacement for the late Ronnie Davis, Hal Anthony, delved deep into their back catalogue, backed by the Pressure Tenants after just one rehearsal, and showcasing the Tallawah stage's exemplary sound quality. Their do-over of Simon and Garfunkel's The Only Living Boy in New York, Weather Report, was made all the more beautiful by the rain having stopped a couple of hours before. Reggae Geel are normally pretty tight on set times, so it was testimony to how much people were enjoying the show that the Tennors were allowed an extra 20 minutes to ensure room for biggest hits Pressure And Slide and Ride Yuh Donkey. This meant missing Busy Signal on the Main Stage – but after such an incredible performance, there could be no regrets…

Big Youth flashes his locks – Main Stage
The Tennors' welcome overrun meant the four-decade celebration showcase for the film Rockers was already well underway on the Main Stage. But on arrival, the star of one of the movie's most memorable moments, Big Youth, was taking the mic. Supported by a band that included the legendary Lloyd Parks on bass, Robbie Lyn on keyboards and a crisp horn section, Big Youth removed his hat and shook his locks free during Dread Inna Babylon, as the stage lights flashed red gold and green. Afterwards, drummer and lead actor in the film, Leroy Horsemouth Wallace, gave his famous speech from the film, warning that Babylon Shall Fall.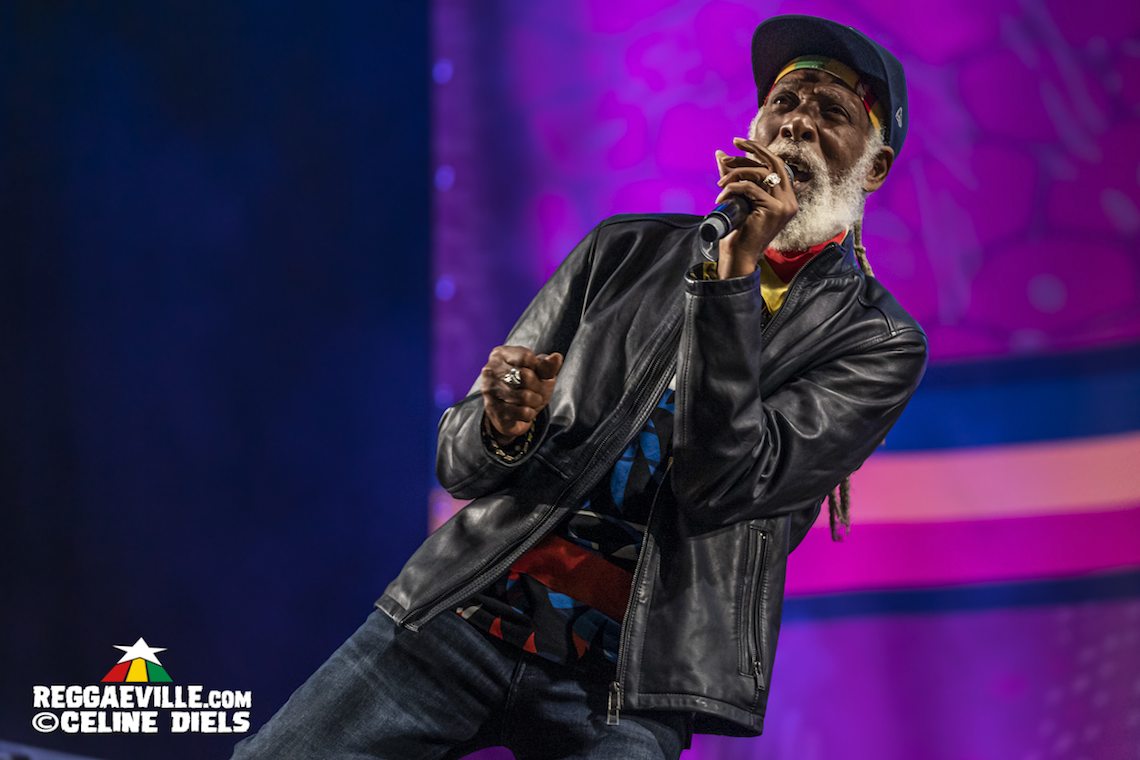 On Saturday, Geel's weather had shifted – from Friday's rain showers to being warm, muggy and overcast during the day and surprisingly cold at night. But the sense of variety and choice in the line-up remained the same. The perambulation between the different zones continued: with the smaller areas creating moments that matched, or sometimes surpassed the bigger stages.

Real roots and dub from David Katz, Ras Digby and Tippy I – 18 Inch Corner
Reggae author David Katz and veteran West London Selector Ras Digby returned to Geel having played the 40th anniversary the previous year. The powerful system of King Shiloh was treated to a vintage vinyl roots and dub selection that was perfect for an afternoon amidst the trees.

The biographer of Lee Perry naturally drew some Black Ark productions by Devon Irons, and Juniors Delgado and Murvin, as well as a generous helping of Augustus Pablo. He finished with the Jimmy Radway cut of Desmond Young's Warning, before announcing that Digby, who was searching through his impressive stock of dubplates, was celebrating his 50th anniversary as a selector. The Sir Jessus Selector unleashed speaker tearing exclusive mixes by Tetrack, various Freds and Freddies (McGregor, McKay and Locks) plus a cut of Bob Marley's Them Bellyful (dedicated to former I Three Marcia Griffiths – due to appear on the Main Stage).

Later that afternoon, the modern face of roots reggae was showcased at its best by St Croix's Laurent "Tippy" Alfred. The Virgin Islander digitally live mixed his own productions including works by Akae Beka, Arkaingelle and Ziggi Recado. "This is live dub in the tradition of King Tubby, Scientist and Mad Professor" he explained "I brought my studio to the stage", as his son took pictures on his phone.

Randy Valentine and Kumar sing beautifully – Main Stage
Over on the Main Stage, modern Jamaican reggae still had its pick of great voices. Randy Valentine, all dressed in white, with his family members watching, performed to a big crowd for so early in the day. A true vocalist generalist in his ability, like Chronixx and Tarrus, to sing, deejay and do everything in between, it was a joy to see this Jamaican-born Londoner getting the attention he deserves abroad.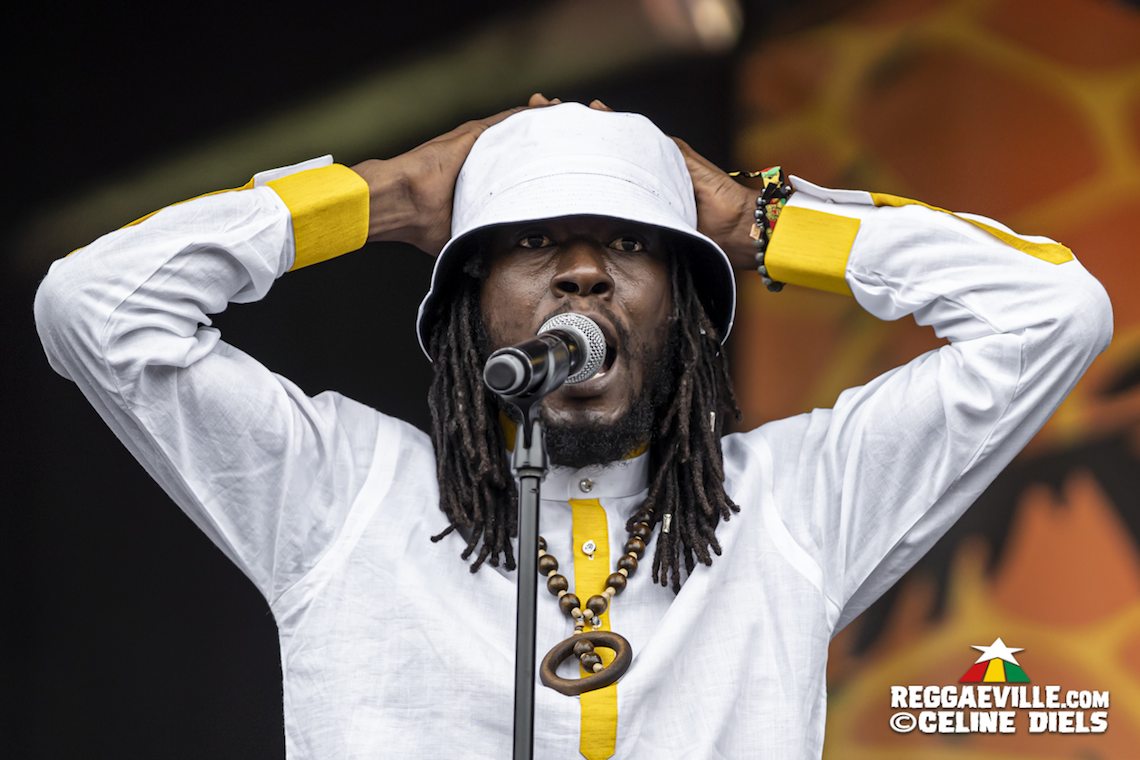 Afterwards, the rich timbre of former Raging Fyah lead singer Kumar filled the Main Stage surrounds. Strumming an acoustic guitar, with one time Indiggnation member Jason Lee Worton on lead guitar and backing vocals, Kumar delivered a mixture of his old band's material and fresh songs. His gorgeous voice was equally at home on Fyah standards Running Away and Judgement Day, Clive Hunt's Milk and Honey, and recent solo track Dem Nuh Real on the Throw Me Corn rhythm. Afterwards he joined Tippy at the 18 inch corner and took the mic.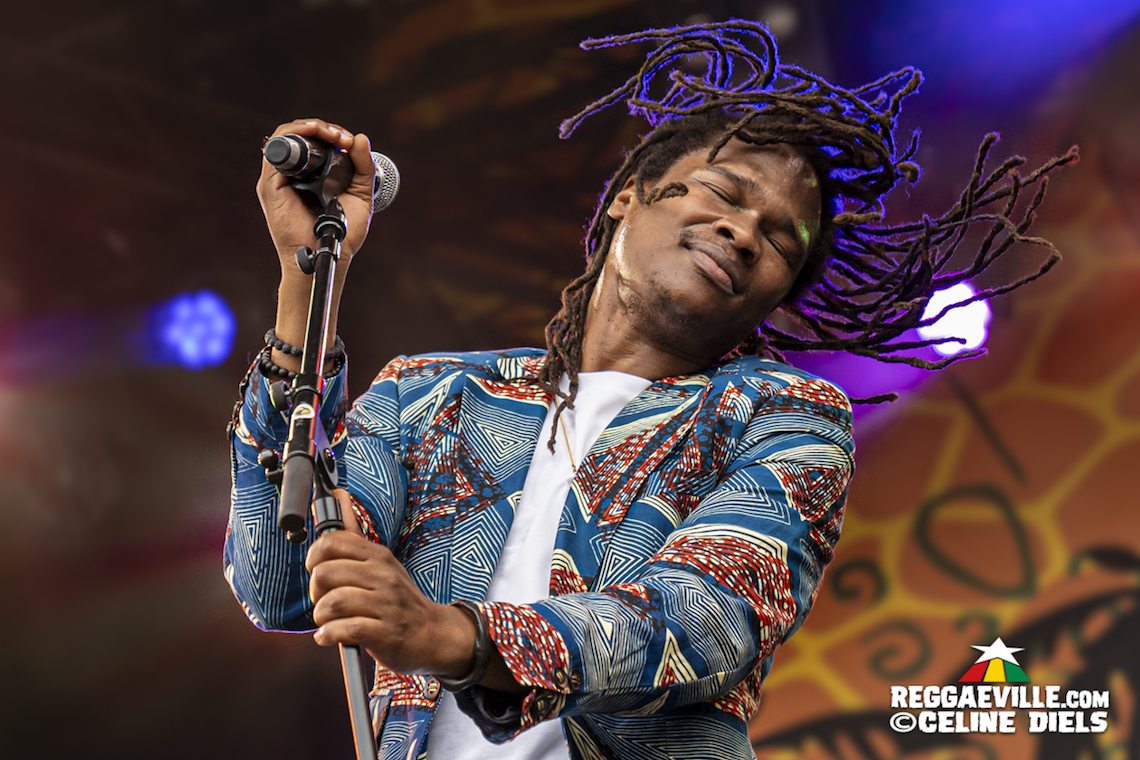 Half Pint starts with his biggest hits, Marcia starts with everyone else's – Main Stage
Contrary to conventional wisdom, Half Pint began his set with his two best loved tunes. The mellow voiced singer greeted one and all with Greetings, his George Phang dance destroyer on the Heavenless rhythm, and went straight into Mr Landlord on Hypocrites. It was a strategy that worked: the refreshing change of receiving the favourites upfront created a momentum that maintained throughout some the deeper choices.

The cheers and whistles that welcomed Marcia Griffiths, celebrating her 55th year in music, were the loudest on the Main Stage that day. Dressed all in yellow, and backed, like Half Pint, by Lloyd Parks and We The People Band, her voice rang out as loud and clear as it must have when she first appeared at the Carib theatre in 1964 and walked into a recording contract at Studio One. Her latest album, Timeless, is all Studio One covers, and, although she included her own songs - like timely personal anthem I Shall Sing (as long as I live) - covers dominated her set. She came on with the Wailers' Mellow Mood, continued with Beres' Can You Play Some More, and ended with a tribute to "my brother and your brother" Bob Marley, asking if all present could help bring his spirit to the event. It was surely the strongest Main Stage moment of the weekend.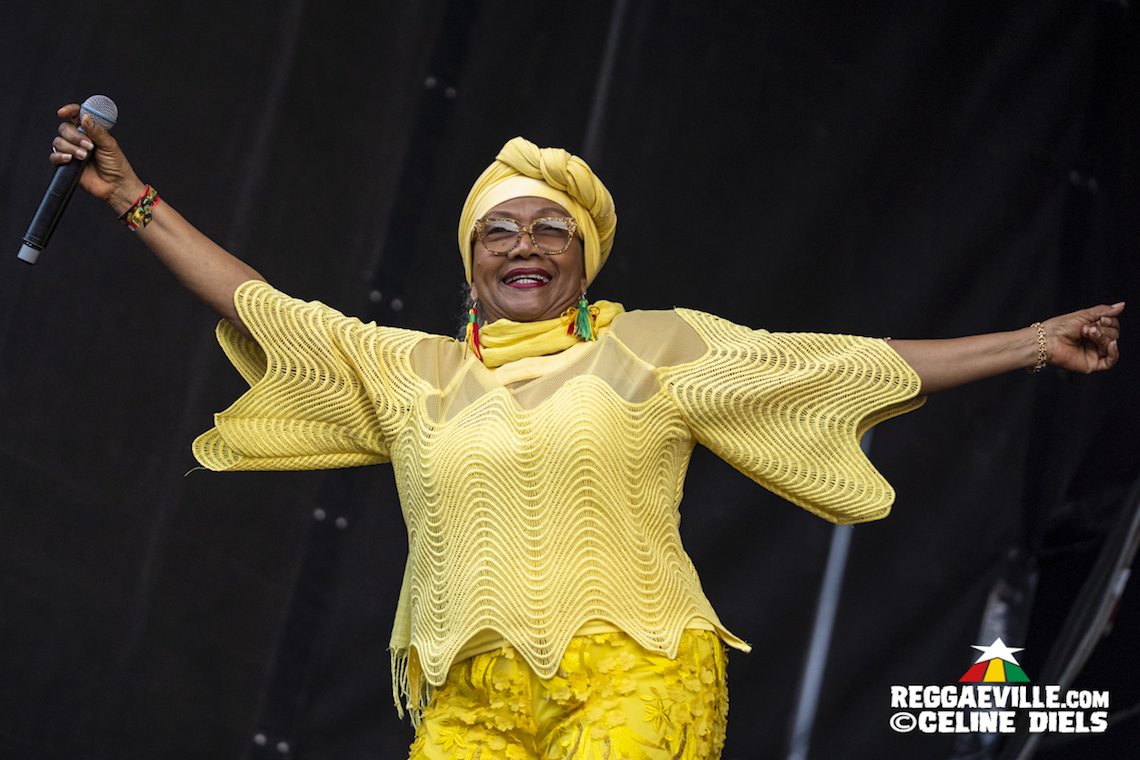 Oku Onuora has to be S een – Tallawah Stage
While Marcia performed with a full band to thousands, father of dub poetry Oku Onuora and Swiss producer Dr T delivered a similarly powerful experience to a few hundred. Oku learned his poetry craft in prison, and his ability to immediately engage a group of strangers from the first syllable was remarkable to see. Moving between a capella and Dr T's backing tracks, he mixed vintage verse - Pressure Drop, Dread Times and Reflection In Red - with new poems from stunning Dr T collaboration album I Have Seen. The title track revisits Oku's interest in the moon, and he certainly took everyone present to the moon and back.

Richie Spice and Beenie Man draw huge crowds – Main Stage
Although it's hard to judge on the ground, it seemed like Richie Spice and Beenie Man earned some of the biggest audience attendance of the entire festival. Richie Spice is not a high energy showman. He moves slowly and often hangs towards the rear of the stage with the musicians. Yet there's something about his cracked husk of a voice that cuts through and commands attention, and he has as sizeable a bag of hits as artists who have been going twice as long. In stark contrast Beenie Man was vigour personified, creating a winding grinding party that drew an even larger gathering than main headliner Buju.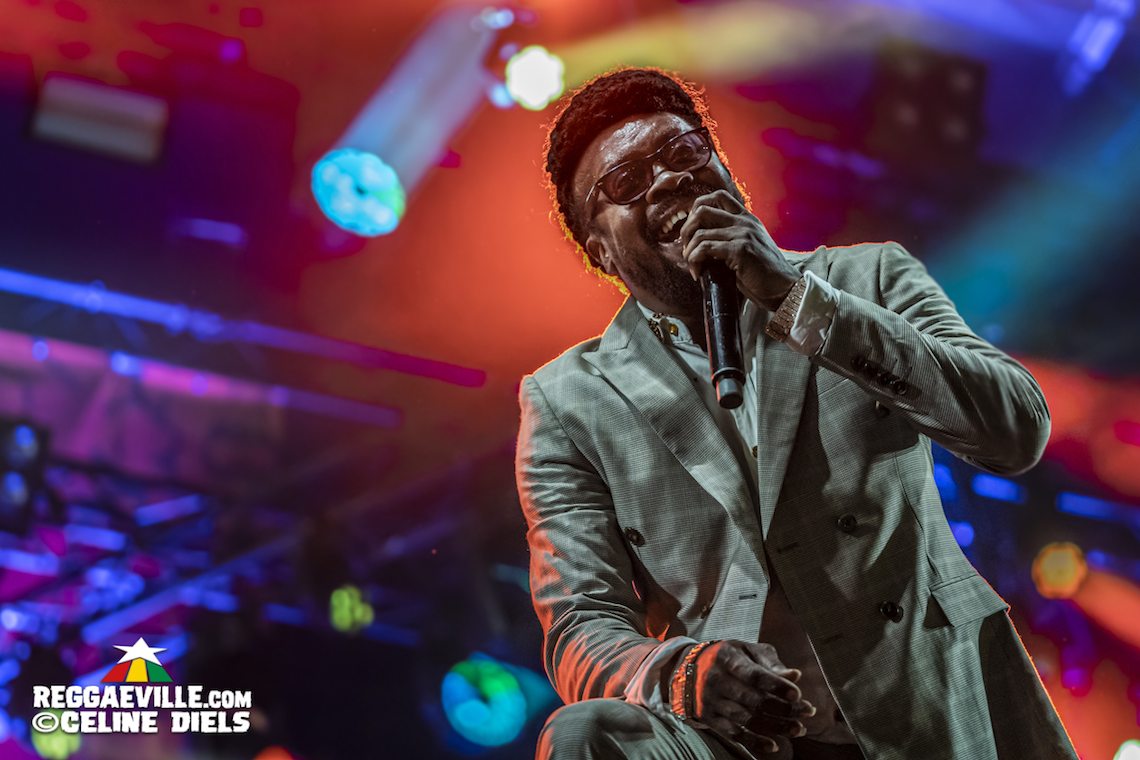 Buju brings on Marcia Griffiths – Main Stage
Once Buju locked down the city of Kingston in March, it was inevitable that he would take his prodigal return further afield. Seeing him at Geel for the first time since the end of the 90s, the energy levels were naturally more relaxed, and he appeared content to let his well-rehearsed Shiloh band and punchy backing vocalists do some of the heavy lifting. But hearing that grainy complex voice in a real-life setting, after so many years of listening to the records, is hard to put into words.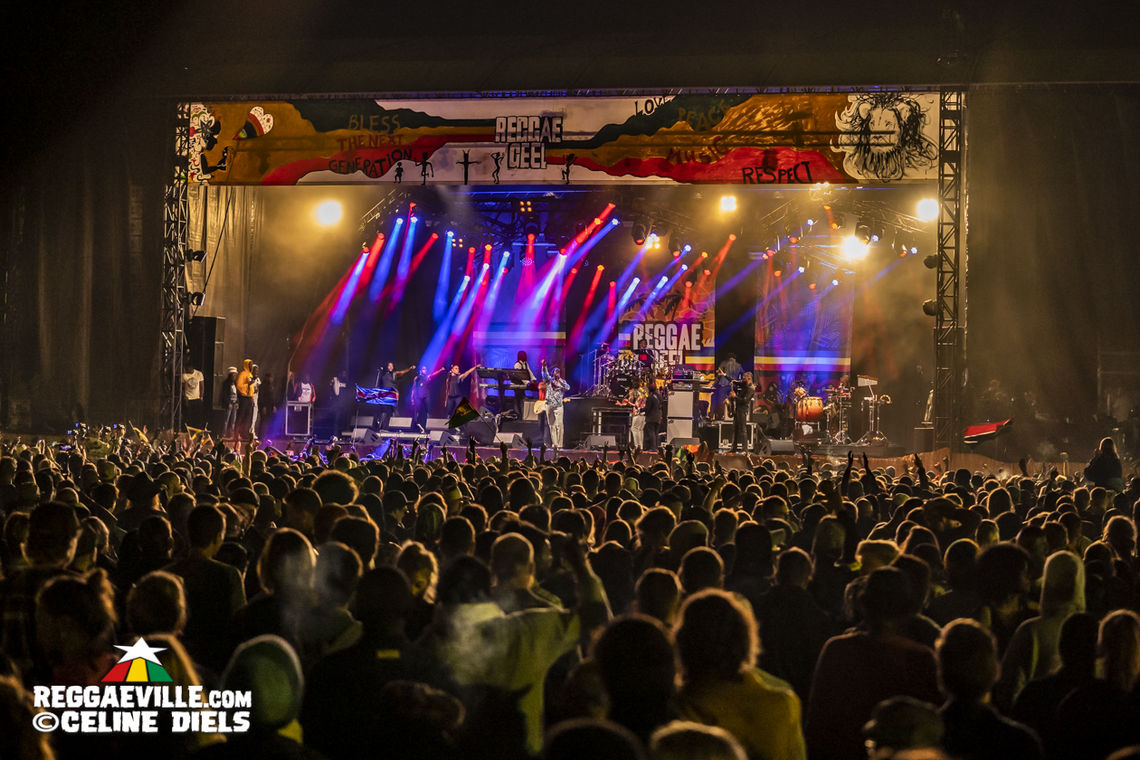 Whether it was the cold, the strong Belgian beer, people being tired, or just in deep meditation, Buju initially seemed unsure he was connecting with the crowd. "Are you there?" he asked during opening slower Rasta material such as Not An Easy Road and Hills And Valleys. "I know you've been here all day, I know you've been here all night, but let's go someplace else, spiritually".

Everything changed, however, when he called on special guest and Penthouse team-mate Marcia Griffiths to sing their duet Closer To You and her own Stepping Out Of Babylon. Somehow her bell-like voice mingling with his reactivated the vibes, and after she left, Buju's hits Driver and Murderer were getting the forwards they warranted. "We thank you for your time," said a smiling Buju, "We thank you for your patience, but most of all we thank you for your love". It wasn't quite the spiritual experience of his first show from jail in Kingston but there was definitely love in the air.

VIEW THE REGGAE GEEL 2019 PHOTO REPORT HERE