07/11 - 07/14 2019
Festival Report - Ostróda Reggae Festival 2019
07/12/2019 by Gardy Stein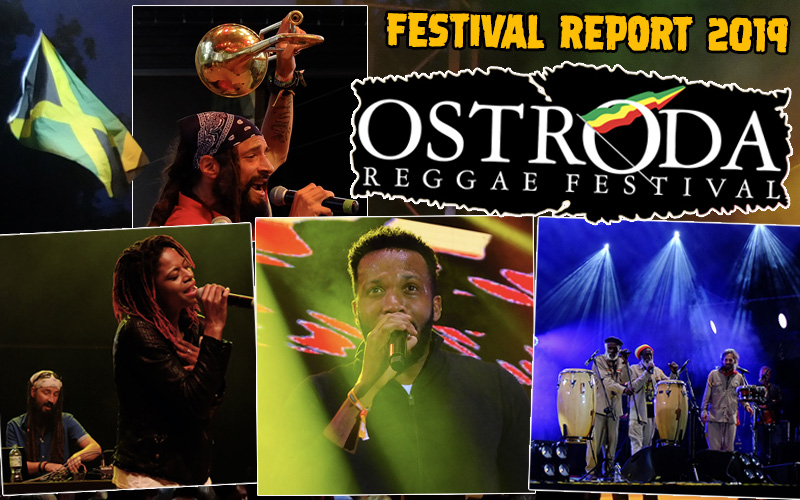 The 19th edition of the Ostróda Reggae Festival is in session! Again, the organizers have carefully chosen a diversity of artists that will spread good vibes full of messages for the next few days (wherever possible, we'll provide a link for you to check out these acts). Even though it's not the biggest festival around, it has that special something that makes us come back every year, a homely feeling due in part to the high quality of both local and foreign acts, in part to the amazingly smooth organization and in part to the openness and welcoming attitude of the Polish people. Follow our report to find out what's going on in Ostróda, and do consider coming here for the big jubilee next year!
DAY ONE - THURSDAY, JULY 11: Coyote, Tamika and the Orange Moon
We are back! It's hard to describe the feeling of homecoming when the driver passes the Ostróda city sign and, immediately, we are absorbed in that special ORF flow. Sunshine, countless people with Ostróda-Festival-Shirts from various years and the booming bass of the Amfiteatr Stage - we hurry to get the essentials done to become part of all this.
A slight travel delay prevents us from experiencing the opening acts Skank Ranger All Stars and Ayarise, but when we walk along the seashore to reach the Amfiteatr where the first day traditionally takes place, the beautiful sounds of a trombone accompany us, and we find Duberman and Hornsman Coyote in full swing. The Serbian artist is no stranger to Poland, as he's been working closely with the Karrot Kommando label since 2005 and met the Krakow-based band Duberman soon after. Combined, they play a fantastic set until the sun goes down.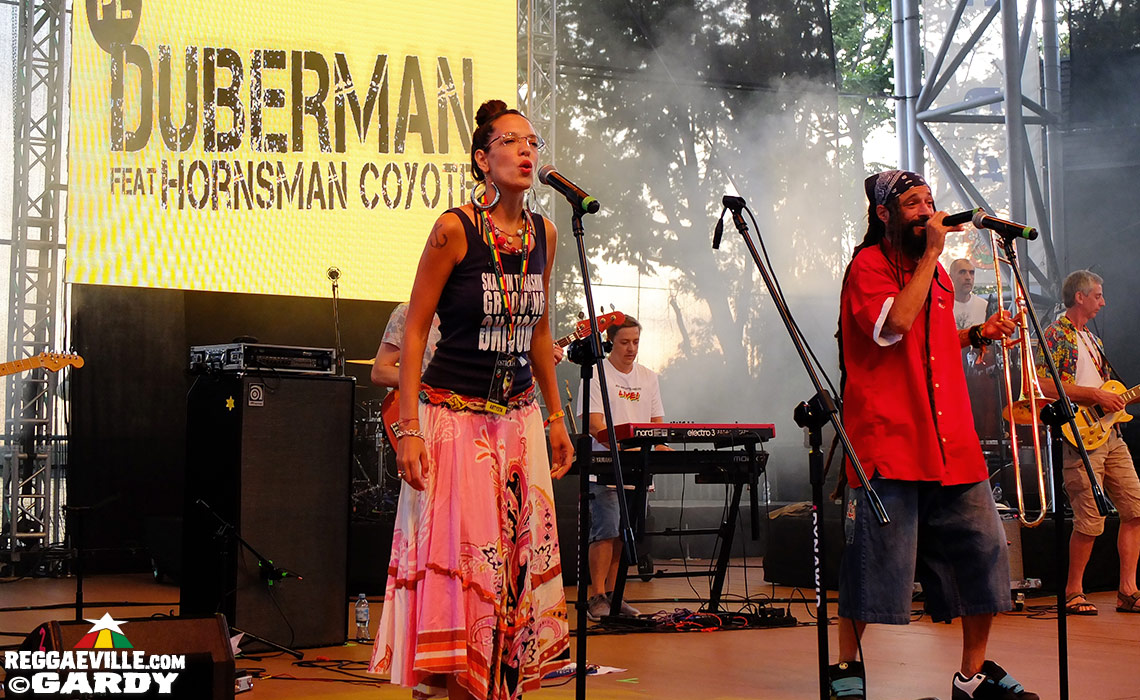 Up next is Vavamuffin. The band around singers Gorg, Pablopavo and Mr. Reggaenerator hails from Warsaw where they were founded 16 years ago, and they have played as many times here in Ostróda. Their music is a powerful mix of driving drums, jolting vocals and danceable melodies, so as soon as they start, everybody is on their feet, dancing and jumping. Festival organizer Maken, who joins us infront of the stage, tells us that he has seen them over 50 times already and that tonight is their best sounding show ever, due mostly to sound engineer Activator who does their live sound since last year. Thus, songs like Bless, Dźwięk or Jah Jest Prezydentem can unfold their full potential, and together with the huge Jamaican flag waving, the colourful lights and the dancing crowd, that's a really memomrable kick-off.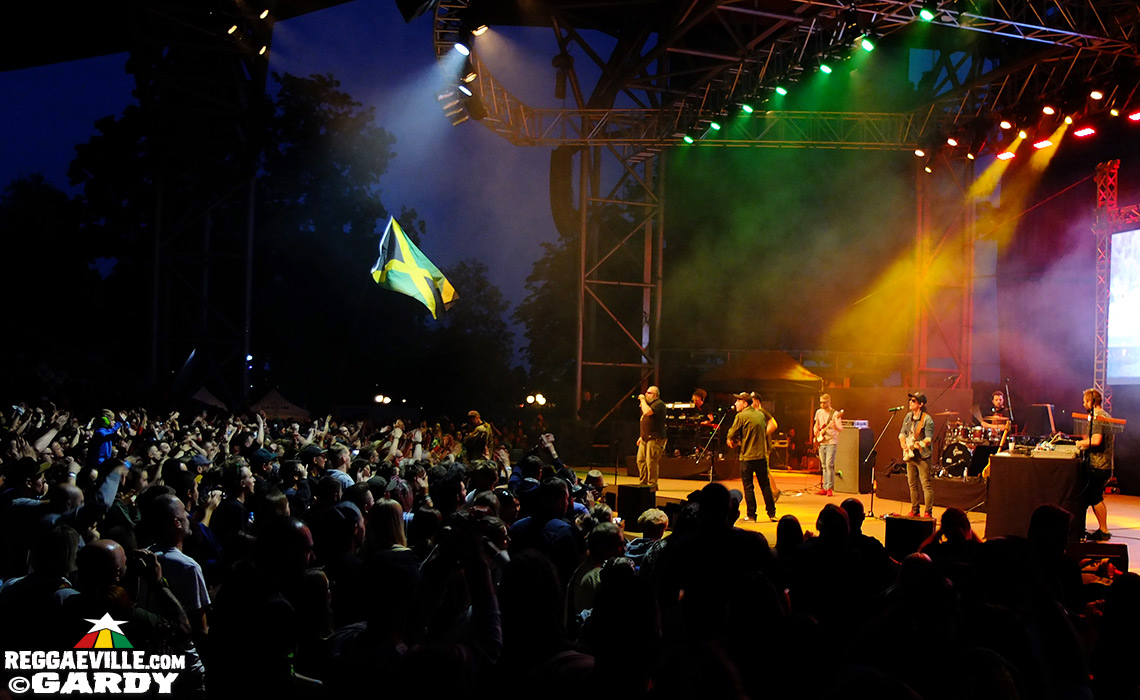 Moderator Mario Korpol takes over the mic and, in his usual cheerful manner, talks to the crowd for a while. I gather it has something to do with the next generation, as a little boy is on stage with him, and before they announce the next act, they return a lost & found mobile phone to its owner, amidst a lot of joking, it seems (as everyone laughs when the grateful girl gets her device back).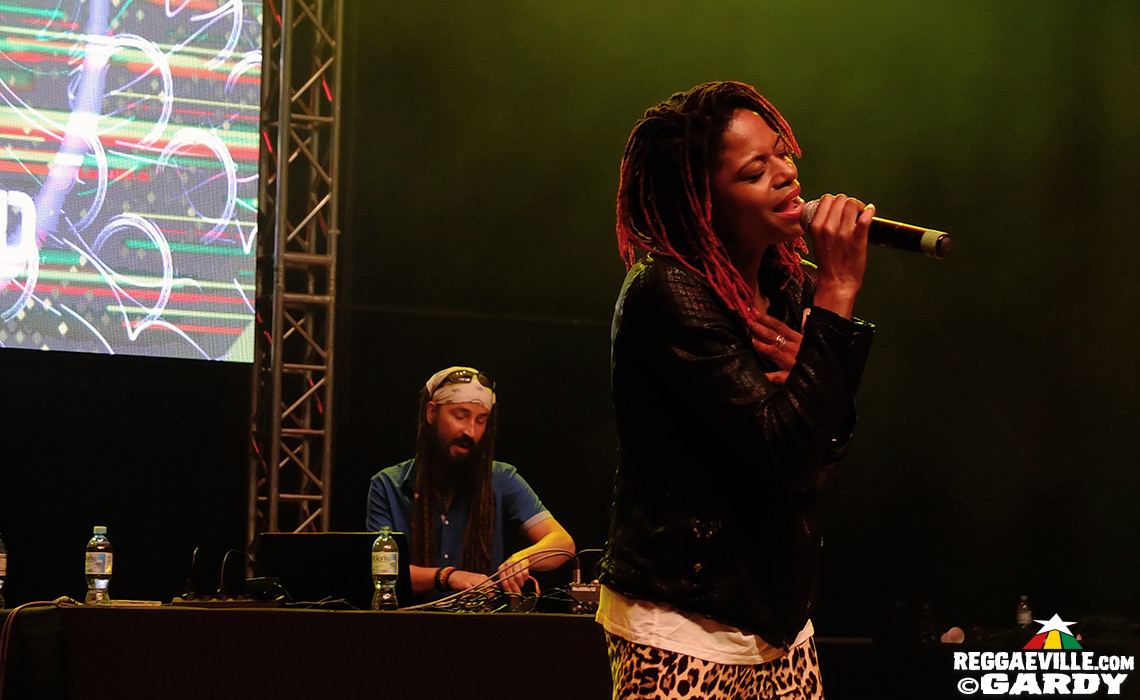 The stage now is empty but for a DJ desk, behind which Polish producer Krystian "K-Jah" Walczak installs himself and kicks off his set with some fine tunes. Having flewn in straight from Germany, singer Tamika then picks up the mic, waving a heart-felt greeting at everyone present. She has worked with K-Jah on several productions, most of which she presents tonight (including the Gentleman-duet Defenders Of The Light), along with some of her own material. It's a big stage to fill for the delicate singer, but she does so with grace and ease, interacting with the audience and visibly enjoying the show. A surprise appearance, Christos DC from Washington, US, joins her on stage close to midnight and presents some of his songs, trailing off into a nice Dub piece at one point. Closing the set with a combination tune with local Polish MC Dawid Albaaj, Tamika waves a final good-bye and expresses her gratitude for being part of the festival. "Poland, I love you!"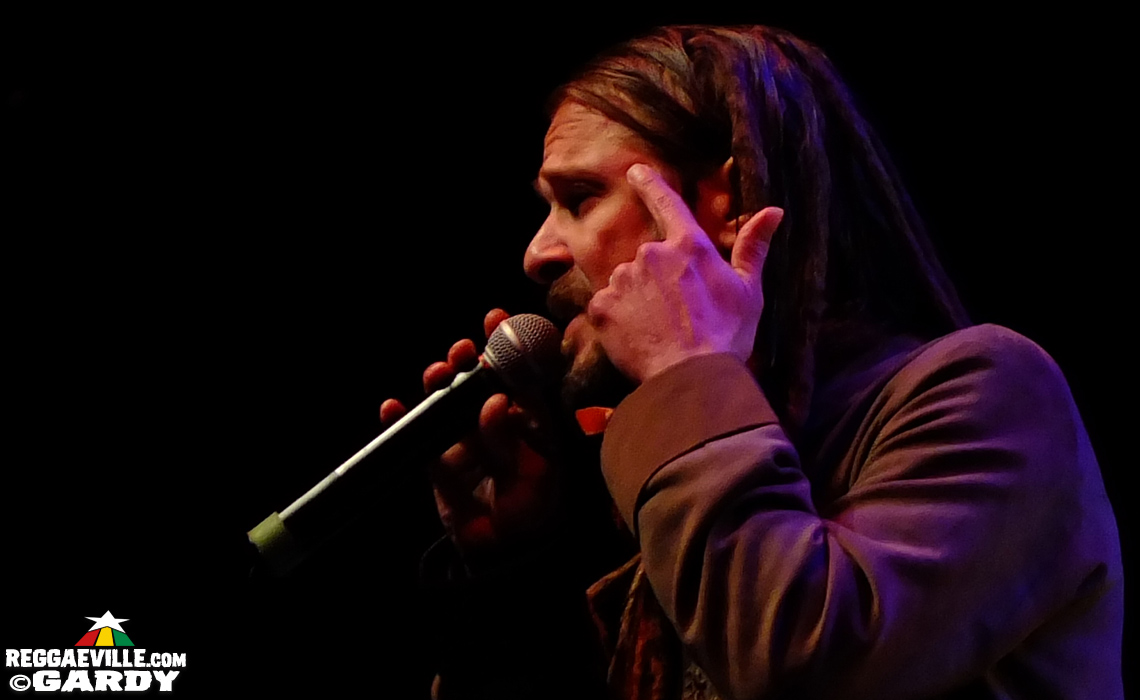 We check out the Jah Love Soundsystem which has taken over the conference room of the Amfiteatr, and where usually rows of seats await people for lectures and presentations, a happy crowd is dancing the night away. Thus provided with a good-night bass massage, we pick our way home to the rising of a mystical orange moon.
DAY TWO - FRIDAY, JULY 12th: Radio, Drums and Ostróda's Dub Club
A little personal sensation starts the day. For the first time here, I'm not a mere spectator of the annual Uniwersytet Reggae, but was invited to be on the panel as speaker along with Karsten Frehe (irieites.de & byte.fm), Jerzy Kleszcz (journalist), Paweł "27 Pablo" Szawczukiewicz (Dancehall Masak-Rah & Radio Kampus), Brinsley Forde (Aswad, BBC & VH1 host) and Mirosław "Maken" Dzięciołowski (Festival Organizor and Czwórka Radio host). Moderated by the academically schooled mind of Bartosz Wójcik (who also delivers a seamless Polish <-> English translation), we talk about the role the Radio has played in the history of Reggae, what changes the digital era brings and what contributions David Rodigan made. It's him that the subsequent film screening of David Rodigan - Reggae Fever is livicated to, and the 'sala kameralna' (conference room) is almost full when it starts.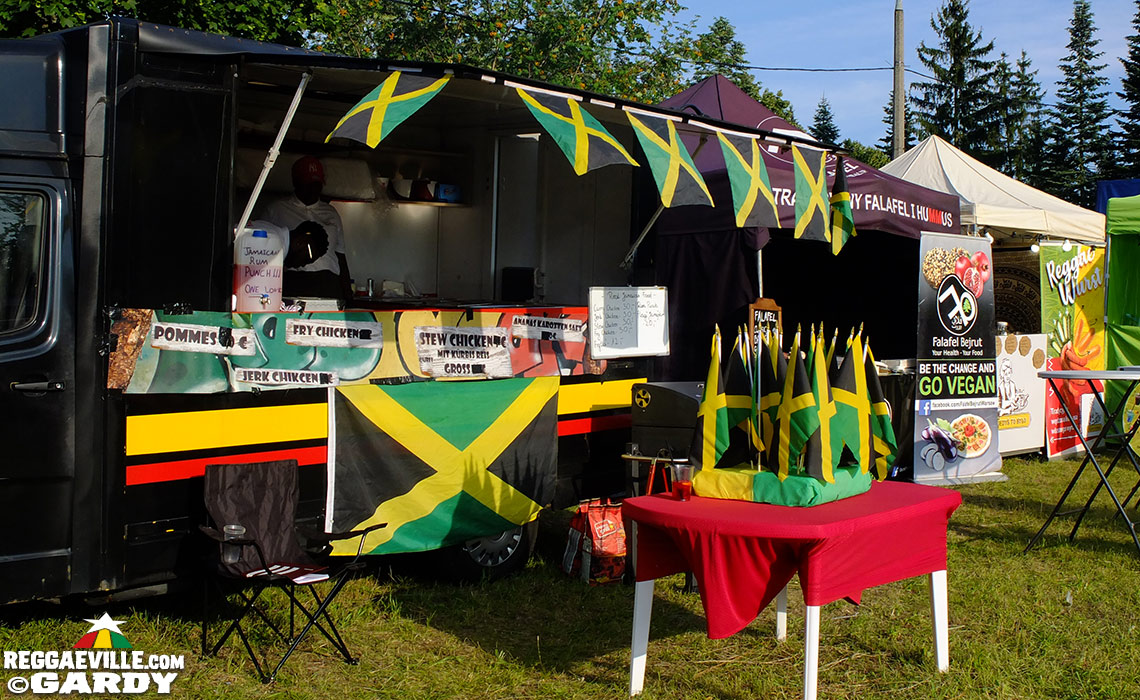 In perfect tune with the festival weekend, sun is shining when we leave the Amfiteatr, and we amble along the lake until the low rumble of drums lures us onto the pier. A group of around 40 people have assembled around Dominik Muszyński, a music anthropologist who studied drum rhythms around the world and passes on his knowledge in a humorous, easy-to-grasp way. Having thus satisfied our ears, we proceed to do likewise with our bellies, finding a table in one of the city's many Pierogi Restaurants. This Polish speciality can be described as fried or steamed dumplings, stuffed with a variety of fillings to cater for different tastes. I choose spinach and feta - yummie!
Arriving at the festival grounds a bit later than planned (in fact, we have missed 27 Pablo's Reggae Edukacja, which is held every year informing the audience about the history of Reggae & Dancehall, as well as the first act, Raggattack), we witness the final songs of the Polish group Gang Bawarii who play relaxed, melodious Roots. Quite to the contrary, the next artist Sidney Polak has a less traditional approach to Reggae, fusing it with Electro, Funk and HipHop beats. His set accompanies us on the traditional round over the premises, discovering what's new and greeting what already feels like old friends.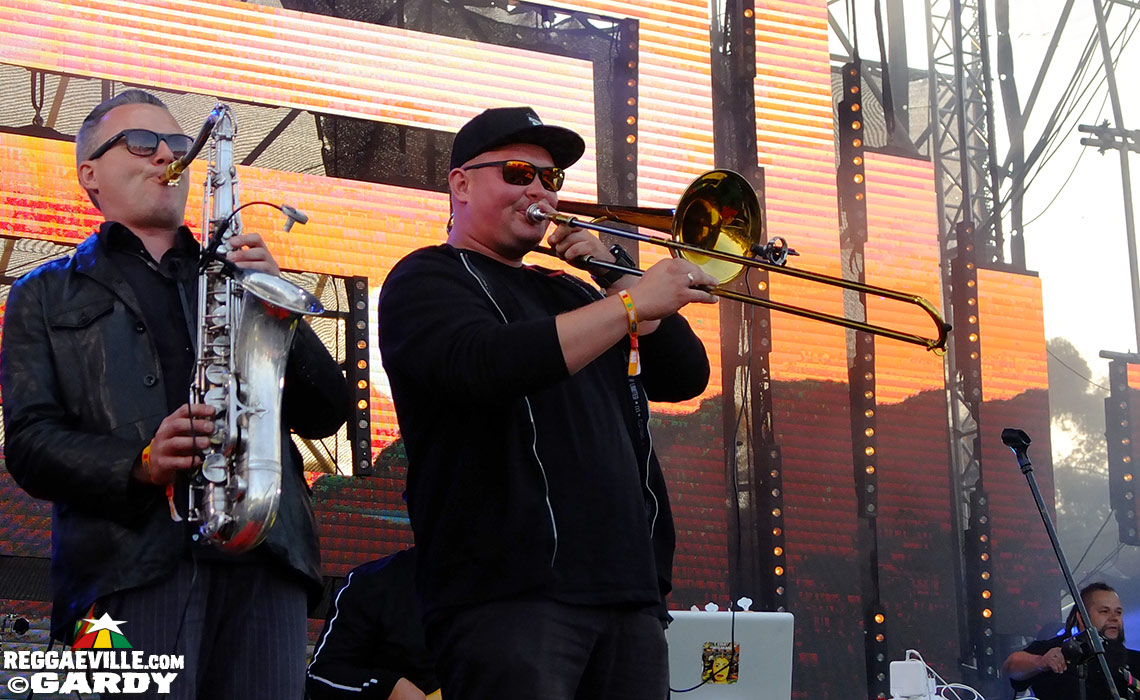 Our attention returns to the Red Stage full force when Etna Kontrabande comes up. Finalists of the last edition of the World Reggae Contest in 2016, they can be seen as representing the high quality Reggae music in Poland has developed. The musicians (Agnieszka on keys, Piter on drums, two Morans on guitar and bass, Piotr on sax and Adam on trombone) spread an almost Wailers-like energy that switches to modern Dancehall-beats in between, and singers Jarek and Łukasz keep up a constant positive interaction with the crowd, making them dance to songs like Everyday, Kingston and Fire Burning.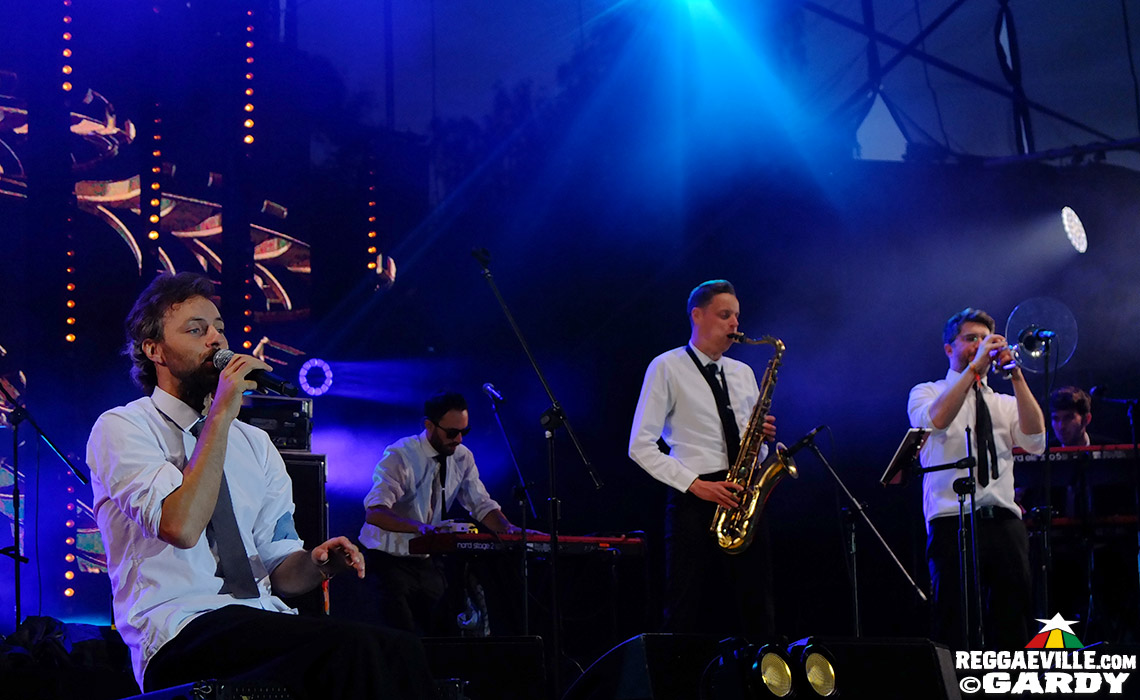 With the settling dusk, the next band has the priviledge to appear in a perfectly orchestrated light- and video-show: welcome on stage, Gentleman's Dub Club! The Leeds band of 9 around frontman Jonathan Scratchley are clearly excited to be here, and in his infectious, congenial attitude, the singer wins over the crowd within the blink of an eye. "It feels so good to come back after 6 years and still feel the love and passion Poland has for Reggae music!" he says, beaming, "Thank you for being here, thank you for the warm welcome, Ostróda!". Taking off jacket, tie and shoes, he continues with an ardent delivery of tracks like Stardust (from their most recent album Lost In Space) or Highgrade, which melts into an extended live dub, the beauty of which fits that of this splendidly illuminated summer night.
Among the spectators, Agent Sasco and Oku Onuora can be seen, taking in the festival's atmosphere in preparation of their respective appearances tomoorrow. But hey, we are in the here and now, and the stage is now changed over for the next big act of the night: The Congos and Pura Vida! It's the latter who open the show, and while the Belgian band is tight and on point, the vocals of singer Bregt keep trailing off, both in singing and talking, so that he's hardly understood at all. Good thing that, with veteran singers Congo Ashanti Roy, Cedric Myton, Watty Burnett and Kenroy Ffyffe, the focus is on their formidable voices, and although they need the first track to warm up, their show is a pure pleasure, for both eyes and ears. Songs like We Nah Give Up, Revolution and the danceable La La Bam Bam bear proof of The Congo's extensive catalogue, and of course they close with their trade-mark Row, Fisherman Row.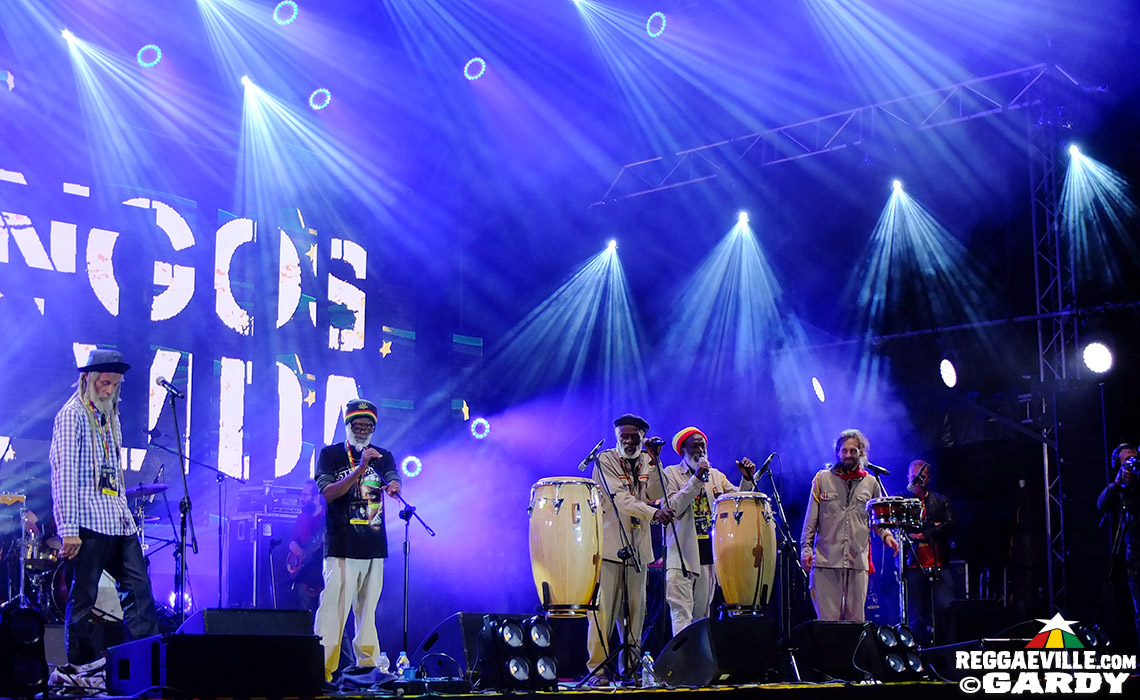 The Red Stage then is closed by Polish veterans Bakshish, a band that has been around since 1982 and is accordingly celebrated by the Polish massive. When their last notes fade away, the crowd fans out to fill their night with the diverse options the festival has to offer, be it a bass massage in the Yellow Stage with soundsystem Bass Aid, a dose of Radikal Guru & Baptiste in the Green Stage or simply hanging with friends drinking 'piwo' (beer). See y'all tomorrow!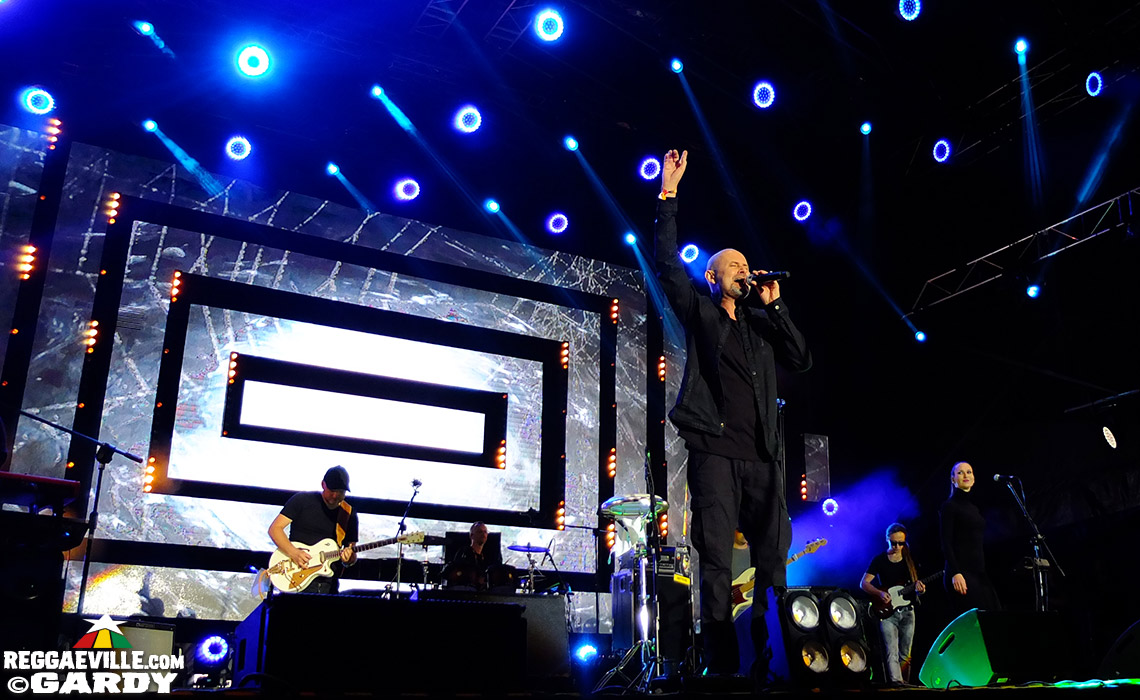 DAY THREE - SATURDAY, JULY 13th: Word, Sound and Power
After a very music-oriented Friday, Day three kicks off with a heavy load of brain-food. At today's edition of the Uniwersytet Reggae, no other than the "father of Jamaican Dub Poetry", Oku Onuora, is esteemed guest and speaker. He talks about the difficult conditions growing up in Eastern Kingston, his time in prison and how it inspired him to start writing poems, and his 1979 release of Jamaica's first ever Dub Poetry record, Reflections in Red, which he even performs for us (as space doesn't permit a reproduction of the full session's content here, we just recommend you to check Oku's life and output). Coming to a close with a look into the future, he stresses that it's important for him to communicate with young Jamaican writers, making himself available to them as advisor and mentor, and that he wants to call this a "generation link" rather than the negatively connoted "generation gap". After a short break in which fans ask him to sign some of the vinyl treasures he has released so far, the movie Being Blacker is screened.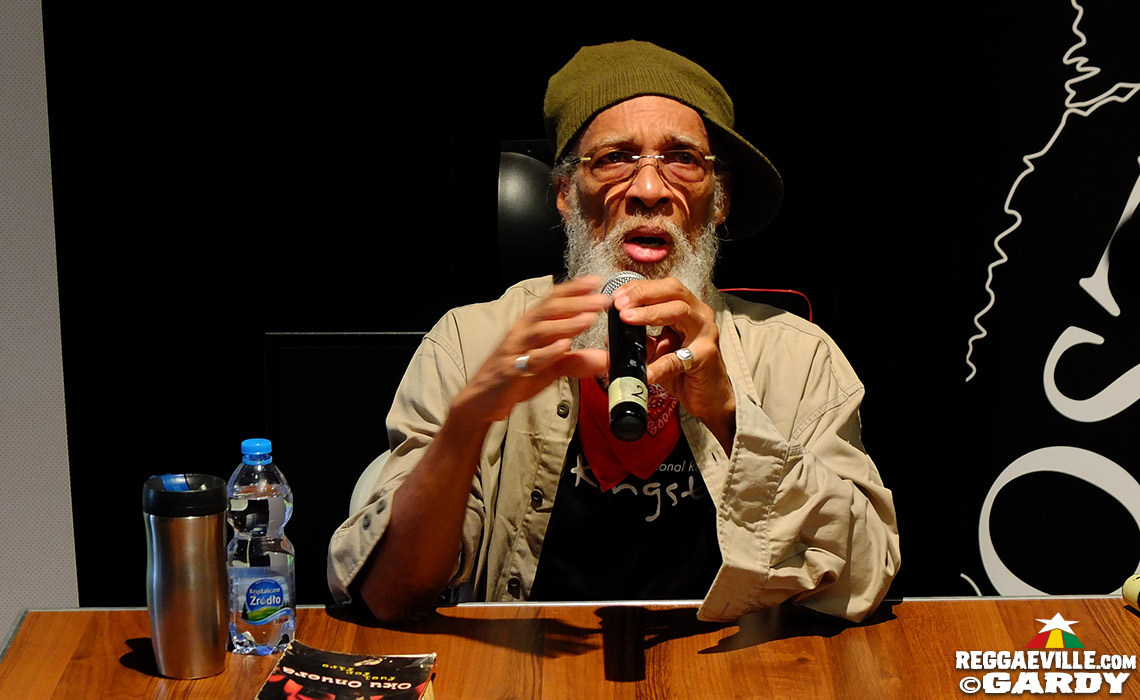 Upon leaving the Amfiteatr, the sound of pumping bass brings us to the pier once more. Here, the Dancehall Queens Ula Afro and MaLwa teach some basic moves to an eager crowd, taking the trip from Jamaican Dancehall to Trinidadian Soca in preparation of a night full of practical implementation. The beautiful weather invites us to walk to the festival grounds, and we thus get a chance to see some of this pretty little town called Ostróda, the 30.000 inhabitants of which support and welcome the yearly Reggae invasion.
It's a lazy afternoon, it seems, at least judging from the relatively few people that have assembled to follow the opening act Johny Rockers, a band that won the Czwórka Reggae Contest last year. An hour later, the crowd has grown considerably, as an artist is up next who can be considered as the Polish Gentleman: Damian Syjonfam! The singer, songwriter and musician is an extremely likeable person, both on and off stage. His songs are sung along to word for word by his fans, and when I spot Bartosz Wójcik among the spectators, I ask him what the present, very melodious track is about. It's called Pochodzimy z Gwiazd, he tells me, and Damian sings "We come from the stars and we are catching fleeting moments." - appealing words for real! After this song, he addresses the audience, and I'm proud to say I almost understand. He says "You have to love yourself, because only if you love yourself, you can share your love with others!"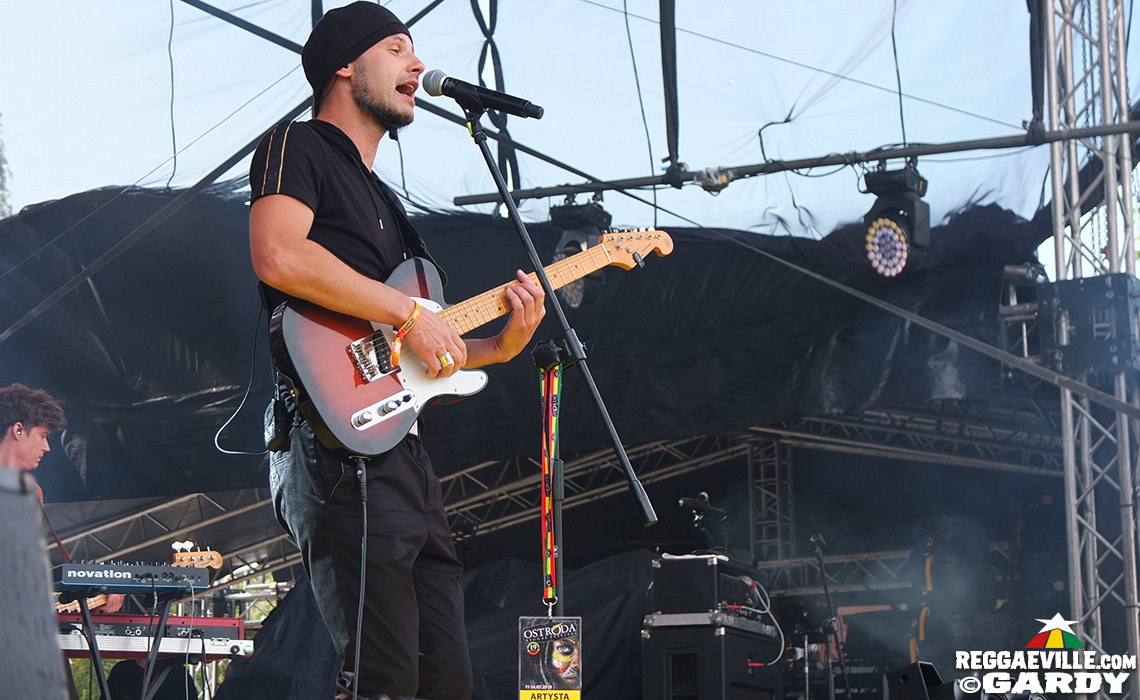 During change-over, we pass through the premises to catch some of the omnipresent peaceful vibes and stop for a while to watch the children jump in and out of the mountains of foam created by Andrzej Czaplinski, a welcome annual tradition. Indeed, I come to realize that this is probably THE most family-friendly festival I know. Not only are there so many attactions for the little ones, including the foam-bath, a playground-area and a chill-zone where they can paint and relax, but also it is natural for even the artists to bring their children along (and, in many cases, on stage as well). Everyone cares for the kids' well-being, and hearing protection in all forms and colours are a common sight. Big up for thinking about the small people, Ostróda!
Stage program continues with the powerful and fun-to-watch band Tabu, followed by Dubska. The latter celebrate their 20th anniversary, inviting guests like Junior Stress and Damian Syjonfam on stage to sing with them. Remarkable about those and most other Polish bands I know is the sheer number of people they assemble. The average is 7, 8 or even 9 musicians, with a strong focus on the brass section. Tabu, for instance, sports Kacper on trumpet, Radek on sax and Marcin on trombone, adding a whole dimension of sound to their performance. At the end of their show, by the way, they shoot at the audience with five or six cannons - of golden glitter!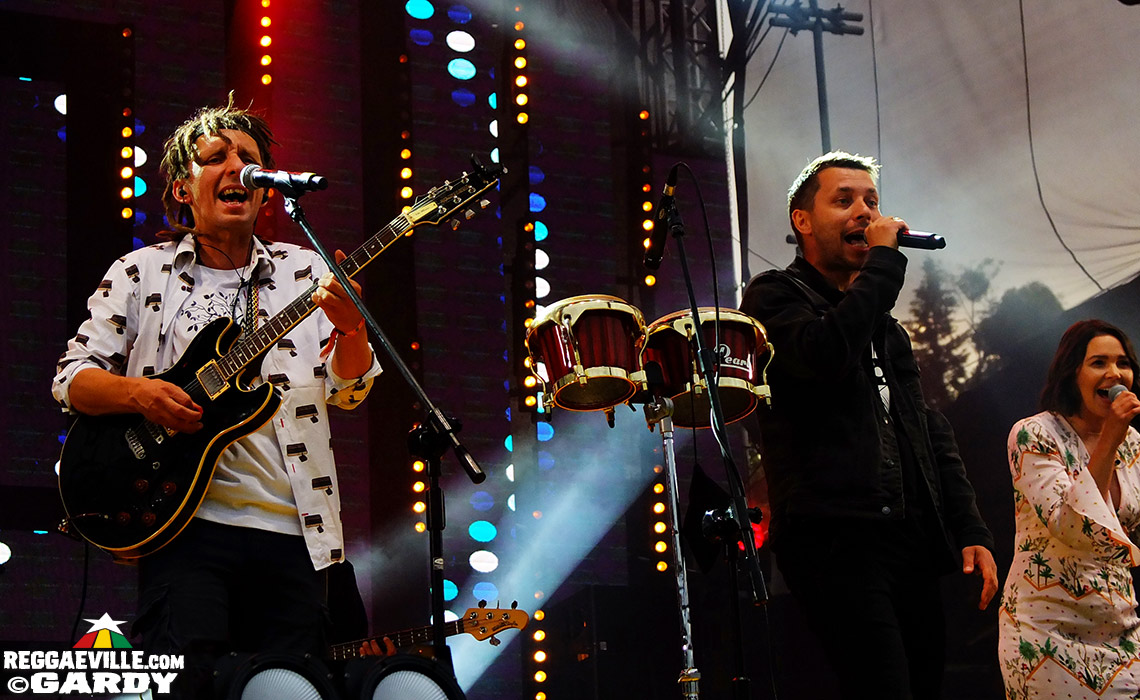 While the night starts to creep in, another high-dimensional experience awaits us. Announced next is Jahneration, a French group I've never heard of before. Good thing this changes now, as they are really a memorable discovery. With seemingly infinite power, the two singers Théo and Ogach inhabit the stage, singing, chanting and rapping in diverse styles to the accompaniment of a fine backing band, the bassist of which puts on his very own show (as we find out later, it's his birthday tonight!). The boys are obviously no strangers to Jamaica either, as they effortlessly blend Parisian HipHop with Yardie-style Reggae, expressed in songs such as Likkle Voice or Jamaica Nice (originally recorded with Derajah).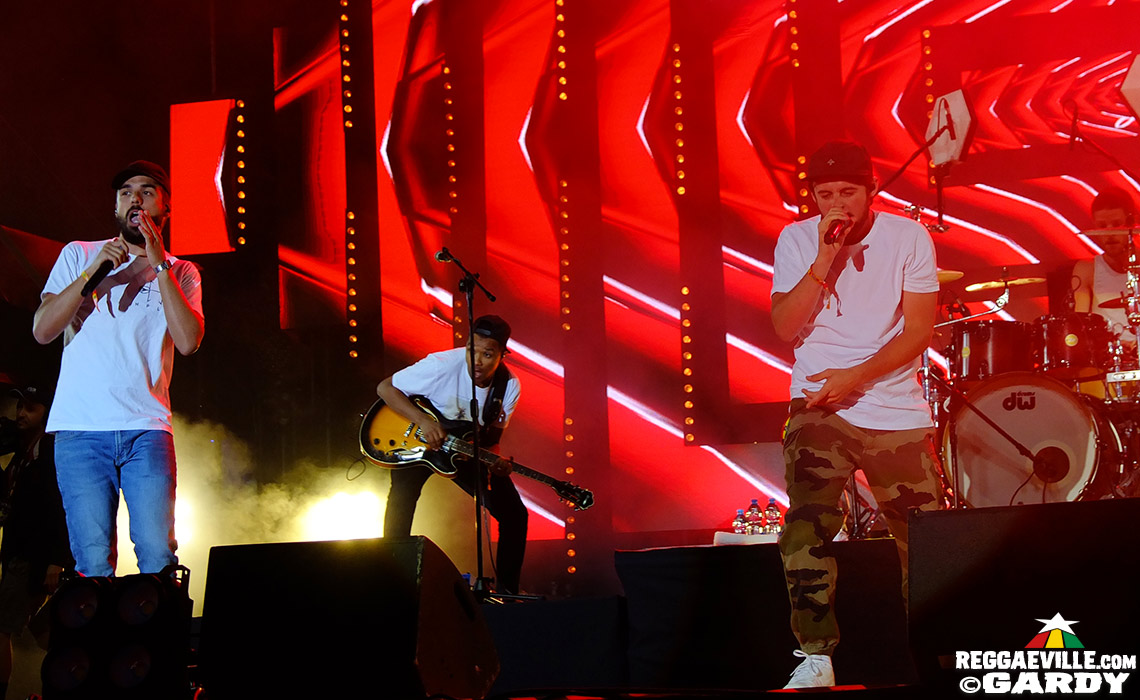 That's actually a fitting bridge to the next act, for which we have to cross the festival grounds to reach the Green Stage, a big tent-like construction in between two houses. Here, we meet K-Jah on the controls again, rolling out the sonic carpet for three Jamaican singers: Ovadose, Unstoppable Fyah and Dotta Coppa. They take turns in performing, sharing the mic at several points during their Dancehall-based show, and are enthusiastically cheered by the crowd. "How are you feeling?" asks Dotta Coppa, who is teasingly introduced as "Yellowman's son" because of his albino traits, and adds "Don't wish bad for others, people!" Wise words to take away, indeed.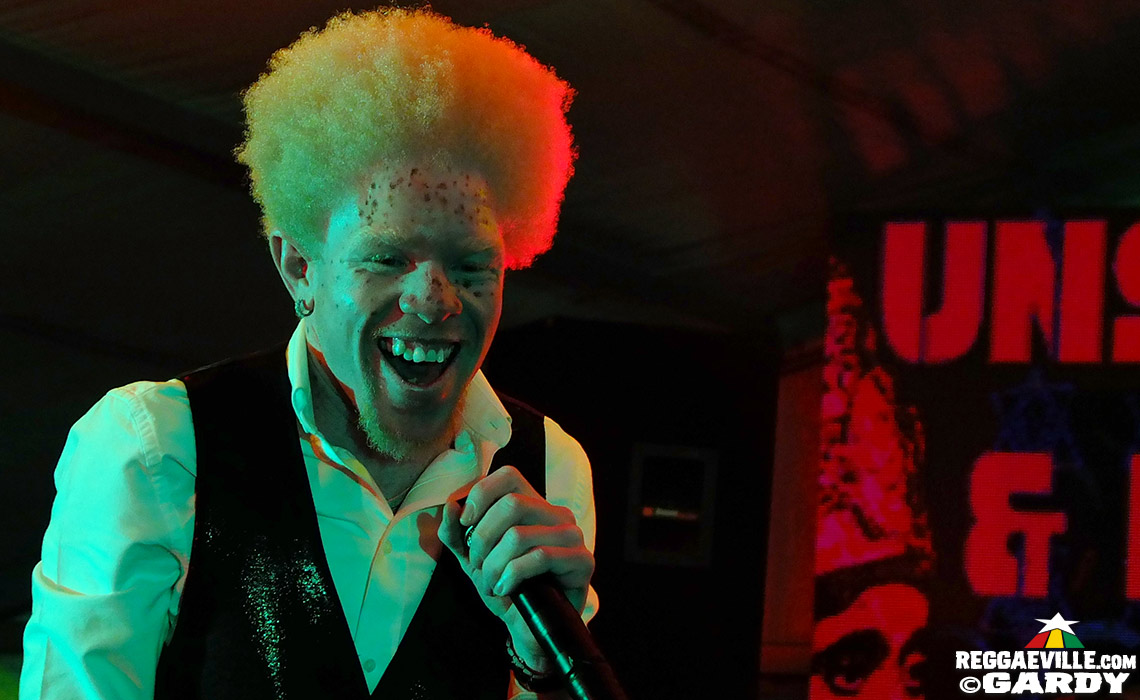 Back to the Red Stage, where Agent Sasco is about to appear. He has used his time in Ostróda well to inform himself about the surroundings, as he asks the crowd "We are on an old army base here, right? So, let's march!", diving into a cover version of Marley's Soul Rebel. Of course, his hits like Fade Away or Something's Gotta Give can't be left out from the show, but it's actually his medley of Dancehall classics such as Heads High or Who Am I in his famous Dancehall Again that elicits the biggest response - especially from the security! Honestly, the two guys guarding the photo-pit are having the time of their lives, dancing like crazy to Agent Sasco's tunes. When the mood on and off stage climaxes, the older one grabs a handful of the glittery confetti still lying around from Tabu's blast and showers the other one with it. That's the vibe here! Meanwhile, the Agent is wondering what the snow-like substance falling from the sky might be: "C'mon people, it's July. This can't be snow!" he exclaims, and he is right: it's again Andrzej Czaplinski's doing, this time blowing a myriad of tiny soap bubbles in the air. Ostróda magic!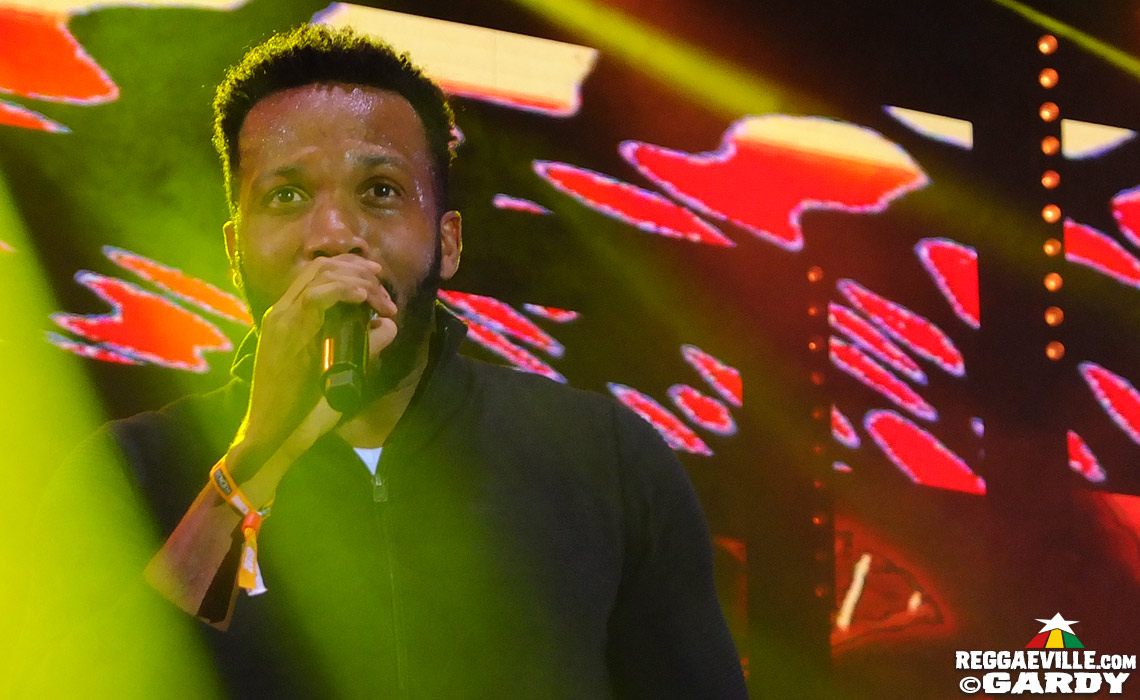 A quick trip to Stage Green is rewarded with a soulful performance by U Brown, who is backed by another Polish DJ-legend by the name of Ras Bass. After listening to his classic Pass The Tu Sheng Peng, however, we have to return to the Red Stage in order not to miss the grand Oku Onuora. And what a sight he is! Despite (or because of) his 67 years of age, despite (or because of) the hardships he's gone through in life, he delivers a fierce, energetic and forceful performance, accompanied by a simple but completely sufficient band of bass, drums and guitar. Both older pieces and excerpts from his latest album I've Seen are part of his set, and although not all people present might understand all of what he says, one red hot topic is of central concern to the artist: "You know what is going on at the borders. People have to flee from terrorism and we don't like it!"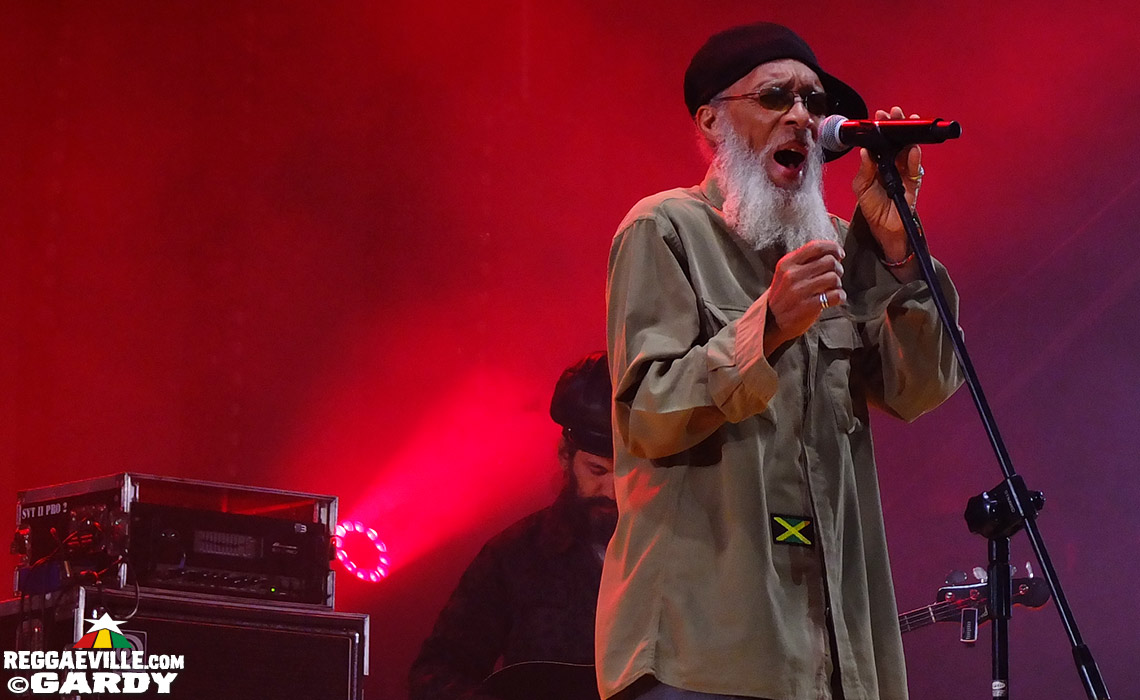 After thus having another highlight to digest, we let the night fade out with one of Poland's best-known producers, Dreadsquad, who backs Spanish singer Lasai on the Green Stage. Those who still have enough power to dance to these international sounds do so until the wee hours, a time that finds us fast asleep already...
DAY FOUR - SUNDAY, JULY 14th: Cutting to the core
Realization dawns upon falling awake to the sound of the skirling swallows outside: this is the last day already! The slight melancholy is swept away after breakfast, however, when we find 27 Pablo and his Dancehall-MasakRah-colleague Rafał infront of the Hotel, playing a couple of 45s on a tiny portable record-player. A little later, Ras Bass joins us, and a lively shoptalk unfolds. Pablo throws out a nice selection of early Reggae, probably mentally preparing for the double set he is going to play today (7:30 pm at the Yellow Stage, 10 pm at the Green Stage), and I simply stand there enjoying the best of ways this Sunday could have started.
On Stage Red, the day starts at 3pm with the performance of Żywa Akademia Pana Kleksa, a children's choir that practices, records and performs songs in Polish - and in Reggae! They thus herald the staging of the Czwórka Reggae Contest, in which 5 bands play half an hour each for the prize of performing live at Czwórka Radio as well as a music video and a single recording. Contestant number one is the JMS Band from Radom, a band of nine who play a punky, rocky version of Reggae and put on a crazy show - and, that's for sure, they do have loyal fans already who showed up with a flag and sing along loudly (never mind the slight slur!). After them, W Innym Stanie take over, a full set of five musicians plus DJ plus four singers who have a melodious, danceable style. I am told that one of the singers is in fact the mayor of a town called Przasnysz - would that more politicians follow his lead! They are followed by a young bunch called Yelram, and while their fast and loud kick-off isn't quite compatible with the relaxed afternoon mood, their subsequent songs are much groovier. My favourites so far are the Positive Reggae Rockers with, yet again, ten band members on stage. Emotive melodies, skilful instrumentals and great vocals will certainly bring them far, no matter how this contest ends! Fifth and last band is Jamiayka, who start with a piece that has a distinctive Polish folk touch. They call their music Haquna Reggae Style, and they sure know what they are doing. When they play a lengthy Dub sequence, I have to reconsider my frontrunner, but it's the Jury who now has to make a tough choice (and their vote fell on Yelram, who are announced winners later on!).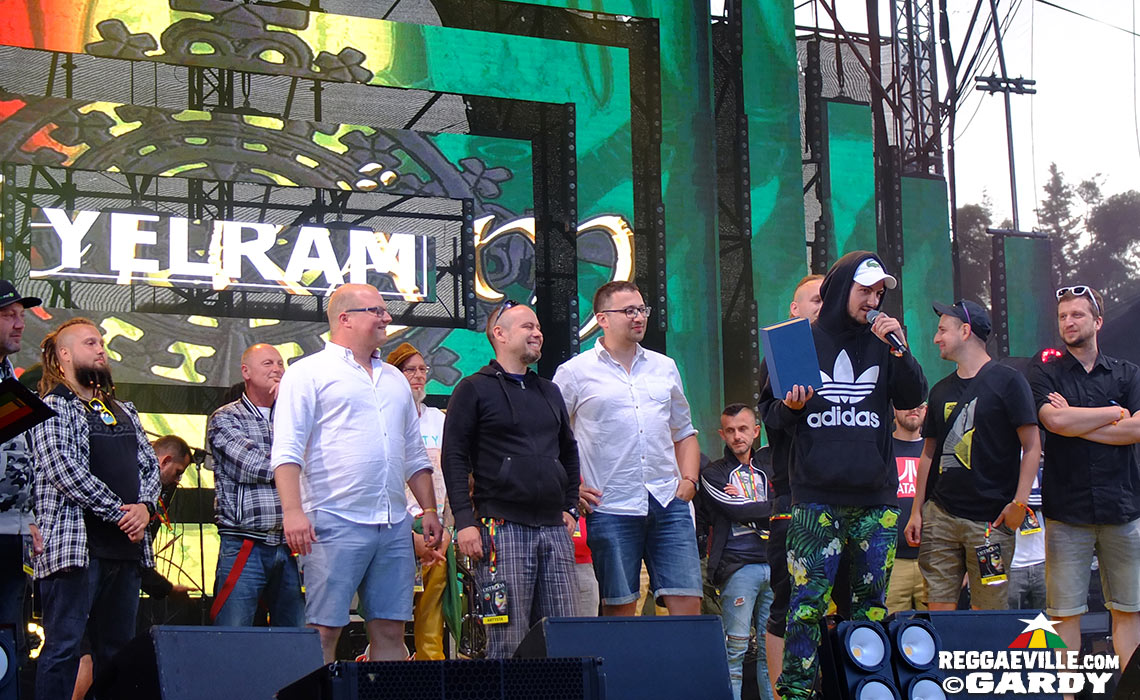 Meanwhile, Marcus Gad, Tamal and the Tribe arrived backstage, having flown in straight from the Sunrise Reggae & Ska Festival in Germany. Ever since their name emerged in the line-up, I've been looking forward to their performance tonight, as the honey they made us taste during the Reggaeville Easter Special has left us yearning for more. Thus, we mingle with the crowd to get the best possible sound and open our heart and soul to the experience. Live Up To The Day starts the ride, and even though the sensation isn't as intimate and direct as it was in Hamburg's Fabrik, it's amazing to see how conversations all around us ebb away as more and more people are touched by the inexplicable magic of this music. "Let go of your ego, as it is the only thing standing between you and God!" advises Marcus and continues with gripping songs like River from his current EP Enter A Space or Kanake from its predecessor Chanting. All too soon, their set is over, and Marcus takes his leave with the words "Take care of yourselves, but most of all, take care of the earth!"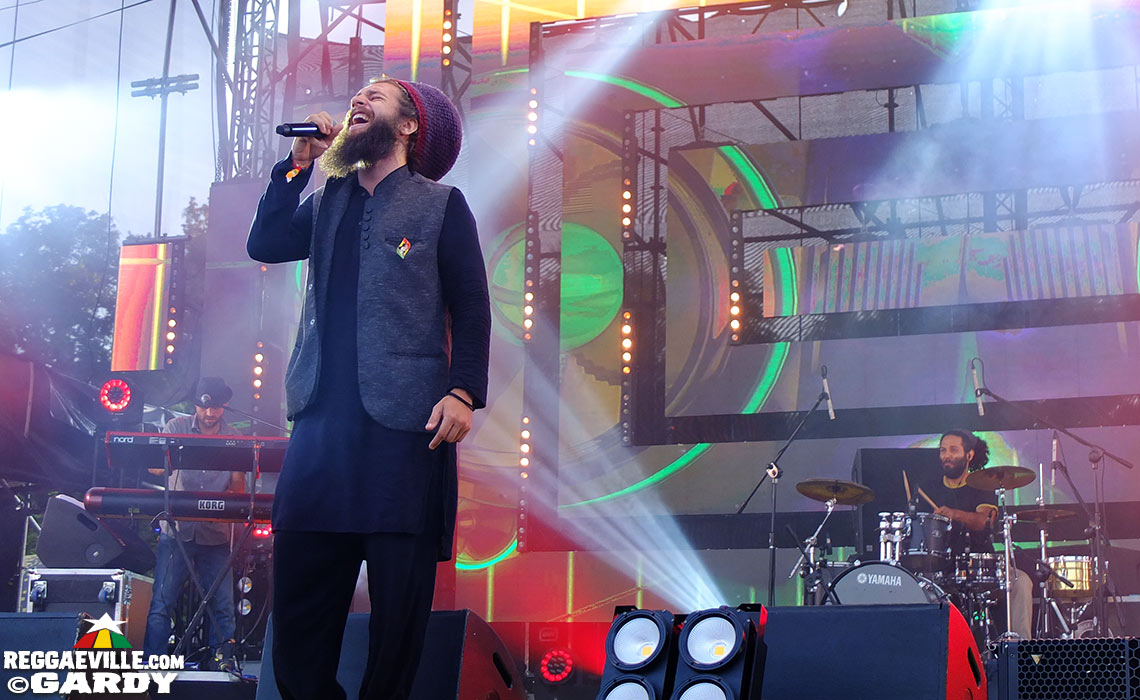 At this point, let us salute the organizers of this beautiful festival - not only do they have a knack for choosing bands that both satisfy and surprise the audience, but also does the timing of the slots attest to careful consideration and planning. While yesterday, for instance, was a demonstration of fiery power and passion with Tabu, Dubska, Jahneration and Agent Sasco, today we are led into calmer and deeper waters. The lower and slower frequency of the music enables us to have a more thorough understanding of the inherent messages, and thus to take them home with us.
While the contemplative mood of Marcus Gad still lingers, Samory I and his Black Heart Band are getting ready to shower us with their Black Gold. As I have missed the first part of their show at Cologne's Summerjam, I make sure I'm there from the beginning this time, enjoying both the interaction between the singer, his band and the audience and the spiritually rich songs like African Daughter. While Samory's vocal performance is not as good as I remember it to be in Cologne, the musicians play on point, and their Dub accompanies me on a trip to the Langosz stall I've spotted earlier. This tasty Hungarian snack reminds me of my childhood, when we ate the simple flour-and-yeast pancakes during our summer holidays on the Balaton lake. So good!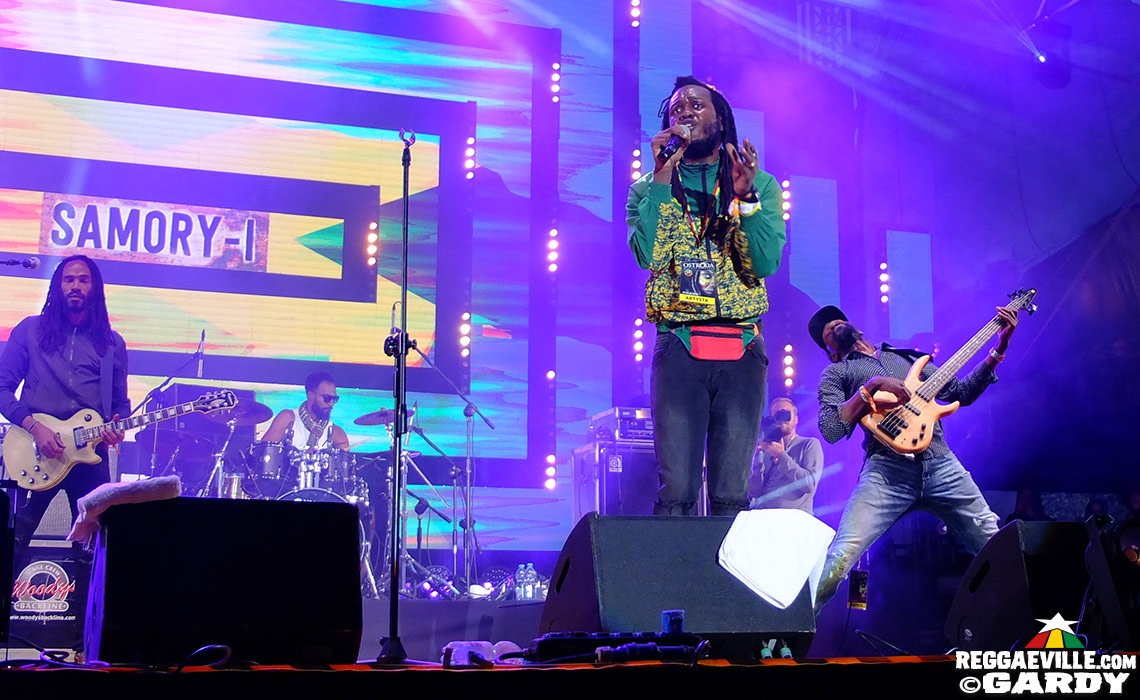 On the one hand, our next destination doesn't really fit the meditative mood of the night, but on the other hand, the Ostróda experience wouldn't be complete without a dose of Dancehall Masak-Rah. I especially enjoy the beginning of their show, when the whole Green Stage tent is singing One Love and Buffalo Soldier unisonously. Woioioi! And then, nothing beats the feeling when you palance with the crowd to the sounds of the Wipeout-Riddim. Prawo, prawo, prawo, lewo, lewo, lewo! As the team celebrates their 10th anniversary tonight, an impressive amount of talent, both singers and dancers, shares the stage with 27 Pablo, Diego and Junior Stress.
Sponging these crazy vibes (and sharing them with Marcus Gad's tour manager Ugo), I have to admit that the first half of Queen Ifrica's show was lost to me, but the sheer power of that woman blows me away as soon as I reach the Red Stage. She is just about to introduce her band to the audience, then jumping into the track Battlefield from her last album Climb. At the stroke of midnight, it's Ganja time. She asks for a rizzla and starts to roll up on stage, lighting the spliff and performing her song Sensimilla as soon as it hits. After inviting her background singer Nikki to perform a song, the Queen takes over again to bring her show to an end with a flourish: the Mento classic Sammy Dead makes the audience dance wildly!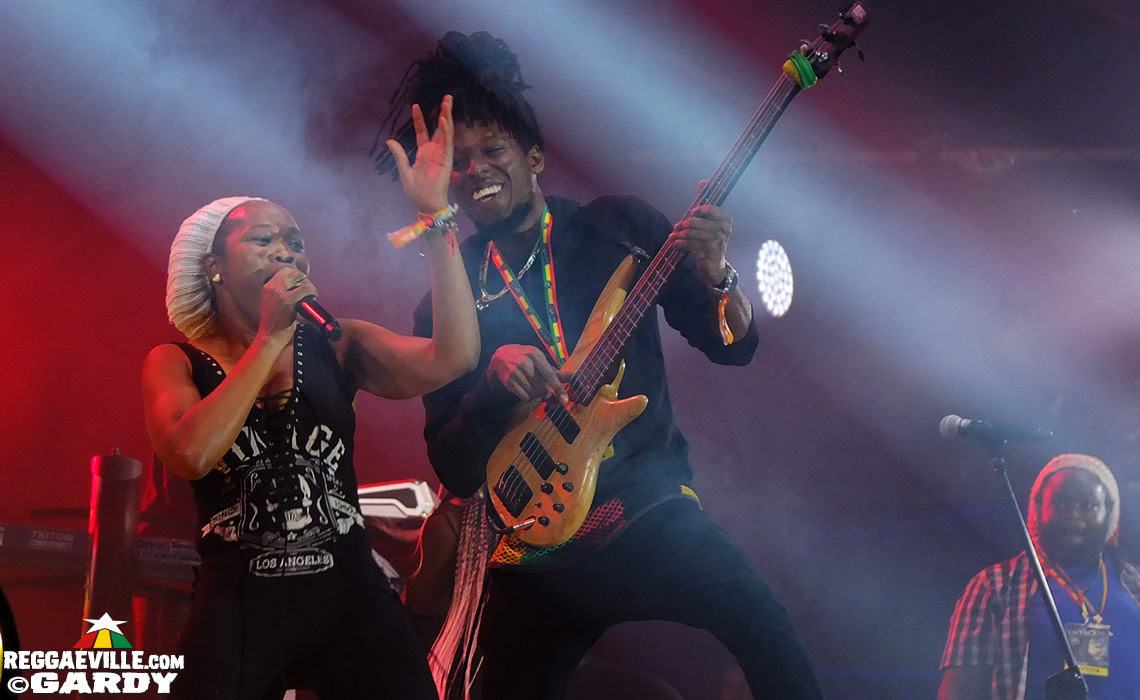 Last act for the night (and the festival) is L'Entourloop from France. I've never seen them live, otherwise I'd be prepared for the enigma they represent: two old men with glasses on a DJ-desk in the middle of a darkened stage. Are they really that old or do they wear masks? Sir James and King Johnny are accompanierd by MC Troy Berkley and N'Zeng on trumpet, the mixture of which is a real pleasure to behold. For instance, when DJ and trumpetist are battling each other, N'Zeng repeating whatever scratched challenge King Johnny puts infront of him. Or, when the two grandpas shoot a firework of samples at us, well-mixed of course. A remarkable video-installation rounds off this impressive show, and I'm certainly not the only one wondering what the true age of the performers is.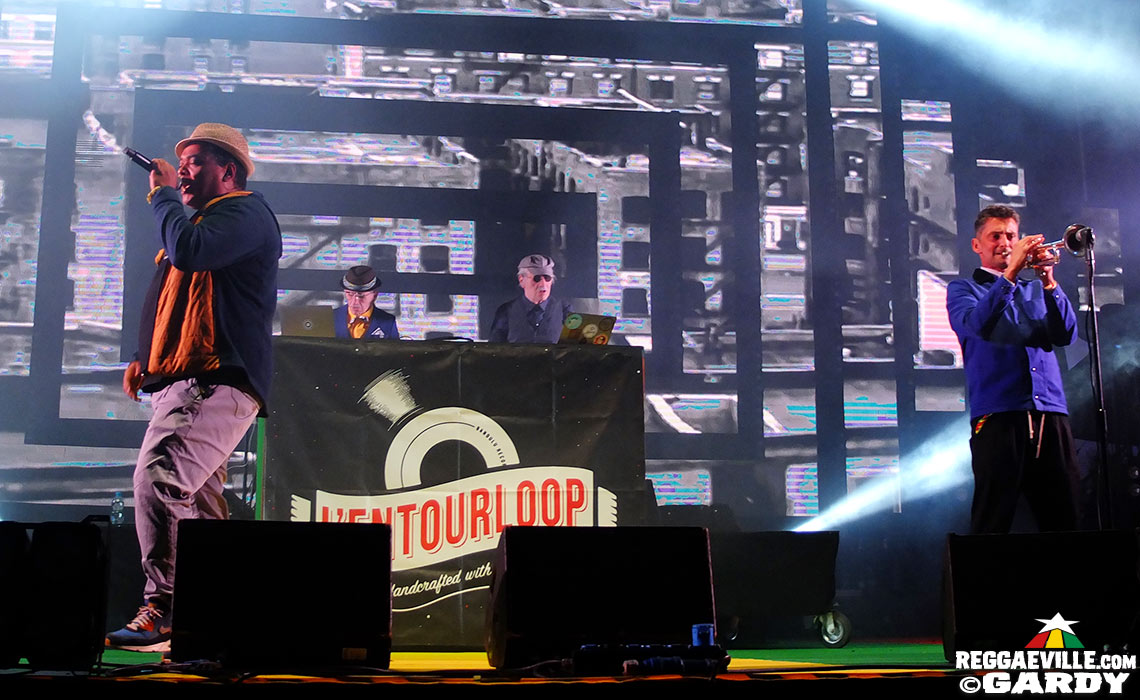 And, just like that, the Red Stage is closed. Yes, the party is still on at the Green Stage with Poland's Splendid Sound, but for us it's time to say good-bye to our wonderful hosts. Piotr Kolaj, Mirosław "Maken" Dzięciołowski, Olivia "Lili" Musiatowicz and everyone else involved - I am so grateful for another unforgettable experience! With the hashtag #morethanmusic, the Positive Music Promotion team has captured perfectly what this weekend was about: music, yes, but most of all people, coming together, sharing positive vibrations and a vision of a warmer, more colourful and more amicable society. Now, let's put this vision to reality!