07/05 - 07/08 2018
Festival Report - Ostroda Reggae Festival 2018
07/11/2018 by Gardy Stein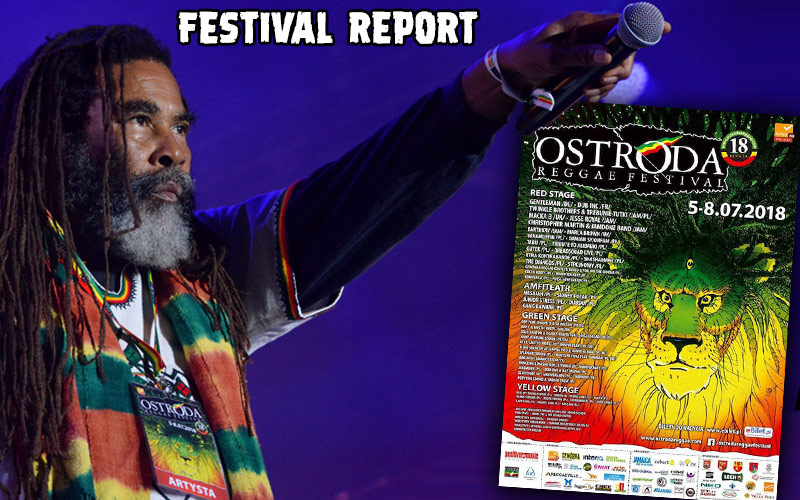 Ostróda Reggae Festival has grown up! For its 18th birthday, guests from near and far gathered in the little lake town in Poland's beautiful Masuria to contribute their talent, their vibes or just their presence to the celebration. Old and young, family and friends, man, woman and child - they all came to this unique festival that has grown on us, and we are proud and happy to present, once more, a report on all the niceness that happened over the last weekend. Ting called: Change Your Point Of View! In an effort to give you a detailed impression of the festival runnings, we will describe it (in word and picture) from as many perspectives as possible. Enjoy the ride!

CLICK HERE FOR THE OSTRODA 2018 PHOTO REPORT!
DAY ONE - Thursday, July 5th 2018
8:55 pm Amfiteatr: Piter and Maken (festival organizers)
It's been a good first day. The main stage is set up, the weather is fine, our festival visitors keep arriving and all bands and musicians so far have made it on time. Junior Stress has just delivered a fantastic set, and, right now, Mesajah is about to sing. We use the change-over break to talk to Agata and Wojtek, the couple that got married at Ostróda in 2015 and is widely known in Poland for their Rolki Reggae Rajd. This year, they have travelled more than a thousand (!) kilometres during the last two weeks to raise money for Staś and Kuba, two children with multiple handicaps. On inline skates! And even though their feet hurt for sure, they are dancing and skanking away with everybody else at the Amfiteatr to the beats of the music we love.
DAY TWO - Friday, July 6th 2018
After yesterday's kick-off at Ostróda's Amfiteatr close to the beautiful lake, today the festival proper starts at the old army base in the middle of the town. Our festival report will present to you the happenings from different points of view: from visitor to artist, from stage manager to vendor, as every single person contributes his or her share to the success of this huge event.
12:30 pm, Ostróda City Coucil: Genevor Gordon-Bailey (Councillor @ St. Ann Municipal Corporation)
Our Jamaican delegation (consisting of Ocho Rios' Mayor Michael Melnavis, his wife and daughter, Councillor Kim Brown-Lawrence, Councillor Ian "Trumpet" Bell, CEO Rovel Morris and myself) is received with great honours by the mayor of Ostróda, Mr. Czeslaw Najmowicz. It's the first ever ceremony of its kind, and we are proud to be part of it - from now on, the cities of Ostróda and Ocho Rios are official twin towns! Presents are handed over, and we are looking forward to be taken to the festival grounds by Miros ław "Maken" Dzieciołowski and Piotr Kolaj likkle more.
2:12 pm, Amfiteatr: Bartosz Wójcik (host of the Reggae University)
As every year, we incorporated interesting background info into the festival program so that people can educate themselves about the rich history and current diversity of this lively genre. Right now, Paweł "Konjo" Konnak's film project "Exodus. Robert Brylewski" is screened. The revolutionary Polish musician, lyricist, singer and band founder who passed away earlier this year has done a lot to promote Reggae in Poland, and both his presentation here and the mural dedicated to him at the new festival grounds is an appropriate ode to him, I think.
3:46 pm, Highway 7 from Gdansk Airport to Ostróda: Damien (light technician of Dub Inc)
Traffic jam! Man, I hope we make it to the festival in time for me to check the stage before the first band comes on. I heard it's huge and I have to make sure all is working right for our Dub Inc show tonight. I'm telling driver Isa to take me straight to the Red Stage once we reach Ostróda. The other band members are still at the hotel, but they'll join me later. While we are slowly rolling through the beautiful Polish landscape of Mazuria, I'm trying to establish an internet connection on my mobile to be able to watch the match between France and Columbia that's about to start.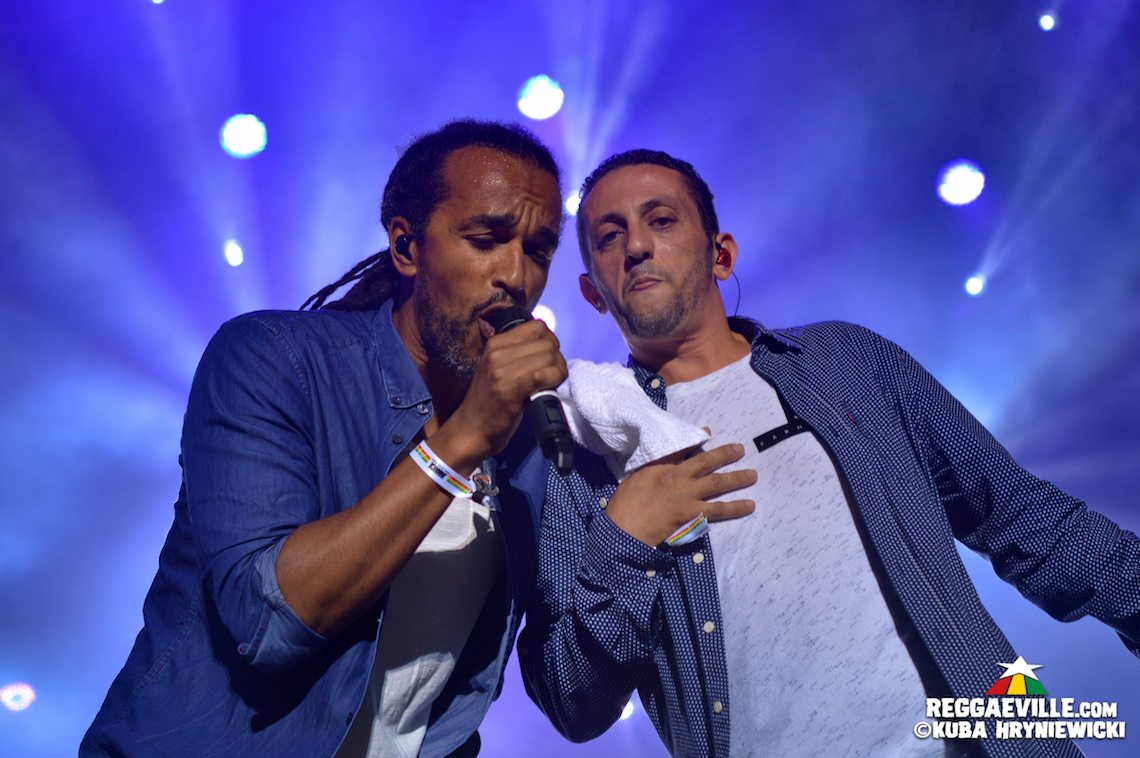 6:23 pm, Red Stage control tower: Gardy (Reggaeville)
It feels so good to be back here, to greet our Polish colleagues and friends who feel like family! Since the festival had to be moved to a slightly different location (as the old army field where it used to be is turned into real estate), I take a stroll first to know what is where. Red, Yellow and Green Stage: check. Coffee at the Press Office: check. Music-wise, I arrived in time to see the last few songs of a rather unspectacular Polish band called Django. Up now it's Dreadsquad Live, a project consisting of six musicians and the singer Kasia Malenda as well as initiator, producer and musical director Marek Bogdanski, better known as Dreadsquad. I watch him nod to himself in time to the beat, pressing and turning buttons in the control tower opposite of the main stage. Maken tells me that it's their first time to play in Ostróda in this formation and that Marek was a bit nervous. So far, everything works out fine and I enjoy the musicianship, even though the vocal diversity so present in Dreadsquad 's last two releases The Riddim Machine Vol. 2 & 3 is a bit lost with only one singer on stage.
7:03 pm, foam bubble mountain next to the Red Stage: random child
Yes yes yes! I want to dive into these bubbles at once. Mommy, hold my shirt. And my pants. Wow, this is so cool. I can't see much in here but it feels so great, all those little wet touches on my skin. Let me run out. Oooh, the sun makes the bubbles sparkle so prettily in all the colours of the rainbow. Mommy dances to the music, I am so happy we came here. Let me run in again... this is so much fun!
8:35 pm, Green Stage: Malik Singledread (Stage Coordinator)
The Red Stage is dead. Seems like they are having some major technical difficulties. Damian Syjonfam startet his set there all right, but after the first half hour or so, both screens and amps went out. He continued acoustically for a while, but they decided to interrupt the program to fix the problem - that was almost an hour ago! On the up side, a lot of people came over from the Red Stage to check us out, so Simonu and Jah Vesta Sound, who are rapping to a lively mix of Reggae and Dancehall riddims right now have quite a crowd.
9:03 pm, Backstage Red Stage: Gardy (Reggaeville)
The Red Stage is still down. Amazing how calm and friendly everybody stays - at any other given location, people would probably panick. Given the resulting delay in the program, it doesn't seem as bad now that Jesse Royal cancelled his performance last minute, as this would have added a considerable amount of stress. I try the vegan catering (excellent!) and watch Mesajah who strolls around and takes pictures with or signs autographs for fans. Solo Banton and Deadly Hunta have just arrived as well, preparing for their show later on.
9:45 pm, Green Stage: Krystian "K-Jah" Walczak (producer & DJ)
Rapha Pico is really mashing up the place! I haven't quite expected such a big crowd, but it's great to see them party to the music we play. Especially his single called Solid Ground and our track Journey seems to please them, and I can't wait to finish the mixing and mastering and release it. Also, my upcoming project with Danny Creatah from Holland is one to look out for - the World A Reggae riddim will come with a compilation featuring the likes of Luciano, Gentleman and Kamau. After almost an hour of singing tracks in English and Polish, my homie Dawid Albaaj handed over the mic to Rapha, and as he finishes his show, he returns it to Dawid. A few other talents are lined up to take over, among them Singledread's brother Mad Majk, who has an impressive repertoire already. Oh, but this guy in the blue shirt is clearly too drunk to sing... don't let him have... oh, he got the mic. As much as I like promoting new talents, this was a mistake, but Dawid realizes this as well, takes the mic back and continues the show.
10:29 pm, Red Stage: Gardy (Reggaeville)
The massive is celebrating loudly the return of sound and power to the Red Stage, and Damian Syjonfam and band are back in full swing. Especially the younger generation sings along to his songs word by word, and the likeable singer knows how to entertain them for sure. A special applause is reserved for the young man he introduces for one song - it's his son Dawid Skoczylas, a youth of 17 and a budding talent for sure. I'm told that Damian is a very family-oriented artist, having established the label One Fam together with his wife Magda. The first album to be released there is the self-produced Czuj ę, W ięc J estem which is premiered right here, right now. Exciting!
11:15 pm, Food Stand: Karsten & Jaap (Irieites)
The Belgian Fries they sell here are the best! And it's funny, too: when you order, you have to give your name, and as soon as your order is ready, the owner makes up a short poem about you, adds your name and says "Tadam tadam" through his megaphone. While we are waiting for our announcement, we watch what's happening on the main stage via the huge screen. Jesse Royal is replaced by the Polish Maleo Reggae Rockers, a band that celebrated its 20th anniversary last year. Their singer wears a shirt with Robert Brylewski' s image - this man really seems to be a kind of national hero!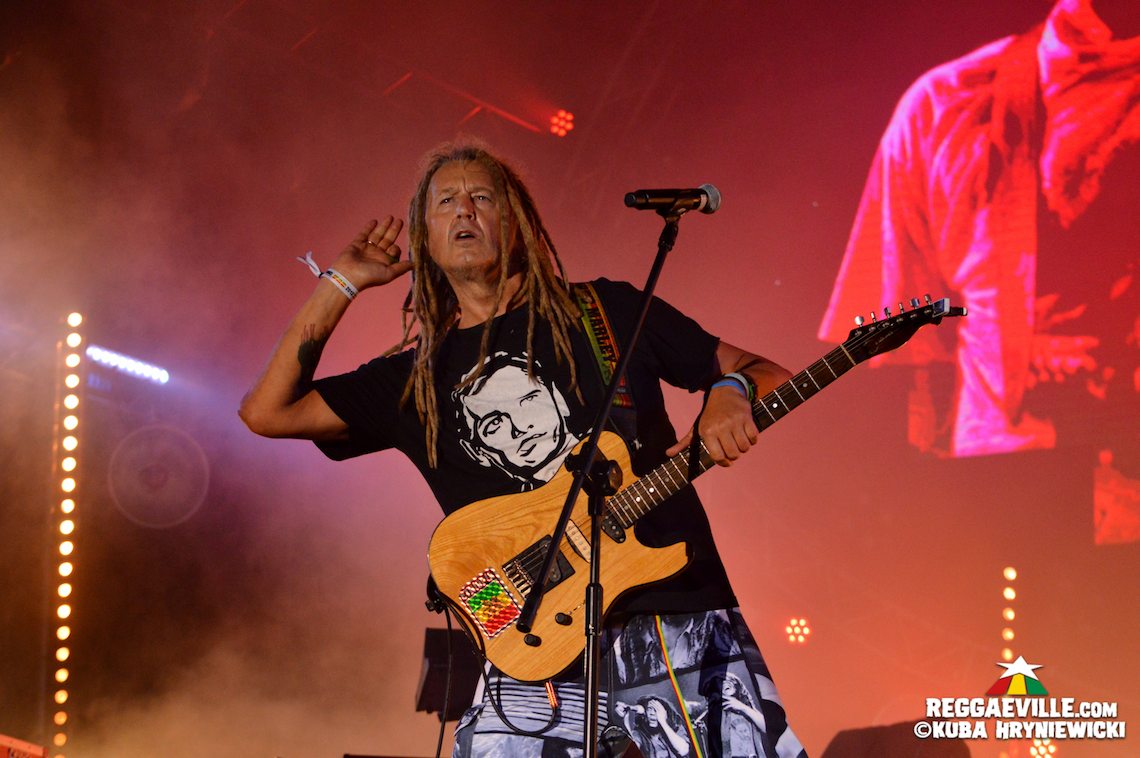 00:41 am, Red Stage Control Tower: Damien (light technician of Dub Inc)
Here we go! This is fantastic. What a great stage to work with - this festival really invested in the lights and visuals. The darkness adds to the dramatic effects of the illuminations, and our band is doing a wonderful job. I will now fade all the colours and leave on the white light only to prepare for the track Maché Bécif, which starts all acoustic...
00:49 am, Red Stage: Gardy (Reggaeville)
Wow wow wow! Having never seen Dub Inc live, it's about time I do - and their performance leaves me deeply impressed. The band plays tight and the two singers Hakim "Bouchkour" Meridja and Aurélien "Komlan" Zohou hold the spectators in a tight grip of fascination. Most of the songs presented are from their new release So What, and both the exotic beauty of Bouchkour 's arabic passages and the burning topicality of refugee- dedicated lyrics like Exil add to the success of their fourth visit to Ostróda. A special moment is the guest appearance of Solo Banton, who has prepared a full set on the Green Stage likkle more.
01:03 am, Green Stage: Malik Singledread (Stage Coordinator)
Bay-C is performing his last song. He has just called his little son Amani on stage, but he was too shy to sing. But hey, the audience gave him a huge round of applause all the same! Likewise, the artist's new song Don't Get Gassed on the Pool Night Riddim is duly celebrated. Some people who arrive now complain that they missed his show, but since the set of Bakshish Soundsystem was over faster than intended, we had to move ahead. But don't worry, more niceness is about to come, and Bay-C can be seen again at the Regalowisko Festival on August 11th!
1:55 am, Red Stage: Maken (one of the festival organizers)
With Piotr Strojnowski, we have invited an interesting last act. The singer, songwriter and founder of the legendary band Daab is now working on his solo career with his new band-project Strojnowy, enriching the Polish Reggae scene with clever, critical songs that are, apart from a few love songs, important social commentary.
2:40 am, Green Stage: Gardy (Reggaeville)
An energetic set of Deadly Hunta shakes and wakes me up a bit. It's been a long day, but it's far from over. Since the artist has to leave for an early flight from Warszaw, Solo Banton takes over, continuing the lit vibes. He presents older tracks that people jump along to, but also new material like Full Of Lyrics, the song from Kris Kemist 's most recent release Ketch A Fire, explaining what "Banton" means. After these fantastic live acts, Malik Singledread plays some bass-heavy productions that make the remaining listeners moan and groan with pleasure. One track that sticks out is a forceful marching riddim on which Anthony B sings a piece called Soldiers For Love , and Malik explains to me that it's a project produced by him, Kapitan KaCeZet and Err Bits. Shortly after, the dawning morning ushers me to bed, and I'm looking forward to the pictures that captured this eventful day. And to tomorrow, of course!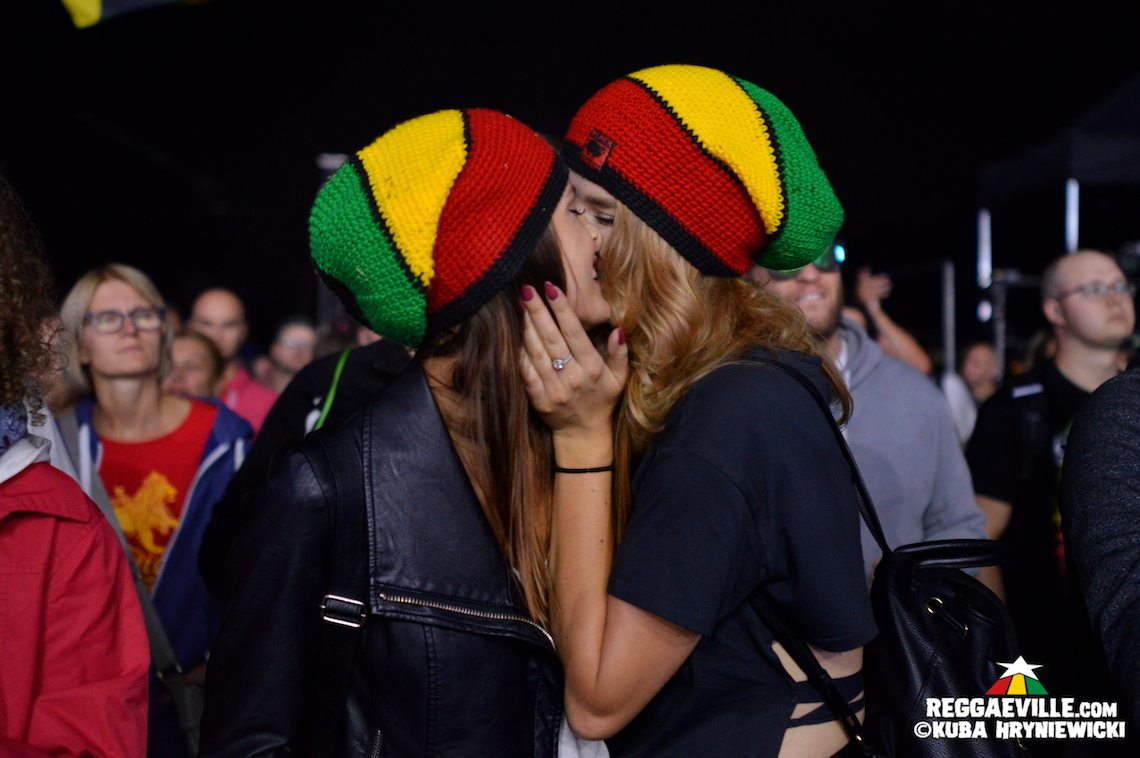 DAY THREE - Saturday, July 7th 2018
Long days, short nights - the exceptional rhythm of festival life can be felt in Ostróda as well. After an amzing Friday that has already filled me to the brim with impressions, I'm ready for whatever Saturday has to bring. The presence of veteran singer Norman Grant lures me out of bed and into Reggae University, where the documentary Nad Wysoko ści ('Above Heights') by Tadeusz Pałka is screened, a film that accompanies the unlikely encounter of the Twinkle Brothers and Trebunie Tutki from the Polish Highlands.
12:20 pm, Amfiteatr: Bartosz Wójcik (host of the Reggae University)
32 years ago, the Twinkle Brother Norman Grant met Polish journalist and producer Włodzimierz Kleszcz in London, hearing from him about a traditional family band called Trebunie Tutki living in a remote hills area of Poland. Norman's interest was sparked, as he himself comes from the equally remote Blue Mountains in Jamaica. 2 years later, a first visit between the two artist families was arranged, and in 1993, this meeting resulted in a genre-transcending album called Twinkle Inna Polish Stylee - Higher Heights. I am honoured and excited to have all these players in my conference today, and the discussion following the film will certainly be a fruitful one.
2:09 pm, Red Stage: Gardy (Reggaeville)
From conference to concert: while the official program starts at 4 pm with 27 Pablo 's presentation on the history of Dancehall, the main stage is presently occupied by the Czwórka Reggae Contest finals. Five bands present themselves to a jury consisting of Polish media representatives, most of them in one way or other connected to the Radio station Czwórka. I missed the first two (Johny Rockers and Kompanija), but am able to follow the 30-minute shows of Pulse Generation, Green Roots and Boleo. All of them are young, great musicians who know what they are doing, well capable of transporting the grooving Reggae vibes, and I am glad that I don't have to decide for one of them.
4:45 pm, Children's Corner: Bay-C (of T.O.K) & family
This festival is simply amazing. Not only do they care well for their artists (the airport- pick-up was on time, the shuttle service between festival grounds and hotel works smoothly, food is good, too), but they also think about the children of the visitors, as there are many families. Earlier today, we were participating in an all-age Capoeira Workshop at the Pier, and right now, we are chilling in an area sufficiently removed from the main stage to offer some quiet. Here kids can paint, craft, swing or play on a pile of sand, and Amani tries all the activities in that order. Our little one is taking a nap, so I can actually sit down and have a coffee - great!
5:23 pm, Sales Booths: Maciek (record vendor, Moonshine Records)
It's a joy to hear Shashamane perform - I think it's their first time ever playing live in Ostróda. The sunshine invites people to stroll around and check the stalls, and I have sold quite some records already. Great to see that vinyl is in such high demand again! Even though most customers are from Poland, there are visitors from Germany, Holland and France as well. Our Ostróda Reggae Festival is indeed growing!
6:11 pm, Red Stage: Gardy (Reggaeville)
Marla Brown starts her set in glorious sunshine. Her first songs are livicated to Daddy Dennis Brown, letting the ranks of listeners infront of the stage swell steadily. She then continues with her own material, mostly taken from her debut EP Survivor. Songs like Mumma Knows Best, Superstar and Crystal Woman might not be as big hits as her Daddy's Revolution, but they allow for a smooth start into this light-filled evening. Her band sees to gender equality as well, sporting a female guitarist who also sings backing vocals. The keyboarder is none less than Jazzwad, a Grammy Award winning producer that we'll encounter again later on.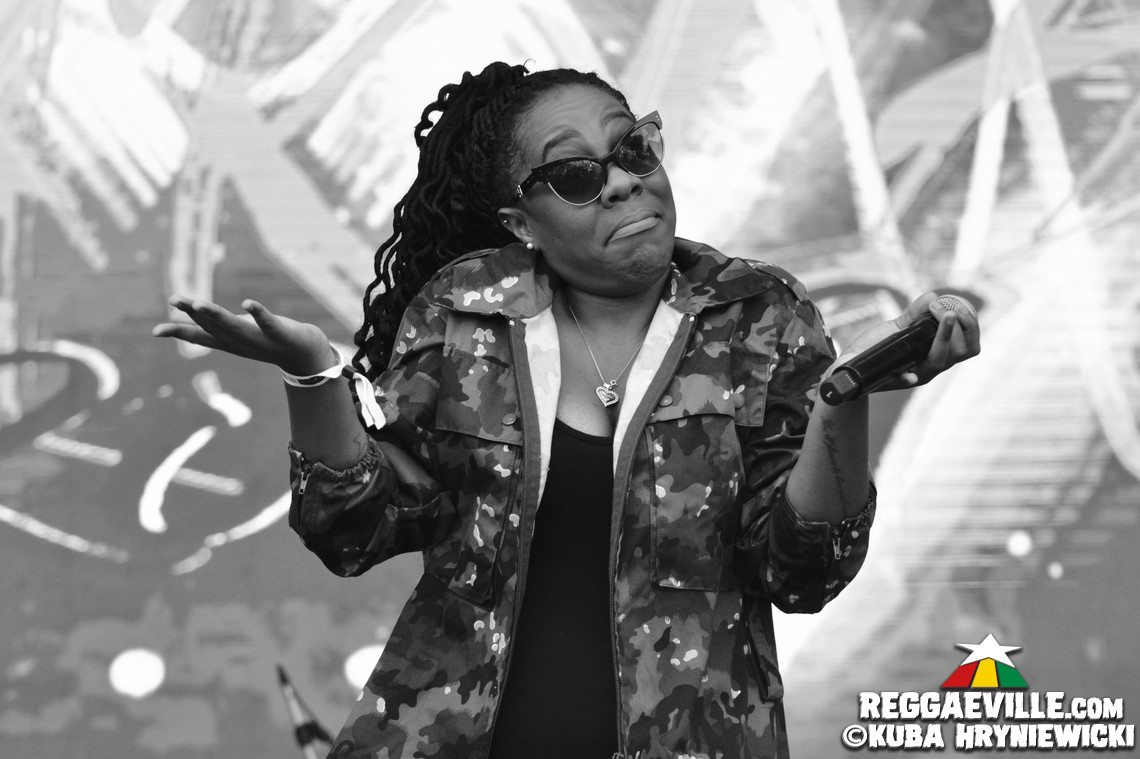 7:56 pm, crowd infront of Red Stage: Maken (one of the festival organizers)
Vavamuffin is on! The mood is boiling over as the band invites people to celebrate their 15th anniversary with them - and celebrating they do! The three singers (Gorgo, Pablopavo and Mr. Reggaenerator) heat up affairs considerably, making everyone jump and sing along in unison. With Bless, they clearly reach a max, and even our foreign visitors start moving to the infectious beat. A sweet moment: Mr. Reggaenerator jumps from the stage to plant a big kiss on Maja's cheek, the blind girl who's been coming here every year with her family and who, this time around, is accompanied by a documentary film crew. Another interesting fact: singer Pablopavo is not only part of Vavamuffin 's line-up, but also a successful author who's just won a Polish literature price for his collection of short stories. Right after their set, we announce the winners of the Czwórka Reggae Contest. As they both were great, Johny Rockers and Green Roots will share the first price (a Single production and a live performance in my Radio Show) - congratulations!
9:55 pm, photopit infront of Red Stage: Karsten (Irieites)
Finally, the cucumber I bought today finds its destiny: while Macka B intones his viral hit Cucumba, I hold up the vegetable as high as I can to claps of applause from the people behind me. The UK artist is certainly one of the highlights of the festival, and the Roots Ragga Band accompanying him does a great job of making the audience dance, especially to the Ska-infused pieces. The program matches closely their performance in Hamburg a few weeks back, and hits like Everybody Loves Bob Marley or Never Played A 45 are received as well here as they were back home. I'm already looking forward to tomorrow's Reggae University, where Macka B will be available for questions and comments!
10:41 pm, passage from Red Stage to Green Stage: Gardy (Reggaeville)
Winding my way through the crowd, I pass a crocodile, two unicorns, four huge flags, hundreds of dancing and singing people and two guys dressed in an army-print business suit, white shirt and tie and all. They turn out to be Pozyton Sound, having just finished their set at the Green Stage, where Sensithief now celebrates his 10th anniversary. I position myself in what I think is a strategically good location to document the 20th anniversary of Poland's famous Dancehall Masak-Rah which is about to start in a few minutes (in case you are long-time followers of Reggaeville, you might remember the overwhelming impression this soundsystem has left on me during my first visit here back in 2015). And, yes, they do it again. Starting their set with the Marleys, MC 27 Pablo makes the ram-packed tent sing along to Don't Worry, Buffalo Soldier and Welcome To Jamrock, before... well, before my strategic position turns out to not hold the cumulative power of the Soundsystem's trademark Wipeout riddim. Palaaaance! The madness continues until I manage to break away in order to witness yet another jubilee...
11:53 pm, Red Stage: Gardy (Reggaeville)
30 years of Twinkle Brothers & Trebunie Tutki! Entering the spheric bubble that's expanding from the Red Stage is like entering a different world. Not only the splendidly arranged lights and, as always, the artful visuals by VJ Mayonez contribute to this enchantment, but first and foremost the music. We all know that the Twinkle Brothers are masters of their craft. And, as you can imagine, the family group Trebunie Tutki is none less capable of bringing a musical magic across, with instruments like violins, cello and alp horns. Combining these two now... that's a marriage which has been made in heaven, an intense, emotional and undescribable experience. It's a good thing that this morning's documentary has prepared me a bit for what to expect, but even so, my mind is blown away and tears well in my eyes due to the beauty of these moments. Thank you, Poland, for bringing these amazing bands together! Or, as Norman Grant put it this morning: "We just go where the music takes us. It's a journey!"
00:39 am, Green Stage: Malik Singledread (Green Stage Coordinator, DJ & producer)
The tent is still burning from Dancehall Masak-Rah's show. Not only have our Dancehall Queens been dancing for a while now, but also the tunes the soundbwoys play are pure fire. At the end of their set, Jamaican producer Jazzwad joins them to spin a few of his riddims. It won't be easy for Bob One and Bas Tajpan, who are up next, to keep that level, but then again, the audience is ever changing and new people with fresh dancing vibes arrive every few minutes.
1:21 am, Red Stage: Dawid Albaaj (singer)
I've heard so much about EarthKry that I'm happy to finally being able to see them. When their soundcheck is done (there seemed to be a problem with Aldayne's guitar) and they strike the first notes of their song 9 To 5 , I'm convinced that they are all I've been told: talented, roots-oriented and conscious. Some of their tracks remind me strongly of Bob Marley tunes, and whether that's intentional or not, it brings a nice soothing vibe to this day that was full of excitement. Soothing, too, are the raindrops that start to fall now, gently first, then stronger. The liquid sunshine that is a blessing for Ostróda's thirsty nature is not quite as nice for EarthKry, as many people leave the open field infront of the Red Stage to look for shelter from the rain. I stay, because I find the shower refreshing, and I'm not the only one: at least 100 people stay to watch on, dancing in the rain. For them, this concert will certainly be as unforgettable as it is for me!
03:04 am, Yellow Stage: Gardy (Reggaeville)
I have to admit that the Yellow Stage has been neglected by me so far. When I finally make it there, a cool Jam Session between Experimental Soundsystem and Czwórka Reggae Contest winner Green Roots is on, sending me home on some nice acoustic vibes while Splendid Sound is still rocking the Green Stage. Time flies by so fast, and I can't believe that tomorrow is already the last day!
Sunday, July 8th 2018
Sunday already! Not for the first time I wish that I could stop or at least slow down the clock ticking away so mercilessly, but then again there's so many things to look forward to... breakfast, for instance. I'm delighted to see Phillip McFarlane (keyboarder @ EarthKry) on one of the tables, and over naleśniki (pancakes) and kawa z mlekem (coffee with milk), we enjoy a few quiet minutes of conversation. Soon after, the band has to leave for Italy, and I follow my colleague Karsten Frehe and his brave cucumber to the Amfiteatr once more, where the "lyrical chef" aka Macka B will talk about life, healthy food and all the rest.
12:31 pm, Amfiteatr: Bartosz Wójcik (host of the Reggae University)
I have prepared a few outtakes of Macka B's videos to initiate a discussion about the artist's early years, life in the UK, the importance of a good diet, women in Reggae and the resurgence of vinyl. He calmly answers questions from the audience, and even gives us a life-performance of our all-time favourite Cucumba-Rap. My surprise for him is a short clip about the Vegetable Orchestra in Austria, showing musicians who carve instruments out of raddish, carrots and the like and perform live on stage.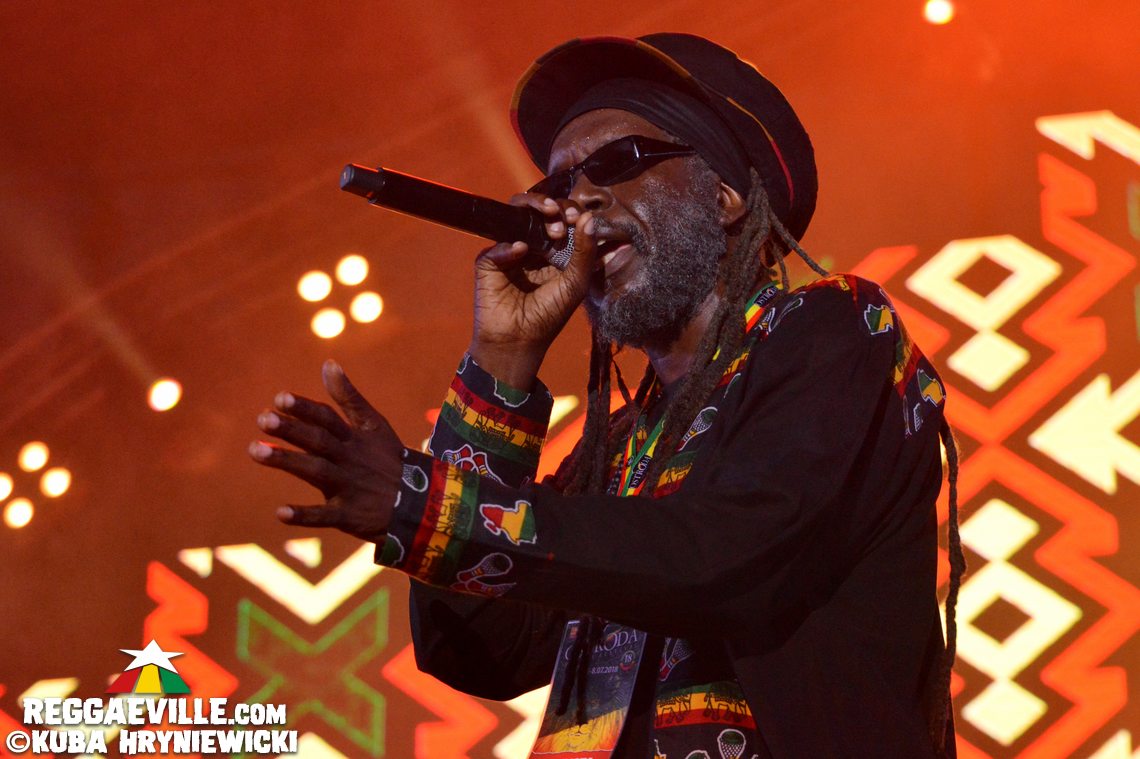 Our last project this year is the presentation of the documentary Sound system by Sébastien Carayol and Katie Callan, a film that was shown on arte a few months ago and thus brought a lot of people in touch with this international music culture. Reggae to the world!
2:49 pm, Roślina i Wołowina, ulica Mickiewicza 8/18: Gardy (Reggaeville)
You just can't be in Ostróda and not at least once eat here. Too good. Burgers in any variety you want (vegan, vegetarian, meaty... you name it) with the bestest, freshest ingredients. And they have a tasty white cola too, called, funny enough, Mr. Dark. After lunch, I give in to my body's yearning for a bit more sleep in order to prepare for this long last night.
5:15 pm, Red Stage: Kuba (Reggaeville photographer)
Etna Kontrabande is on. I think I've seen them perform last year already (or was it the year before that?), but I like them much better this time. Since it's still kinda early, the photopit is empty and I can even climb the stage to get some good shots at the two singers and the 6 musicians on stage. There are more than 2.000 pics on my card already, and I can't wait to get back home and start working on them. Today will probably add another 1.000, with Gentleman coming up. Best thing from a photographer's point of view are the magnificient lights here - darkness, fall quick!
6:32 pm, Sales Booths: Lusia (shirt & jewelry vendor)
Our stall is all set up and ready for the last day. Ras Bass, who shares it with me, takes a break to check out Lonely Tree Sound on the Yellow Stage, and I crane my neck to get a glimpse of the band on stage, who play a rocky version of Reggae. What's their name again? Gutek? I think I've heard about them, but never seen them perform live.
7:55 pm, Red Stage: Gardy (Reggaeville)
Well rested and fit, I follow the Tribute to Alibabki in full swing now. With a powerful band at it's core (most of the musicians hail from The Bartenders), this project invites different artists on stage who interprete some of the greatest hits of the all-female Polish group Alibabki. They have been instrumental in spreading so far unheard musical styles in Poland (Ska, Big Beat etc.) and were the first to break ground for this genre with their record Jamajca Ska released back in 1965. We are immersed in the sounds of Damian Syjonfam (Obladi Oblada), Lady Dee (Zbierac Kolory), Dubska (Grajmy Sobie W Zielone), Kuba Kecnarek (Kwiat Jednej Nocy), Junior Stress (Juz Nie Twist) and, to the delight of the crowd who dances in sunlight and soap bubbles, all the artists together with Wash Wash Ska. During change-over, the Ska vibe is carried on by the Jah Love Soundsystem who are playing My Boy Lollipop and other tracks, and I take the chance to make a trip to the Press Office to see if Kuba has any nice pictures for our Instagram channel.
9:12 pm, VIP section infront of Red Stage: Genevor Gordon-Bailey (Councillor @ St. Ann Municipal Corporation)
I can't remember when I've last seen Chris Martin live, but to see him perform here, in the middle of Poland, is simply amazing. This whole trip was such a positive experience! I think the twinning of Ostróda and Ocho Rios will enanble us to have many such experiences in the future. Actually, today we were supposed to visit an old castle somewhere around here, but we just decided to go to the festival again instead. "Oh Lord, don't let me cheat on my girlfriend!" Our CEO Rovel Morris keeps taking pics and videos of us singing and dancing along to Chris' beautiful songs, but I don't care. This is our Jamaican Culture, our music, our artists, being carried to the world, and I'm proud to be part of it! A guest appearance of D Major and his deep-voiced Real Know Real adds to the vibes, and when Mr. Martin ends his set with Big Deal, the audience is waving in unison.
9:45 pm, backstage Green Stage: Gardy (Reggaeville)
With a delicious portion of frytki (french fries), I join the people chilling behind the Green Stage, where Jabbadub and Barecki just took over from Subroot. It's a nice, wooded and relatively quiet spot (as quiet as it can be behind the massive 32KW speakers of Dubseed's Soundsystem), and in the gathering twilight a woman gently rocks her baby to sleep. When the little one is fast asleep, she calls a friend to watch him and grabs the mic to deliver a few tunes as Rastamama. That's one of the many things I love about this festival - everyone and everything is so child-friendly!
10:11 pm, media tower in front of Red Stage: camera man Gentleman is probably the most challenging act for filming today. He jumps around on stage, paces from left to right, from front to back and never seems to stand still long enough to focus. Good thing we have 6 cameras lined up, so we can switch between them and show the musicians in between as well. After the opening set of Tameeka and Treesha, he was warmly welcomed by the massive to the sounds of Warn Them, Intoxication and Tranquility, and he takes the time to thank everyone present for the support they've shown him throughout the years. He then proceeds to announce "my brother from another mother, someone who's been a teacher to me when it comes to lyrical content and arrangement", and Daddy Rings comes out to do a few songs. After the first one, a guy climbs the stage and asks for an autograph. Everyone seems to hold their breath, unsure how the singer will react, but he just laughs and takes the pen offered to sign, but it doesn't work. The security guy who came running hands over a new pen, and Gentleman signs Krystof's paper, then pats him on the shoulder and, to loud whistles and applause from the crowd, he is led offstage again. Chris Martin is called up again to perform To The Top, and during the subsequent Dem Gone, Gentleman takes a bath in the crowd. His set ends at 11:30 pm with the beautiful Redemption Song, picked up by almost every single one of the roundabout 6.000 people present. Won't you help to sing...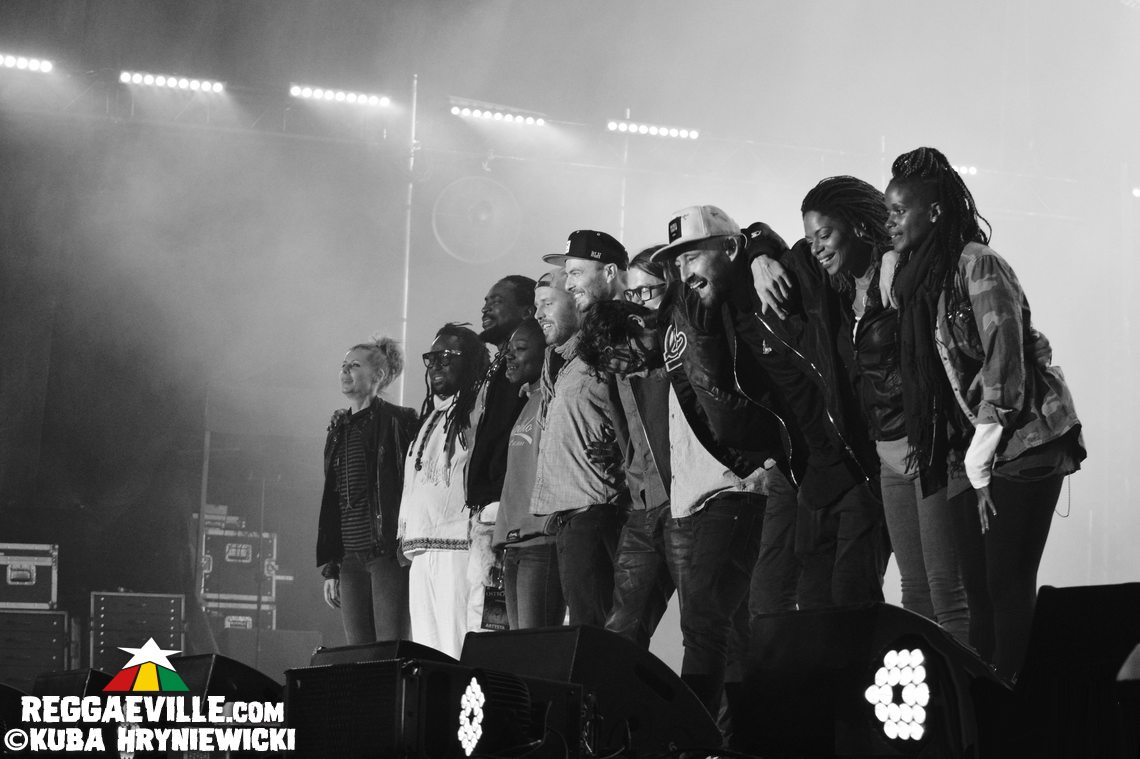 11:50 pm, Green Stage: Malik Singledread (Green Stage Coordinator, DJ & producer)
Finally, Danman reaches the stage and joins Jaszol on the Roots Revival turntables at once to take over the mic. His plane was delayed, and when it finally started, a bird got caught in the engine and they had to turn back again to change the plane. But, yeah, now he is here and rocks the hungry crowd.
00:35 am, crowd in front of Red Stage: random festival visitor
Yes! That's what I came here for. Everyone is singing and dancing along to Tabu, a powerful combination of ten musicians that combine Ska elements and Balkan beats in their music. Hugged by a crowd who move in unison, I jump to the beat and marvel at the beauty of the melodies strewn in by the brass section.
1:21 am, Green Stage: Gardy (Reggaeville)
Every time I think that now I've definitely seen everything there is to see, my Polish friends do something that completely overwhelms me all over again. Such is the case in the opening of Maken's set, who celebrates an incredible 30th anniversary with his Joint Venture Sound. Dressed in a priest's robe and a Godzilla mask, he enters the stage to greet the massive, arms wide open, dreads flying, to the sound of Dellé's Fly Away. What a ting! Further into his set, Ghetto Priest takes over the mic, a UK artist who gazes at the crowd with a lunatic stare and, despite a good performance, gives me the creeps. The last act to rock this energetic stage is France's OBF featuring Shanti D and Sr. Wilson. And then we sit in a shuttle back to the hotel, and in my room I realize that, for this year at least, this explosion of colours, sound and light is over. Leaving with a heart filled to the brim with positive energy, golden memories and beautiful music, I have to express my deepest gratitude that I was invited to experience this 18th edition of a festival that has grown on me so much during the last 4 years. First and foremost, thank you, Maken, Piotr and Lili, to go through all the stress and expenses necessary to make this event happen. You are incredible people, the three of you!!! Also, thanks to Mario Korpol for the fantastic moderation, thanks to Bartosz Wójcik for the wonderful Reggae University, thanks to all the stage coordinators, sound and light technicians, security guards and backstage hands to make everything run smoothly, thanks to my Polish media colleagues to patiently explain and translate anything I didn't understand. Thank you, Ostróda!!!

CLICK HERE FOR THE OSTRODA 2018 PHOTO REPORT!