08/06 - 08/09 2015
World Reggae Contest 2015 - Meet The Finalists... THE BANYANS
08/04/2015 by Gardy Stein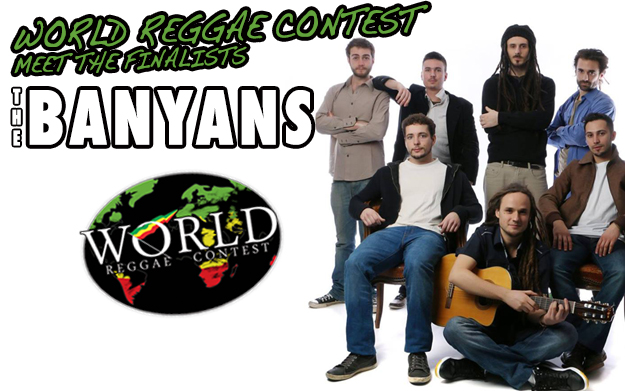 Introducing the next finalist of the World Reggae Contest, we are turning to France today. The Banyans have been around since 2010, teaming up in their hometown Toulouse. I stumbled over their authentic sound when asked to review their second studio album For Better Days earlier this year, and since then their music is part of my playlist. Devi (lead vocals), Mael (keyboard/ organ), Jay (guitar/ vocals), Peter (bass), Clement Sticky (drums), Martin (saxophone/ percussions/ vocals) and Irie Raffy (guitar/ vocals) create both melancholy and danceable songs with conscious lyrics and warm instrumentation. Their dedication to Roots Reggae music has even led them to create their own label so they don't have to compromise in their releases: Khanti Records. Under its roof, The Banyans not only promote their own music, but fellow artists such as Wyman Low and Myasara as well.

Having answered the Reggaeville questionnaire, here is what they say about their upcoming show at the Ostroda Reggae Festival:

Your expectations of/ connection to Poland:

In the summer of 2013, during the "Steppin' Forward Tour", we travelled through Poland for a 15-days-tour. It has been an incredible experience! At first, the Polish public seemed a little shy in the first minutes of our show. Then, after a few minutes, we saw the audience's temperature increase and people partying like we had never seen beore! This is probably one of the warmest atmospheres we've ever had. Dziekujemy Polska!!! That's why we longed to come back and play in Poland. We just hope to have the same welcome from Ostroda's audience this year to present our second album For Better Days, and we hope to come back and play every year in Poland!

What can people in Ostroda expect when you appear on stage? What does your live performance look, feel and sound like?
The new show is more energetic than the previous one. It still sounds "roots reggae" with Jamaican influences from the 70s, but we have nuances in the show's energy: we kept deep and meditative moments, and then sometimes the energy grows to the highest grade, and the crowd always follows us in this musical fire! We really put effort to enrich our live set since September 2014, when we changed our line up. We added a saxophonist and a new guitarist who also does backing vocals. Now we are seven musicians on stage and our lead singer Devi is free to move everywhere because he doesn't have to play guitar anymore. There is a better communication with the massive. Devi naturally sends a lot of positive vibes, and Ostroda's audience will feel it!

Why do you deserve to win the contest and in which way will Reggae fans benefit from you as a champion?
We have no pretension to think that we deserve more to win than any other group in this contest. There are some very good bands in this final, and we respect the work and the inspirations of each of them. We will give our best, as in any concert. The public and the jury will be there to take the final decision.
If we win this competition, that would be very good news for Roots Reggae, because it is the deep foundation of our music. We know that this style has been very productive 40 years ago, and every Reggae Massive loves the foundation! This style deserves to be as productive as at its golden years. We want to keep this spirit and modernize the style, like a new branch on the trunk. Winning this contest would be a sign that Roots Reggae is really coming back!

If you are the lucky winner of the contest, you will have the chance to record at Harry J Studios. What does this mean to you? Do you have plans for that recording session already? Share your thoughts…
It means that another dream comes true for us. In 2014, part of the Banyans have already been to Jamaica to realize several collaborations, and it will be wonderful to have the opportunity to return with the whole band.
Also, it would be a great reward for all the work that we provide every day and it would give us additional strength to continue to get our message through worldwide. Coming October and November, we will spend two months to create and compose the next tracks of our third album. So, if we win the World Reggae Contest, we would record an excellent album entirely made in the Holy Land of Reggae, and in light of the new compositions that we are already beginning to prepare, it should appeal to all Reggae Lovers everywhere. Heartically!

If you could choose freely, who would join you in the studio to record a feature/ combination track and why?
The best choice for us would be a feature with the great Burning Spear or Bunny Wailer. Working with these legends would provide us with a lot of experience and good advices - and what a pleasure it would be! But we know that this is something really complicated for many reasons. Thanks to the numerous gigs we performed in Europe in the last 5 years, we met many Jamaican artists. That provided us with a lot of connections and many possibilities to collaborate with various artists in JA. Chronixx or Raging Fyah are also two artists we would like to collaborate with, because they are from the same generation as we are, and they also keep this roots reggae spirit and play it in a modern way. It looks like we have the same musical influences, and according to us, they are the hope for Roots Reggae in JA and further for the coming years.


THE FINAL WILL BE STREAMED LIVE ON REGGAEVILLE.com - AUGUST 8th 2015
CLICK HERE FOR ALL DETAILS!