08/06 - 08/09 2015
World Reggae Contest 2015 - Meet The Finalists... DUBSKA
08/04/2015 by Gardy Stein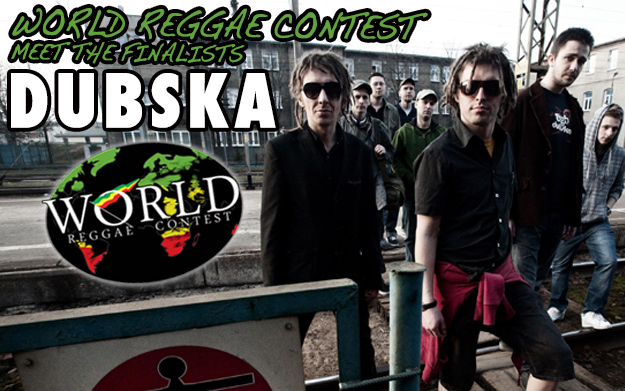 Carrying the torch of Polish Reggae music, Dubska doubtlessly has a vast home field advantage. Not only are they known all over Poland thanks to 3 studio albums and countless live gigs; they have also been around longer than any of the other 5 finalists of the World Reggae Contest. Dymitr Czabański (vocals, guitar), Marcin Muszyński (vocals, percussion), Jarosław Hejmann (drums), Artur Małecki (bass), Marcin Grzybowski (guitar), John Gembala (keyboards), Philip Racinowski (sax), Michał Michota (trumpet) and Krzysztof Błaszczak (trombone) make up the actual members of the band that has formed as an instrumental group in 1999 in their hometown Bydgoszcz. Six years later, their debut album of the same name (Dubska) was celebrated as one of the best releases of the Polish Reggae scene; likewise, the follow-up albums Avokado (2006) and Loko-Loko (2010) have been very well received by press and public alike.

We can thus look forward to an exceptional performance of the best of 16 years Dubska on Saturday, August 8th, in Ostroda (the festival for which they delivered the official hymn in 2014 with Jedziemy Tam). Read what they themselves say about the upcoming show:

Your expectations of/ connection to Poland:

We are from Poland. Many times throughout past years we have driven around this country in many directions to play concerts in all sorts of suburbs, little towns and big cities. It never mattered if it was during summer, when everything was turning into green and gold colors, or during white freezing winter. As our saxophone player says: "When I go to any forest and see eagles setting off to fly or wiggly slowworms, I feel that this is the place for me." There are many beautiful places in the world. Poland is ours, and it is great to live and play concerts here.

What can people in Ostróda expect when you appear on stage? What does your live performance look, feel and sound like?

People in Ostróda can be certain that we will play with all of our hearts. Through concerts we want to give to our audience truth about ourselves, and truth about any man becomes universal truth. When we get the connection with our fans during concerts, we open our hearts and minds to give them a bit of ourselves and we get back the same in the return.

Why do you deserve to win the contest and in which way will Reggae fans benefit from you as a champion?
Many great bands are participating in the contest, but we hope that we are the one that deserves to win it. Of course, sometimes we hope for something that is too good to be truth. If however we would win it, then all reggae fans will get true Slavic reggae recorded in Jamaica.

If you are the lucky winner of the contest, you will have the chance to record at Harry J Studios. What does this mean to you? Do you have plans for that recording session already? Share your thoughts…

It has been 5 years since we have recorded our last album. At present, we have material ready for a new one and we do think that it is more interesting and more mature than whatever we have done before. To record it at Harry J Studios in Jamaica would be our dream come true.

If you could choose freely, who would join you in the studio to record a feature/ combination track and why? There are many Jamaican musicians that we would like to cooperate with. It would definitely be great to record something with Ijahman Levi, Don Carlos or Cocoa Tea.


THE FINAL WILL BE STREAMED LIVE ON REGGAEVILLE.com - AUGUST 8th 2015
CLICK HERE FOR ALL DETAILS!