08/06 - 08/09 2015
World Reggae Contest 2015 - Meet The Finalists... CHAINSKA BRASSIKA
08/04/2015 by Gardy Stein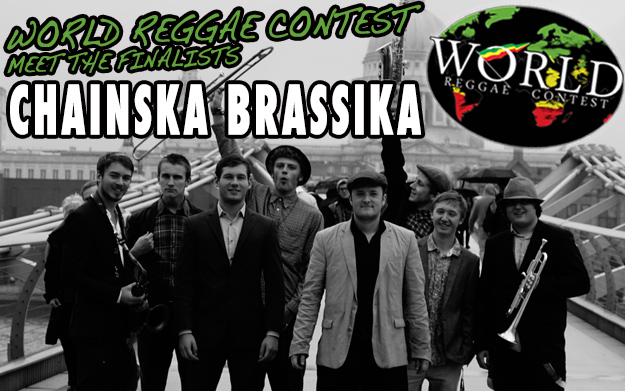 Hailing from London, Chainska Brassika are the second band from the British Isles who made it into the final round of the World Reggae Contest. From their formation in 2012, it took only a year until their first EP Unwind hit the streets. Right now, Ashley Davis (vocals), Henry Freestone (guitar), James Howell (trumpet), Lucas Petter (trombone), Rory Pagan (sax), Seth Wallis (drums), Toby Keel (bass) and Tom Keel (sax) are laying finishing touches on their upcoming debut album Skinna (named after their musical teacher and mentor), set for release on November 20th.
Their interesting mix of classic Ska and Reggae sounds with modern, Dubstep-infused beats is an utmost danceable affair that will have the Ostroda Massive dancing in no time.

In their own words:


Your expectations of/ connection to Poland:
The trombonist of Chainska has played at Ostroda before with Zion Train, so he's got us all excited about what to expect. He can't wait to get back there! He made a little speech in Polish during the competition [watch it here].
Polish is the second most spoken language in London which is a true reflection of the nation's embracing culture and thirst for diversity. The Polish seem to have a great appreciation of Reggae, so that connects us too. Djienki!

What can people in Ostroda expect when you appear on stage? What does your live performance look, feel and sound like?
People can expect a high energy, Ska-fuelled set with various Reggae drops. Our sound combines the old-school, bouncy Ska off-beats with the underground modern UK Reggae riddims that people can't stand still to. Expect to have your knees flying to the sounds of the Chainska!


Why do you deserve to win the contest and in which way will Reggae fans benefit from you as a champion?
Chainska Brassika isn't your regular Reggae band. The band combines a wide variety of Reggae styles contributing to a distinctive, unique sound. We strive to be different from any other act, following no guidelines but aiming to put a smile on people's face. We are young, unsigned and we have gained success through hard work and promoting ourselves. Winning this competition would help us spread our unique version of Reggae to more people and help us play our music to new audiences across Europe and beyond.


If you are the lucky winner of the contest, you will have the chance to record at Harry J Studios. What does this mean to you? Do you have plans for that recording session already? Share your thoughts…
Obviously, recording at a studio with a reputation such as Harry J is a huge honour, with amazing tunes like 'The Liquidator' having come out of there in the past. We have written a couple of new old-school sounding tunes that would sound amazing with that old-school studio sound. Plus, going to Jamaica would be amazing! Just to experience the culture of the land of Ska and Reggae.


If you could choose freely, who would join you in the studio to record a feature/ combination track and why?
Too many! Gregory... Alton Ellis... Derrick Harriot, or any past or present horn player from The Skatalites. The list is endless. Tippa Irie has featured on a track from the album and he's one. It'd be wicked to have Lee Scratch Perry in the studio with his wackiness, mixing our nutty music - that could cause some serious vibrations. Featuring a verse from Chronixx, Shaggy, or Earl Sixteen would all shake the ground we stand on!


THE FINAL WILL BE STREAMED LIVE ON REGGAEVILLE.com - AUGUST 8th 2015
CLICK HERE FOR ALL DETAILS!