08/06 - 08/09 2015
Interview with Chainska Brassika - World Reggae Contest Winner 2015
08/12/2015 by Gardy Stein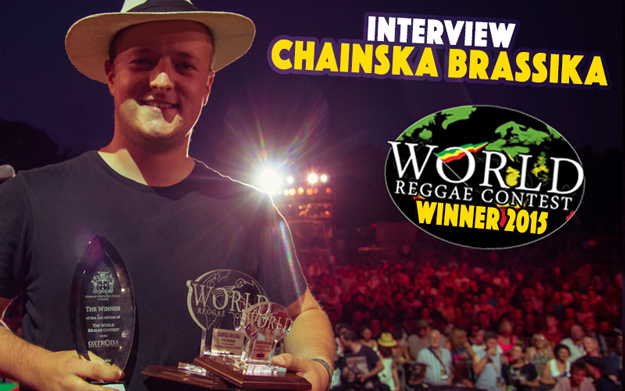 That's how winners look like, I guess. One day after they've won the first edition of the World Reggae Contest hosted at the 15th Ostroda Reggae Festival, Reggaeville links up with the eight members of Chainska Brassika and their manager, Tiger Lily.

They've had a great last night, appropriately celebrating their success, and plan on a repetition tonight. Before their capacity of eloquently articulating themselves is rapidly diminishing due to the tasty Polnish beer, I press record - let's hear what they got to say!


Here with me now is Chainska Brassika, the winner of the World Reggae Contest! How do you all feel about it?
Toby: All good!
Tom: Wicked!
Ash: It's a banging experience!
Henry: Dobrze!


How was last night?
Henry: Dobrze! (laughter)


Did you expect to win?
Tiger Lily: Yea!
Ash: All of the bands were great and wicked, so it was pretty much a five-to-one chance... it could have been anyone. So we are very happy, very privileged and honoured to be voted for.
Tiger Lily: Because they are quite different from the other bands, I thought that would either go in their favour or mean that they'll lose. It seemed to help though, because they won!


You are actually one of the youngest bands around, you didn't exist long in this combination, right?
Ash:Chainska Brassika exists since 3 years.
Toby: But we played together since we were about 15...
Lucas: We used to be called The Bad Habits back in the days... and then we were called The Real Bad Habits and then we changed to Chainska. Before all of that we were in a Ska-band when we were like 13 together - wow, that's already 10 years ago...


What made you change the name to Chainska Brassika?
Ash: I guess we wanted something that no one could steal, something individual, that was one of the reasons.
Henry: Legal issues! We got sued from some band.
Ash: We come from an area called Brockley in London which is part of the Brassika Family. It's one of the many reasons.


I like it because it makes you stop and go "How do you pronounce that?"
Tom: In Poland, everyone can pronounce the name. Chainska Brassika. It's a nice fit.


Does any of you have Polish roots?
James: She does!
Tiger Lily: Yes, I'm almost competely Polish. (Henry: Dobrze, dobrze!) My grandparents from both sides of the family came from Poland, except for one who can from Russia. But I've never been here before. I don't speak Polish either!


Was it your first time in Poland?
All: Yes!
Rory: I came to Poland last year with a different band called Zion Train.


What are your impressions of the festival?
Lucas: The festival is nice and warm and hot. Nice! We love the heat.
Henry: We love the beer!
James: People in Poland know how to relax and enjoy.
Tom: In Poland they love Reggae music, it's really nice. Very friendly people, it's lovely!
Ash: And also that everyone involved, the staff and all, made us feel very welcome. From start to finish, from picking us up from the airport until now, they made us feel very welcome. Good good people!


Did you get feedback from the audience yet?
Toby: Yes! The people told us that they really loved and enjoyed our show. It was so hot and they still wanted to dance, which was great.
Tiger Lily: And one of the judges and Karsten from the Irie Ites Magazine had some really good feedback too.


Did you speak to Sam Clayton about the Harry J Studio yet?
Ash: He said I'll speak to you tomorrow... (laughter).


And now you are scheduled to go to Jamaica to the Studio to record...any ideas yet when that will happen?
Tiger Lily: January or February next year.
Henry: Gotta get ready!


You are finishing your album right now, what's the name of it?
Ash: The album is gonna be called Skinna. When we went to school together, our music teacher was called Mr. John Skinner, and he's been an amazing influence on all of us, an amazing guy that really taught us a lot and helped to nurture our musical talents. He passed away last year, and he has a big place in our hearts, a big place in Chainska, so in his memory, the album is called after him. It's a 12-track-album recorded in the yard in London at Hammersmith Studio.
Toby: It's coming out on November 20th... it's just getting mastered now.


So, when you go to Harry J's (inarticulate... well, same as before) you will need to have new material ready. Are you going to start songwriting right away?
Ash: Yes, really, we got some stuff in the pipeline, but from now until January we're definitely going to work and develop ideas.
Lucas: When we get home, every one of us has some serious homework to do! (laughter)


How does your songwriting work anyway?
Tom: Well, it's mixed. Sometimes somebody comes up with an idea and then we all write to it... everyone gets the chance to put their own flavour in it.


Anything else you want to say?
Ash: Big up to Maken for sorting us out. He's the main man behind this festival, and he is a lovely guy as well.
Henry: We're back in Poland on the 29th of August!
Tiger Lily: Yes, for the Reggae Festival in Sosnowice. See you there!