08/06 - 08/09 2015
Festival Report: Ostroda Reggae Festival 2015
08/07/2015 by Gardy Stein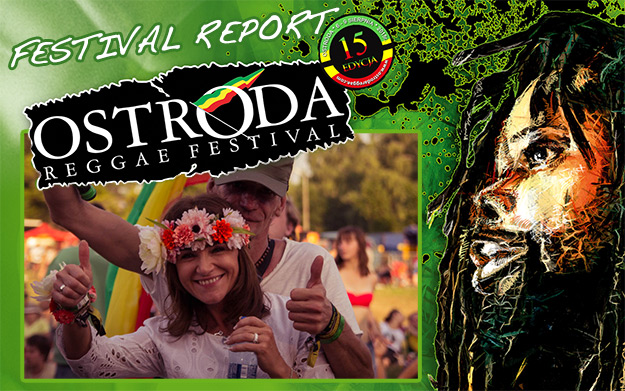 The 15th Ostroda Reggae Festival is in full swing. From August 6th - 9th artists like Gentleman, Protoje, Bednarek will perform. Our reporter Gardy alongside photographer Silverback are on spot and keep you up to date. Check the report below and make sure to WATCH THE LIVE STREAM on saturday [August 8th]: WORLD REGGAE CONTEST - LIVE FINAL 2015! Click here for all details.



DAY ONE - AUGUST 6th
A FOUNDATION OF SIX PARTS

13:46pm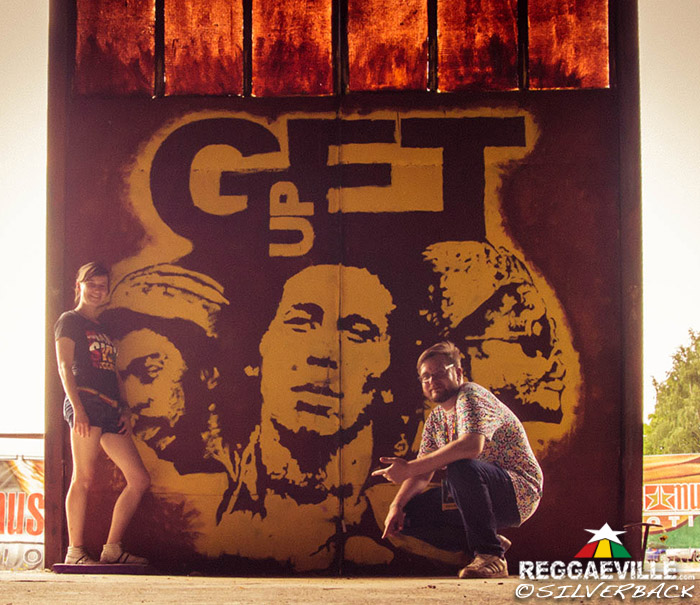 'Welcome to Gdansk!' says the airport. My first time to touch Polish ground, actually. As all new experiences, this leaves me tingling with excitement - I am so curious about the next few days! Exiting the airport, a large "Ostroda - Reggaeville" sign leads us to Ewa, our pick-up. She takes us to Mario, the driver, and during the subsequent 2-hour-ride, we are catching up on the festival history. Ewa tells us how, in 2001, the Ostroda Reggae Festival (ORF) started as a day-long event at a deserted army area, drawing local bands and spectators and growing ever so slightly with each subsequent year. About 10 years ago, the long-standing Polish Reggae scene saw an enormous boost and "just like mushrooms after the rain", every city sprouted its own little festival. Eventually, a few of them aquired regional standing, and Ostroda came to be the most popular of them all.
After this lesson, we collectively delight in the weather and, marveling at the lush Mazurian landscape we pass, Lars says he feels like being in the middle of a Janosch story.

16:25pm
Having met Olivia who gave us our passes, bands and a welcome-package, Mario takes us to Hotel Anders where we check in. A glimpse at the VIP-list on the counter tells me that Israel gra Kulture, Black Roots, Bednarek and Richie Campbell will lodge here as well. The driver then brings us straight back to downtown Ostroda where the festival has been kicked off at 3pm with the upcoming bands Johny Rockers and Shata QS. Maken, executive mastermind of Positive Music Promotion, receives us heartily and shows us around. First stop: stage!

17:18pm
Vavamuffin are already on when we reach. Their eight members rock an enthusiastic crowd in the very modern-looking Amfiteatr, constructed right at the shores of the central Drweckie lake. This band delivers pure niceness! From Ska beats over Roots tunes to the Raggamuffin they derived their name from, they know how to work a crowd. Their three (!) singers make people sing along in three-fold harmony and leave them crying for more when they go off stage. "Jeszcze jeden, jeszcze jeden!" As an encore, they play a song called Jah Is President, underlined by an accompanying video that shows diverse earthly presidents - a piece of art on its own!

18:44pm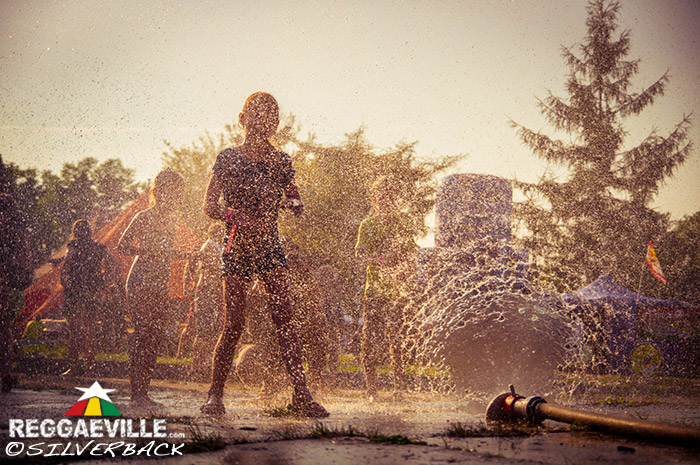 After a short interview with Vavamuffin-singer Marcin, we turn our attention to the now playing Jafia. They span a different vibe, spreading a relaxed, soulful groove that can be heard on their brand-new album Ka Ra Va Na. We let their music accompany us on a stroll along the stunning lake-shore, admiring flocks of water birds and generally just basking in the summery atmosphere. At the pier, we meet World Reggae Contest finalists Nova Raíz who arrived last night. They probably had the longest journey of all artists (38 hours of travel!) and are happy to finally be here. Likewise!

20:09pm
At one of the plentiful food stands, we grab a portion of "frytki" each and watch a spectacular sunset to the backdrop of Habakuk, who are just getting started behind us. They play what they seem to call "Nyam Nyam Reggae", a very danceable affair people all around sing along to.

20:51pm
Five ladies enter the stage, introduced as Kalokagathos. They are a very popular Polish choir formation who recently recorded an album called Regrowth with Habakuk, including songs in seven different languages. Why they are so popular becomes clear when they start to sing: in manifold harmonies, they enwrap us in folkloristic sounds that are duly underlined by colorful slavic patterns flickering over the wide screen in the background. Again I wonder who is responsible for this video animation. It has a coherent style but still seems to be individually tailored to fit not only the different bands, but also the tracks they perform. Art!

21:36pm
The moderators announce headliner Bakshish, and I slowly start to pick out a few meanings from the steady flow of Polish words. Something about muzyk niemiecki Gentleman and the Jamaican Independence Day, videos of which flash up behind the band when they begin to play. By now, a massive of well over 1.000 people rock the mounted stairs of the Amfiteatr, and the lightshow can unfold its full effect in the growing dark. With a well-balanced set even including a few Englisch tracks, Bakshish makes the audience move, and I spend the next few minutes smilingly observing the dancing festival visitors around me. It is a mixed crowd of rootsy Dreads, hippy Youngsters, whole families with kids of all ages as well as extremely normal-looking people who might be local Ostrodanians - from what we hear and see around us, most are Polish nationals.

23:11pm
Reaching the end of their set, singer Jarek sends a final farewell to his fans. While we wait for him to finish signing CDs so we can ask for a short interview, I am introduced to VJ Majonez, the man behind the moving pictures. It took him almost two months to prepare the screenings we saw tonight (and will be seeing during the next days), and I deeply respect the amount of work and love for detail he put in. Actually, the same can be said for the whole Ostroda crew - everything is well organized, and the whole day has been running smoothly. Big respect! This eve has been called "Fundamenty ORF", and indeed I feel that a solid foundation is laid for the days to come. I love the vibes - dziekuje Ostroda!



DAY TWO - AUGUST 7th
SNOW IN SUMMER, ROOTS AT NIGHT AND OTHER WONDROUS THINGS

08:46am
My day begins in the lake. Well, not literally, but waking up in the already-hot room, I feel a strong urge to surround myself with cool water (an urge that'll stay with me all day). Skipping down the stairway to the lake and jumping in for an extensive swim is a refreshing start in this second festival day. Shower, breakfast, pick-up-driver - again, I am amazed at the efficiency of our Polish hosts.

12:51pm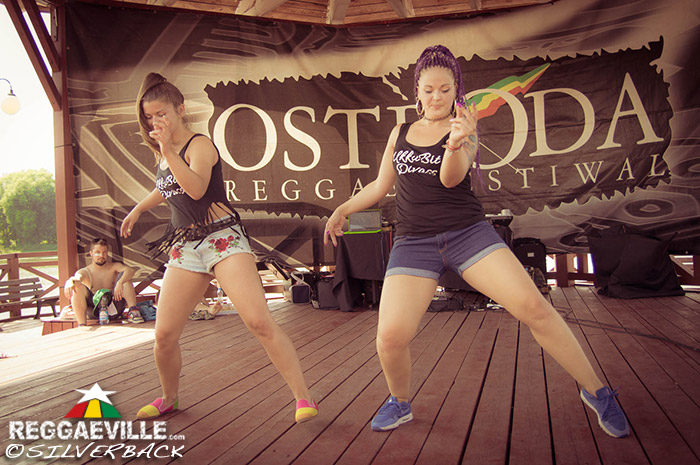 The pier is on fire! In the blazing midday sund, 60 graces in shorts move to the instructions of Afro and Malwa from Ukku Bit Divas. Left, right, hands down, hands up, and don't forget to shake that booty - Beenie Man's World Dance booms through the speakers, making participants sweat and by-passers stare. A little run through the musical water-fountains close by helps to cool down.

13:28pm
We've missed the drum class in the morning and make up by visiting a Dreadlock-workshop in the Amfiteatr. In lengthy explanations, the art of dreading strands of hair is explained by a young Rasta from dread-zone.pl, around 50 visitors listening eagerly. The program of the Reggae University accompanying the festival is interesting and well-mixed. Along with the above-mentioned cultural activities, there are expert speeches, lectures and even movies. Earlier today, Miroslaw "Maken" Dzieciolowski and Janusz "Yasman" Kusz spoke about 50 years of Jamaican Music in Poland, and tomorrow, Rory Stone Love and a Harry J Studio representative will enlighten us on issues of the Jamaican music production.

14:34pm
First stop at the festival area is the press office, our "home" for the rest of the weekend. Internet is on its way, and Reggaeville-photographer Lars aka Silverback delightedly finds out that they have Lightroom installed on the working Laptops there. Thanks to that, you will be able to see the galleries he captures much sooner than next week Tuesday! Given ventilators on the tables, a barista in the next room and refridgerated drinks, we are really all set for the day ahead!

15:39pm
Openers always have the hardest job - Sielska is no exception. The 9 artists play for a crowd yet to grow, and while the singer jumps barefooted on stage, we circle the festival area and have a look at the stands, food-shops and different arenas. Behind the main (red) stage, there is an old storehouse that has been re-decorated and now hosts the Green Stage. The inside is breathtaking. Painters did a great job eternizing some of Reggae's great legends (Bob Marley, of course, but also the unforgettable Rasta Baby, Dennis Brown, Buju....). I'm really looking forward to the K-Jah showcase there later! Strolling over to the Yellow Stage, we pass a Beach Club, a lounge tent, a blow-up climbing wall, a children's area (where volunteers take care of visitor's kid all day long) and, most importantly, a loooong row of beer dispensers. Piwo!

16:22pm
Back to the Red Stage. It is a huge construction overlooking an even huger field, and right now the November Project make their appearance on it. They are an exceptional formation. Their ten members are a prime example of how music can cross more than ethnic borders, fully integrating musicians with physical disabilities. The crowd has considerably increased by now, and among the people jumping along to the infectious beats, I spot a frog, a dragon, a crocodile and... ahm... dunno... a beaver maybe?

18:43pm
After an appearance of The Relievers that we witnessed from afar, eating some delicious Quesadillas at a Mexican stand, the stage is now heating up again. The Fyah Keepers introduce themselves, a British Band with Caribbean roots and a special guest: Feluké straight outta Kingston, Jamaica! He contributes two songs to the set (Past Tense and Keep My Soul Alive on Raging Fyah's Jah Glory Riddim), and after him, Fyah Keeper's own Reese takes over. They have their first album coming out soon, so watch out fi dis!!!

19:11pm
Considerable attention is drawn to the foam cannon running on high speed at a corner of the field. Young and old, big and small take the opportunity to dive into the mountain of soap bubbles, and the rays of the setting sun submerge the whole scene in a pittoresque, almost surreal beauty.

20:05pm
With a little delay due to a detour to the Green Stage where K-Jah has started his Link-Up album release party, we witness the performance of Israel gra Kultura, an act consisting of two bands, actually. Our colleague from Reggaenet.pl tells me that both singers Maleo and Robert Brylewski are among the most influential & creative musicians in Poland, leaving their mark on Reggae, Rock and Punk. Having seen two or three of their pieces, we head back to K-Jah where the mood is bubbling over with the tracks of the album Link Up that is released today. Martyna Baranowska, one of the artists featured on it, is doing a live-set and I am astonished what amount of voice fits in this delicate body.

21:21pm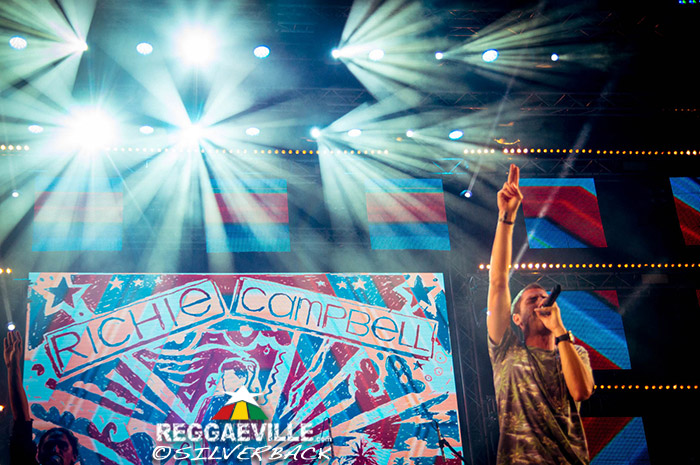 Good timing: the moment I reach, Richie Campbell jumps on stage to start his show with Feels Like. He's instantly winning over the hearts of the audience by adressing them in Polish. After a few words that are fervently cheered, he shrugs apologetically and says "This is all I know!". Thousands of hands are up, giving the Portuguese superstar a warm welcome to Ostroda. The field is a rippling carpet of movement - I see no statues around! While the heat of the day is slowly subsiding, we suffer from a sudden mosquito attack. Moving seems to help, and it's not a hard thing to do with Richie's dynamic set and a fantastic 911 Band pushing us along. He sings a few songs of his current album In The 876, stays in touch with the audience, covers Ain't No Sunshine and Turn Your Lights Down Low and generally does everything a great act is supposed to do, including sing-alongs in What A Day and dance-alongs in I Feel Amazing. Ostroda, your vibes are lovely!!!

23:01pm
Perfectly on time, Black Roots kick in, taking us on a trip to that sweet sweet Roots Reggae music... The British band is amazing, their music and voices blending together so perfectly that they don't need a lot of performance to have people pay full attention to them.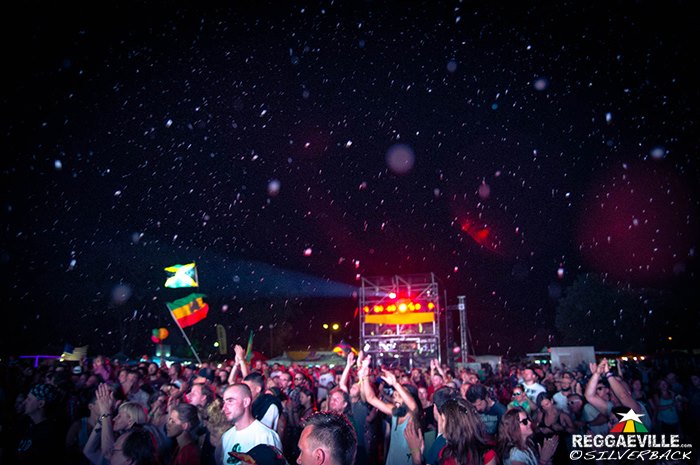 Then suddenly, a strange phenomenon occurs. What is this? I briefly wonder if it's raining, shake my head at the impossibility of snow, think of ashes... but no, on closer inspection it turns out that these are miniature foam bubbles drifting through the air all around us. Ras Bass, who is standing beside me enjoying the concert, explains that this is an invention of "a crazy friend". They live in a small, boring and grey city, he says, and thus spend a lot of their time thinking about how to make life more colorful. Thanks for that! Ostroda has been a continuous row of surprises so far.
Speaking of: again, I am stunned by the work of VJ Majonez. The stage is illuminated by his visual art, relating smoothly to the lyrics of the songs. In Black Roots' Africa now playing, for example, we see intricate African masks and patterns displayed all over. Taking a look around convinces me that everyone feels these vibes. This moment, this energy, this music is why we all are here!

01:29am
With Tabu, the last act of tonight is doing it the Polish way again. One thing I remark with the local bands is that they are so large in numbers! It somehow seems as if a band without an acceptable brass-section is not taken seriously.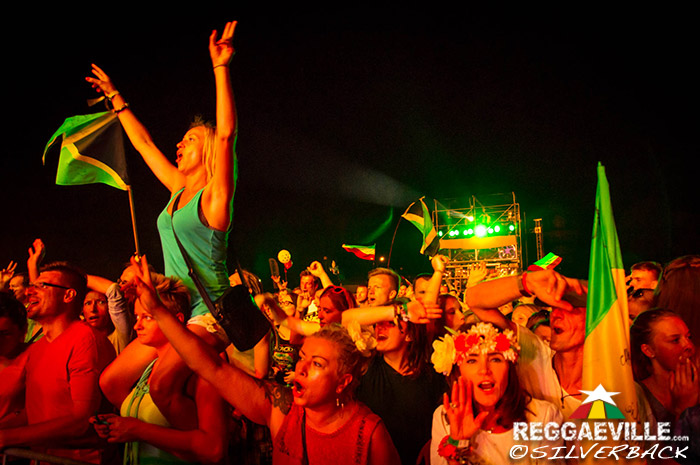 Plus, with so many people on stage, the party feeling is automatic, and Tabu give their best to convey that to the audience. It has reached its maximum as far as I can tell, seeing a mass of jumping, shouting and celebrating people all over the field. And they won't let go: after a lengthy encore, they are still demanding more, and moderator 27 Pablo brings the band back for a grande finale. When the last sounds have faded, we catch up with the runnings at the Green Tent. Dreadsquad is ruling the place, Mic Liper and Don Diego taking turns to chat away on the mic, passing it on to New Zealand's Dub Terminator and our very own Mr. Silverback. Reggaeville run tings! Torn between regret that this day is over and relief that we get a chance to rest, we are taking the ride back. So many impressions waiting to be processed and put in words! Good night for now.



DAY THREE - AUGUST 8th
AND THE WINNER IS...

12:12pm
Teaching time again! In a media room somewhere in the Amfiteatr, roughly 70 people have gathered. Enter Rory Gilligan (Stone Love Movement) and Sam Clayton (Harry J Studios)! Introduced by Andrzej "Natty B" Kepski who moderates the meeting, these Jamaican experts talk about the difference between engineers and producers, analogue and digital recording as well as Jamaican and European productions. Interesting! All of their explanations are translated into Polish by Natty B, making sure everyone understands. Discussions go on back and forth about technical finesse in the recording process, equipment used and so on, and then Sam puts an end to it by concluding "If it sounds right, it is right."

Another question comes up: Did the digital revolution started with riddims like Sleng Teng mash up Jamaican music? Sam gives a clear, challenging answer: Sleng Teng didn't mash up Jamaican music, it's Jamaican artists playing with European Backing bands that kills Jamaican music! Because for musical excellence, for making the audience feel your songs, you need a band you are familiar with, you have played with for a long time, not one that received your sheets a week prior to your performance. There is great truth in that!
After this thought-provoking lecture, the movie Land Of Look Behind is screened. Unfortunately, we can't stay to watch it - World Reggae Contest is calling!

14:05pm
Arriving at the festival area once more, I am formally introduced to Bartosz "Ras Bass" Ressel, founder of the Ras Bass Soundsystem. He is a Polish celebrity on his own, bringing records back from his extensive travels to Jamaica and elsewhere. First he did that for his own collection, then he started distributing them to the interested public through his online-shop. Supporting the Polish TV with his contacts to do a documentary about Jamaican Reggae culture, he did his share in making this music popular in Poland.

14:58pm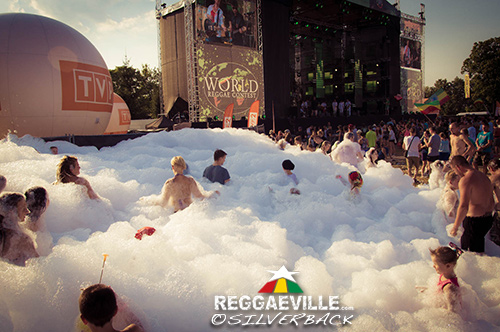 The World Reggae Contest finals are about to start. Live-stream is set up, the jury is there and all finalists have arrived and are eager to perform. Who has not yet arrived is the Ostroda massive, unfortunately, and so Nova Raiz have to start playing for a scattering of 50 people and the TV cameras. They don't let that fact bother them, though. The six Brazilians bring their beautiful music across with all the infectious joie de vivre South Americans are renowned for. With songs from their album Desapego, conscious statements like "take care of the youths, cause they will be the men of tomorrow" and a speech held completely in Polish, they really make a good impression, cultural teaching included. Before they play their last song, the percussionist comes to the front and starts playing the Berimbau, a traditional instrument used in Capoeira. Bassist and lead singer Bruno Xavier explains briefly what Capoeira is about, and then the Sax-player starts showing us some of the movements of this fight-dance. Authentic!

16:21pm
Shanty, the second finalist to perform, are taking it slow. After a few songs of their own, they cover No No No. A great delivery instrumentally, it doesn't offer new interpretations until Levi Gordon picks up the mic and adds a fine interlude on the version. Despite his good voice, lead singer Ben Willis is lacking an energetic presence on stage. He looks and sounds a bit unhappy, and I wonder if that is really the case or if it's his emo-tinged style - probably the latter.
Backstage, I finally meet Piotr "Piter" Kolaj, chief organizer of the festival - thanks to him, all this wonderful music can be experienced by us! For this achievement, he and Maken have even been awarded a Medal of Achievement in Polish Arts & Culture, received from the Polish Ministry of Culture in 2014 - well deserved, I would say!

17:42pm
The Polish Dubska start with their song Jedziemy Tam, last year's official Ostroda-festival-hymn. More and more people arrive on the field now, so the overall mood is improving. I've never seen anyone play shaker, rattle or tambourine as fervently as singer Marcin does. The band of nine plays tight, and it is obvious that they've been playing together for a loooong time - 16 years actually! Thus, the audience knows their music and Mama, for instance, is happily sang along to. One of their last songs is a dedication to Sławomir Gołaszewski, an important figure in the Polish Reggae landscape (promoter musician, philosopher, author of the book Reggae Rastafari), who passed away at age 61 a few weeks ago. The touching song is accompanied by fotos of him on the video-screen - R.I.P., Sławek!

18:12pm
Finally picking up the speed, Chainska Brassika make their entrance. In a burgundy suit with neatly matching hat and shoes, singer Ashley Davis literally sweeps us off our feet, igniting the dancing fever with Ska-tunes, punky interludes, Reggae beats and even an excursion to Dancehall, introducing the Willy Bounce at the end of their show. Jump, jump! The whole band is visibly enjoying their performance, setting the stage on fire and simply having fun playing their well-orchestrated music. Songs like Knowledge Is King bear proof of their clever lyrics as well, and their vocal harmonies are completely on point and in tune - they leave an overall great impression!

19:31pm
Last but not least, The Banyans take their turn performing for the Ostroda massive. They bring in a deep roots flavour, a flow that I'm familiar with since the release of their latest album For Better Days. Lead singer Devi keeps up a warm interaction with the crowd at all times, even though the call-and-answer games he plays are a bit childish. But the people sing along, and their show as well as the final plea "Give thanks for life!" is accordingly cheered.

20:38pm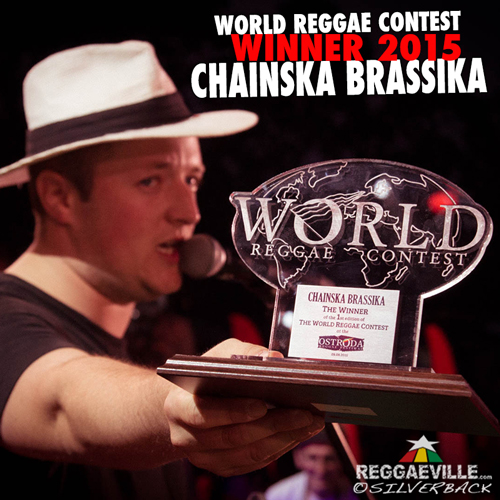 After the jury has decided on a winner, excitement rises as everybody is asked on stage to present the result to the world. Every jury member takes his (or, in my case, her) turn to say something about this first edition of the World Reggae Contest and it's participants, introducing the partners who made it possible: Positive Music Promotion, Reggaeville & Harry J Studios.
Each band gets a little award of recognition for their participation in the contest, and then the winner who will get a chance to record a full album at Harry J Studios in Jamaica is announced: it's Chainska Brassika!!! While Ash accepts the award, his fellow band-members completely go ballistic below - I guess this will be a long, merry, boozy evening for them! Mrs. Maria Dembowska, honorary Jamaican consulate in Poland, further load's Ash's arms with another award, and then the stage is cleared for the next act.

21:07pm
With the excitement of the Contest done and over with, I'm taking a holiday for the next 90 minutes. Raging Fyah is on stage! Excuse me while I... let myself fall into their bliss-inducing music. Who has ever seen them live will understand what I mean. Who hasn't, I strongly advise to take the next opportunity to do so, since words are just not enough. For the record: the band saw a (re-)addition to their line-up, now featuring André "Spyda" Dennis on keys (originally a founding member of the band).

22:38pm
I'm really curious to see how Poland reacts to the next act. I revise what I wrote yesterday about maximum capacity of the area and stuff - tonight is packed! Sherieta and Treesha start the show, and when Gentleman enters stage, hell breaks lose. Or heaven, rather. For the rest of his show, the crowd is a mass of raised hands, lifted voices and smiling faces. As nice as this welcome is for Gentleman and the Evolution Band, it's detrimental to the DJ-set of Rory Stone Love starting at...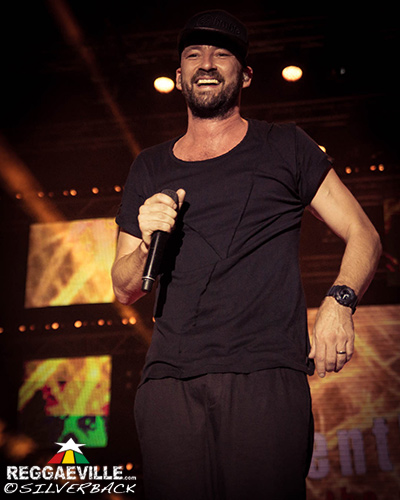 23:06pm
Green Stage: Rory begins his set to an empty hall. Even though people trickle in slowly, it is not until after the end of Gentleman's show around midnight that the place is really filling up. The next hour at least, there is party.

1:44am
I am in no way prepared to what is happening next. The program reads Dancehall Masak-Rah, and, honestly, the name says it all. Demolition!!! MC 27Pablo (as I find out right now, he's not only moderator of the festival, but soundbwoy, singer and MC as well) and vocalist Junior Stress (his father's Soundsystem Love Sen-C Movement was one of the first ever playing in Poland, Maken's Joint Venture being the second) heat it up, proactively supported by the sexy dancers of Ukku Bit Divass. Together they rule the massive, confetti guns and torches and all. The place is on fire! Rory has stayed to watch and looks the way I feel - completely stunned. There is a girl who's acting as a flag-bearer and another who's generously providing "fuel" in form of pure shots or drinks mixed right at the DJ table. Unfortunately, the great mood is dampened when 27Pablo falls off one of the speakers he's been climbing to animate the crowd, and hurts his leg badly enough to make a trip to hospital necessary. Dancehall is a dangerous business after all! But party has to go on, and until the place is locked down for the night, the good vibes just don't stop.

2:23am
Good vibes is what's going on during the final act of the night on the Red Stage as well: Damian SyjonFam! I am told that this young man has fans in all the age-ranges, and his soft, soulful music wafts through the late Saturday night - a perfect ending of a perfect day!


DAY FOUR - AUGUST 9th
THOSE WERE THE DAYS!

13:52pm
Yes, I wanted to go to David Katz' lecture about Lee Scratch Perry and his Black Arch Studio at 12 am. Yes, I wanted to watch the screening of Vision Of Paradise at 1:30 pm. But it was sacrificing either that or sleep or this report... so I chose to rest and write instead.

15:26pm
Before the interview with the winners of the World Reggae Contest, Chainska Brassika, I have some time to check out the Roots Rockets, starter of the day. The singer has a great voice, the music is however a bit too melancholic for my slowly unfolding senses (damn, one hour of sleep more would have been nice). The following songs are picking up, though, and along with a coffee I go in search of my interview-partners.

16:19pm
Got them! The press room is occupied because of an interview with Roots-Rockets-singer Benjamin Sobaniec, so we squeeze in one of the comfortable backstage-containers (no irony in this! The backstage, as everything else, is well organised. There is a fridge, AC, table, benches, towels, a mirror and even a couch in each container, making the artists feel comfortable and at ease). To the sound of Chonabibe who are rocking the stage behind us, we talk about Chainska Brassika's victory, their plans for Jamaica and their need to party yet again today (stay tuned for the interview!).

17:37pm
Ten minutes in the crowd and I'm falling in love with them all over again. I love the support they show their artists, regardless of the style. Dancehall, Roots, Dub, Ska or, as in this case, HipHop and Rap are received and celebrated as part and parcel of the big Reggae Family. Right now, Bob One and Bas Tajpan rap away to the beat provided by a DJ and a drummer, and even though I don't understand a word they say, I definitely feel the flow of the lyrics and see the reaction of the crowd. Tak jest!

18:19pm
While trying to catch up on my writing, there is a big stir in the press office. A group of four ladies (estimated 55+) has just arrived, and all available journalists and photographers rush into the studio room with them. I ask who they are: Alibabki. Seeing that I obviously don't know this name, I am told that they are female vocal pop group that contributed to set a foundation for Reggae music in Poland. Their single Jamaican Ska released in '65 has been a big success and made a lot of people interested in this genre. Wow.

18:45pm
To the sounds of Tumbao, the foam cannon is in full swing again. Especially funny are the instances when gusts of win blow pieces of the bubbly stuff in the air, randomly falling onto unsuspecting festival visitors, startling them. Looking behind the fence where the tubes end, I meet the "daddy" of these special effects, Andrzej Czaplinski. He's not only responsible for the foam-fun, the surprising snowfall and other refreshing water-games the festival offers is guests, he also constructed the "iron throne" every artist was photographed on. Everything self-made! To book him, check www.wytworniaefektow.pl.

19:21pm
Finally I am taking a moment to visit the children's area behind the press office. It's a bustling pool of act- and creativity, countless children playing in the sand pit, with toys, constructing animals from cardboard-boxes or painting a colourful mural. Faustyna is in charge here, and she tells me that the NGO Rzecz Jasna ("bright things") is organizing this festival-care. How wonderful is that?! Well, with almost 1.000 kids at the festival (as Maken told me earlier), it is a great option for families to provide a good time for both the parents and the kids!

19:42pm
Accompanied by the rays of the setting sun, I stroll back to the Red Stage. Wait, I know this guy! The young man holding the mic has crossed my way a dozen times backstage, without me realizing that it's Kamil Bednarek, second winner of the Polish TV-Show Mam Talent! in 2010. The first rows are tightly packed with screeching girls, holding up heart-shaped signs. When Kamil invites Fyah Keeper's Reese to his side, they break hearts by the hundreds. Worth mentioning besides the combined good looks of the singers is the great performance of the band Bednarek, too. And their show: at the end of it, two cannons shoot red-yellow-green confetti in the air, covering stage and spectators decoratively with bits of thin paper. Onto this colourful carpet, the four Alibabki-ladies make their entrance. They give Kamil a signed CD of their above-mentioned release Jamaican Ska, then in turn are awarded flowers and an official thanksgiving for their album's 50th anniversary. To shouts of "Alibabki, Alibabki!", they slowly climb down the stairs again, a flock of fans waiting to take pictures with them.

21:59pm
Protoje and The Indiggnation is on! I was really curious to see the reaction of the Polish audience to this Jamaican star, and it is no disappointment. They obviously need some time to warm up to the singer, but when the set reaches Bubblin', hands are up, feet are shuffling, voices singing along... The claps and shouts reach their max in Who Knows, and also the lyrics to Kingston Be Wise are fervently sung along to.

23:43pm
In the press office, Protoje is busy with interviews, handshakes and pictures. Since Capleton already started, I head over there to see what's going on. Dressed in a dazzling red suit that sparkles brightly in the spotlight, the Fyah Man yells at his audience and stomps enthusiastically through his energetic set. "Poland, watch me dance!" Even after all the concerts we've seen so far, the massive is still hungry for more and jumps along with Capleton. He greets "all di people ina di building!", and since we are not exactly in a building but stand in the open air, I hurry to the Green Stage to pass his greetings on…

01:22am
It is Dub Day (after Reggae Day on the 7th and Dancehall Day on the 8th), and dubbing we must! Radikal Guru from Poland is on the turntables, while Dubdadda (UK) and Cian Finn (Ireland) do a great job of entertaining the party crew present. Good thing that tonight the temperatures are a bit cooler compared to the last days! For some precious moments, even Protoje and his entourage chill in front of the Soundsystem before they are picked up by the shuttle bus.

02:38am
I'm relieved to still find Duberman on the Red Stage. I almost forgot that he is the final act of the night, and I join the shrinking crowd to watch him perform. His music is ok, likeable even, until he covers Inner Circle's Sweat – sorry, but instead of hearing others sing about it, I rather return to the Green Stage (the Yellow Stage has closed its doors already) to be covered in my own. The rest of the night is a blur of shaking hands, heads and feet, most of the remaining artists and crew members joining in to celebrate the success of this 15th edition of the Ostroda Reggae Festival.

Apart from the line-up, bringing to my attention fabulous Polish acts that really deserve international recognition, I am deeply impressed with the efficient and thoroughly thought-out organisation. Everyone knew exactly what he or she was doing, and doing it well on top. Security, drivers, caterers, technicians, staff – the whole weekend those hard-working people have been patient and friendly, finding a solution to any little problem that might have occurred. The sanitary arrangements simple and clean (porta john's with running water and mirror!), the backstage ideal, the time-schedule kept throughout the weekend, the press-office comfortable, the surrounding program interesting and diversified, the stage… oh that stage! Both visuals and audio proved to consist of the crème de la crème of technical equipment involved, making the festival a feast for eyes and ears. Honestly, compared to some German festivals, Ostroda leads by far! By the time I come back next year, I'll have learned enough Polish to annihilate the language barrier, the only little drawback. Polska, kocham cię!