04/17 - 04/20 2014
Interview with Dennis Bovell - PART II
04/16/2014 by Angus Taylor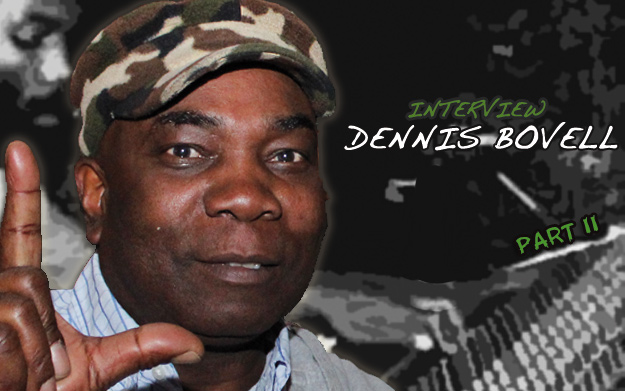 In part two of our exclusive and slightly rambling interview with reggae raconteur Dennis Bovell, Angus Taylor asks him about the continued story of Matumbi, who really invented Lovers Rock, and some of the fascinating characters he has worked with inside and outside of reggae…

After Tonight and Man In Me did well but you moved away from the Coxsone thing and set up your own label.
Yeah, because we wanted to be in charge of what we pressed. We wanted to know what we were really selling. After Tonight was very popular but we never really knew how many copies were minted and that was a source of contention. Someone would go "That must have sold a packet!" and the record company would go "Well, actually no". Then there was an argument about the quantity of Caught You In A Lie that was sold and also an argument that EMI did the distribution because EMI were interested in Matumbi, which turned out to be true. Well, we wanted to play record company, so I went and got myself a Letraset and designed that Matumbi label and we pressed our own records.

How did Trojan get the rights to things like Man in Me and After Tonight?
Well, after we had broken away from Trojan and were pressing our own records, they sent us a letter saying "We can harm your career. We've got a contract on you and you'd better come back to us or else we're going to put a spanner in the spokes for you". So that was Marcel Rodd and we went along to see him. He said "Yep, we'll give you a little bit of an advance and you give us all your stuff". Some members said yes and it went ahead. That was to try and consolidate all our recordings as by then Trojan wasn't owned by the people who had owned it when we were there. The new ownership were going "Well, that was your argument with them". Tito Simon was there at A&R "We're the new Trojan, we want to play fair and we want you back on our label. Let's do a deal with all the stuff that you've got that you've recorded yourself" and all that. That was how they ended up getting Marie Pierre as well. I was like, they're Trojan, might as well. And they were the most popular reggae label still and they were tested and approved and they'd had hits in the charts. It was possible that something from Trojan could enter into the British charts and stuff, so we could have done worse (laughs). We decided "Yeah, let's go back to Trojan" under Marcel Rodd but then EMI went "No, you don't want to be with them, you want to be with us", so we said "Bye-bye Trojan!"

One of the tunes that came out on the album Seven Seals from a subsidiary of EMI is Bluebeat and Ska. Tell me about that tune and why there was nostalgia for that music at the time?
Our singer, Bevin, wanted to do a tune that was reminiscent of what had gone by, asking what had happened to it? Bring back the old bluebeat and ska tunes. So we did that as a kind of an attempt to revamp bluebeat and ska, and then all the two-tone boys latched onto it and went "Wahey!" and it was like "Kaboom!" before we could do any bluebeat and ska ourselves. It was nice to have been the catalyst.

My favourite bass-line of yours was on the Point of View album, Black Civilisation.
(laughs) Yeah, that's me. That song was Webby J. Webby's never been a lovers rock man. Webby's always been the rebel, kind of hardcore and when we started playing tunes like After Tonight he was going "What's that about?" Webby was writing tunes about the black civilisation [sings] "They took us away from our forefathers' land", so that was the kind of militant side of Matumbi. It had a militant side, a lovers rock side, and it had a kind of gospel side as well as roots. We tried to cover all sorts on the gigs. Webby had this tune Black Civilisation and he brought it to the band and we said "All right, let's play it" and some of the members of the band were like "Oh, I don't know about that" and one night when it was him, Jah Bunny and myself in the studio we decided to do a demo of it to show the band what the tune was about. But the demo came out so good that the band went "You don't need to redo that. Let's put the singers on it".

Pretty good demo.
It frequently happened like that. If I wrote a song I'd demo it for the band and if the demo was good enough we'd just follow through with the demo. Or if Bevin wrote a song and he'd make the demo and if it needed remaking we'd all remake it or if the demo was a good enough foundation we would just re-record a few bits and carry on and save our money. We were paying for all our recording so there was no point in recording the same song three or four times. Usually we found that the first vibe of the recording would always turn out to be the vibe that captured the feeling that was to be conveyed.

Why did Matumbi finish?
It became too small for all the members. There were seven members all writing songs, vying for ten places on an album. So sometimes there would be ill feeling if someone's song didn't make it on. It wasn't down to us to choose because by this time we had A&R, so we had to submit all our songs and the A&R people would choose what songs we would go in and record. I would frequently have songs left over that the band didn't want to do or the A&R didn't want, so I would find other homes for my songs. Then people would go "You're not giving the band the best songs. You're holding back the best songs. You gave Janet Kay Silly Games and that was a hit and the band should have had that". And I'm going "That's a song for a woman!" It was like "Yeah, but we could have adapted it and sung it ourselves" and I'm going "No!" Then other members of the band were going "You've got four songs on the album and I've got none", so I'd go "All right, I'll take one of mine off" and then they'd go "What are you going to do with it?" and I go "I'll do it as a solo" and they go "No, you can't because then you're in direct competition with the band". So I go "OK then, I'll do it as a dub album and not singing" and the band's sitting there going "But you're playing on it". But yeah, in the band I'm the guitar player, right? When I play bass in the studio I don't see written "Dennis Bovell played the bass", the bass player takes all the credit when I've done it. Then there were little musical differences like that.

So then you moved out on to your own and started working with Linton Kwesi Johnson and producing other people.
I decided look, I'd been approached by Ryuichi Sakamoto to make an album with him and I did it. And I opened my own studio because I'd also been approached to do the music for the film Babylon and I had my own management who had secured me quite a hefty advance for doing the music, so I took that and I opened a recording studio. Ryuichi was like "I want to work with you" so I did B-2 Unit his first solo album. After that there was Darts, there was Marvin Gaye, Boomtown Rats, Bananarama, Thompson Twins, groups like that coming at me all the time, the Pop Group, the Slits, so I was too busy really to be rehearsing with the band to go on a reggae tour. So I said "I tell you what. I will replace myself in the band" so I got Paul Blake who's currently the drummer in my band to come and play guitar. He was the little brother of the bass player [Eaton "Jah" Blake]. I put him in there and I stayed back in the studio. But then all the stuff that I'd been doing with Linton Kwesi Johnson started getting really popular and he's like "I can't tour any more with just a tape recorder doing backing tracks. I need to go out with a band", so I put a band together and said "This band's called the Dub Band" and I went out with Linton and then kind of just forgot about the studio. Then there was the new touring all over the world – a chance to go all over the world with someone else paying for it. The first tour went to France, Germany, Sweden, Norway, Denmark, Iceland. We went to America, Australia, New Zealand. Then before you know it four or five years have gone and you've been out touring (laughs).

LOVERS ROCK

Let's talk about lovers rock. Who invented lovers rock? Was it you? Coxsone? Al Campbell? Louisa Marks? Augustus Pablo? Susan Cadogan? Dawn Penn?
I think lovers rock has had several contributors. For any one person to say they invented it is false. I think lovers rock came to be by a body of people. The name "lovers rock" those two words, were used by Augustus Pablo or by Lenny Chin on an Augustus Pablo song called Lovers Rock. Anyone can research Augustus Pablo's repertoire and you'll find the song. The fact that I campaigned for those two words to be used to identify what the British contingent was doing in reggae was something else. Al Campbell, Pat Kelly, Dennis Brown, they all did lovers rock but it wasn't called lovers rock at that time, so for any of them to say they invented it, that's not true either. The term lovers rock only came together with the music that was made in England by British contributors. The song I'm in Love With a Dreadlocks was the first song released on the Lovers Rock label but the Lovers Rock label was only called the Lovers Rock label because the genre was growing and it hadn't had a record label to its vogue. So Dennis Harris noticed this and the talk was about making a Lovers Rock label and John Kpiaye wrote the song I'm in Love With a Dreadlocks that Brown Sugar sang, but that was not the first lovers rock song.

> Lovers rock came to be by the hands of many. <

What was the first lovers rock song?
If you go back to Ginger Williams Tenderness, that was a lovers rock song but it wasn't called lovers rock yet. When the genre became known as lovers rock widely, the first song was I'm in Love With a Dreadlocks, but before that Caught You In A Lie was out and that was lovers rock but it wasn't called lovers rock yet, you know what I mean?

When you were working on Dennis Harris' Lovers Rock label, Jackie Mittoo played on some of the tunes, right?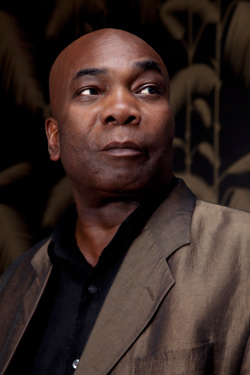 Yes. Dennis Harris had had a hit with Susan Cadogan that June, it was produced by Lee Scratch Perry. That could be called lovers rock, you could say that was in the same genre but it wasn't called lovers rock at the time. After that Dennis decided he was going to build a recording studio. I was the sound engineer, that's where we did all the Fourth Street Orchestra and Brown Sugar and Jackie Robinson recorded down there and so did Laurel Aitken. On a Sunday Dennis used to hold auditions where young kids could come and see if they could sing to make a record, and three of the girls that turned up were put together and called Brown Sugar. They didn't come as a group, they were put together by Dennis Harris for making that type of music because he had seen how Caught You In A Lie had taken off. After Tonight is a lovers rock tune and that was before all of those tunes and Man in Me as well, and Walk Away, Marie Pierre and Choose Me – all those tunes. Then of course there was Tradition. Snoopy had a song called This is Lovers Rock and the group was called Eargasm. So it would be fair to say lovers rock, it came to be by the hands of many.

You didn't answer the question about Jackie Mittoo though!
Well, Jackie Mittoo came to London after a while like all the other Jamaican musicians did, and of course it was Jackie Mittoo the great keyboard player so everyone wanted to work with him. In fact he had a hand in crafting the Labour of Love album by UB40 and he also did some stuff with Janet Kay because he worked for Lloyd Charmers and Jet Star took him over, but he had been working for Wackies in Canada. By the time he arrived in London lovers rock was already in the swing and being called lovers rock. Sugar Minott did that Michael Jackson tune Good Thing Going. Jackie Mittoo constructed that. Jackie Mittoo was playing with British musicians. There were some keyboard players around, good bass players and good guitar players but no keyboard player like Jackie Mittoo. So of course when he was here everyone was like "Yeah, come and play a bit of organ" and he was revelling in it. Then people like Sly Dunbar and Lloyd Parks. It was the first time I'd worked with Janet Kay because of course she was doing that That's What Friends Are For with Lloyd Parks and Sly Dunbar and I was the sound engineer on that. After that I did I Do Love You and some other tunes and then Silly Games.

You said in the Lloyd Bradley book that you wanted to revoice Silly Games. Janet Kay wanted to go on holiday - it sounds like everyone got taken by surprise by its success.
That's right! She went on holiday and Ararawak put the record out. When I heard it had charted I was like "What!!!" And then we got Keith Altham on the job to do the publicity and it took off.

Today there are probably more women in pop than men. Do you think you had a hand in changing that?
Certainly in the reggae world. There was an imbalance of men and we brought girls in and now they've taken over (laughs).

With hindsight it seems really obvious that if you go to a wedding, or a club, men follow women onto the dancefloor, women don't tend to follow men. Did people just not get that at the time?
Well, we did! On our sound system we geared it to play for girls because we thought wherever there's girls, the boys are going to be there. All the sound systems that played strictly for the hardcore for the boys, they never had any following.

Today the Jamaican media seems very worried about people around the world playing reggae, stealing "brand-Jamaica", "how do we protect it?" Do you feel like back then you struggled for what foreign producers have reaped, when it was much harder to be taken seriously as a non-Jamaican than it is today?
To a certain extent, yeah. But I think people have got to lighten up. In the same way that people are shouting now – well, what about America? What about Chuck Berry? (laughs) Is America going to say "Right, from now on nobody's going to play any rock and roll because Chuck Berry's got a copyright on that. If you play that you're not playing rock and roll, you're playing Chuck Berry, so pay"? Hello! Come on. When reggae first started, when it was ska, did Fats Domino come out and say "You can't do that. That's mine"? Do you know what I mean? The thing has evolved way beyond its foetus self.

MISCELLANEOUS RECORDINGS

I'm going to ask you about a few of my favourite one away things you've produced. Tell me about the work you did with the group Cornerstone in 1981. The 12" with Mr Work Hard and Sweet Melody.
Cornerstone, the group from Birmingham. Some of my Rasta friends, they just came to London and said "Look, we want to record with you in your studio" and I let them in. They broke up just after that. It's crazy because I thought they had a lot of promise.

Those tunes are some of the greatest tunes ever made. They're really intricate.
Yeah (laughs). That was when I'd just started my own studio, so I was ready to show everybody "Yeah! I've got my own studio and I'm 24-track and I'm heavy!" Cornerstone were one of the first groups I worked with.

Another one is Young Lions – Take Five in 1978.
Young Lions is a studio group. The drummer is Jah Bunny, I was the bass player, the guitar player was John Kpiaye, the keyboard player was Nick Straker, then the horn player I don't remember who he was because he was brought in by Jerry McCabe as a session player. Jerry McCabe was the guy who owned the Whisky A Go Go, and the Astoria, a very good friend, rest his soul. He was very interested in doing a record company called Unigram. He came to get me to help him. So we recorded loads of stuff. The studio was across the road from the WAGG, so while he was at work entertaining people there he'd pop down to the studio with a few bottles of wine and we'd do some recording. In that time, we recorded Viola Wills - Gonna Get Along Without You Now. So we had a funk side to us where I had musicians from my old school who played with a group called New Musik - Tony Mansfield, you know Living By Numbers and all them tunes, Nick Straker and all them lot. My English mates. My pop friends. Phil Towner the drummer used to play with Tina Charles, and with the Buggles on Video Killed the Radio Star. He was a mate of mine from school. I got him to be part of my funk section to do that record with Viola Wills. We did a whole album with her and brought her out of backing-vocal-dom, she was singing backing vocals for Joe Cocker; who incidentally did a reggae version of Man in Me with Sly & Robbie.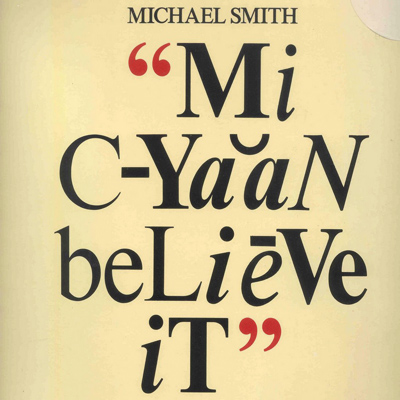 You worked with Linton Kwesi Johnson on the 1983 album Mi Cyaan Believe It by Michael Smith, was he difficult to work with?
Not to me, no! Linton was his poetry editor and I did the music. We came together to do these tunes - the Mi Cyaan Believe It album. It was sad that he died just as we did that. I thought it was going to be a whole new kettle of fish, as they say.

Even before he was murdered he was kind of unwell at the time.
Yeah, but we didn't let that stop us. Jean Breeze as well. In fact I made an album with Jean Breeze recently called An Italian Hip Hop Programmer with a guy called Prudo [aka Marzio Arico] who's on electronic drums and I'm playing reggae bass and she's doing the poetry. And I've just recorded Linton Kwesi Johnson on the new Arcade Fire dub album. I'm mixing the dub album for Arcade Fire. I did a dub mix of a tune of theirs called Flashbulb Eyes and suddenly I said "Do you know what? There's a poem of Linton's called Reality Poem that would go really well on this". So they go "Yeah, yeah. Can you do it?" So I call him up and he's in Jamaica. I go "Linton, when you get back from Jamaica come straight to the studio" and then I get him to recite that poem to the tempo. He recites the poem and I fit it into their tune and they send me a text back going "We love it!" So we're going to do the dub album. It's nearly finished.

You produced several albums for Fela Kuti - how did you link with him?
Bob Curry came over from Capitol America to A&R Matumbi, to A&R me, and to A&R Fela Kuti, and it was his idea to put us together. I wanted to work with him because my dad was a fan and I wanted to be able to say to him "I'm working with Fela Kuti". Then when I met Fela, Fela just sort of took to us and I had to kind of make myself scarce in the end because he wouldn't move unless I was there. He was like "Where's Dennis? Where's Dennis? Dennis is gone", you know? I had quite a heavy responsibility and I had him in my recording studio recording stuff in '83: Army Arrangement, Teacher Don't Teach Me Nonsense, You Gimme Shit I Give You Shit, tunes like that.

Has it all been released?
Some of it has, yeah. In fact I played bass and was the engineer on Movement of the People – Live in Amsterdam, and that was the beginning of our relationship up until Army Arrangement, not the one that Bill Laswell and Sly Dunbar and that lot did, but the other one. You know there's two versions of Army Arrangement? I'd already recorded the one that they, what's the word... assaulted to arrive at their version. The original was recorded by me in my studio and Fela released that when he came out of jail because he was pissed off. In fact Pascal Imbert had sneaked a tape recorder into the jail to play that to Fela and I told him "He's not going to like that" and you could hear after they put the record on and Fela's going [does Fela impression] "Argh, bastard! Motherfucker! Who did that? Take it off! I don't want to hear!" before the first 15 seconds of the song. He just didn't like it because they had trampled on sacred soil. He had for instance this organ solo that was totally doctorified, the hairs would grow on your arms when you heard that kind of sinistre and they'd totally taken that off and added some sort of Booker T and the MGs kind of thing.

Yes, the Laswell album is generally thought of as one of his worst.
Yeah, he didn't like it and I knew that he wouldn't like that. But the one that I recorded and mixed in my studio saw the light of day because he released that.

Are there other ones that haven't seen the light of day?
I can't remember because I had this Nigerian cab driver and whenever he asked me if I had anything new I gave him the cassette tapes so I don't have any of the originals left! But somebody does! (Laughs)

You've been doing some work recently with George Clinton.
I've been working with Boy George and the drummer is a guy called Richie Stevens, who used to be the drummer in my band and used to be the drummer with Linton.

Not Richie Stephens the singer from from Jamaica!
No, this is Richie Stevens the boy from Ealing, the son of the late John Stevens, the drummer from Away. Who incidentally was instrumental in putting together that Smiley Culture tune Police Officer, and he played with Horace Andy quite often. Richie Stevens –little white boy playing drums. Wicked drummer. He played drums on Linton's Making History album and then after that he left the band to go and hang out with Boy George and he's been hanging out with Boy George ever since. He's just produced the new Boy George album, which I've worked on, and he's also playing on the new Joss Stone album, which I've just written three or four tunes for.

>George Clinton's a great guy. I was ready to shine his shoes<

What are your duties on the Boy George album?
I'm bass player, backing vocals and I've just mixed the new single called Nice and Slow. Richie's the chief of that and he's called me in and I've done that work. Some time ago he had a group called Well Red with Lorenzo Hall who was from that group called the Investigators. He left them and he and Richard formed the band Well Red. I wrote some tunes with them, they signed to Virgin, went to America and were produced by George Clinton. I only found this out when Guy Ritchie wanted to use one of my tunes in that Lock, Stock and Two Smoking Barrels. So that was the George Clinton connection, and then Richard's always been trying to get me and George Clinton together, so he's finally done it now. George Clinton's over and we'll get in the studio to do a soul version of one of the tunes on the Boy George album. Then Richard goes "Oh, George, can you do a voice on this tune?" that he's doing – we've got a group together and it's called Smudge Allstars. George Clinton is the voice of Smudge Allstars and he's going "We won't dance to your tune" (laughs).

What's your take on George Clinton?
Great guy, great guy. I was ready to shine his shoes (laughs).

His role in Funkadelic is a bit like you and Matumbi in that you're not the frontman but you're the one that everyone remembers.
He's the instigator! I know, Richard always says that. He goes "You and George are the same". And when I started working with him, as soon as I met him he was like "Go and do that, and do that" and I was like doing it, and he's designated me to sing all the bass parts [sings] and it works all right. I can't wait to see what he does with Joss Stone because I wrote four songs that they're recording at the moment. I shall hear it sometime this week.

THE DENNIS BOVELL SONGBOOK

Finally, you're performing at the London International Ska Festival doing the Dennis Bovell Songbook. What can we expect and what songs from the Dennis Bovell Songbook are you most proud of?
Well, I suppose I've always got to be proud of Silly Games and After Tonight, I don't know... Dubmaster, Choose Me, Fall Babylon. It's a show of my many collaborations and what I've done. There's another song called Ordinary Man which I did with Matumbi but on my new A-Z album I'm doing it acoustically. There's some songs that I'm just doing acoustically where I'm playing the piano or playing the guitar and singing. Because I thought the listener should get to hear what happens to these songs before I go into a studio and throw a whole band on it and do a whole production on it, so that they can hear the song in its embryonic form.

And is that what's going to happen when you perform on the stage? Are you going to be just at the piano? An afternoon with Dennis?
No, I'm going to have a band. My five-piece unit. I haven't included any horn players because I've got such a big horn section and the stage at the Jazz Café so is small, and they have a piano on it as well and you can't move the piano. I'm told that there's a four band as well. I think it's going to be a mass of wires on that stage and I'd quite like to just go there with an acoustic guitar and do it because I know that there's always problems when there's a four band. It's just a recipe for disaster when you've got to plug wires in and you're going "Number 1 was going in 14" and suddenly number 1 ends up in 4 instead of 14 because you've got five minutes to set the stage again before the next band is on. It makes a mockery of sound checking when they've got too many things on. I'm quite of a mind to sort that out by just turning up like Don Partridge with my acoustic guitar and going [sings] "Rosie, oh Rosie"!

You're a funny guy. I've seen you hold an audience with just jokes and no music.
Yeah!

Could you have been a comedian?
That's what Linton says. Linton says "Dennis, if you ever give up being a musician you could definitely become a comedian" and Lee Perry goes to me "I think there's a comedian inside of you trying to get out"!