04/06/2015
Review: Kulchasplash in London, UK - April 6th 2015
04/09/2015 by Angus Taylor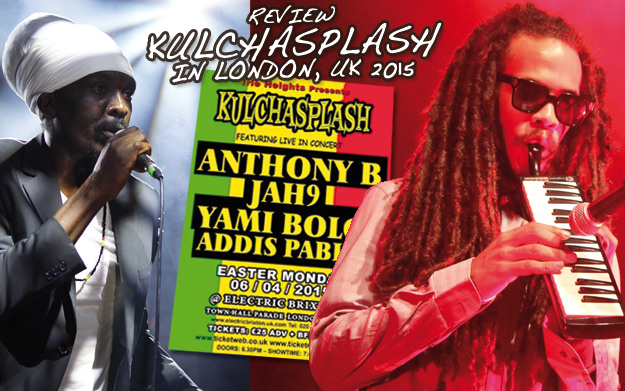 Time was when Londoners used to look enviously at the more creative roots reggae festival line-ups in Europe – then find these touring artists had only applied for a Shengen visa. Which is why resident reggae royalty turned out on Easter Monday to see Irie Heights and Cecil Reuben's carefully curated Kulchasplash event at Electric Brixton. It featured the return of energetic sharp-shouter Anthony B, an awaited second appearance in London from dub diva Jah9, ditto the seemingly M.I.A. Yami Bolo, and the legendary Augustus Pablo's son, the melodica player Addis.


There were delays getting started. No paper in the ticket machines meant many queuers weren't moving until almost an hour after allotted "doors open". Fortunately there was only one, well-chosen, local PA: the powerful-voiced Lenea Herew who sang her song Show Me on Real Talk Productions' remake of Lloyd Charmers Is It Because I'm Black rhythm.
 

"Greetings in the name of Haile Selassie" said the casually dressed, soft spoken Addis Pablo to the early arrivals, standing before a gigantic banner of the Emperor himself. The son of the melodica legend, who had seemed tentative playing his instrument at Reggae Jam last summer, was relaxed and confident. He blew a mix of his father's material like a place-destroying Java and his own Road To Addis. He also paid tribute to family friend Hugh Mundell with a rendition of My Mind sung by Suns of Dub cohort Jah Bami.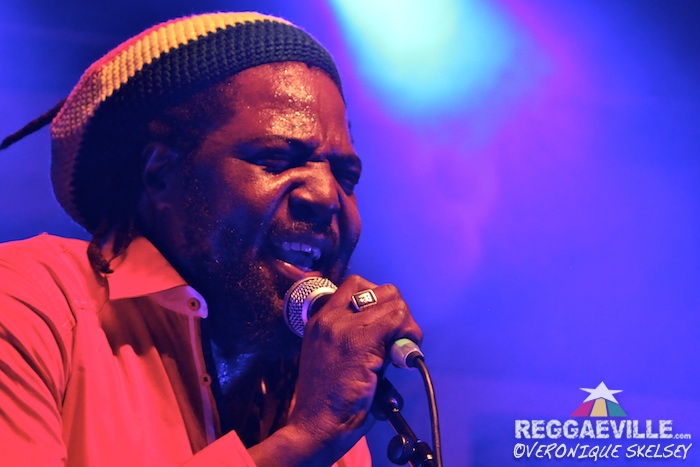 Yami Bolo, until recently unable to travel due to visa issues, was up next. Eyes clenched shut, his bionic voice sounded distinctive as ever during Stevie Wonder's Isn't She Lovely, Liberation (from Zion High Productions album Rebelution) and Grammy winning Damian Marley collab Still Searching. He even showed he too could play melodica, favouring the long over the short pipe (after he told Reggaeville he would sneak plays on Augustus' cherished device in the great man's camp). Both Pablo progeny were ably backed by Cecil Reuben's Artist band (although, the way Yami was telling them songs and keys, they appeared less familiar with his set).

"Woman is the mother of civilisation" said compere Mandingo to introduce Jah9, back for her first London date since 2012. Three years on, she is established and has some lighter additions to her catalogue: homage to good men, Brothers (on Silly Walks' Honey Pot) and to good food, Avocado (whose "Brilliant and beautiful and black" line got a favourable reaction).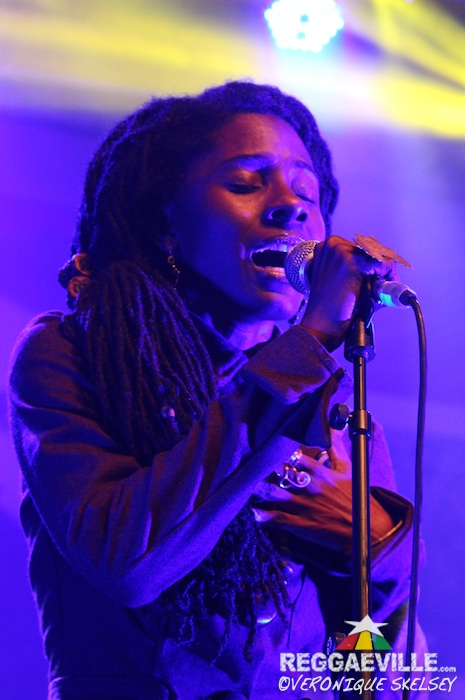 The final section brought roots and judgment with smoking-ban-flouting Taken Up and Steamers A Bubble then a triumphant New Name packing punchy brass from Stepper Briard and Matic Tenyue of Dub Asante band - tight from their tour of France. "In this time when so many people commit crimes in name of religion, we burn religion" was her prelude to Preacher Man atop the Rockfort Rock. "Blessed love", her farewell as she exited to impressive applause.


A third band change took almost 30 minutes before Anthony B. Jah9 had commanded via minimal movement and a clasp of her fist but Anthony, on a 20th anniversary with his Bornfire Band, was the showman of the bill. He spent a minimum 50% off the ground during European roots anthems (Freedom Fighter) and Jamaican nineties classics (Raid the Barn and Fire Pon Rome) braking only for his social-media-critiquing cover of John Lennon's Imagine. A few sound problems were stabilised by engineer, Gussie P. Given the clock constraints it was perhaps overgenerous to give spots to his label signings Jah Clarity and Kool Johnny Kool yet he stayed loyal to his friends. "We bun time" he spat defiantly, securing an extra 15 minutes after the 11 o clock curfew. The lights turned up for his Star Trail hit Please Be True.


Multiple musician switches and the late start meant sets were shorter than intended. So those who followed one particular artist might have been disappointed that Anthony B did 45 minutes while the rest had half an hour. However, it is vital that promoters invest in a performer's touring players rather than overloading one under-rehearsed ensemble to breaking point. It was also commendable that, instead of lots of unbilled acts and selections "until the place filled", the organisers rationed stage time from early, rewarding attendees who had to work in the morning. A little rushed yet high quality throughout, this is the kind of era-spanning line-up we need to see more of in the UK.