07/04/2021
Reggaeville Wins JaRIA Honour Award 2021 - Extraordinary Impact on the Music Industry
07/05/2021 by Reggaeville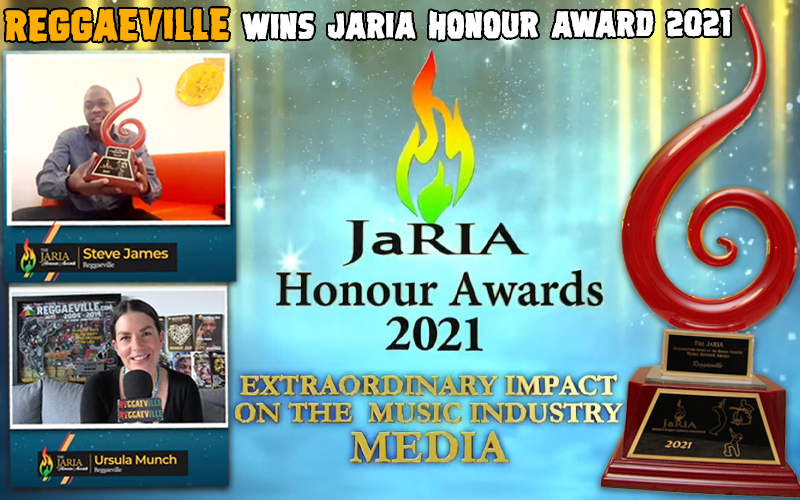 Originally scheduled for February 28th as the distinguished concluding event of Jamaica's officially designated Reggae Month, the JaRIA Honour Awards were delayed due to measures implemented to protect the production team and participants from the COVID19 pandemic. The virtual presentation was aired on Sunday, July 4. Watch it HERE!
The winners were announced already in early February (see the full list below), but the show revealed the winners in two categories voted by the public: Khalia was voted Breakthrough Artiste of the Year and Koffee's Lockdown took the Song of the Year award.
In the category Extra Ordinary Impact On The Reggae Industry - Media three awards were presented in the following subcategories:
Secular: Allan Hope "Mutabaruka"
Gospel: Tony Young
New Media: REGGAEVILLE
This award and recognition makes us very proud and it is an amazing honour to be mentioned among these great Reggae legends. Watch Reggaeville's full acceptance speech on top of this news or click here! Congratulations to all winners and big up JaRIA!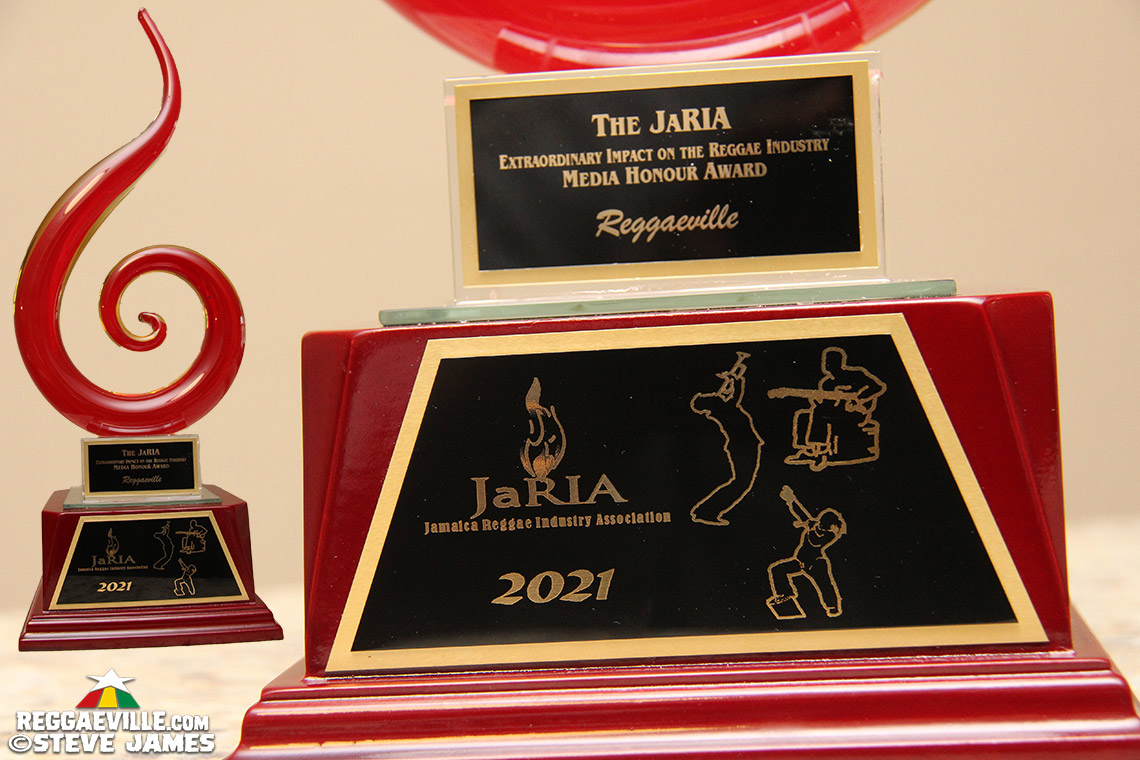 THE JARIA HONOUR AWARDS - 2021 WINNERS
1. A LIFE OF DEDICATION TO THE MUSIC INDUSTRY - LIFETIME ACHIEVEMENT
OWEN GRAY

2. EXTRA ORDINARY IMPACT ON THE REGGAE INDUSTRY - MENTORSHIP
RONALD "NAMBO" ROBINSON

3. EXCEPTIONAL CONTRIBUTION TO THE REGGAE INDUSTRY - POSTHUMOUS
EDWARD O'SULLIVAN LEE OD aka BUNNY
LEE WINSTON BOWEN aka "BOPEE"

4. EXTRA ORDINARY IMPACT ON THE REGGAE INDUSTRY - ENGINEER
SHANE BROWN
ORVILLE "ROREY" BAKER

5. EXCEPTIONAL CONTRIBUTION TO THE REGGAE INDUSTRY - PRODUCER
LEROY & DAVE HEYWOOD "MAFIA & FLUXY"
HANDEL TUCKER

6. EXTRA ORDINARY IMPACT ON THE REGGAE INDUSTRY - SOUND SYSTEM
COUNT SHELLY
LLOYD COXSONE SOUND SYSTEM

7. EXCEPTIONAL CONTRIBUTION TO THE REGGAE INDUSTRY - MUSICIAN (INSTRUMENTALIST)
STEPHEN 'CAT' COORE
DALTON BROWNE

8. ICON AWARD - ARTISTE/ MALE
JEPTHER MC CLYMONT OD - 'LUCIANO'
EWART "U-ROY" BECKFORD OD

9. ICON AWARD - ARTISTE/ FEMALE
PHYLLIS DILLON

10. ICON AWARD - DUO/GROUP
THE BLUES BUSTERS

11 EXCEPTIONAL CONTRIBUTION TO THE REGGAE INDUSTRY - BAND
ASWAD

12. EXTRA ORDINARY IMPACT ON THE REGGAE INDUSTRY - MEDIA
SECULAR: ALLAN HOPE "MUTABARUKA"
GOSPEL: TONY YOUNG
NEW MEDIA: REGGAEVILLE

13. EXTRA ORDINARY IMPACT ON THE REGGAE INDUSTRY - PROMOTER
RAE TOWN

14. EXCEPTIONAL CONTRIBUTION TO THE REGGAE INDUSTRY - SONGWRITER
HAROLD BUTLER OD

15. ICON AWARD - GOSPEL ARTISTE
GEORGE BANTON
CHANGE

16. GREGORY ISAACS FOUNDATION AWARD - DANCE, FASHION, SELECTOR, ALBUM DESIGN
ALBUM DESIGNER: ORVILLE "BAGGA" CASE

17. BREAKTHROUGH ARTISTE OF THE YEAR (Public Voting)
KHALIA

18. SONG OF THE YEAR (Public Voting)
LOCKDOWN by KOFFEE