11/22/2017
Chronixx, Tarrus Riley & Romain Virgo Team Up For Official Caribbean Love Now Anthem
11/15/2017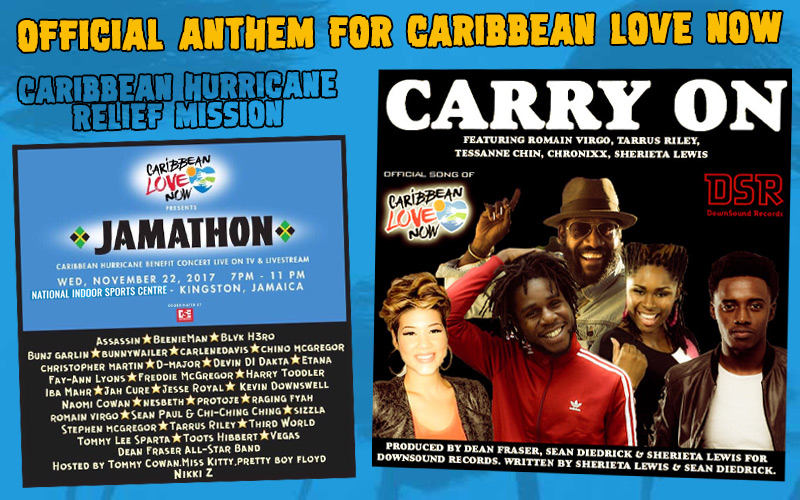 One week before the staging of the massive all-star benefit concert Jamathon in Kingston, Downsound Records presents Carry On: the official Caribbean Love Now campaign anthem.
Carry On came into existence organically explains Josef Bogdanovich, "I called Dean Fraser about the importance of this Caribbean Love Now mission and asked him to put together a song that would give hope to those from those Caribbean neighbouring islands that were devastated by hurricanes Irma and Maria. It was a quick phone call with Dean. He embraced this mission and within a week got his team of musicians, engaging the amazing Tarrus Riley, Romain Virgo, Tessanne Chin, Chronixx, & Sherieta Lewis, plus the writers and artists, to make the song. It premiered on RJR courtesy of Colin Hines."

Carry On is produced by Dean Fraser, Sean Diedrick & Sherieta Lewis for Downsound Records.
Written by Sherieta Lewis & Sean Diedrick.

Jamathon is the first fundraising event for Caribbean Love Now.

An All-star benefit concert in Kingston on November 22, 2017 featuring: Assassin, Beenie Man, Beres Hammond, Blvk H3ro, Bunji Garlin, Bunny Wailer, Carlene Davis, Chino McGregor, Christopher Martin, D-Major, Devin Di Dakta, Etana, Fay-Ann Lyons, Freddie McGregor, Harry Toddler, Iba Mahr, Jah Cure, J-Boog, Jesse Royal, Kevin Downswell, Naomi Cowan, Nesbeth, Protoje, Raging Fyah, Romain Virgo, Sean Paul and Chi-Ching Ching, Sizzla, Stephen McGregor, Tarrus Riley, Third World, Tommy Lee Sparta, Toots & The Maytals, and Mr.Vegas.

An All-Star Band led by Dean Fraser will back all performances and the show will be hosted Tommy Cowan, Miss Kitty Pretty Boy Floyd, and Nikki Z. Music also by Stone Love. Reggae fans around the world who want to participate can enjoy the full concert live via Youtube stream. It will also be televised on Caribbean TV.
Visit CARIBBEANLOVENOW.ORG for more details! Listen to CARRY ON below: