07/14/2018
Festival Report: Gracy's Bash 2018
07/20/2018 by Gardy Stein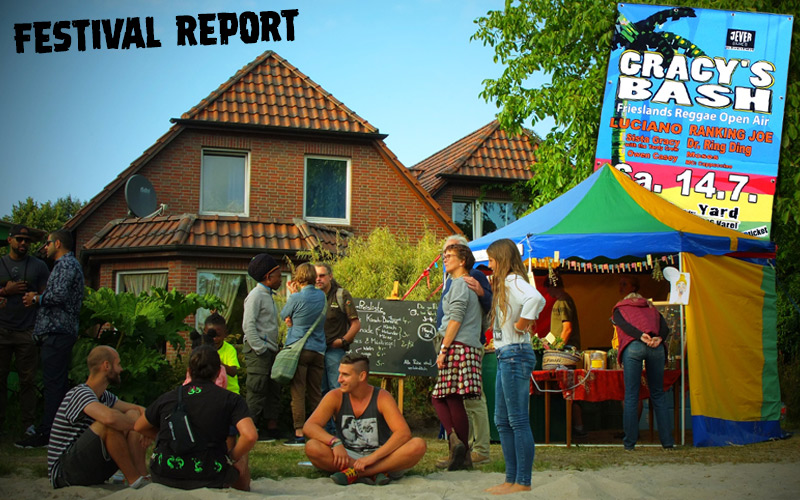 An iron eagle, a plastic palm-tree and a lion made from bicycle chains – the home of Diedel "Yardart" Klöver is a creative one. Until recently, it accommodated his probably most well-known piece of art, the "Bolt of Bolts" statue, which now found a new place of honour in front of the Tracks & Records in Montego Bay, Jamaica. Back in Varel, where the metal artist lives and works, the huge iron man is hardly missed – Diedel's yard is filled with countless other interesting pieces, sometimes in plain sight, sometimes hidden in trees or bushes. It's thus a good thing we arrived early for Gracy's Bash, as we now have enough time to stroll around the park-like premises in the late-afternoon sunshine. The little festival in northernmost Germany developed from a birthday party for Diedel's wife Gracy, a Jamaican singer who used to tour widely with Gracy & The Herbman Band in the early 90s. She is still deep into music, and Gracy's Bash is a welcome opportunity to invite family, friends and music lovers to an evening of calm encounters and intimate concert experiences.

CHECK THE GRACY's BASH 2018 PHOTO REPORT HERE!

Starting around 6pm, Dr. Ring Ding welcomes the arriving visitors with a little warm-up selection to which the delicious Jamaican food served (Jerk Chicken, veggie patties, rice'n'peas, festival, fried plantain…) fits perfectly. The first act is Moses who sets the mood right with a half-hour set of Ukulele and Loop-Station – singer-songwriter-style! After him, the big stage is graced by Owen Casey and band, consisting of some Boomrush-members and the virtuous guitarist Rudy Valentino. Casey's Irish-folk-flavoured Reggae vibes ("I call it Celtic Reggae!") invite for dancing, and the colourful crowd does just that. While the sun prepares to set, attention is switched to the small stage again, where Dr. Ring Ding has left the turntables and picked up the mic, presenting a dose of his booming voice and contagious humour.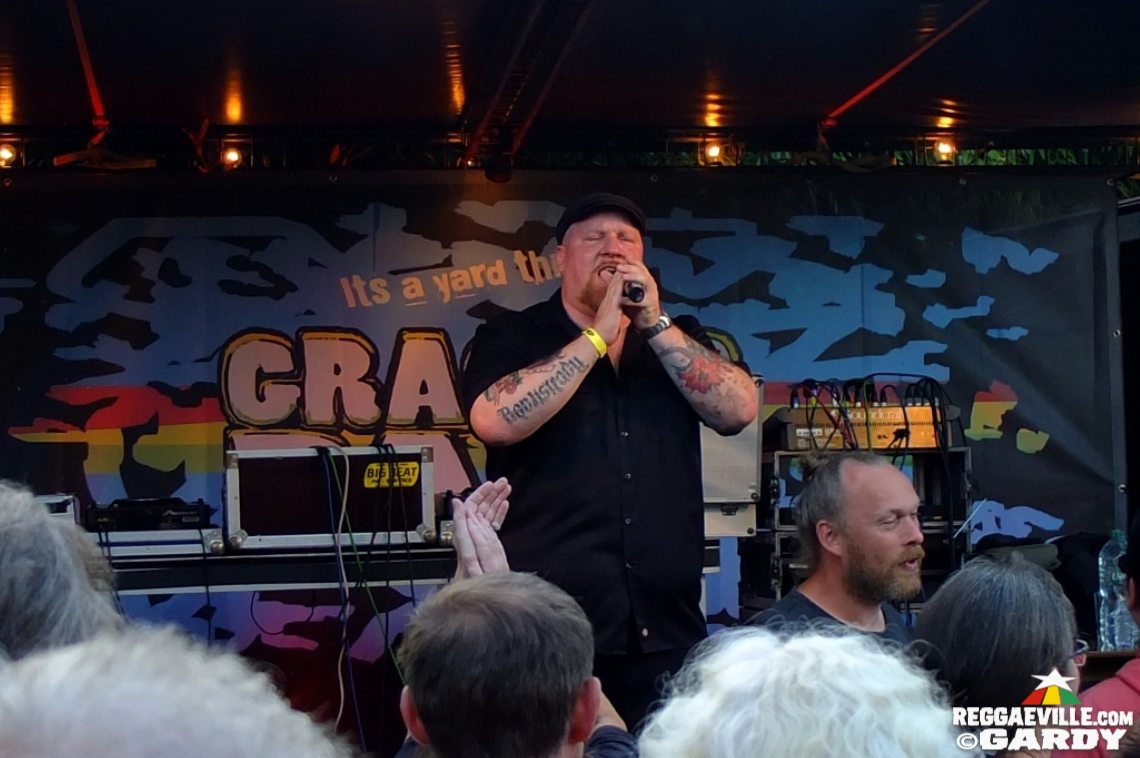 In contrast, tonight's moderator MC Cappuccino is not very funny, even though he clearly considers himself to be. He announces Gracy & the Yardie Crew on the big stage, a band formation that consists of musicians who have jammed together for years at the so-called Sofa Connection and our hosts Diedel (on bass) and Gracy (on mic). The family-vibe is reinforced when her grandson Mayshawn enters the stage and entertains the audience with some cool moves. Niceness! Switching back to the small stage again, we are now in for a real treat: Ranking Je showers us with vocal blessings from both his own creations and cover versions (e.g. Truth And Rights or Fade Away), and to experience this exceptional singer and producer so up-close and personal is a rare gift indeed, especially here in Germany.
Thus elated, the crowd turns to the big stage once more, ready for today's headliner. After a short band intro, Luciano appears to the cheers and claps of around 1.000 people and jumps right into his performance. Sweep Over My Soul, Who Could It Be Now and It's Me Again Jah Jah elicit jubilant reactions from the crowd, and between these classics, Luciano weaves a few covers of Bob Marley, John Lennon and Michael Jackson. A detour into Gospel is accounted for by his new album In The Name Of Love which includes tracks like Wade In The Water or Old Time Religion, both songs presented here at the beginning and at the end of the show, respectively. Special mention deserves the band accompanying him, fine musicians all, with the prominent drum & bass core of brothers Leroy and David Heywood, better known as Mafia & Fluxy. Their craftsmanship wafts through the otherwise dark and quiet rural air, and while some visitors retire to the camping grounds after they finish, others attend the aftershow-party run by selector Dr. Ring Ding.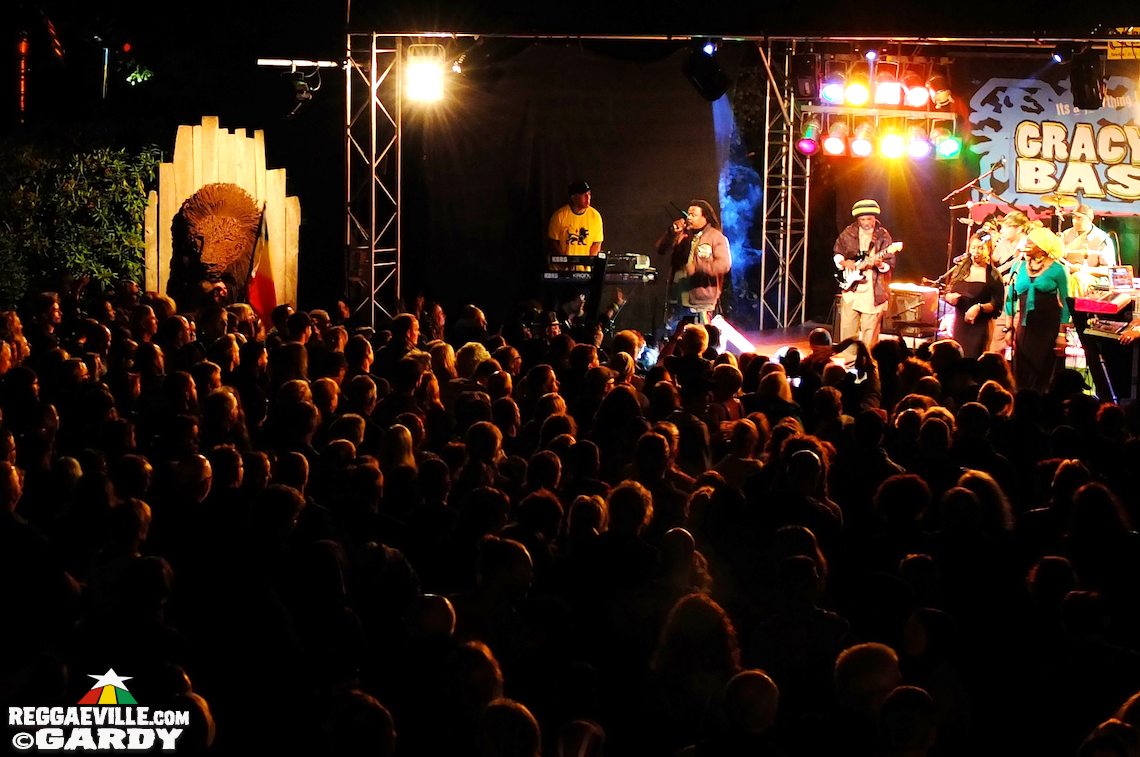 It's a yard thing! The motto of this cosy little event has again proven to be prophetic, because what we have experienced here is indeed a beautiful, balanced mixture of German and Jamaican yard life. The relaxed atmosphere, scenic beauty and artistic quality both on and off stage make it an exceptional date in summer's busy festival calendar, and a visit here is definitely worthwhile, even if you come from far. Big up Diedel, Gracy & family!!!

CHECK THE GRACY's BASH 2018 PHOTO REPORT HERE!