01/10 - 01/12 2020
Best Moments... Goa Sunsplash Festival 2020
01/31/2020 by Gerry McMahon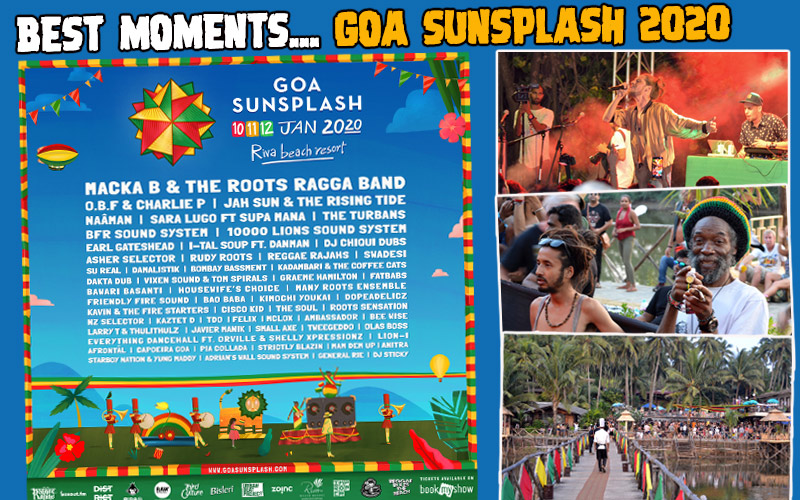 Goa Sunsplash is a three-day reggae music festival, steeped in the ideals of peace, love and unity. Situated on the sun-drenched shores of the Arabian Sea in the Indian Ocean, the festival successfully promotes a holistic lifestyle, via music, art, dance, debate, wellness programmes, good food and lively social fora. In short, the Goa Sunsplash reggae festival is a sight to behold. Based at the fairly fancy Riva Beach Resort in northern Goa, it draws a wide variety of visitors, many merchandisers and much magical music.

Indeed, it is fitting that as the UN recognises reggae as an international treasure, that the music has now found a good home in India. However, as across Asia, reggae in India is scarce. Hence, that the Goa Sunsplash is now looking toward its fifth year is a credit to and a great achievement for the local organisers. Though reggae in India is still in its infancy, some artists from this subcontinent are starting to make a dent, enabling the genre to now feature as an important part of the renowned Indian party culture. The festival is a real expression of this new and fizzing energy, providing the perfect platform for the local reggae movement to build upon.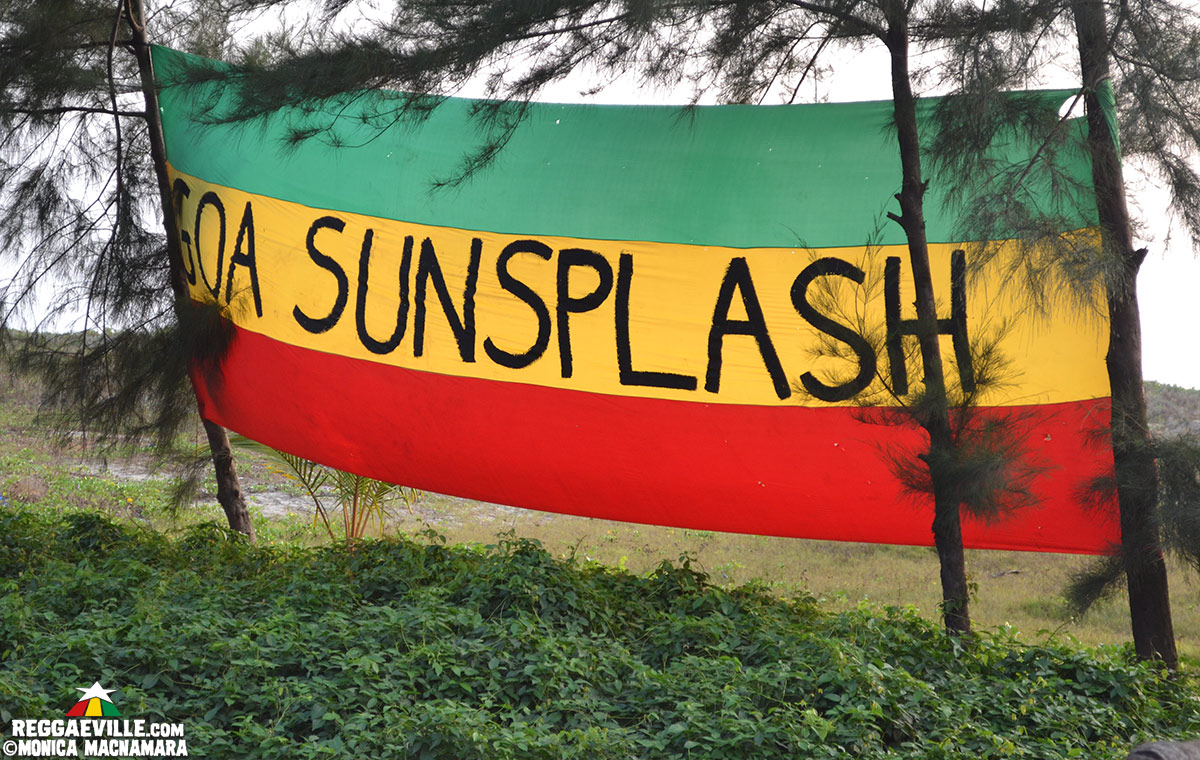 The event is India's biggest celebration of the genre, as it attracts up to 2,000 devotees annually to its base on the Arambol beach. Past festival headliners include such legendary figures as Anthony B, Mad Professor, Johnny Osbourne, General Levy, ManuDigital, Cali P, Skarra Mucci, the still travelling and ever-popular Zion Train and the colourful Brother Culture. In addition, in recent years some superstars of the genre have been spotted in India, with Shaggy, The Wailers, UB40 and Julian Marley amongst the more recent acts to tour the country. Indian reggae addicts are also proud to boast some handmade sound systems that are attracting and changing the way that audiences in the country listen to the music.

Over three days this festival features almost 70 artists performing across 3 cleverly and closely located stage areas. This allows the festival to cater for all the sub-genres of the music, whilst the nearby marquee provides for cultural, yoga and martial arts workshops, alongside debates, dance classes and competitions. And for those too tranced-out to make the 200-yard walk to the seashore, there's even a swimming pool on site!

Given the variety of pleasurable experiences at Goa Sunsplash in India, picking the top moments isn't easy, but here goes: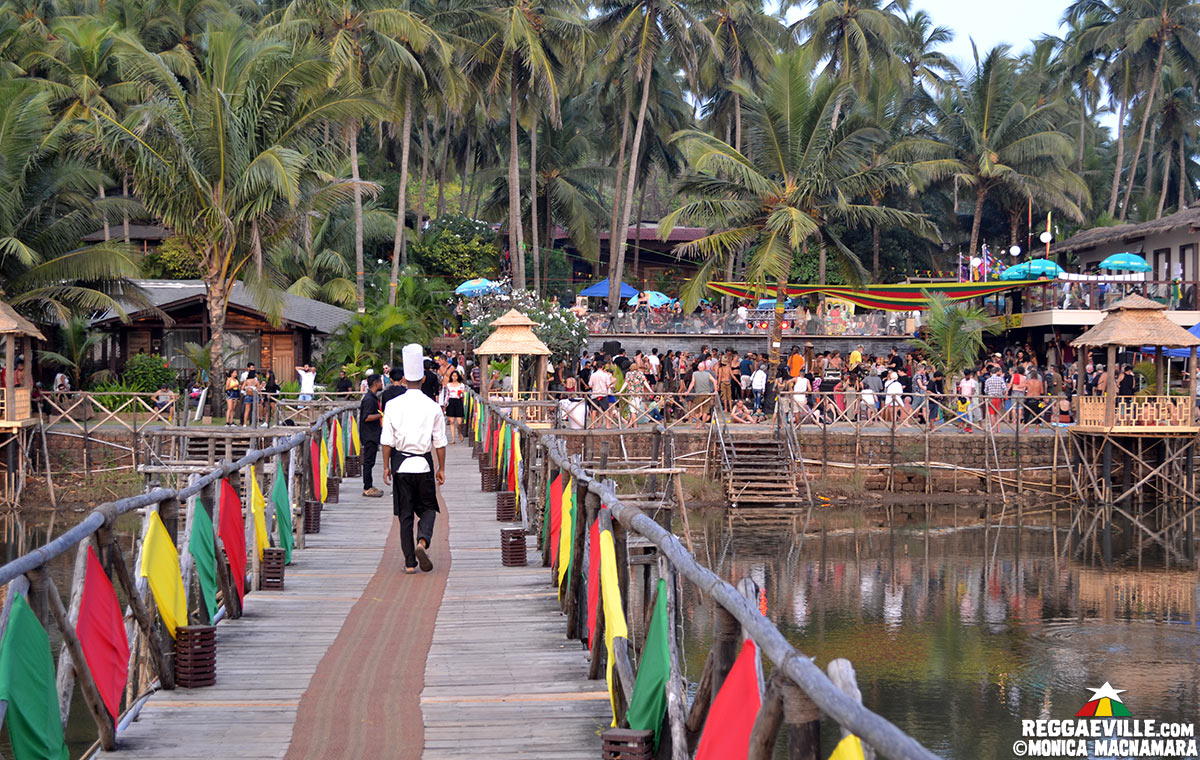 ARRIVING AT THE FESTIVAL
There is no doubt but that this intimate festival could be described as a 'special moment' in itself. Interesting to observe how the music adapts to different surroundings and native settings. The Goa Sunsplash reggae festival is no different and is characterised by its friendly audience and staff. This friendliness and effort to meet the (reasonable!) needs of all comers was evident from the outset. Both the festival staff and the native population were both charming and disarming. Their agreeable manner and disposition were a wonderful bonus and boosted the festival's good vibes immeasurably. So 'Big Up' to the professional Goa Sunsplash crew.


MACKA B
This 6-foot 3 inches mountain of a man has been on the road a long time. And as explained by the multi-talented festival organiser Zorawar Shukla in his introduction: 'We have been waiting a long time to bring Macka B to India … the moment has arrived'. Perhaps needless to note, the festival's main headline act did not disappoint, as he graced the Arambol Grove (i.e. Coconut Grove or Main Stage), to deliver his words of wisdom via an assortment of musical melodies to the delight of an adoring audience. Opening up the show, Macka B made it plain that 'it is good to be in India', before cutting direct to Rasta Rise Again, Step Up, What Me Eat, (The Woman Is Not A) Sex Machine, Never Played a 45, (I Don't Want To Be A) Gangster - musically mixed with Marley's everlasting One Love/Three Little Birds, Cucumber and many many more musical treats.
Overall this was a riveting Macka B and his Roots Ragga Band performance, which exhilarated many of the native Indians in the swelling audience. Notably, the audience was also well embellished by the large volume of tourist traffic that visits the resort from around the globe. Nice one Macka B, whose sweet refrain ran: 'Do You Love Your Fruit and Vegetables?'. Macka B – now a viral sensation on the worldwide web - made his musical input after an afternoon leading an informative and engaging debate on earthy connections between Jamaica and India. On this topic of the 'herb and plant' connections (or plant-based traditions), he was joined by the knowledgeable Prashanti de Jager, an ayurvedic scholar and founder of 'Organic India'.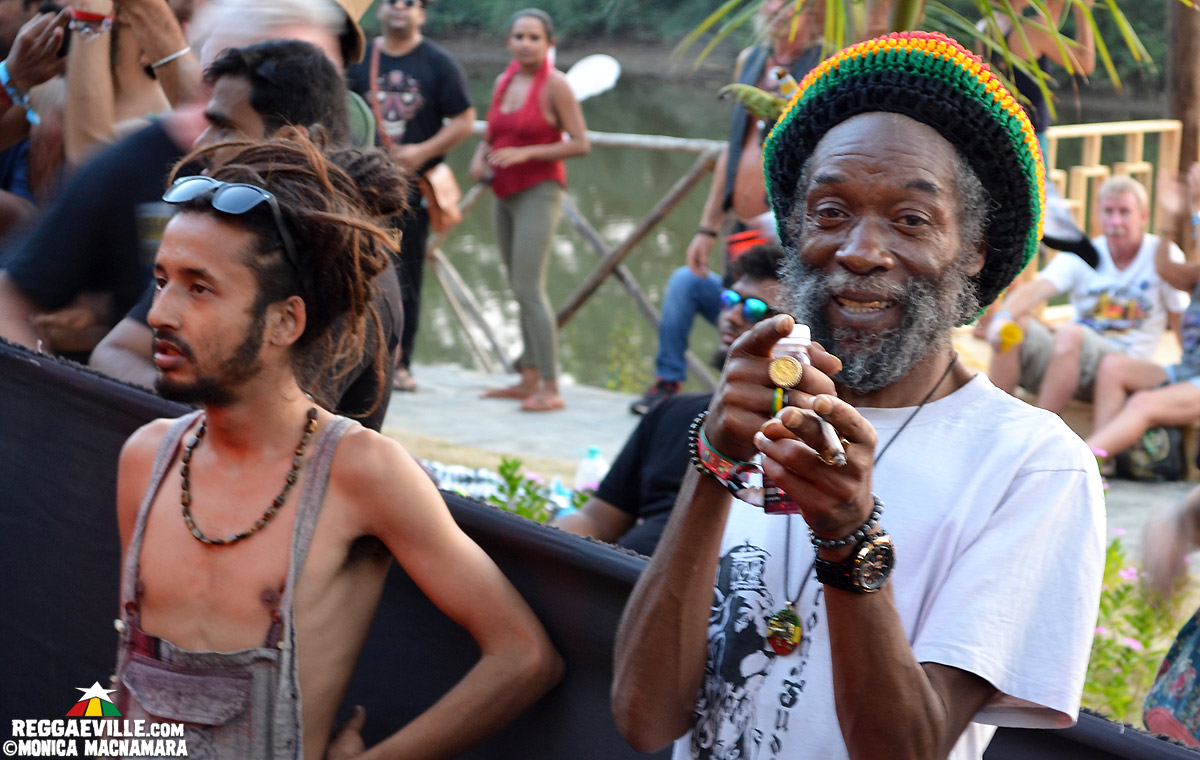 DANMAN @ I-TAL-SOUP SHOWCASE AT THE LION'S DEN
Coming originally from St. Elizabeth in Jamaica, but more recently from out of middle England, this legend of the dub and dancehall arena did not disappoint as he whipped up a right storm at the dub station.Under the direction of the I-tal Soup soundman, the Danman and his director gave us a host of tracks cum versions from well-known legends of reggae (like Burning Spear, Johnny Clarke and the Congos). Of course, Danman is best known on this subcontinent for his input to the royally rendered and popular Righteous Man and The Wisest Live Long tracks. The wonderful sound stack system came courtesy of the popular 10,000 Lions (originally from Sardinia). Indeed it could be contended that the Lion's Den/Dub Station – featuring many longstanding luminaries from the world of reggae - including the hard working Asher Selector (of Swiss origins) and Earl 'Yeah Yeah' Gateshead (from the UK) – was the festival's fulcrum or heartbeat, reflected in a 'swaying and standing room only' setting.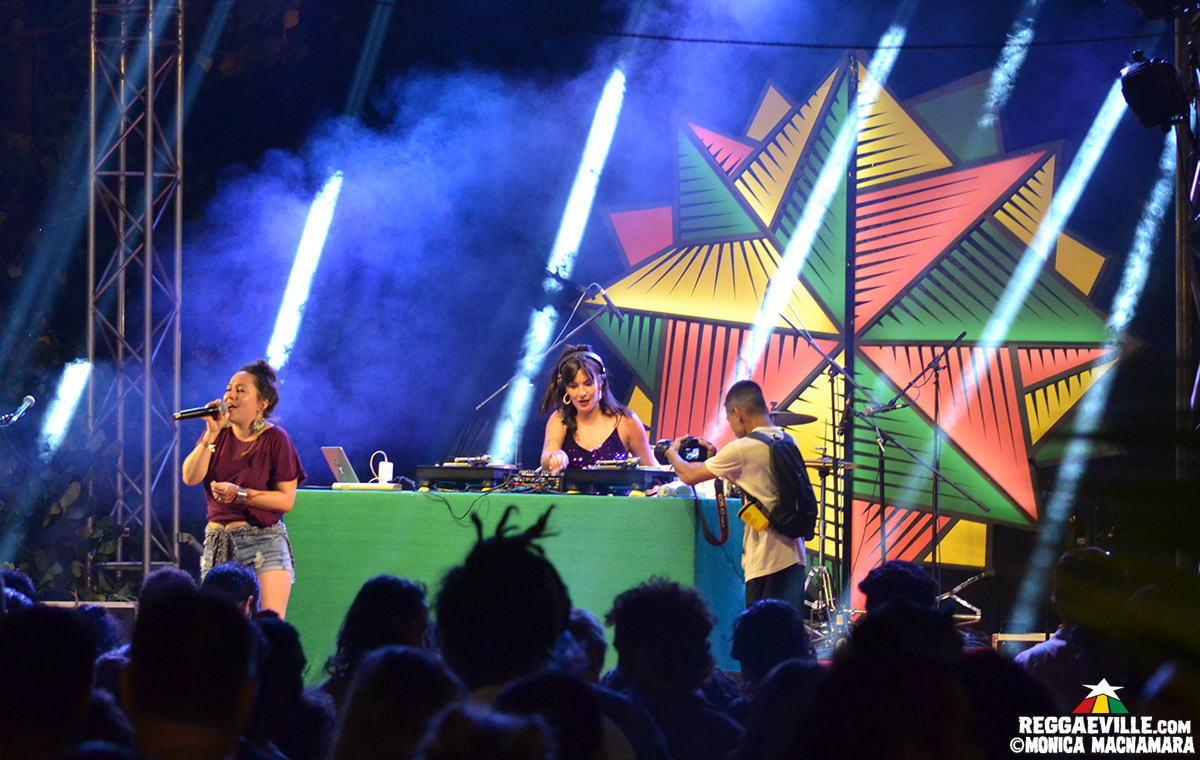 SARA LUGO FEATURING SUPA MAMA
This vivacious vocalist and her sweet Soundsystem operator brought the house down. It is uplifting and appropriate that two females should make it into the Goa Sunsplash Best Moments. Given that neither India nor Jamaica has distinguished itself in the treatment of women – either in society or in music – this is a welcome marker. And it is a rank on merit alone. The versatile duo packed in an hour's worth of quality music, set to a mainly roots-oriented base sound. This base was topped with strong and well-woven overtones of jazz and hip hop, alongside smiling faces unleashing vibrant and varied vocals. This was a definite festival highlight from the French pair, who were making their debut in India. Their capacity to drive the old school style in a modern format make this act well worth watching out for when the 2020 reggae festival scene kicks off across Europe and North America.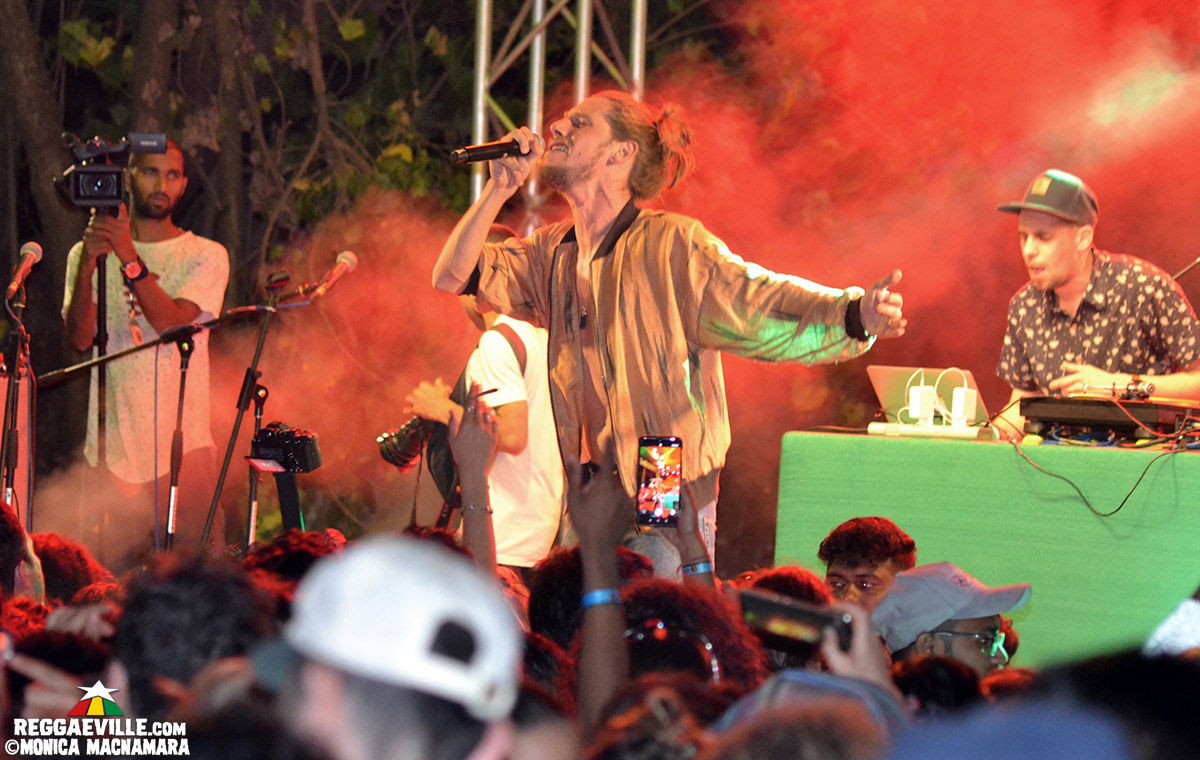 NAÂMAN
For sure, the popular Frenchman's return to the Goa Sunsplash festival was a treat to behold. His mainly pop-style reggae – as influenced by ska, blues, folk, hip hop and dancehall - was a delight for the adoring audience to sing, sway and sizzle to. Truth be told, many thereof were well able to sing along to the artist's rendition of a host of tracks from his Deep Rockers, Back A Yard, Rays of Resistance and Beyond albums. Notably Naâman's appearance preceded that of the 'big band' Turbans, whose glitzy show spanned everything from Arabian to Zeppelin-style rock and roll, with Irish and Indian riffs running throughout. This London-based 7-piece extravaganza evoked a wonderfully well-orchestrated audience hand clap, with brilliant brass weaving the sound sporadically into the realms of a trip on the magic carpet! However, the paucity of reggae in their set enables Naâman to pip them at the post.

Verdict: Time to make a booking on the Arambol side of Mandrem, Goa, India for the Reggae Rajahs at Goa Sunsplash 2021!