12/05 - 12/10 2020
Nas & Damian Marley, Shabba Ranks @ Jamrock Cruise 2020 - Second Cruise Added!
02/17/2020 by Reggaeville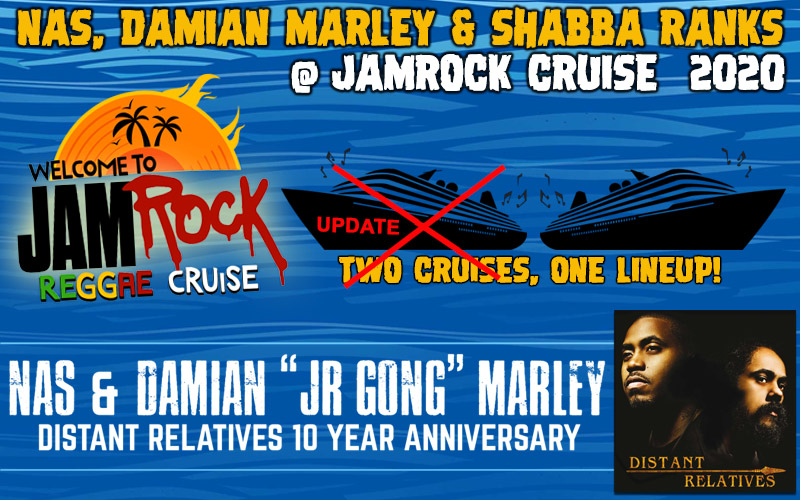 UPDATE - FEBRUARY 17, 2020
"Due to unforeseen circumstances beyond our control, Jamrock Productions and Rose Tours are sorry to announce the cancellation of Cruise One (November 30-December 5, 2020) of the Welcome To Jamrock Reggae Cruise. Passengers who were booked on the November 30th sailing will be refunded in full to the credit card(s) used to make their payment. Refunds will be processed the week of Feb 17-21 st and take approximately 7-10 business days to be credited back to their account.

Welcome To Jamrock Reggae Cruise sailing December 5-10, 2020 will continue as planned. We look forward to seeing you on board.

For all processing questions please contact Rose Tours by calling 215.663.8800 M - F 9am-5pm EST."

The 2020 Welcome To Jamrock Reggae Cruise is sold out, but here is the good news for all cruisers: a second cruise has been added! Two Cruises - One Lineup!

The recently added cruise is labeled as CRUISE ONE, sails from November 30 - December 5, 2020. Cabins are on sale now! CRUISE TWO (Dec 5 - 10) is sold out, but a waitlist is available. Check the official website HERE.

Just announced: NAS & Damian 'Jr Gong' Marley headline the cruise to celebrate their 10 year anniversary collaboration album from 2010 Distant Relatives.

Additional to that, it's the one and only Shabba Ranks! More artists will be announced...