02/25/2012
Postponed? Amsterdam Reggae Festival & Reggae Splash Tour 2012
02/10/2012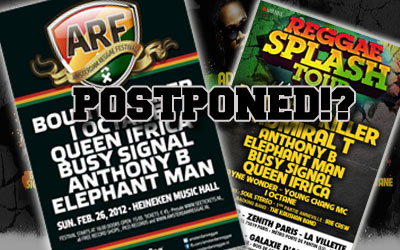 In january a huge artists package was announced to perform in France and Holland. Two shows in France called the Reggae Splash Tour and one show at the Amsterdam Reggae Festival.

Only two weeks after that announcement, it was Bounty Killer's agency who released a statement, that Bounty will not be Europe in february [read the press release here].

Today, still no official statement from France or Holland, it seems the events takes place on a later date.

On the official Facebook page of the Splash Tour in France, a user mentioned a possible postponement two days ago and today the statement below has been released by WORLDAREGGAE.com


Amsterdam Reggae Festival Postponed!
As a communication channel of the Amsterdam Reggae Reggae Festival we would like to bring you the following

[…] Unfortunately, due to various circumstances beyond the control of the organization three of the 6 artists can not come over to Europe to perform at the festival. These artists are Elephant Man (suspect in a rape case in JA) Bounty Killer (Miscommunication) and Queen Ifrica (Pregnant, giving birth in April). […]

Hopefully the organization will release an official statement this weekend. An Official statement isn't given yet because the organization still wanted to do set up a nice line-up. As far as we know now, the festival will be moved to May, this year!


As soon as there will be an official statement you will find it here!