05/26 - 05/28 2017
Best Moments... California Roots Festival 2017
05/31/2017 by Brad Metzger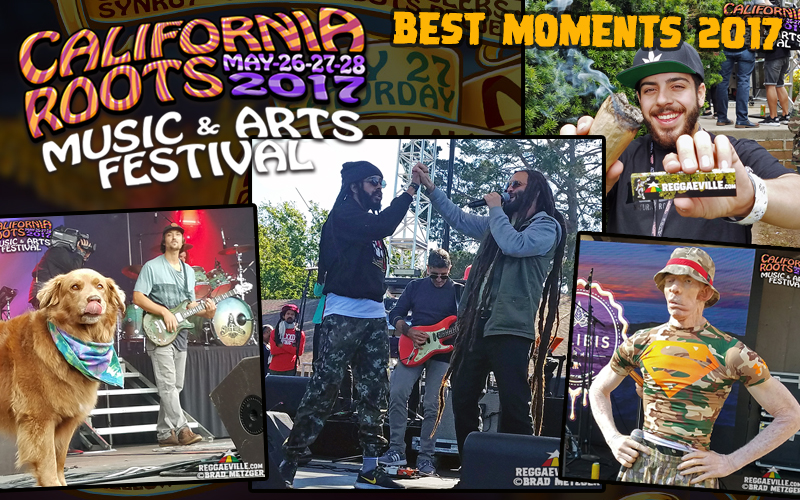 The theme at California Roots Festival this weekend was peace and love with a small dose of politics in "this fucked up world…I wanna see your hands up for truth and rights!" according to Protoje jumping on stage in full camouflage Rasta regalia who, mid set, welcomed onstage his breddren Jesse Royal for Sudden Flight and then went right into Rasta Love, followed by Who Knows. Alborosie had something on his mind: "We love freedom, all over the world. I don't come here to tell you about politics, you know, united we stand, united we fall!" And although Tribal Seeds was notably absent to call out our President by name in not so kind words as they always do, clearly he was on the minds of the performers this year at Cali Roots.

Yellowman truly is a living legend and although many of these concert goers were born before his heyday, they were mesmerized as he and his Sagittarius Band put on a clinic, peaking with Zungguzungguguzungguzeng. The Late Ones, reminiscent of The Meditations showed their range with pure vocal harmony but also with modern reggae rap. As he danced from one side of the stage to another, Matisyahu started off with Bob Marley's The Heathen, and after lighting a joint he tossed it into the crowd before swigging beer all set long. SOJA brought so much firepower, so tight as a band and so multi dimensional. Bobby Lee is just as captivating on bass as he is at the mic and Rafael Rodriguez on trumpet and Hellman Escorcia on sax are as good as it gets and the timing on these guys is flawless. There were many great on stage collaborations throughout the weekend of course.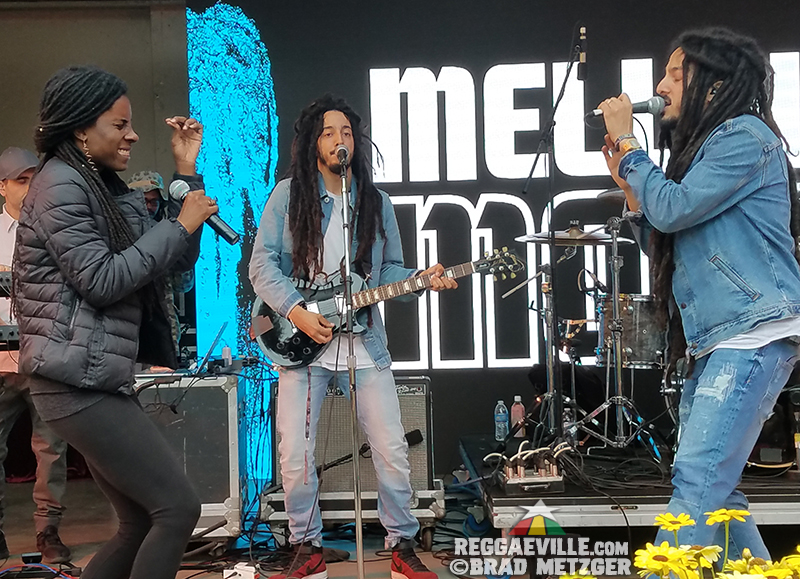 During Mellow Mood's first set ever at Cali Roots they brought up Jah9 to perform While Away and Eric Rachmany from Rebelution performed with Through The Roots. Speaking of Rebelution, they were on point and perfectly polished, but predictable and they steered clear of the crossover songs from their new album. They knew better with this hardcore reggae crowd. And it was a missed opportunity not inviting any of their California musician friends onstage although they were waiting in the wings ready to go.

Here are some highlights:

IYA TERRA
Festival founder Jeff Monser confirmed, the Cali Roots massive was buzzing about how Iya Terra just killed it on Sunday at the Calibis Original Stage. Just coming off of a long national tour supporting Fortunate Youth, the LA band is prime for greatness. Lead singer Nathan Feinstein told the crowd how much it meant to play at Cali Roots for the first time after attending for years, and then tore into their set which featured many of the tracks off their new album Sacred Sound including Anti Establishment, More Love and Give Thanks featuring Scott from Stick Figure who joined onstage.


STICK FIGURE
Even Cocoa The Tour Dog, the famous Stick mascot, knew she should stay on stage presiding over this exceptional set for the duration. Originals like Fire on the Horizon and Smiles on Faces were performed at peak levels but covers Wish You Were Here by Pink Floyd and Bob Marley's Sun is Shining really did it for me. Eric Rachmany from Rebelution joined for Mind Block and then Breath turned into Hey Jude by The Beatles. To finish it off at the end of Smoking Love they welcomed Matisyahu for an improvisational rap.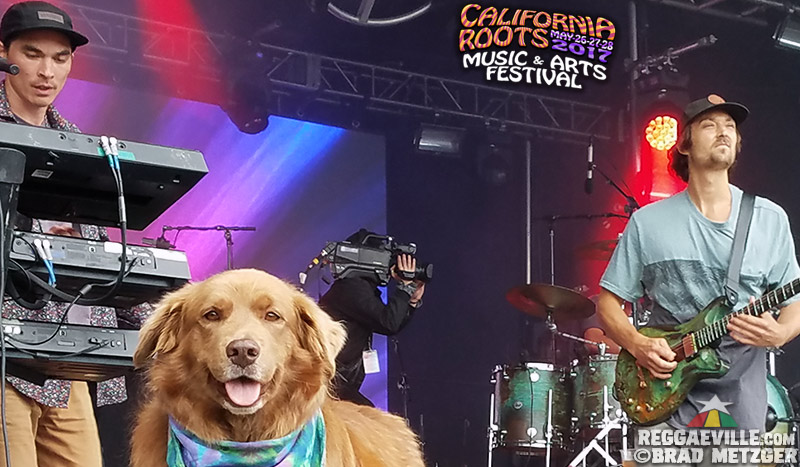 ANTHONY B
My first time seeing Anthony B, WOW! The range on this guy is sick. From beautiful love songs to dancehall, he was mesmerizing. John Lennon's Imagine and a nice version of One In a Million broke up this heavy dancehall set.
ROLLING PAPERS
The brand new Reggaeville Rolling Papers brought big smiles to fans and artists same way...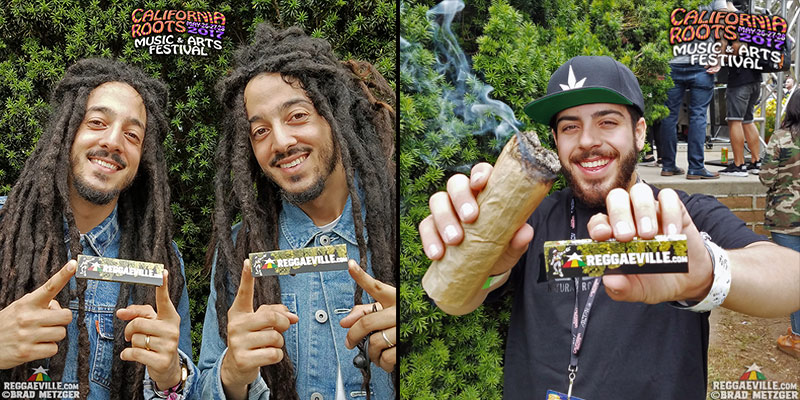 ALBOROSIE
Herbalist, Poser and many favorites in that signature Albo raspy voice. Then after welcoming Protoje, he did a nice rendition of Marley's Get Up Stand Up and Peter Tosh's Johnny B Goode.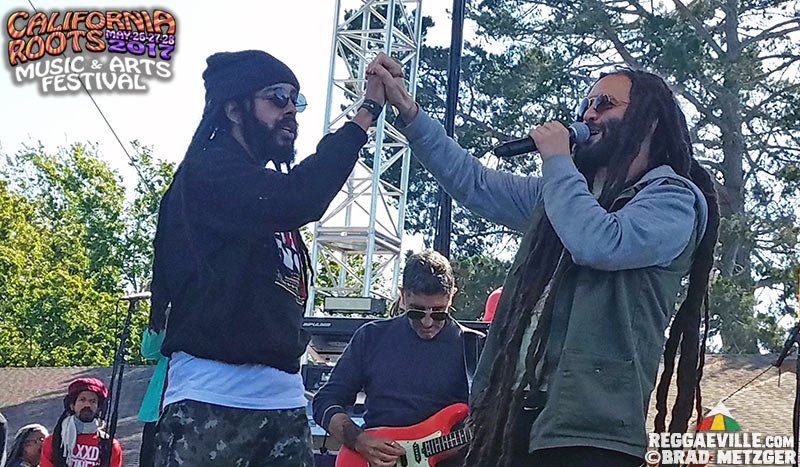 HIRIE
Looking forward to this acoustical set on Saturday, I was a little worried when I saw most of the seven piece San Diego based band setting up, but they took a backseat to what was a magical "semi unplugged" performance. Eloquent and heartfelt lyrics combined with Hirie's soulful and sincere vocals paired with their distinctly Cali / Island sound, define what West Coast Reggae is all about today. Trish is an oasis of positivity on and off stage. "Let's give it up for the families in Manchester!" she said before powering through many of her hits from her newest release Wandering Soul. Hirie also popped up at the art pavilion stage on Sunday. It was a family affair with her adorable young daughter dancing in front of the tiny stage. Friends and fans sang along while The Late Ones joined in for Don't Take My Ganja. Toward the end Trish said, "You guys make our dreams one day at a time, you have no idea." You could tell she meant it. Just a classic Cali Roots moment. WATCH IT BELOW: