03/16/2019
Update: Chairs Allowed @ Buju Banton's Long Walk To Freedom Concert in Kingston, Jamaica 2019
03/09/2019 by Press Release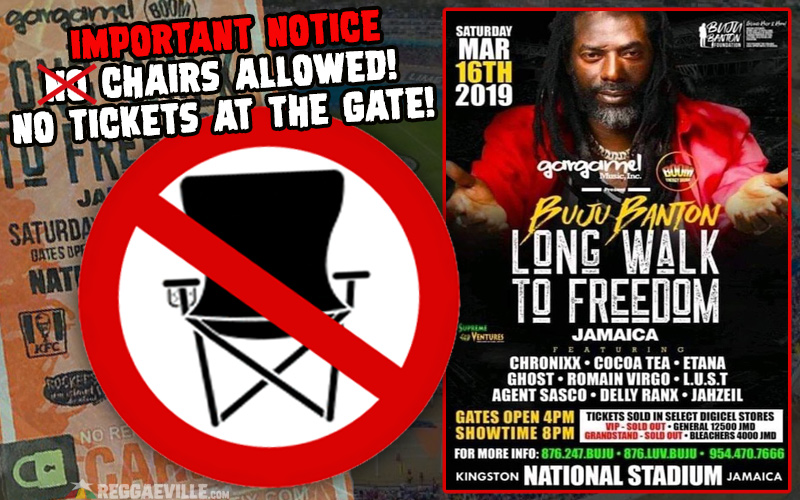 UPDATE - CHAIRS ALLOWED - MARCH 15, 2019
After numerous meetings to address the heightened concerned of no chairs being allowed inside the National Stadium on Saturday March 16th, Gargamel Music And Boom Energy Drink in Association with Solid Agency and Rockers Island have received word from authority to allow the use of chairs.

All ticket holders in VIP and General Field are now allowed to bring their chairs to the event. This sudden change came after organizers diligently met with safety and security reassuring the appropriate floor plans executed to assure safety and comfortability to all patrons.

The entire team of Long Walk to Freedom - Jamaica apologize for the inconvenience to all patrons and look forward to seeing you at this historical event.

OLD NEWS FROM MARCH 9, 2019:
Gargamel Music and Boom Energy Drink In association with Solid Agency and Rockers Island Production, would like to inform all persons attending Buju Banton Long Walk To Freedom - Jamaica, at National Stadium on Saturday March 16th, absolutely NO CHAIRS will be allowed.

For the safety of all patrons attending this historical concert, head of security has given the directive that no chairs will be allowed in the National Stadium. Anyone attending the Long Walk To Freedom Concert in Kingston, Jamaica will not be allowed to bring folding chairs, standard chairs, lawn chair, absolutely no sort of seating devices. The reason for this is to make sure all persons are able to move comfortably throughout the concert and meet all safety precautions.

We are aware that this may be an inconvenience to many who intend to arrive early and enjoy the many festivities, arts and crafts, food, music and performances, therefore we recommend you bring blankets, sheets or towels, to rest on.

In addition to NO CHAIRS entering the premise, we would like to inform all patrons to walk with valid IDs. If you do not have a ticket you will not be allowed into the venue, ABSOLUTELY NO TICKETS will be SOLD AT THE GATE. These are all policies we have to adhere to in order to make sure we celebrate Buju Banton's return in unison and safely.

We thank you for your understanding and look forward to sharing this moment in history with you on March 16, 2019 in National Stadium, Kingston Jamaica.