03/16/2019
Buju Banton - Long Walk To Freedom Tour Dates 2019
07/31/2019 by Reggaeville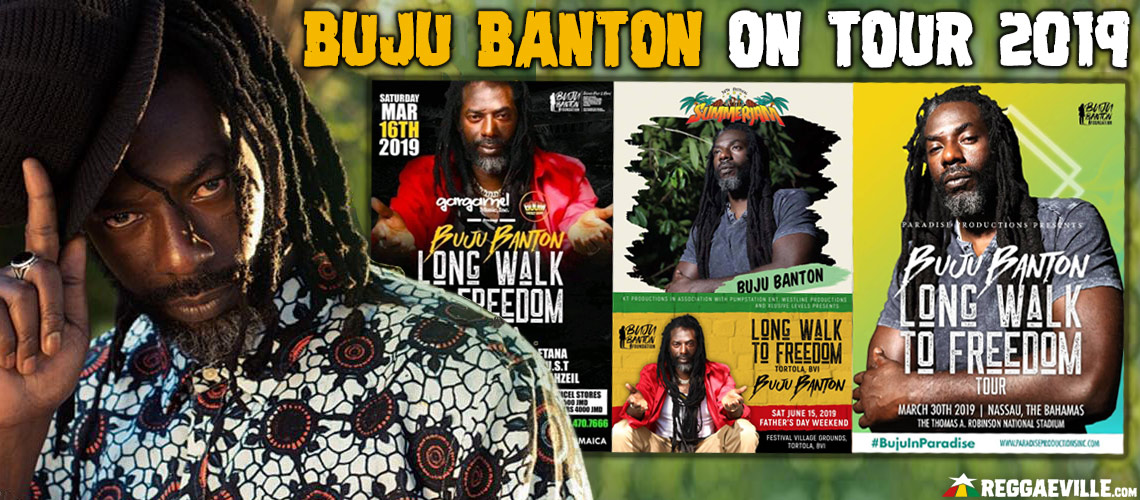 On March 16, 2019 Buju Banton will return to the stage. His first concert takes place in Kingston, Jamaica at the National Stadium.

Several other shows across the Caribbean are confirmed now and also famous SummerJam Festival in Germany confirmed Buju Banton performance. See below a list of all confirmed shows, which will be updated when new dates are added:

MARCH 16 - KINGSTON, JAMAICA @ NATIONAL STADIUM
with Chronixx, Cocoa Tea, Etana, Ghost, Romain Virgo, L.U.S.T, Agent Sasco, Delly Ranx & Jahaziel
CONCERT REPORT: PHOTOS & VIDEOS!

MARCH 30 - NASSAU, THE BAHAMAS @ THOMAS A. ROBINSON STADIUM
with Gramps Morgan, Glen Washington, Davido, Lil Duval, Kodak Black, Jah Hem, Willis & The Illest
TICKETS @ PARADISEPRODUCTIONSINC.com

APRIL 21 - PORT OF SPAIN, TRINIDAD & TOBAGO @ QUEEN'S PARK SAVANNAH
with Koffee, Luciano, Wayne Wonder, Singing Melody, Mr King, Ataklan, Isasha, Kes The Band, Ziggy Rankin & Jah Melody
Tickets @ IAMLEGENDCONCERT.com

APRIL 27 - BRIDGETOWN, BARBADOS @ BARBADOS REGGAE FESTIVAL
with Spragga Benz, Wayne Wonder
Tickets @ TICKETLINKZ.com

MAY 4 - PARAMARIBO, SURINAME @ ANDRE KAMPERVEEN STADION
Tickets available at local pre sale shops!

MAY 11 - ST. GEORGE, GRENADA @ NATIONAL STADIUM
Tickets @ GO2FETE.com

MAY 25 - GEORGETOWN, GUYANA @ NATIONAL STADIUM
Tickets @ IAMLEGENDCONCERT.com

JUNE 15 - TORTOLA, BRITISH VIRGIN ISLANDS @ FESTIVAL VILLAGE GROUNDS
with Capleton, Cocoa Tea, Koffee, Pressure, Sista Joyce, Revalation Da Royal, Shine I
Tickets @ LONGWALKTOFREEDOMVI.com

JUNE 29 - BASSETERRE @ ST. KITTS MUSIC FESTIVAL
Tickets @ 869GO.com

JULY 6 - COLOGNE, GERMANY @ SUMMERJAM
Tickets @ SUMMERJAM.de

JULY 7 - AMSTERDAM, THE NETHERLANDS @ AFAS LIVE
with Protoje, Anthony B, Agent Sasco & Richie Spice
Tickets @ TIBBAA.com

JULY 20 - MONTEGO BAY, JAMAICA @ REGGAE SUMFEST
Tickets @ REGGAESUMFEST.com

CANCELLED! JULY 31 - SACONNEX, SWITZERLAND @ GENEVA ARENA
with Richie Spice, Etana, Eek A Mouse, Major Mackerel
EVENT CANCELLED!
"Last minute info: The concert of Buju Banton is cancelled.
For more information, please contact the organizer directly."
Source: Facebook post by Geneva Arena

AUGUST 1 - PORTUGAL @ AFRO NATION
Tickets @ AFRONATION.com

AUGUST 2 - VERTHEUIL, FRANCE @ REGGAE SUN SKA
with Tiken Jah Fakoly, Calypso Rose and more...
Tickets @ DIGITICK.com

AUGUST 3 - GEEL, BELGIUM @ REGGAE GEEL
with Busy Signal, Bushman, Agent Sasco and many more...
Tickets @ REGGAEGEEL.com

AUGUST 10 - ANTIGUA
Early Bird Tickets - June 3 - 17, 2019

AUGUST 17 - DEVONSHIRE, BERMUDA @ UNITY FEST
Tickets @ PTIX.com

OCTOBER 25 - 27(EXACT DATE TBA) - DOMINICA'S WORLD CREOLE MUSIC FESTIVAL

DECEMBER 11 @ WELCOME TO JAMROCK REGGAE CRUISE
Sold out!

2020
APRIL 6 - 11 (EXACT DATE TBC) LOVE & HARMONY CRUISE
with Beres Hammond, Cocoa Tea, Wayne Wonder, Nadine Sutherland