12/11/2015
Report: 25 Years Pow Pow Movement in Cologne, Germany 2015
12/14/2015 by Lena Pletzinger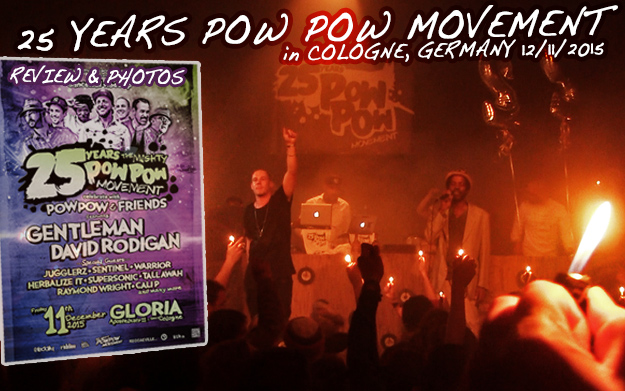 On this Friday night, 11th December 2015, it must have been awfully quiet and empty in Germany's regular dancehall clubs and cities. This was because one event united everything and everyone involved in dancehall in one place: the 25 Years Pow Pow Movement celebration at Gloria Theatre in Cologne. The occasion of a quarter century in the business is certainly worth an extraordinary show and the Pow Pow crew did everything you could think of to make it a night to remember. Here are the details: 9 sounds, 4 live acts, 1 area; 800 limited tickets that have long been sold out and a beautiful venue that has the elegant look of classic theatre.


Tuff line-up for a single night: This comprised a combination of Jamaican, German, Dutch, and UK artists and sounds involving, besides the Pow Pow Movement, Gentleman, David 'Ram Jam' Rodigan, Cali P, Clay, Raymond Wright, Jugglerz, Warrior Sound International, Supersonic Sound, Sentinel Sound, DJ Marious, Herbalize It, and Talawah Sound. Doors opened at 10pm. A long queue of people had formed outside even before the opening and it did not get any shorter until long past midnight.


King Earl from the Pow Pow crew provided the warm-up, followed by Soulfire Hifi and DJ Marious, before Supersonic came on stage with a selection of only dubplates, ranging from Tarrus Riley to Jah Cure, Chronixx, and Barrington Levy. Meanwhile, the venue had filled up and it started to get busy. At 11:30pm, Junior Carl welcomed everybody on the mic and announced the two live acts, Cali P and Raymond Wright, of which the latter performed first.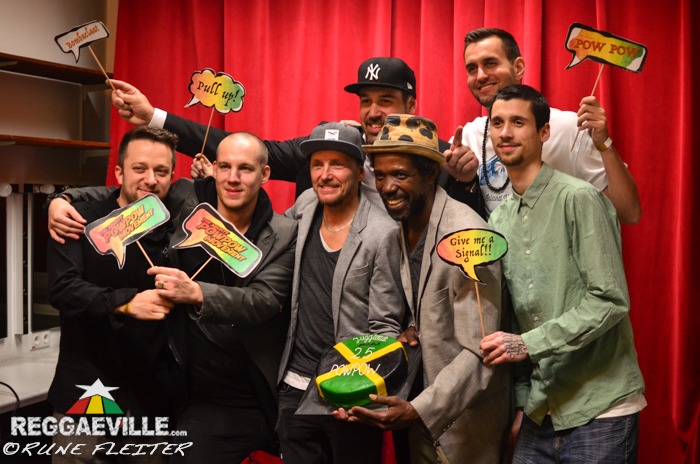 Things really took off at this point: 10 minutes of performing time for each artist and, afterwards, 20 minutes for Sultan from the Dutch champion sound Herbalize It. It was quite a busy schedule.


Pow Pow took over again and this time Junior Carl and Devon provided the moving moment of the night with a speech reminding the audience that they were all there because of the love for reggae music. A sea of flames created by all the raised lighters in the crowd might be interpreted as what is known at other events as a standing ovation. 'Let the music talk,' were Junior Carl's words before Busy Signal's tune Jamaica Love was dropped and opened up a range of Jamaica tunes. They did not lose any time to continue with what Pow Pow is best in: speeding up the pace, mashing up the place, and giving people the entertainment they want. Plus, hundreds of white towels were distributed among the audience to be swirled around madly. Before getting closer to the headlining singer of the night, Gentleman, the whole crew of members and ex-members of the Pow Pow Movement united on stage, including long-term friends and colleagues such as Alfred Backra. Continuing the programme, with more than 30 minutes past the timetable, singer Treesha was invited on stage and she performed the single Listen from her solo album. Tamika, who came next, began her performance with her hit tune Enough. Both singers warmed up the vibes for Gentleman. It was almost 01:30 am when Gentleman began his show. He started off with Changes, a song that deals with questions of time and impermanence and somehow matches absolutely with the birthday occasion of the night. Within his show, he constantly sought direct contact with his fans: He encouraged a young man from the audience to get on stage to sing It No Pretty with him, and, while singing Dem Gone and next Superior, he got off the stage right into the middle of the crowd, something he likes to do at club shows. If not everybody in the audience had danced and jumped like crazy by now, second last song Leave Us Alone did the rest to mash it up, at the latest when suddenly metallic confetti showered upon the audience. After performing 15 songs in about 45 minutes, Gentleman closed his show with Bob Marley's Redemption Song.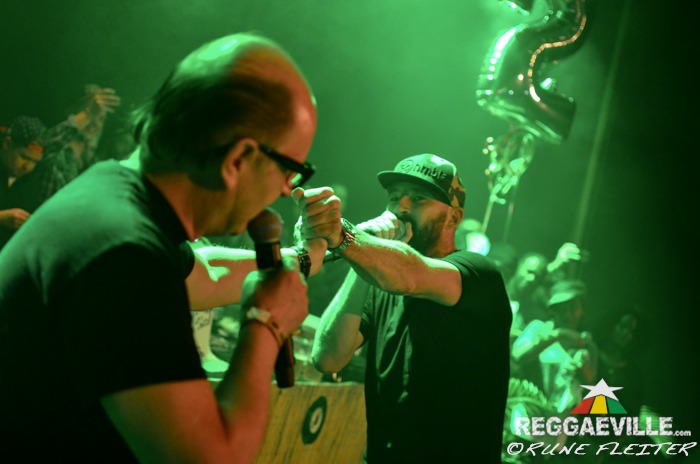 Yet another big headliner of the night appeared at the area: David Rodigan, who happens to have this musical role model function for many of the artists here. Joining Gentleman on stage, Rodigan gave us an insight into his first contact with Gentleman which was actually at a Pow Pow show many years ago: "… he was a skinny boy in the front and Ingo said too me: 'Please Mr. Rodigan, give him the mic!' And I said to Ingo: 'Who is the skinny boy in the front?' And Ingo said: 'His name is Tilmann but we call him Gentleman!'"


David Rodigan started his set with the Gentleman track Heart of Rub-A-Dub and then changed the musical direction from modern into the old-school Rodigan style with Rub-A-Dub, Roots, and Ska dubplates, skanking like ever and closing his set with Jackie Opel's You're Too Bad - such a great vibe! There had already been so many big moments until then and the list of sounds yet to come was longer still. Jugglerz was next and it is well-known that these guys run every dance from the beginning to the end. Two lucky party guests won a free pass each to the Summer Jam festival of 2016 through a draw by Jugglerz. There it was for the first time that night: a song that was declared in an interview [READ IT HERE] Pow Pow gave to Reggaeville two weeks earlier as the crew's favourite tune of the year and announced to be played all night long, now played by Jugglerz: Mavado with Goodbye to My Haters. Afterwards, it was the time for WarriorSound. Mattia took the opportunity to run the dance his own, highly respected way. Like others had before, he also found a moment to remember his first experience with the birthday sound in 1999, three years before he started his own music project. It was past 03:30am in the morning, the venue was getting less crowded when the turn came for Sentinel and then Talawah Sound.


A highly anticipated night came to an end, but not before a second rendition of Goodbye to My Haters was played. Yes!

Thanks to so many soundmen and artists as well as to hundreds of people in the area who all spread just perfect vibes, this night will certainly be memorable for everyone. With the proud age of 25 and a mad dance to celebrate this, the Mighty Pow Pow Movement had probably become that night even a bit mightier.

CLICK HERE FOR THE PHOTO REPORT AND WATCH THE VIDEOS BELOW: