02/16/2014
Review & Photos: 1Love Earthstrong Festival in Los Angeles, CA 2014
02/27/2014 by Irie Femind MayJane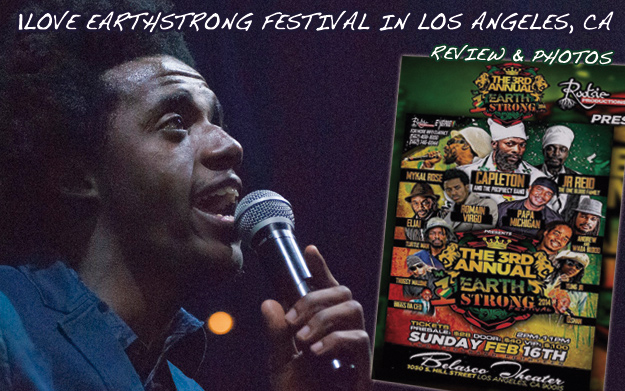 The Third Annual 1Love Earth Strong Festival was held in Los Angeles at The Belasco Theater on Sunday February 16, 2014. This nine hour 2-11 pm event promoted twelve acts and delivered ten with one main headliner Jr.Reid as a no show. Master of Ceremony was Junor Francis and music by Channel Rock Movement. Live Performances didn't begin until the six o clock hour. Since the show started late most performers were only able to sing a 30 minute set or less. The first act was Andrew Wright and Mello Banton. The crowd was happy that the show finally began, but after this performance the waiting game was on for another hour.
 
Second act was Papa Michigan known as Badingo and as part of the dancehall duo act Michigan and Smiley. He is now rocking the microphone as a solo artist and has a blessed personality that is pure niceness. His smile shines and his dance moves excite the lovely ladies with each song performed. Papa Michigan gave a great show bringing the crowd closer and excited for more of the live reggae music to come. First songs performed were Love Iz and Yutes Of Today from his 2009 Love Iz album. Focusing on love and respect, his lyrics can inspire men, women and the youth. Last songs performed were Woman I Love You, Empress By My Side and Diseases. Michigan showed great love for the crowed with well known internationally backup band Detour Posse to sharpen his sound.
 
Turtleman was scheduled to perform before Papa Michigan but had a few setbacks. He decided to jump onstage after Michigan's performance to let the crowd in on his tension. After a minute he was less tense and asked for his band members to come onstage so he can do what he loves, perform his music which he is very passionate about. His fifteen minute set included Freedom In The Mind, Poor And Needy and Woman.
 
It would have been nice to have someone in charge of any stage performing issues because even the artist deserves an organized setting so they can perform in the manner they rehearsed.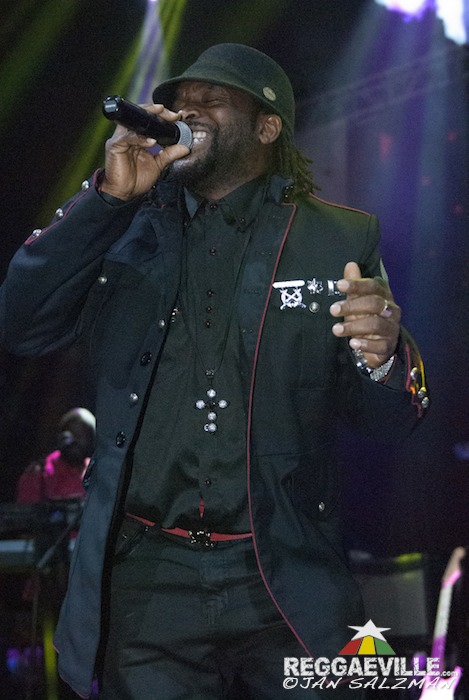 Up as the third performing act was Belizean star Eljai backed by Detour Posse. Well dressed and with professional presence, Eljai had his fans cheering throughout his set. He started off with performing the traditional Rastaman Chant. Eljai has always shown his Los Angeles fans love. His voice is sensational and with a high volume fan base to proves it. Popular songs he performed were Jah Gives Me Joy, Angel Of Mine and an original Michael Jackson tune Lady Of My Life. His thirty minute set seemed longer due to his everlasting presence.
 
Next on stage came Empress Akua. She was the only female performing act presenting her talent at this festival. She rocked the stage with a few Los Angeles based talents backing her sound. The sweet sound of her voice had the crowd's attention. A lioness she is onstage and offstage, representing for woman, praising Rastafarian ways and voicing her opinion on the legalization of marijuana. Some songs performed were Black Woman, Legalize It, African American Girl, and One Draw. She also had Chappa Jan, a Jamaican born reggae artist, perform a duo with her called Bam Bam.
 
Michael Rose finally set his presence on stage. His fans were in high spirits once he walked on stage. The crowd started to have its own irie session with ganja smoke greeting the air and showing gratitude to his performed song Sensimilla. Bringing awareness to issues that do occur in the real world is something he is also known for. Two popular songs included Abortion and Shoot Out. He closed his set with What Is Life, Party In Session and Guess Who's Coming To Dinner. As he left the stage what followed him was an even younger fan base due to this all ages event that let the youth hear such a positive sound.
 
Romain Virgo the second to last act came on stage with such a youthful vibe. His music has catchy sound and is well known to every reggae lover. Exactly what this festival needed was Romain Virgo's presence and his fans were thrilled to get a chance to see him perform live here in Los Angeles. Songs that everyone knew real well were I Know Better, Love My Life, Soul Provider and Can't Sleep. His fans wanted more but he had no choice but to end his performance.
 

Ending the night was well known Jamaican dancehall artist Capleton aka King Shango. Capleton had his fans excited. His smile is everlasting and his music has brought forth good values and motivation. Many started dancing with him bringing them one step closer to his positive energy that has made him who he is today. A true reggae artist, and a prophet through his words. Songs that he jammed included Small World, Jah Jah City and No Guns. Backing both Capleton and Romain Virgo was The Prophecy Band.
 
Each and every performing artist at this event did a great job. Showing their commitment to their fans and holding such positive vibes. Reggae music is a powerful experience when you really get in depth with each meaning the songs have in them. So if you love the artist enjoy them live as much as you can.