Review
EP Review: Zoe Mazah - On Repeat
03/05/2020
by Gardy Stein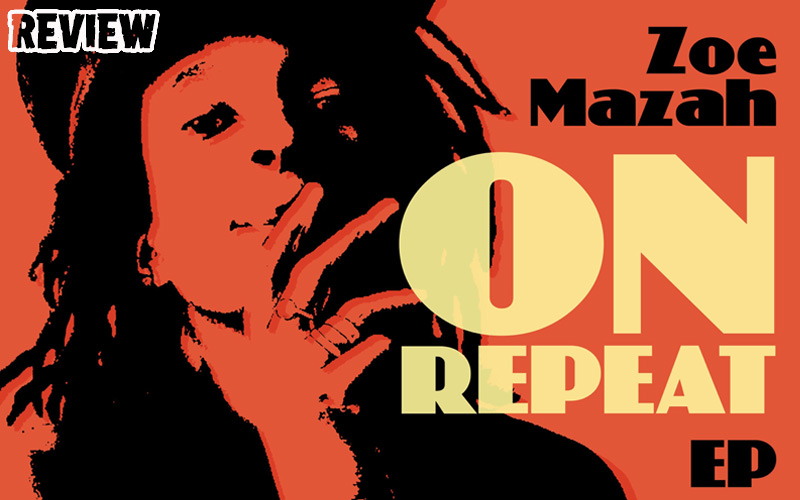 "I believe that faith alone can move a man, I believe right here is the promised land. I believe in teaching the children right, I believe think first and let the heart decide." (Zoe Mazah, Confession)
In the beginning was the piano, and the piano was with Zoe Mazah... A name that hasn't been present in any of the polls about newcomers, songs or artists of the year 2019, it is definitely one to remember - for this year and many years to come. Zoe is an ancient name meaning "the woman that can do everything" in Vai, one of the languages from her country of birth, Liberia. And, well, it seems to describe perfectly what this amazing artist has achieved in life so far!
Moving to Germany shortly after her birth, she grew up close to Munich, studying Jazz and Composition after finishing school in Nürnberg, releasing her debut album Zoeciety in 2003 (some of you might remember its Ky-Mani Marley feature Could It Be You). After Exile African (2004) and Golden Rebellion (2007), it became very quiet around her, as she took a maternal leave from the scene, concentrating on her family, but continuing to compose and write.
She's back now, and with a BANG! at that. On Repeat is the title of her new EP, and this is exactly what it is since I laid my ears on it - on repeat! Six tracks of exceptional intensity and novelty make the listening experience an exciting one, as Zoe enters virgin sonic ground with her music. Composed and written completely by herself, co-produced and co-arranged by Louie Melody (Gwari Music) and Daniel Carvalho, the EP was recorded with a small group of independent musicians in Porto, Portugal, breathing life, sunshine and authenticity in every note.
The first track I came across was Confession when the single came out last summer, and, covered in goosebumps, I completely fell for the simple but powerful beauty of this piece. Giving in to the deceleration it entails, you'll find that Zoe's unique voice and her hopeful lyrics unfold inside of you, making the world look less grim and leaving you with a warm glow in your belly and a smile on your lips. But let's not talk about leaving just yet...
Starting the EP with an exclamation mark, Immigrant is a masterpiece both in musical, lyrical and vocal delivery. Reflecting on the hardships migrant people have to face in their host country, Zoe manages to put ourselves in the position of those who have to flee their homes: "Nobody wants to be an immigrant, police stop stop my brother like him kill a man, in his whole life my brother never ever killed a man. Nobody wants to be a refugee, leave your whole life, leave your mother, leave your family, leave it all behind..." A laudable example of topicality and emotional density, this is exactly what is missing in the output of so many mainstream artists. Use the platform you've got to make a change!
Paradise Is Calling is the second song that's out on video, although on a slightly different instrumental. The remix on the EP has a crazy, mind-blowing bass around which Zoe finds a way of singing that is touching and enchanting. Likewise in the next track: Whatever You is a passionate love song minus the usual, hackneyed phrases. The laid-backness of the rhythm and the exquisite melodic arrangement virtually brought tears to my eyes due to the direct impact it has on that romantic me inside...
Continuing this tenderness, the title track, less Reggae than all the rest, bears proof of the incredible range the singer commands. Definitely no auto-tune needed here! In My Eyes, a mix of some of Zoe's older works, sits on another trailblazing production. It's a perfect ending in that it a) bundles all the exceptional talent this artist has to offer and b) makes you long for more (please tell us that an album is on its way!), thus reaching for the replay button is automatic as soon as the last notes fade away.
On Repeat is an exemplary production in so many ways that any upcoming release will have a very hard time kicking it off my personal "album of the year" rostrum. Respect to each and every one involved in this project! With Zoe Mazah, a strong woman has re-entered the German (and global) Reggae scene, and hopefully the creative outlet she has tapped will continue to flow both in studio and on stage.
---
Release details
Zoe Mazah - On Repeat EP
DIGITAL RELEASE [MAYtunes]
Release date: 03/06/2020
Tracks
01. Immigrant
02. Paradise Is Calling (Remix)
03. Whatever You
04. On Repeat
05. Confession
06. In My Eyes