Review
Album Review: Lengualerta - Aurora
02/26/2016
by Gardy Stein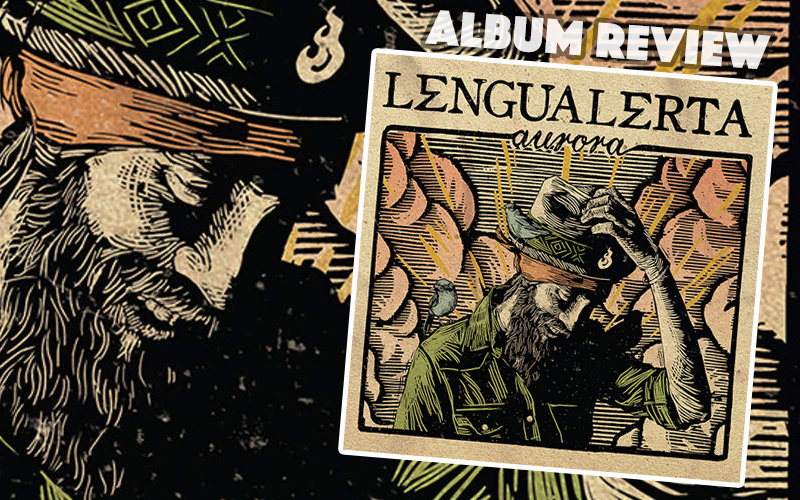 Before starting this review, we are bound to agree on a manifesto of some sort. Lengualerta's music is not to be taken lightly! So, let's simmer down to the following five precepts:

1. Thou shalt not succumb to capitalism.
2. Thou shalt stand up for your rights, speak the truth and be a defender of justice.
3. Thou shalt learn Spanish.
4. Thou shalt love and protect life and nature.
5. Thou shalt not play Lengualerta's music without proper bass speakers.

Joking aside, this music suffers when listened to on mobile or laptop speakers - if you are not able to give it wings to fly on a big subwoofed soundsystem (in ideal circumstances), at least make sure you use good headphones. Plus, it is message music, so it suffers as well if not sufficiently understood (I'm not a fluent speaker of the language myself, so I cannot convey to you the lyrical splendour of the Spanish tracks, but at least I added a short content note whenever possible, provided by the artist himself). We are thus dealing with seriously produced music (the riddims were contributed by names such as Dukas, Mad Professor, Ganjaman, Ingo "Pow Pow", Twilight Circus and Seeed) that has a lot to say.

Lengualerta, a Mexican singer by the name of Rodrigo López Uribe, does not mince matters when it comes to the subjects treated in his lyrics. His artist name, which means, approximately, "alert tongue", is a perfect description of what he has been doing for more than ten years. With open eyes and ears he is an alert observer of what's happening around him, which he then analyses with a sharp mind, deep understanding and a strong sense of justice, until he finally shares his outspoken words of wisdom with the world. In a country like Mexico, where corruption abounds and violence is a daily issue, voices like his are extremely important to put up a resistance.

Aurora now is the European re-issue by dub-specialist Echo Beach of the original album that was released 2014 in Mexico (four years after celebrated and award-winning predecessor Resonante). Its title track Aurora is, of course, one of the most remarkable pieces here. To a fascinating instrumental backdrop of cello and horns, Lengualerta shares an ode to hope, light and life with us (just you watch the video!). Another highlight is For Those featuring Wally Warning and Ana Sol, a dedication to the 43 Mexican students who have most likely been killed after their arrest on September 26th 2014, and to everyone else who has suffered (or is suffering) from standing up for or speaking the truth. The accompanying video is a haunting warning to never forget injustice, in whichever corner of the world. Justizia! It was produced by another remarkable Mexican artist and political activist who is also responsible for the exceptional cover art work: Gran Om.

In the same league range Tonantzin, which, joyous children's choir and Andrea Echeverri vocals and all, celebrates the ancient, pre-hispanic "Venerable Mother", a Mexican goddess, and the appreciation of traditional cultures she symbolizes, as well as Antibala ("bullet proof"), a gripping Cumbia beat ridden by Sista Eyeire and Van-T that talks about the immortality of our souls. "They can arrest us, put us in jail, or shoot us, but our souls never die!"

Putting these tunes in the spotlight doesn't mean that the rest is not great in their own right, mind. Echa Raíz ("extend your roots") features basque freedom fighter Fermin Muguruza and an original sample of traditional Cucapah Chanting; another traditional sample is found in Las Oslas Del Mar with Olinka. It is in fact rare for Lengualerta to appear on a track alone – he loves to share the mic and the vibes that these combinations bring. Verdadera Unión ("true unification"), as track number two states! My favourite in this category is Coloridos Suenos, a beautiful combination with Issa Elle that shows how versatilely Lengualerta can put his vocal chords into action. Up to this point, the album corresponds to its South-American counterpart. The Echo Beach release, however, counts 4 bonus tracks: True Love is a reunion with the Superior riddim, while Music Monks is of course a ride on the Seeed-instrumental. Reverdeciendo is taken from the album Resonante, as is Tu Nombre, another powerful arrangement by Mad Professor.

Aurora is a dense combination of Reggae and Latin American influences (such as Cumbia or traditional and protest songs), delivered in such a variety that everyone will find a piece to his liking. More than the music, however, it is the message contained that makes this album (and the artist Lengualerta) worth following. Experiencing this ambassador of nature, human rights and justice live is an experience in itself, so please check him out while he is passing through!


---
Release details
Lengualerta - Aurora
DIGITAL RELEASE / RE-RELEASE [Echo Beach]
Release date: 02/26/2016
Tracks
01. Aurora
02. Verdadera UniAnn feat. TianoBless & Natty Bwoy
03. Echa RaA­z feat. Fermin Muguruza
04. For Those feat. Wally Warning & Ana Sol
05. Ciclos feat. Monk E
06. Mi Riqueza
07. Mujer
08. Tonantzin feat. Andrea Echeverri
09. Antibala feat. Sista Eyeire & Van T
10. No Silence feat. Di
11. Tengo La Fe feat. Sista Freedom
12. Las Olas Del Mar feat. Olinka
13. Como Una Luz feat. Cuyo
14. De Vuelta A Casa
15. Coloridos Suenos feat. Issa Elle
16. True Love feat. Rebeleon Sound Crew
17. Music Monks
18. Reverdeciendo Meets Zion Train
19. Tu Nombre
20. No Border/Alarma feat. Bonfire Madigan
Featured artists
Zion Train