Review
Album Review: Toots & The Maytals - Got To Be Tough
08/28/2020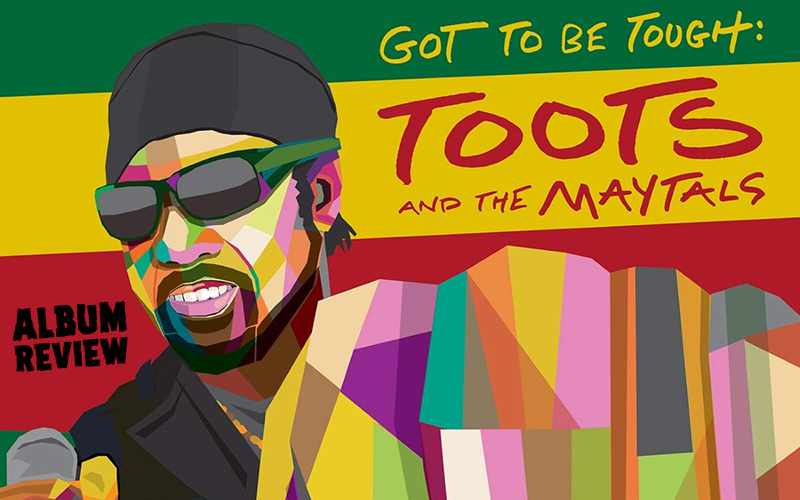 Is Toots Hibbert really 77? It doesn't seem possible. In person, onstage, he's a fit, muscular dynamo moving from one energized number to the next. And on his latest studio set, Got To Be Tough (Trojan Jamaica), the ageless, agile Jamaican singer does exactly the same.
It's a collaborative affair, with Toots and his Maytals joining unlikely forces with The Who drummer (and label supporter) Zak Starkey, as well as co-producer Nigel Burrell, for a 10-song trip through classic reggae, ska, and soul. Sly Dunbar, one-half of the iconic rhythm machine Sly and Robbie, mans the drum kit, while Starkey, surprisingly, is credited with guitar contributions. It all works more than well enough, with the record opening jarringly with crunchy electric guitar punctuating an unwavering groove throughout Drop Off Head. The gripping starter moves next to Just Brutal, following with its '70s roller disco soulshine offsetting Toots' lyrical indictment of oppression. It's a pair indicative of the album's tone; couching plenty of contemporary social comment between the driving, propulsive beats.
The title track is a darker slice of one-drop reggae, while Freedom Train and Warning Warning, blend their evocative sentiment with brighter, more rocking and rollicking backdrops. Good Thing That You Call rounds off this middle trio of songs, that also perhaps best exemplifies Toots' range on the record, with a vocal pulled way back against darting harmonica and a toke of blues. Hibbert plays with irony on Stand Accused, accepting the guilt of doing the right thing, then welcomes Ziggy Marley in for a run at Bob Marley's Three Little Birds. Reimagined as a minor-key ska piece, the Marley nugget still resembles its original form but breaks free of it, as well, with sizzling style all its own.
There's more upbeat ska fun on Having a Party and some pop rock gloss on the closing Struggle that finish a tight, potent album from a tight and potent performer. Again, it's difficult to comprehend so much energy, so much intent still resides in and exudes from Toots after nearly 55 years in the game. Yet, there he is, behind sunglasses and a smile, leading fist-first, combining the raw punch of his socially-conscious conscience with his indefatigable vitality and talent. Got To Be Tough is true to its title, true to its spirit, and certainly true to its creator.
Author's note: I'm writing this, sadly, as I've learned of the passing of Toots Hibbert. I wouldn't want anyone reading the above review, in retrospect, to feel I was naïve or uninformed, given my exceptionally positive assessment of his health and his effort.I wrote the review in the week prior to his sudden hospitalization. Even so, I stand by every word, and this is why: I had the fortune of seeing Toots perform last year, on a hot summer night in Southern California on a bill with Ziggy Marley. He was incredible; tough; youthful; energetic; a force; a legend. If, as is being suspected, COVID-19 is a contributing factor to his death, it is one more painful, horrible reminder as to just how powerful and deadly this virus remains. Please, let's continue to do all we can to stay safe and responsible.I, like so many around the world, will be grateful that we have his music, and grateful that his final album was such a resounding and authentic piece of art. I am even more grateful that when I last saw Toots on a stage, he was as I will always think of him- smiling in the setting sun.Thank you, Toots.
- Larson Sutton, Los Angeles, September 12, 2020
---
Release details
Toots & The Maytals - Got To Be Tough
DIGITAL RELEASE / VINYL / CD [Trojan Jamaica]
Release date: 08/28/2020
Tracks
01. Drop Off Head
02. Just Brutal
03. Got To Be Tough
04. Freedom Train
05. Warning Warning
06. Good Thing That You Call
07. Stand Accused
08. Three Little Birds feat. Ziggy Marley
09. Having A Party
10. Struggle
Featured artists
Ziggy Marley