SummerJam 2011 - Reggaeville Report DAY THREE
07/04/2011 by Valentin Zill / Markus Hautmann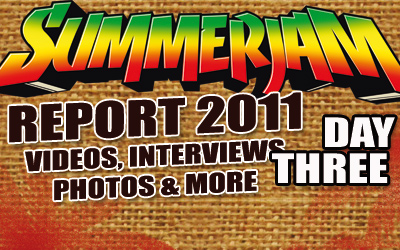 Review: SummerJam 2011 Day Three
SUMMERJAM's last day started rather slowly with a tired massive. 28,000 reggae lovers showed up this year. It was still a little too cold for an outdoor festival, but no rain.

Heckert Empire were the first act on the Red Stage worth checking out today. Attendance was somewhat weak initially, but Ronny Trettmann and Ranking Smo had the crowd growing and partying after a few tunes. Their surprisingly varied show transfers contemporary Jamaican dancehall entertainment culture to a German context. A crew of three hot dancehall queens fueled the show. Ronny and Smo mocked some adamantine reggae clichés. Their show did not lack the stereotypical "emotional lighter moment", as the Saxonian "gangsters" put it winkingly. Smo dissed German mainstream pop boygroup Culcha Candela, who had been Saturday's Green Stage headliners, certainly in an attempt to attract a broader and younger audience. Smo refered to them as "Falscher Katheter" and sang a slightly adapted version of "Ich wär so gerne Millionär", a tune originally written by the '90s German pop group Die Prinzen. Ronny and Smo preached to the choir. They took the cake when they anounced a "sweet lovers tune", only to sing the unambiguos "Wenn Der Fick Auf Dich Herunter Kommt" over a slow lovers riddim, before they cranked it out on its original 125 bpm riddim. Much more than their musical skills, it is their rare self-deprecating sense of humor that makes their performance highly enjoyable. Take it from a convert.

On the Green Stage, Sunday's REGGAEVILLE headliner were Jamaican seniors The Congos, Swiss-based madman Lee "Scratch" Perry and Max Romeo, always a favorite of the SUMMERJAM massive. They shared a slot. The Congos and Scratch left a better impression than Max Romeo. Roots reggae always works great in Cologne Bay, it should be taken into account more by Contour Music, the organizer of the festival.

"I was there when it happened" sang Gappy Ranks about his recent trip to Japan when the country was struck by the devastating earthquake. And we were there when it happened that Gappy entered the SUMMERJAM stage for the first time. However, it was not his first performance in Germany so it did not take him too long to catch the crowd. Gappy's versatility is almost second to none. Whether it was uptempo dancehall riddims, lover's tunes or studio one sound from back in the days – his various singing and deejaying styles matched perfectly with the most diverse music. The show was like a lesson in reggae history and it was well appreciated by the massive. "Thanks & Praise" is the title of Gappy's recent album. And indeed, the audience was thankful for witnessing this inspiring performance.

Next, and also backed by the Special Delivery Band, was "Rising stars" winner Romain Virgo who also had his SUMMERJAM debut. It took him just two songs to fascinate the crowd. Like Gappy Ranks Romain owns such a crystal clear voice that one is instantly enthralled. It is said that mainly the drummers and guitar players get all the girls. Well, forget about that. It's the singers. It's Romain Virgo. One got the impression that there was a mass hypnosis going on, focused directly on the female part of the audience. Some of them must have felt like being teenagers again (sure, some of them still are teenagers), cheering for their beloved star. When Romain asked who would like to accompany him back to Jamaica there were so many hands up in the air that he had to charter several A380 airbusses to transport all of these ladies to the Caribbean. Also very impressive: The catalogue of hit tunes this just 21 year old newcomer has. The whole performance was like a "best of" album. All killer, no filler.

It was a pity that Gappy and Romain did not perform together as they have a fantastic personal vibe which could be seen after the show when they interviewed each other to the amusement of the whole backstage area (WATCH IT HERE and HERE). In one word: MAAAAAAAD! Big up to two outstanding artistes!

(And big up to Romain Virgo for supporting the Help Jamaica Educational Center in Cassava Piece. Just imagine: On his way to his final college exams he dropped by at the inauguration ceremony in February to show his respect and support for the project. Luckily, Reggaeville was there to film Romain's fantastic performance. WATCH IT HERE)

Two big artists were the last to play on the Red Stage this year: Ziggy Marley and Youssou N'Dour. Bob Marley's eldest son delivered one of the best shows of this year's SUMMERJAM, performing a balanced blend of his classics, his father's classics and his own more recent as well as brand-new tunes. Senegalese superstar N'Dour came with keyboard legend Tyrone Downie, with whom he had recorded his reggae album "Dakar - Kingston". His show was half reggae, half mbalax, and added spice to the very international and open festival. Should you have asked yourself why someone like Youssou N'Dour headlines a reggae festival, your question after you saw the show was certainly why someone like him does not headline such festivals more often.

A gigantic, impressive fireworks marked the end of SUMMERJAM's 26th edition. Remember to spread the SUMMERJAM vibes in your every day life. Remember to stand up for love!
Make sure to watch the live videos and many interviews from SummerJam 2011 in the VIDEO SECTION.
SUMMERJAM ON TV
Like the past two years there will be a aired 3-hour feature about SummerJam on german TV station WDR. It will be aired in the night of sunday to monday August, 15th 2011 from 12:15am - 3:15am.
For all details and soon to be added online footage log on to ROCKPALAST.de