R.I.P. Heavy D - Wishing A Peaceful Journey
11/09/2011 by Justine Amadori Ketola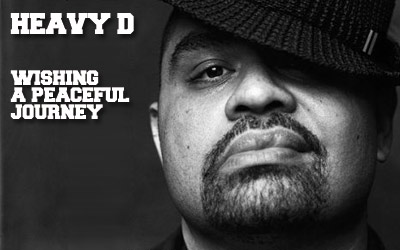 The crossover between rap and reggae is not that frequent these days. But back when it was a new and underground genre, hip hop and the major label music business it flowed through merged with the streets, taking interesting risks in the reggae genre, introducing toasting with its origins on the streets of Kingston to New York and to the world.

Jamaican-born Heavy D, the rapper whose given name is Dwight Arrington Myers was one of the pioneers back in the day, with songs like Dem Don't Worry We, a combination with Super Cat and Now That We Found Love, the interpolation of the Third World and originally, The O'Jays 1973 classic.

At 44 Hev had become a platinum-selling icon in the rap industry, as one of the original artists signed to Andre Harrell's Uptown Records 1986. His resume continued to grow and he made a deal with the Bad Boy imprint started by Sean "P Diddy" Combs to develop and produce several acts. Heavy D made several forays in acting, in off-Broadway theater and TV with a recurring roles on the series' Living Single and Boston Public. He appeared in the 1999 comedy Life with Eddie Murphy and Martin Lawrence and the Oscar-nominated drama The Cider House Rules.

Heavy D's latest appearance was in the film, Tower Heist which just released November 4th, starring Eddie Murphy and directed by Brett Ratner. Ratner also directed the video for Heavy D's classic Nuttin But Love tune.

As for his recording career, after five releases, his last album, Vibes released in 2008, took a decidedly reggae turn and found the rapper singing (versus rapping) entirely over one drop riddims sprinkled R&B flavors, delay and dub effects. The most widely played song on the album in reggae radio was a cover of the vintage tune, Queen Majesty recorded originally by Cornell Campbell with The Uniques as well as Dennis Brown.

Unsigned to a major label for the reggae release, album Hev took to the reggae airwaves to self-promote Vibes. As told to DJ Chuck Foster during an interview on KPFK's Reggae Central in Los Angeles, "I knew it wouldn't sell as much as if I did a Hip Hop record. It was pure passion, like something I had to do, felt good about doing. It was fun, the first time I had fun making an album in years…inspired by all of these great classics that you have been playing, you just played Queen Majesty, when I used to hear Dennis Brown sing that record, I used to be in a trance. I am still learning about who originated what rhythms, there are so many different versions."

His last television appearance was on the BET Awards in October where he performed a medley of his hits. [WATCH THE VIDEO BELOW] A fitting and timely tribute to him, many were calling it a comeback performance which served to show the world why he was still relevant. Heavy D performed at last month's Michael Jackson tribute show in Cardiff, Wales where he delivered the rap on Michael Jackson's 1991 hit Jam.

Put your hands up in the air for Heavy D, called out by fellow Jamerican, Biggie Smalls on one of Hip-Hop's biggest top tunes, Juicy. A born networker, he brought to the music industry the rare combination of talent and a magnetic, yet grounded personality - so crucial for success. This writer had the opportunity to meet Heavy D during the release of Vibes and found him to be a forward-thinking, sincere person with a big heart and amazing drive. He was raising his daughter as the primary caregiver, making a concerted effort in his career to scale down and be in the ideal position to give her the best of him. Heavy D was working on a new release, titled the Love Opus which explains a lot.

A cordial, positive person, he was known for his uplifting messages on Twitter. Hev alluded to the new album concept in a recent tweet saying, "I love the idea of love." On November 7th, his final message was simply, "Be Inspired." Celebrities in rap and R &B reposted his tweets in the Twitter timeline as news unfolded of his untimely passing from complications related to pneumonia in Beverly Hills, California, November 8th.

Many in reggae marked the transition as well. Ziggy Marley who had collaborated with Heavy D on the song It for the Wild and Free album noted, "My brethren HEAVY D has moved on to the next stage of existence. We give our love to THE HEAVY FAMILY. We love HEAVY. Spoke to him while I was on the road wanted to get together and do some more work. I know he was working on a new album hope to hear that soon. HEAVY is a great spirit positive, truthful and joyful. we will never forget his existence here. JAH"
Heavy D performance @ BET Awards 2011: