New Album: Ziggy Marley - Wild And Free [June 14th 2011]
04/13/2011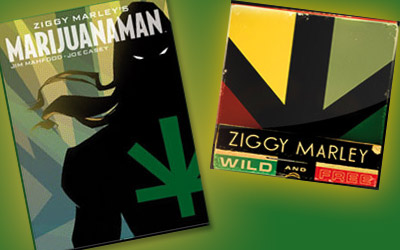 Ziggy Marley, a five-time Grammy winner and reggae icon, will release his fourth studio solo album, Wild and Free, on June 14th on Tuff Gong Worldwide.

Recorded in Los Angeles and Jamaica, and co-produced with Grammy winning producer Don Was (The Rolling Stones, Bob Dylan, Elton John, George Clinton), this is the 3rd album they have worked on together.


From the album's first single "Forward to Love," fans will hear the evolution of Marley's sound: Wild and Free affirms Marley as a master storyteller with an innate sense of soul. The title track of the album, "Wild and Free," features friend Woody Harrelson. An acoustic version of this track was previously released as a free download on www.ziggymarley.com, the song was originally written in support of California's Proposition 19 to legalize marijuana.

On April 20th, 2011, ZIGGY MARLEY steps into another creative arena with the release of MARIJUANAMAN from Image Comics/Tuff Gong Worldwide. Based on a character conceived of by Ziggy Marley, with art by Jim Mahfood and written by Joe Casey MARIJUANAMAN promises to shatter all expectations. The oversized deluxe hardcover graphic novel tells the tale of a noble extraterrestrial champion, who has arrived on Earth to deliver an important message and at the same time save his own planet. "MARIJUANAMAN represents the hope of the future... the hope that we will utilize all of the power that the universe has given us to save our planet," Marley explained. The book will be in stores April 20, 2011.


Album Tracklist
01. Wild and Free feat. Woody Harrelson
02. Forward to Love
03. It feat. Heavy D
04. Changes feat. Daniel Marley
05. Personal Revolution
06. Get out of Town
07. Roads Less Travelled
08. Mmmm Mmmm
09. Welcome to the World
10. A Sign
11. Reggae in My Head
12. Elizabeth
The titel track Wild and Free is available is already available as free exclusive download when you order the Marijuanaman comic @ ZIGGYMARLEY.com