Grammy 2014: Nominations for Best Reggae Album
12/07/2013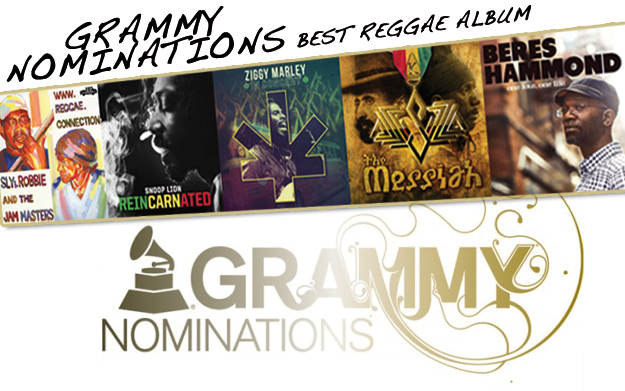 The nominations for the 56th Grammy have been revealed!


What are the eligibility requirements for a nomination?
For the 56th Annual GRAMMY Awards, albums must be released between Oct. 1, 2012 and Sept. 30, 2013. Recordings must be in general distribution in the United States, i.e. sales by label to a branch or recognized independent distributor, via the Internet, or mail order/retail sales for a nationally marketed product.


Category 51. BEST REGGAE ALBUM
Beres Hammond - One Love, One Life (VP Records)
Ziggy Marley - Ziggy Marley In Concert (Tuff Gong Worldwide)
Sizzla - The Messiah (VP Records)
Sly & Robbie and The Jam Masters - Reggae Connection (K'z Records)
Snoop Lion - Reincarnated (RCA Records)


Bob Marley's One Love from the Legend Remixed album got a nomination as well:

69. BEST REMIXED RECORDING, NON-CLASSICAL
One Love/People Get Ready (Photek Remix)
Rupert Parkes, remixer (Bob Marley And The Wailers)
Track from: Legend Remixed
Label: Universal Music Enterprises/Tuff Gong

The 56th Annual Grammy Awards will be held on January 26, 2014, at the Staples Center in Los Angeles.