Concert Review: Ziggy Marley & The Hollywood Bowl Orchestra in Los Angeles, CA - June 18th 2017
06/20/2017 by Brad Metzger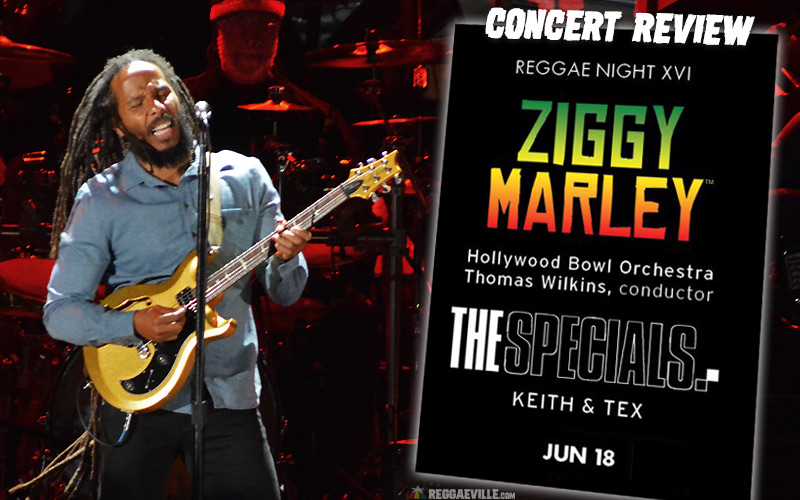 Ziggy Marley shortchanged the LA massive on Sunday night at the Hollywood Bowl. He played exactly 1 hour, 9:15 to 10:15pm with no encore, and as the only Reggae concert of the year at the Bowl and as Ziggy's only LA date, in my opinion that's just unacceptable. Other fans agree. Here are a few texts I got from friends in attendance immediately after the lights went up: "was he ill? that's not appreciating your audience," "ended quickly, disappointed," "not cool." As the crowd herded out, there was grumbling. I heard excuses like there is a curfew at the Bowl, and the employees are union. If that's the case, just start earlier or something. In my book it's inexcusable especially at the prices concerts are these days. Even at big festivals these days, with as many as 12 bands a day, you have headliners playing up to an hour and a half. So even more so at a show like this where Ziggy is clearly the focus, an hour and a half should be the minimum.

However, the 60 minutes Ziggy did play were quite magical and unique, as Ziggy and his band played for the first time with the Hollywood Bowl Orchestra. After a few opening songs including Personal Revolution with a forceful militant drum intro, and Tomorrow People, the orchestra joined the band and the two were perfectly in synch but instead of blending together, the orchestra provided a completely separate, distinct and complimentary layer to the band who was still the driving force. For example the bass was amplified and taken to another sound level when orchestra bassists Denise Breise and Berry Newton were called in to play but you still got that forceful, deep, driving Reggae bass by Paul Stennett. Instead of blending into one unified sound, the separate bass sounds complemented each other and took the experience to another dimension. Once joined by the Hollywood Bowl Orchestra, Ziggy performed many of Bob's hits including Get Up, Stand Up, One Love and Exodus. During Is This Love, Thomas Wilkins conducted his orchestra while Ziggy, arms in the air, conducted the audience in song: "is this love, love, love, love that I'm feeling…" then Ziggy said: "It's so nice to see all the beautiful people in unity as one. We are the people!" Seeing Conductor Wilkins control his orchestra with the same hand motions Ziggy controlled the entranced crowd was a sight to behold, such a genuine moment I doubt it was planned or rehearsed. But my favorites were Ziggy's originals especially We Are The People off his eponymous 2016 Grammy winning album and especially Beach in Hawaii where Takeshi Akimoto's riveting guitar solo set the stage perfectly for some, lets call it, Jamaican Hula dancing by backup singers Tracy Hazzard and Kamaria Ousley. This incredible and out of the box collaboration between Ziggy and his band along with the Hollywood Bowl Orchestra, after only 60 minutes, truly left me wanting more especially a few additional songs off of his most recent album, considering he only did one song from it all night.

Opening up for the 16th annual Reggae Night at the Hollywood Bowl were Rocksteady veterans Keith & Tex and UK Ska legends, The Specials. Before dedicating their hit A Message to You Rudy to Donald Trump where they sang, "Stop your messin' around, better think of your future, time to straighten right out…" Specials lead singer Terry Hall was clearly annoyed by the audiences focus on their dining as opposed to the music when he sarcastically asked: "Are you ready for dessert? I recommend the crème brulee!" Actually there's no crème brulee at the Bowl. Instead for dessert it's cornmeal shortcake with strawberries, blackberries and mint by James Beard award wining Chef Suzanne Goin, but the icing on the cake for me would have been an appropriately longer set by Ziggy with that one of a kind Hollywood Bowl Orchestra collaboration.

PHOTOS BY JAN SALZMAN