5 Questions with Rita Marley - Lioness of Reggae
05/06/2019 by Larson Sutton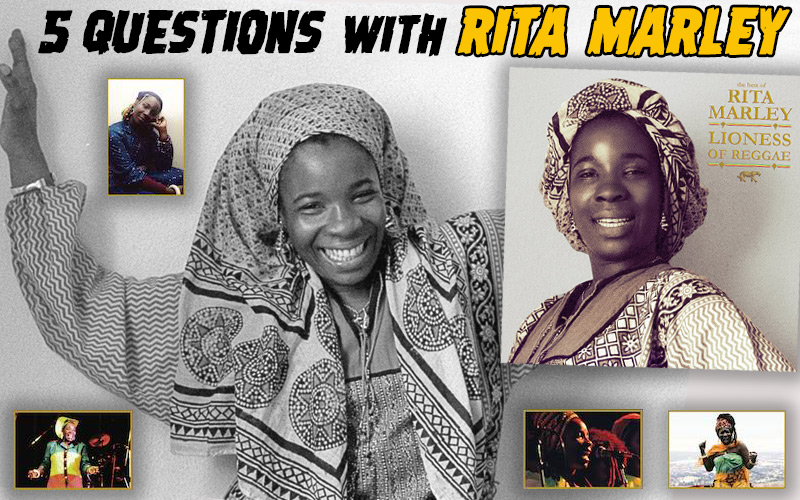 35 years after the debut of Bob Marley and the Wailers' Legend comes a long overdue career retrospective, The Best of Rita Marley: Lioness of Reggae, honoring the recordings of the esteemed singer and songwriter, member of I-Threes, wife of Bob and matriarch of the Marley family, Rita Marley.

Released May 3rd, this special, vinyl-only compilation, produced by Ziggy Marley and issued on his Tuff Gong Worldwide label, collects for the first time his mother's finest work from her illustrious Grammy-winning solo catalog. Though still an active philanthropist, Rita remains content to live a private life away from the spotlight of the entertainment world. Recently, she was kind enough to answer a few questions in recognition of the album's release.
What do you think you contributed to the Wailers when you first arrived, that they were missing or that you added to, that affected their sound?
The Wailers' sound was already unique. My sisters and I just added more sweet harmony. The Wailers and I-Threes are special because both groups are strong and complete individually, so when brought together it's just more strength and power.


What did you take away from your Wailers experience that affected your solo material?
Music is naturally in me. I was a part of another group, the Soulettes, even before the Wailers. I know the power of unity and harmony, so even as a solo artist I have always made sure to surround myself with the best musicians and background singers... such as The Tamlins. A lead voice shines best when the proper backdrop setting is in place.


When you listen to this new album, are there any songs or memories that stand out from that time? If so, why?
That's The Way"was written at a point in my life when I knew I was being led by a spiritual guidance and life was unfolding with a divine timing.


Do you miss performing and/or touring? If so, what do you miss?
No. It's time for me to enjoy watching my children and their children do what they love.


You are involved in many philanthropic endeavors. Summarize the areas that you are particularly passionate about at the moment?
Youth development and education.


The Best of.. Rita Marley - Lioness of Reggae
01. Harambe
02. One Draw
03. A Jah Jah
04. That's the Way
05. Who Feels It Knows It
06. King Street
07. Thank You Jah
08. Good Morning Jah
09. I'm Still Waiting
10. Play Play