Review
Album Review: Anthony B - King In My Castle
05/02/2020
by Steve Topple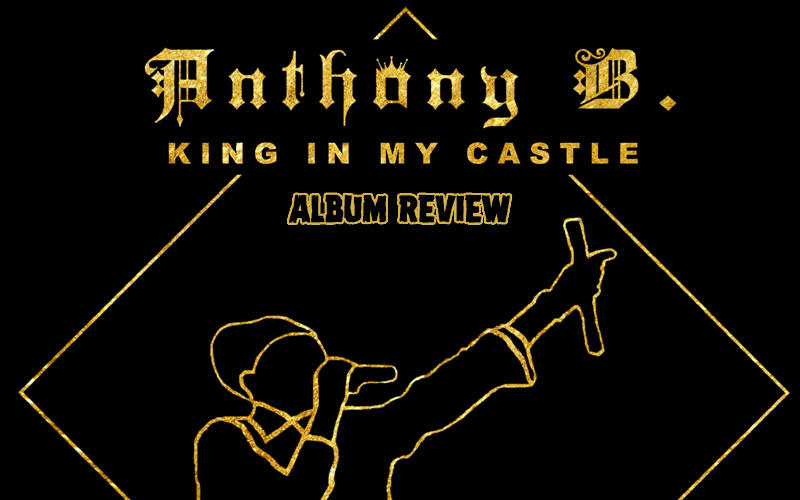 No one can say Anthony B does things in small measures. Because his latest album is a huge, sweeping project which, despite several delays, has been well worth the wait.
King In My Castle, released via Born Fire Music, is probably one of the more musically expansive albums of the year so far. It shows Anthony B is not messing around. He covers a multitude of genres and styles across the album, with some decent production from him and Born Fire Music, who also take charge on much of the composition, along with House of Riddim Productions.
It would be impossible to dig-deep into every track, without constructing a thesis on the album. But there are certain elements which sum Anthony B's project up perfectly. The thrust of the album is undeniably Roots, which features across many of the tracks – not least the title cut, along with Reggae Soul Sister and the more Pop-led The Trying Man.
Perhaps the most authentic form of this is Liberator. It's a driving, Marley-esque track which sets it defiant stall out from the start, and doesn't let up. The basics are there: a syncopated, Rocksteady bass, the choppy skanking guitars and a bubble rhythm via the keys. But other standard Roots elements like a one drop are embellished, with some Dub use of the snare – which interjects with a triplet sequence on the upbeats, complimenting the kick. Strings cut in with repeated riffs on the downbeats. The electric guitars also do a whining countermelody at times. And all this complex Roots arrangement is juxtaposed with Anthony B's straight-up message about personal and societal emancipation.
Meanwhile, the King In My Castle opener is Singing In The Jungle. It's a curious track, but in a positive way, and its non-musical-conformist construction (mixing more traditional African music with Dancehall singjay) sets the tone for the album well: heavily nodding to Anthony B's Motherland roots.
Anthony B clearly has a thing for doing Roots-based covers of classic ballads, as several feature on the album. His interpretation of Fleetwood Mac's Be With You Everywhere, featuring the delicate vocals of Chantal, is a beautifully constructed, modern Lover's Rock affair.
But he also clearly likes a challenge. Because the album concludes with the Soft Rock Foreigner standard, I Want to Know What Love Is. However, his stripped-back Lover's Rock interpretation is closer to the Mariah Carey version of the track, with its heavily Gospel-led vocal arrangement. And he even braves a Beatles standard with Great China Wall – a Rasta interpretation of Let It Be.
Another foray into Soft Rock beckons with Lonely Soldier. It's one of the more fascinating of the album's cuts. The arrangement, a cross between that genre and Hip Hop, reminds of Eminem. Angry electric guitars and a chord-based piano sequence, focusing on the downbeat and the second off one, lean towards the Soft Rock genre. The bass imitates the keys' rhythm. But the higher kHz-ranged percussive focus on the upbeats it far more Hip Hop, as is the inclusion of Gospel vocals. It's a gorgeous inclusion which shows the breadth of Anthony B's talents well. Stunning.
But Anthony B mixes things up, going from ballad territory into harder areas with ease. Afrobeats is well represented by the Ambient Naah Buy Nuh Friend. A stripped-back Dancehall clave (five beats, not six, and stretched across the bar), on repeat from the bass and synths focuses the track and drives it forward. The jittery percussion leaning on the offbeats is pure Afrobeats, though, and Anthony B's powerful, forthright mix of vocal and singjay gives Naah Buy No Friend a decent wind.
Dancehall also gets a soulful look-in with the overly-feminist What Woman's Worth, featuring Pressure. It's a storming and extremely clever track – filled with a driving bass on a clave mash-up, punchy percussion, offbeat, stabbing EDM synth strings and some Soul backing vocals to match. And the thematic content is a genius move – taking the often-misogynistic Dancehall genre for a track about how women really rule the world.
Meanwhile, there are elements of Soca in both Yo - Yo (featuring Japanese) and Memories Of The Past. The latter is an extremely smart throwback to a smoother, more Soulful time for the genre somewhere in the 80s – but it still feels fresh thanks to the clever arrangement. Dub gets a look in with Talk Talk Talk and features on the more Roots orientated Dubbing Tonight (despite its name). And on This Earth is Our Home with Vision and Bramma, he's gone full-on a cappella Gospel with a rousing cry for human unity.
But curiously, Anthony B is actually at his best when he keeps it simple. First Time I Fall is on the face of it a funky Lover's Rock track. But the gorgeously-constructed melody is a stroke of genius. The Gospel-meets-Doo Wop vocal arrangements, with full male and female lines, are highly rousing. These are complimented well by a sax solo bridge. The instrumentation is not overly fussy, but cleverly arrangement to hold your ear and drive the track's momentum forward. And the whole package is thoroughly pleasing and, when you really check it, somewhat moving.
Anthony B has also constructed a powerful, if somewhat scattergun, narrative throughout. He clearly still has a lot to say, as King In My Castle deals with myriad of themes and issues. From love, to spirituality, ethnicity, colonialism and racism, he addresses them all and more. And his lyrics on the album are as powerful as ever.
King In My Castle is ultimately a brave move from Anthony B. It's very, very daring to try and cover such a multitude of genres and such a huge number of tracks, without some of it being substandard or merely 'filler'. But fortunately for him, he is supremely talented – and the whole project has been completed to a near-faultless standard. Epic in every sense, 'king' is an appropriate title for this most talented of artists. And all hail him.
---
Release details
Anthony B - King In My Castle
DIGITAL RELEASE
Release date: 05/01/2020
Tracks
01. Watch Over Us (Intro)
02. Singing In The Jungle
03. King In My Castle
04. Dubbing Tonight
05. Be With You Everywhere feat. Chantal
06. First Time I Fall
07. Talk Talk Talk feat. Zamunda
08. Lonely Soldier
09. Naah Buy Nuh Friend
10. What Woman's Worth feat. Pressure
11. Yuh Neva Know
12. Reggae Soul Sister
13. Liberator
14. The Trying Man
15. Yo Yo feat. Japanese
16. Memories Of The Past
17. Let It Be (Great China Wall) feat. Kerry
18. The Earth Is Our Home
19. I Wanna To Know What Love Is
Featured artists
Zamunda
/
Pressure Busspipe
/
Bramma