Review
Album Review: Mungo's HiFi - Serious Time
06/02/2014
by Angus Taylor
Mungo's have done it again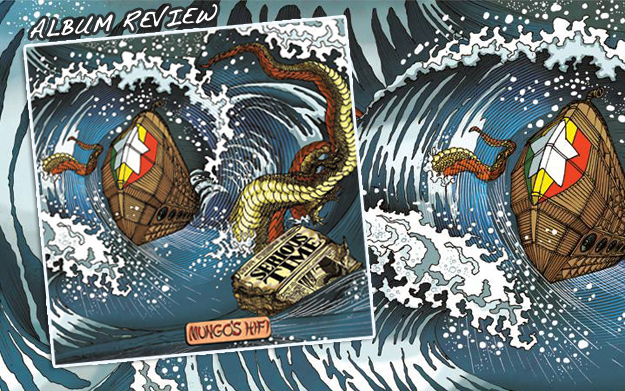 Mungo's HiFi's previous two ensemble albums had triumphant and positive titles – declaring they are Sound System Champions and pushing Forward Ever. For the Glasgow collective's third such venture we're instead warned that it's a Serious Time. The rhythms are still that Mungo's blend of sparse sculpted chops and pylon rattling sub 30hz but overall the lyrics of their chosen singers and mcs - many of them long term Mungo's associates - are more stern and socially aware.


There's also a sense of historical lineage in the music - bringing together the old school melodic organic brass led vibes of Sound System Champions and the dirty squelchy digi bangers of Forward Ever. The result is a tributary link up of the pre roots Studio 1 era of the sixties with the classic dancehall of the 80s - reminding us just how much the two eras had in common.

On Forward Ever some of the younger guest vocalists stuck to the well-worn topics of soundclash and ganja. Here the subjects are political from the start. Ultra-radical Ipswich switch hitter YT takes the societal temperature over a rude-ska relick of Coxsone Dodd's rhythm to Zoot Sims' See Dem A Come. Warrior Queen's Can't Stand It is an unusually cultural chant atop a rocksteady remake of Dennis Alcapone's Run Run. As the music slowly beefs up and digitises the Scotland's unique Soom T casts doubt on the official story of 911 during the Unity vibes of 31st Century Song. France's Pupa Jim considers the environment and continues the long tradition of dancehall bicycle songs with the lyrically repetitive yet hypnotic Bike Rider.


But Mungo's never do things by rote so there are plenty of exceptions. There's humour to be found in Speng Bond's fastchat Animal Dance about a beastly session in Chester Zoo and Sleng Teng mock severity in Solo Banton's Dancehall School.


Musically it's not all Studio 1 or Jammy's inspired either. There's a vein of dubstep in Marina P's Slavery. And two of the toughest selections - Overcome by the Buju-ish rockstone deejay Blackout JA and Jah Say Love by celestial veteran singer Cornel Campbell - are in a roots fashion. Sadly due to health reasons, Kenny Knots, the voice of some of the greatest Mungo moments, is not on the disc.

Famed for being open minded and forward thinking, Mungo's productions here are historically reverent while avoiding sounding like a museum. A more substantial record than Forward Ever, keeping some of the vintage flavour of Sound System Champions, with Serious Time Mungo's have done it again.



---
Release details
Mungo's Hi-Fi - Serious Time
CD / DIGITAL RELEASE / VINYL
Release date: 06/02/2014
Tracks
01. Serious Time feat. YT
02. Can't Stand It feat. Warrior Queen
03. 31st Century Song feat. Soom T
04. Bike Rider feat. Pupajim
05. Thousand Style feat. Mr Williamz
06. Animal Dance feat. Speng Bond
07. Thinking of an Island feat. Soom T
08. Slavery feat. Marina P
09. Dancehall School feat. Solo Banton
10. Nice It Up feat. Charlie P
11. Gunman Posse feat. Peter Metro & Squiddly
12. Overcome feat. Blackout JA
13. Traveller feat. Charlie P
14. Babylon a Come feat. Parly B
15. Jah Say Love feat. Cornel Campbell
Featured artists
YT
/
Mr. Williamz
/
Cornell Campbell
/
Peter Metro
/
Solo Banton