Uppsala Reggae Jam Festival 2020 - Live Stream from Harry J Studio Jamaica
07/29/2020 by Press Release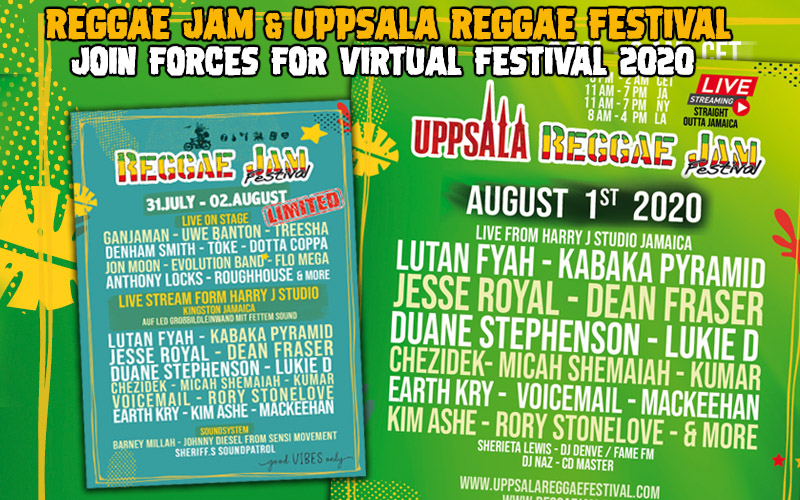 Reggae Jam & Uppsala Reggae Festival will bring you some live vibes straight from Jamaica. Read all details below. Additional Reggae Jam in Bersenbrück is able to host a small live event called Reggae Jam Summer Lounge during this Corona situation. Check all details and ticket links @ REGGAEJAM.de

UPPSALA REGGAE JAM 2020 VIRTUAL VERSION
Let's keep Reggae Music alive!
"If we can't bring the people to the festival, we want bring the festival to the people."
Be part of the biggest Virtual European Reggae Live Event! Uppsala Reggae Festival and Reggae Jam join forces and provide the technical platform for some of the greatest artists in the business to bring their vibe to the world.
Once a year for over two decades, two reggae lovers in two countries have had the same idea.
The first weekend in August filled the air in northern Germany and eastern Sweden with Reggae, peace love, understanding and brought joy to the lives of many people.
The annual musical quality of Uppsala Reggae Festival and Reggae Jam is special: The mood created is literally reggae magic and a cozy family vibe. You have seen it and you have experienced it.
There is absolutely amazing hospitality at both festivals, which is unprecedented in the festival scene.
The Initiators Yared Tekeste and his family (Uppsala Reggae Festival) and Bernd Lagemann aka Sheriff (Reggae Jam) spread their arms every year and welcomed with a nice vibe.
However, 2020 will be very different. Within a few weeks, the Corona virus turned the life of musicians, organizers and reggae-fans upside down. None of us have ever met such a situation.
The fans will miss this special vibe. A big void is created!
Uppsala Reggae Festival and Reggae Jam are festivals with limited economic strength. They are organized for by enthusiasts and are financed mainly by ticket sales.
Our Reggae Culture is in a difficult situation. The reggae souls Sheriff & Yared united in their mind. A new project is born:
The virtual festival of the UPPSALA-REGGAE-JAM FESTIVAL!
Live from Harry J Studio in Jamaica LINE-UP (August 1, 2020):
Lutan Fyah
Kabaka Pyramid
Jesse Royal
Samory I
Mortimer
Chevaughn
Xana Romeo
Dean Fraser
Duane Stephenson
Lukie D
Chezidek
Micah Shemaiah
Sherieta Lewis
Ras I
Zhayna France
Kumar
EarthKry
Voicemail
Mackeehan
Kim Ashe
Rory Stonelove and more...
Help us celebrate the music on the original festival weekend!
What are we doing?
We will bring a virtual festival to the world. The pandemic and its lockdown have had a dramatic impact on culture globally. All of the summer festivals all over the world are cancelled. But we want to keep Reggae Music alive and bring the best artists of the genre to the people.
We will set up a virtual festival with a running order of artists who play live on stage from Jamaica – we will broadcast the world's best music via Pay per view TV straight into people's homes. Real good reggae music, played live and exclusively.
The artists play live with a band. Live show slots of 20 to 60 Minutes from two alternating stages, interview, behind the scenes, there will be a strict running order.
We have partnered with the legendary Harry J Studio in Kingston, where a substantial part of the legendary movie Rockers was filmed, the studio will ground Zero and host the entire Festival.

GET YOUR TICKET FOR THE LIVE STREAM BELOW: