Interview with Xana Romeo
12/16/2016 by Gardy Stein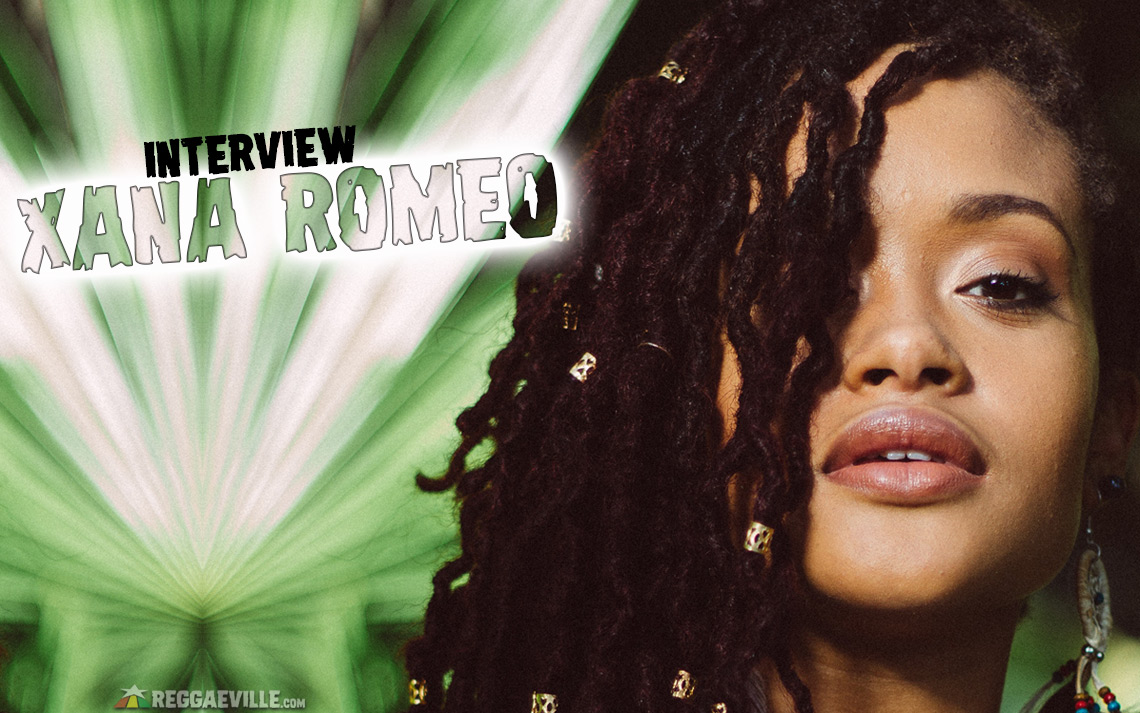 I first met this exceptional young lady in Kingston a few months ago, when I happened to interview her brother Azizzi Romeo after a stunning performance he did at the Nanook. Quietly she sat in the background, and it wasn't until I'd almost finished questioning Azizzi that he introduced his sister to me. Of course I'd heard the singles Righteous Path and Rate Rasta, so I was thrilled to meet the artiste behind these masterpieces. Whatever subjects we didn't get to cover back then, we caught up in an interview following the release of her debut album Wake Up. With inspirational messages, a stand-out voice and appearance as well as a maturity well beyond her age, Xana is ready to take the world by storm. Read on to discover the passions and dreams of this upcoming Reggae Queen, as well as the unbelievable fact that there isn't a single vinyl pressing plant operative in Jamaica at the moment:


Hi Xana, how r u doing now that the album is released?
I'm doing great! The release is going way better than I expected, to be honest. We did a Release Listening Party on December 1st, for the media and whoever is interested to come and listen and comment on the album. It was nice! Basically, what we did was to play three tracks at a time and then stop and ask the guests what they think, and I got all good comments. It was a nice vibe!


Sounds great. How long did you work on the album from start to finish?
Well, the first track to be completed from the album was Righteous Path, and that was released in 2014, so we did one track and went on a break for a while, and then we did Rate Rasta, so these two tracks were released first. It basically took us two years, but we weren't working on it every day, we kind of gave it space to grow.


Can you say something about the crew behind the album, who contributed to it?
I got support from everybody around me. Jallanzo, he did all the mastering and mixing of the album, he put together everything. Basically, he turned dreams into reality, that's what Jallanzo did for us. Carvin Benjamin from London, he's also been involved in most of the production along with Jallanzo and my brother. My Dad was the executive producer of my album, he basically funded everything. I got help from a visual artist called Jo, his company is Ma-Ting Design, and from Paris who helped me with all the PR that has been done so far on the album.


You are into viusal arts as well, right?
Yes! Since I was a kid I've always been drawing. I basically do pencil drawing, not really professionally, it's just in my own spare time, it's a hobby. I also take photos of trees and birds as a hobby also. I wouldn't say I'm a photographer or I'm a visual artiste, but I do that in my spare time.


Is it something that you would like to pursue, to study maybe?
Well, my dream was to have my own gallery one day and show my own work and all type of art, I wanted to do everything from pottery to paintings to metal art, that was my dream when I was younger, but since I'm older now, I realise I have more passion for musical arts, you know. I fell in love with sound more than visuals, because the sound you can feel it more. The art, you have to look at it and interpret it, but the music you can feel it, right away.


So music is what you want to do full time?
Yes, music and production as well. I want to branch off into production in the future, I want to have an all female production label, Roots Female, because I realised that you don't see... you have a lot of Roots female artistes nowadays, but only in the underground movement like myself, so I want to have a record label dedicated to get Roots female artistes out there in the future.


You told me in March that you are into Vinyl productions too, right?
Yes, with our record label Charmax Music we distribute our own vinyl music, but at this moment the company is not active because there is no pressing plant in Jamaica, you know, and to make them overseas and then to get them back out here it's kind of a bit pricy, so basically I am trying to move. I'm moving the company online, we are just fixing that up now.


Maybe you will become the first one to re-introduce pressing plants in Jamaica one day!
I would love to do that! (laughs) I would really love to be a part of that. I recommend that to everybody I know, to make that happen...


Yes, start a Crowdfunding!

That would be nice! If we can put it in proper wording, you know, I think it could work. Like Go Fund Me or Kickstarter... I'm sure the vinyl lovers around the world would contribute to that.
Coming back to your music, the vibrations you mentioned... you did a beautiful mixtape with Yaadcore, can you say something about how you linked up with him and the Inner City Dub?
I linked up with Yaadcore when I discovered Protoje and... I love Protoje's music so much, I got into Protoje vibes, and I met Yaadcore before everybody else in the Reggae Revival, we were friends before all of that. He was the first one I reached out to, he is the first one I sent my music to long before I was singing Roots music. And I met I-Nation through Gabre Selassie going to Kingston Dub Club and all, that's how I met I-Nation, he is one of my brothers, that's what I say to him, and he feeds me with knowledge. I link him sometimes and I say I don't know which book to read and he picks the perfect book almost as if he's within my head. It was before Inner City Dub started, I was at the first Inner City Dub. I linked up with I-Nation just a few months before that.


Any book you can recommend?

Well, right now, I am seeking knowledge and self in terms of being a woman and a goddess, you know. When I linked I-Nation, the first book he gave me was called The Goddess Blackwoman by Akil, and that book made me interested and wanting to know more, it was the first book I read completely... I usually just start reading books and skip through the middle and go to the end, because you can tell after a while. That was the first book I read in a long while, so I would recommend young women like myself who are interested to know to read that book.


Spreading knowledge or the message is something you say about your music as well, you see as a mission... I saw pictures of you at the Reggae University in Rototom, so what did you talk about on the panel?
That was a moment! They asked me about the beginning of my journey and where do I see myself in the future, when I just started to record! So I told them the story of the righteous path, because that's what I call it, you know. It's my first single and I think back sometimes and... now I know why I chose it, because it's a good title to enter the music with Righteous Path, it may be my song and it came from me, but it also helped me, my own music woke me up. So when I was there explaining how Righteous Path came about, and I was telling them that when I recorded the song I wasn't too confident about it and I gave it to Gabre Selassie and he played it and everybody fell in love with it, I got all emotional talking about it. I wanted to cry for a minute, because sitting there and talking about it, I was saying in my head while talking 'Wow, Rototom, I am sitting at Reggae University, talking about Righteous Path!' I just realised that I stepped on the first step of my ladder going up, I just realised that I achieved so much, it opened up my eyes while I was sitting there... and then to see that everybody in the room knew who I was and they knew the song Righteous Path and I was all the way in Spain, a million miles away from Jamaica with people that I've never seen before! It was my first time in Spain, and they knew everything, I was thinking that wow, my music is travelling way ahead of me, you know.


Are there discussion panels like this in Jamaica as well?

Yes, I've been through a few of them in my life where I've seen my Dad speak. Most I can remember took place at the University of the West Indies, there was a forum, I've been to one with my Dad, I think it some time last year. He was talking alongside Tappa Zukie, they were talking about the foundation of the music. It was nice.


It's important to reach out to people and tell them certain things. On your Facebook-account, I really liked a quote saying "A peaceful world starts with a peaceful mind." Can you elaborate on that?
Well, from when we were younger, we were taught that we are part of the Universe, but growing up I realise that the Universe is us. You can't try to make everything around peaceful if you are not peaceful within yourself, it's just not going to work, because what is around you feeds off the energy that is within you. So a lot of people walk around every day trying to make the world a better place, but doing it in a way when they feel angry toward certain stuff and they feel hate. You have to approach everything with love, with laughter and with lightness within the soul if you understand what I'm trying to say. So you have to be at peace with everything, even things that you don't agree with or you don't feel comfortable with, the first way to resolve it is to be at peace with it. The quote wasn't from me, I saw it on a picture on Instagram and I could relate to it, so I used it as a quote on my picture because what I do is… I have all these pictures in my phone for months and then when a message comes to mind that I want to post, I just pick a picture and post the quotes.


We saw you perform in Hamburg earlier this year along with your Dad - will we see Xana Romeo on her own tour soon?
Yes, right now I am just trying to build my empire outside of my Dad's. I mean, I am still Xana Romeo, but I have to get things like my own booking agents, so I'm building these to set up my Wake Up Tour to tour my album this coming year. I'll definitely be back in Hamburg, I hope! (laughs)


Looking forward to see you over here again! Is there anything you wish to add?
One thing, a message I want to give to upcoming artistes or artistes who are already here before me or coming up with me. While working on my album, in the beginning when it was all about making the music, it was easy, because all the inspiration was just flowing, it was all about the good. But then, when it reached down to that point now where you have to release it, where you have to decide on the cover and the distribution deals and so on, it feels like the music is falling apart to me, you know. My album was to be released earlier in the year, and I had to keep putting it off, because everybody had... everybody saw a way how it should be done. But as an artiste, we create our own art, there is no rules in music, there is no industry, there is no business, there is nothing to follow! Music is art, it's coming from within! You have to present your music in a way where you are comfortable. I've been through probably five album covers, and everybody around me was finding faults and I was using that to change and to change and to put off and to put off, I was trying to do it the way how the music industry would want it, but it never worked out. At the end of the day, what I had to do was just to do what I wanted to do, and if I hadn't done that, then my album wouldn't be released. The rules and the regulations were holding me back, because my music is all about freedom, and everything was flowing freely in the beginning, but then when it was time to get it out, them telling you what you have to do... I just want everybody to know that we don't have to do nothing but what we want to do, or what is right within us, so just be right within yourself, and do right under the eyes of the Almighty.


Selah! Well, thank you for the beautiful music and for the ground you are breaking for young female artistes!