Concert Review: Max Romeo & Family in Hamburg, Germany - May 19th 2016
05/25/2016 by Gardy Stein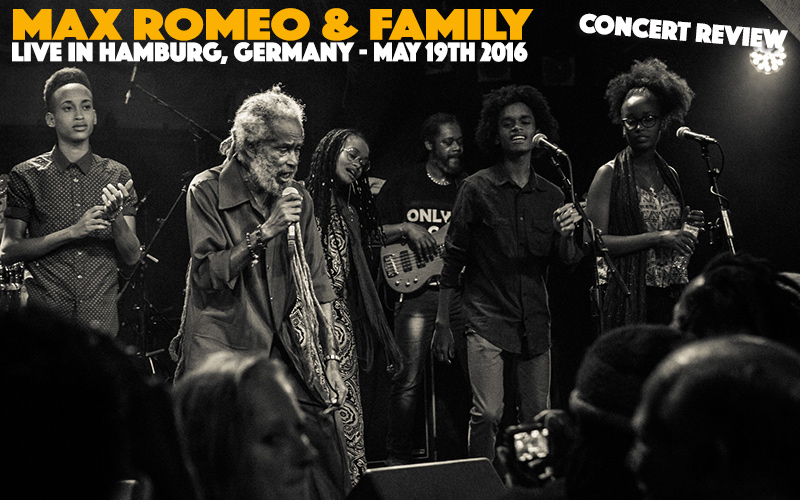 For one of only a handful of concerts in Germany, Max Romeo and family stopped over in Hamburg last week, with showers of blessings on board. As the "and family" is essential in this context, we'll start this review by looking at the four Romeo children in detail, starting with the oldest:
Azanette (23), Max' eldest daughter, assures the backing vocals during the tour as well as managing the merchandise stand together with her mum.
Xana Romeo (21) currently is the most prominent of the Romeo offspring when it comes to output, reception and media exposure. With two singles out (Righteous Path and Rate Rasta), she is taking Jamaican audiences by storm, and also internationally she knows how to make her voice be heard, as we will see later.
Romax (19), is working on his debut album right now at Charmax Music, his dad's studio. His flow is more pop-oriented than that of his siblings, so that, taken together, they cover a wide spectrum of genres.
Azizzi Romeo (17), the baby of the family, impresses with his silken voice and humble bearing. Second on the backing vocals, he is an essential part of the stage performance and, apart from this tour, performs solo as well.
Only two of them, Azanette and Azizzi, were on stage when the concert started after a nice warm-up selection by local veteran sound Crucial Vibes around 9:30 pm. Together with the backing band that consists of a merry mix of fine musicians (Edwin Marie on drums, Jahlonzo on guitar, Dominik MJ on bass, Rudi Bennett on keys, Rico Gaultier on saxophone and Pierre Chabrèle on trombone), they intoned the first song which saw Max Romeo enter stage. In a simple but fine-cut claret suit, the slender man smiled at the audience while delivering well-known words that brought instant movement to the place: "One step forward, two steps backwards…" Without break, he rushed through the first three songs, then gave the crowd a chance to cheer and proceeded with the words: "As you know, I travel with my children on this tour. So now I'll present to you Azizzi Romeo!"
The modest youngster took the mic and started his presentation of three tracks which made clear that he has what it takes to tread in his father's footsteps. After him, Romax was introduced, who delivered a different set of songs. In direct comparison to his younger brother, he has some catching up to do, both in vocal style and stage presence, but it is obvious that he also is destined to enter the music business. Xana Romeo, who came up next, took the stage firmly and shook the whole place. It is amazing how much power and voice fit into this slim body! Her tracks Righteous Path and especially Rate Rasta were well received by the audience, and especially her delivery of the third piece was an explosion that made people jump even. Daddy Romeo, who had been watching the showcases of his childrens from a corner, took over again after stating, pride in his voice: "They stem from a strong root!"
He continued the evening with a dynamic display of his message music, from the teachings of Love Of Money to Every Man. The beauty of this songs translated directly to the audience, and even though only a mere 250 or so people had showed up, the vibes were aflow. It was hit after hit by now: after the sweet notes of Milk And Honey and 3 Blind Mice, the crowd sang along loudly to War Ina Babylon, and especially the first rows were dancing ecstatically, lost to the world. The best, however, was yet to come: in a stunning version of his anthem Chase The Devil, Max Romeo united all four of his children on stage once more and each of them sang a few lines of the song, together with their dad. What a moment! The legacy is definitely in safe hands here.
No way an end of the show could be accepted at this point, and the living legend was brought back quickly for a wonderful encore of Two Faced Man on the Cherry Oh Baby riddim and an extensive Ska-medley.
After almost two hours on stage, the Romeo family waved a final goodbye and left, not only physically but also a lasting impression. These are artists who feel the music and are able to bring the message across without blingbling, star attitudes or eccentric styles. Voice, ability and consciousness is all that counts!