Quarantine Clash 2020 - Soundclash Competition Concludes with Pay Per View Final
05/27/2020 by Press Release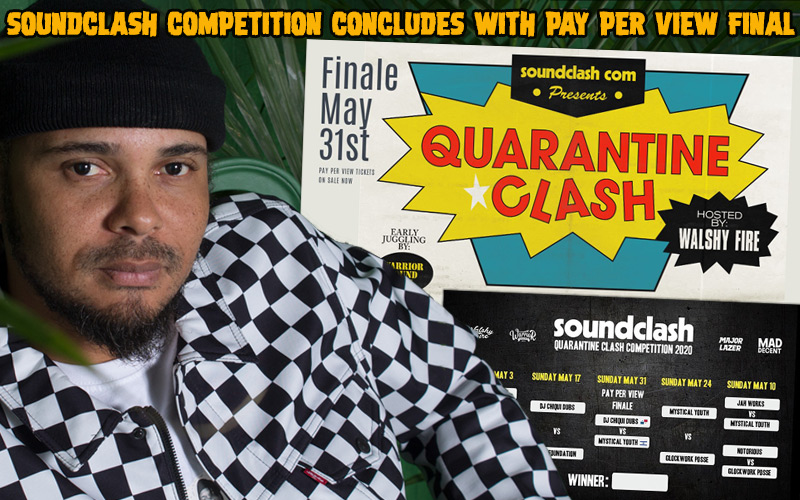 Soundclash.com presents the Quarantine Clash competition final. The Quarantine Clash was launched March 28th by Walshy Fire from Major Lazer who hosts the weekly event from Kingston, Jamaica and Mattia from Warrior Sound International who moderates the livestream from Wuppertal, Germany. The Quarantine Clash live stream is in association with Major Lazer & Mad Decent Records and serves as an online reggae dancehall soundsystem competition during the COVID-19 global pandemic. Soundsystem culture has taken the spotlight globally, with upwards of 20,000 streaming on three platforms, simultaneously; Facebook, YouTube & Twitch for eight weeks running.
Over 20 Soundsystems from around the globe have clashed in a friendly fire volley of dubplates, defined as songs recorded by artists with custom lyrics to shout out the soundsystem members. Sounds compete for fan votes on their individual dub plates at the conclusion of each clash.
Walshy Fire, a long-time member of Black Chiney sound, cited by Diplo of Major Lazer as an influence on the Major Lazer sound system concept, notes that the culture is thriving below the radar, and the soundclash.com platform allows it to reach an even wider audience during the pandemic: "It's such a good thing to see that this music and culture has touched so many people, and I think every sound system that has been a part of Quarantine Clash will agree that 'I'm a part of something that's big, and we just need to show the world, that it's bigger than our perspective.' We've done it for years, so hopefully we can expand and broaden the reach of sound system culture."
For the final May 31st, a pay-per-view event is planned with 2 options to purchase tickets, one through soundclash.com that allows single user/device viewing and one through Eventbrite that allows multiple ticket purchases. Pay Per View ticket buyers will be able to view the final on their desktop, not necessary to view the live stream in real time only. Clash competition finalists will participate in the ticket sale revenue as part of their prize winnings.

Week one of Quarantine Clash, March 28th featured Mattia from Warrior Sound from Wuppertal, Germany versus Spex Da Boss from Toronto, Canada. The two sounds had competed previously and got to know one another on the Welcome To Jamrock Reggae Cruise, so their vibes lent to a familiar, competitive banter.
Week two April 5th, featured Jazzy T from Renaissance Sound from Jamaica and Bobby Konders of Massive B from New York. Week three April 12th featured Raffa of Heavy Hammer sound out of Salento, Italy and Kirky C & S-Class of Poison Dart of Jamaica and Orlando, Florida. Week four featured Marvin Fire from Tek 9 Movements out of Brooklyn, New York and Trinidad & Tobago.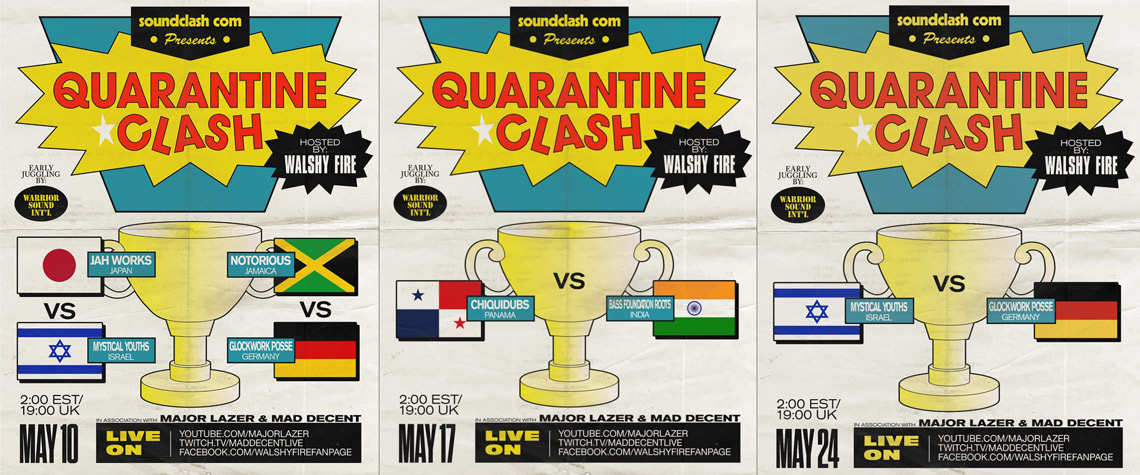 Week five featured an "80's & 90's Dancehall Bashment Splashment Explosion Extravaganza Affair". The live stream featured soundsystems: Waggy T Movements, Stereo 5, HMV, Emperor & Changez Disco. Changez Disco was the original soundsystem crew that an up and coming DJ Walshy Fire, then known as Walshy Killa would first join to learn the art of soundsystem culture. Walshy and DC from Changez recalled the golden era of soundsystems during the live stream. The Quarantine Clash Bashment Affair also featured a Zoom video call with hundreds of streamers joining in the party vibes.
Week six May 3rd featured four sounds competing in the semi-finals, Irie Crew from France versus Chiqui Dubs from Panama and Jah Mikey One from the United States versus Bass Foundation Roots from India.
Week seven May 10th featured four sounds competing in the semi-finals, Jah Works from Japan versus Mystical Youths from Israel and Notorious International featuring Bad Gyal Marie from Jamaica versus Glockwork Posse from Germany.

The week eight May 17th semi-final featured Chiqui Dubs from Panama versus Bass Foundation Roots from India. Votes were cast during a ten-minute period immediately following the clash, and Chiqui Dubs was voted the winner.
Week 9 May 24th featured Mystical Roots from Israel vs Glockwork Posse from Germany. Mystical Roots made it and will now compete against Chiqui Dubs in the pay per view final May 31st.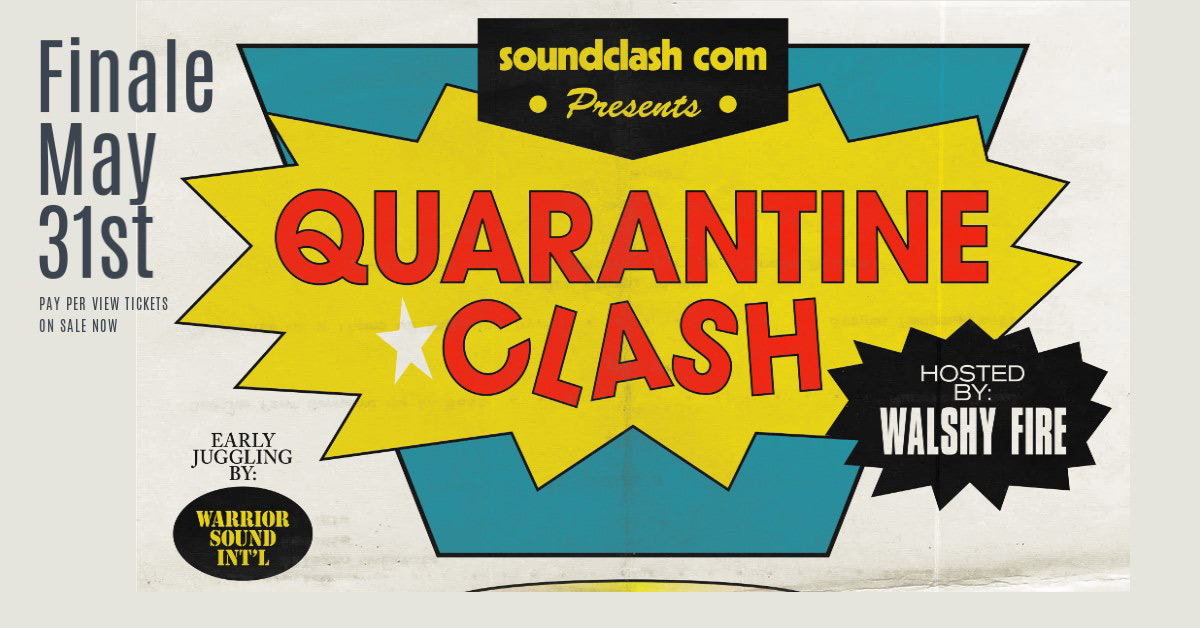 Quarantine Clash has become a weekly ritual throughout the reggae dancehall community worldwide since the start on March 28th, and has served to introduce a new audience of fans to the concept of Jamaican music and DJ battles.
HOW TO WATCH THE FINAL
Soundclash.com presents: Quarantine Clash Final Pay Per View Event
May 31, 2020 - 2pm EST 17:00 UK @ Soundclash.com