Koffee's Debut EP Rapture out in March - The Yearbook Interview
03/01/2019 by Gardy Stein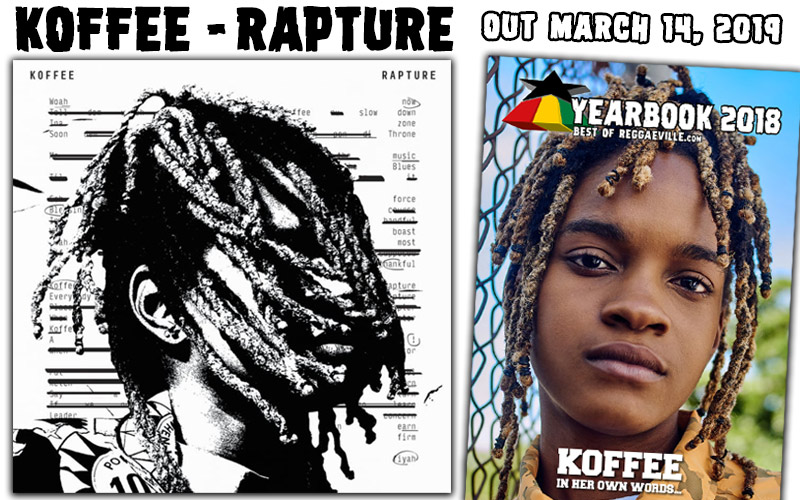 The release date for Koffee's debut EP Rapture is confirmed now: March 14, 2019 is the release date for digital outlets. The vinyl will be available April 5, 2019. In the Reggaeville Yearbook 2018, which was published end of January, Koffee gave us some insights about the EP, which you can read below. Read the full Yearbook 2018 interview HERE.
[...]Last but not least, let's talk about your upcoming EP Rapture. Was the process of compiling it a new way of working for you?
It was not really new, in a way it was natural for me because I was writing from since I was in high school, so... for me it wasn't like I sit down in the studio every day, because sometimes I get inspiration by going outside, sometimes by being in a taxi or walking somewhere. My lyrics come from everywhere, so it's just like me putting together a song over a period of time because every day some thing comes to me, I just work on it and sometimes I just brainstorm. It was a little bit different in the sense of making a body of work, but it wasn't much different in the sense of particularly sitting in the studio. It was a good experience and it definitely builds my character and my ability to work on music, you know.


Were there any special challenges?
Actually, Toast gave a lot of trouble (laughs). I had to hit the Studio like three time for the song, because I didn't get the tone right, but after a while I did.


Toast was produced by Walshy Fire, so that's already a Wow. You've known him since quite some time, right?
Actually, once I entered the industry, Walshy basically reached out to me. I have to give props to all these older people who actually reach out to the younger folks who are coming into the industry and starting to do music. So, yeah, he reached out to myself and my manager and set the link from day one and let us know that if we need riddims he will be there, so that's how that song even came about. He sent the riddim and I was inspired by it.


Now, Raggamuffin produced by Frankie Music has been around for some time and it is hugely succesful here, running on parties up and down. Let's talk about the three new songs. You mentioned Throne already - what ist he concept behind that title?
That riddim is created by Walshy as well, but the one that was released is a different version. But the original inspiration came from Walshy Fire, the riddim was great, dynamic and consistent, and it had a lot of vibes. For me, whenever I approach a riddim, I try to find the best way to compliment it, so I try to find what's the best way that me and that riddim can fit in the same space at the same time perfectly. So when I heard the riddim, I had a little bit of trouble aligning myself with it, I was like 'Wow I never heard anything like this before!' and it sounded very challenging and I sat there brainstorming and looking at it and I was just thinking how am I gonna do this? And then I was determined and thinking I'm just gonna mash it up! And that determination alone just gave me the inspiration to come up with different flows and the lines and so - that was a very funny experience. Throne is a song you just have to listen to and feel the energy, I don't think it can even be explained. And watch the video, which was shot by Xavier as well!


Blazin' is a collaboration with Jane McGizmo and the producer Teflon Zinc Fence. It has a great energy! How did that link came about?
Teflon and Jane are closely connected, so when Teflon and I came together and decided that we are going to do a song on that riddim, he told me that if I wanted go collab with Jane I should just let him know, so I did and it was a great decision!


That leaves Rapture, which is also the title of the EP. What does the word mean to you?
To tell you the truth, Rapture is like my heartbeat of the EP because I think what it shows, bacause I named the EP Rapture, for me the message behind is representative of the purpose of the EP. Saying that I come in like a rapture, it's not enough by the song itself. I have to show the proof, so I have to bring the EP together and the other songs to show 'Look, I really made a move and I came here to work, to put in the vibes!' So for me, Rapture is... I don't know, it came from a passionate space. And the riddim also, I didn't know the producer Lasanna "Ace" Harris, it came from my manager Pierre. I think that made it even more special to me because usually when I get a riddim it's from someone I know, but Pierre just sent it to me and I was so inspired and I'm looking forward to meeting him in person!


We are all looking forward to the release! Before we part, I want to mention a quote "I want to bring positive change to the world, because I think that the world needs that more than just individual success." Can you elaborate on that?
To be honest, I think, and this is not me pointing fingers but speaking from objective experience, a lot of times when artists would enter the music industry and they have their goals and dreams of becoming the biggest artist for this era or becoming bigger than another artist or being Grammy awarded or being on a big stage or a big show... for me, every time when I am asked what my accomplishments are, I can't bring it down to those things, like, I can't find the physical things to say what I want to do, and sometimes it feels like, I wonder if I need more ambition. But then, when I really think about it and put it into perspective, I think that my purpose is in a bigger space and is more aligned with inspiring people and touching souls and going to places, so probably maybe traveling could be the physical representation of what I wanted to do, but it's really just reaching out to actual people rather than accomplishing things that will die with me when I die, you know what I mean. Inspiration never really dies, it never does. So for me it's just getting out there, inspiring!

RAPTURE EP Tracklisting:
1. Rapture
2. Toast
3. Blazin' feat. Jane McGizmo
4. Throne
5. Raggamuffin

READ THE FULL KOFFEE INTERVIEW @ YEARBOOK 2018 HERE!

Koffee introduced her new song Rapture @ BBC Radio 1Xtra. Watch it below: