Interview with The No-Maddz - Heaven On Earth
06/27/2019 by Munchy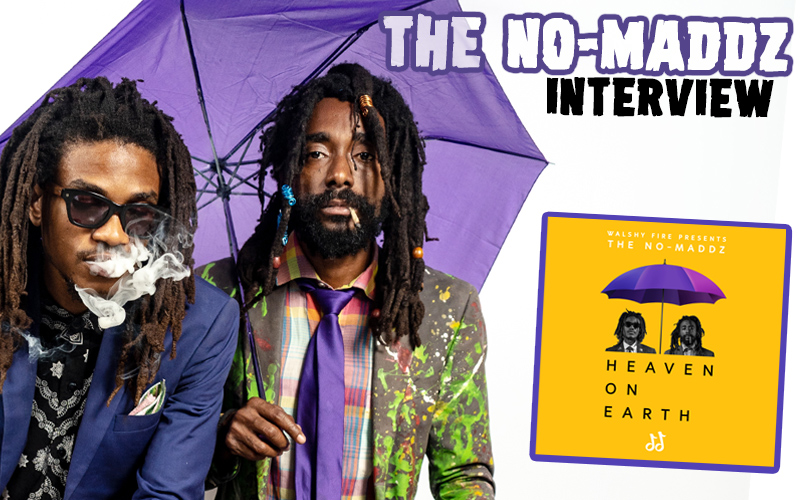 While their number of band members decreased to a duo, the team surrounding the No-Maddz has expanded. For their upcoming album Heaven On Earth they took background vocalists, a number of prestigious feature artists like actor and director Idris Elba, and the progressive producers Walshy Fire of Major Lazer, and Beres Hammond's daughter The Wizard, on their musical trod. Munchy spoke to Sheppie and Evie about their project, set for release in July.
Why did you choose to work with Walshy Fire and The Wizard for your new album? What impact did they have on the works?
Sheppie: Walshy did a lot of work with the other artists coming up on the album. He did some mixtapes earlier and those mixtapes were pretty cool. Me and Evie were reasoning about them and how much we loved the mixtapes. So it's been a while in the making with us and Walshy. We never actually got to sit down until we came around to this project. We had some music from before and we re-recorded them at the Geejam Studio with Mountain Lion Music, the bredrin Keno. We went through some productions where we actually remade some of the tracks. Take for instance the track The Trod. That one is a beautiful remake. After those few days at Geejam, we took the project to Walshy, sent the files to him and The Wizard. They listened through, started to cut and chop and play and style it with their manners, so it's really a collaborative effort where we did our part of the work and they did their part of the work. I remember the first time we had a conversation with Walshy after he listened to our project, and he did a cartwheel in the living room. He said that the project made him feel like he wanted to get up and do something. It gave him energy. We met someone who understood the work that we put in.
Were Walshy and The Wizard given entire creative freedom or did you have some discussions? You two are still the creative directors of Heaven On Earth.
Sheppie: You can't give nobody freedom, freedom is there. But yes, it's a project that we've been working on. I love when people are able to express whenever I am working with them. Because I want the freedom to express as well and I don't really want limitations, I want to try new things. But you can't express out of the parameters, because the parameters already put them into that particular groove. They selected what they wanted out of the myriad of music we sent them and then we worked on those, put what we were hearing, then we gave that to them. They kept some, and some of them they stripped them down all together and remade them. That was the process I was really looking forward to. The ones they kept, me and Evie were familiar with them, but the ones that they stripped down - and they went into different musical fields with some of those, that was pretty cool. I really enjoyed that process.
How would you describe the music and sound of the eleven tracks in your own words? I discovered some Dub, some Hip Hop, Reggae, as well as some intriguing samples and futuristic sounds…
Evie: At the listening party Walshy was trying to tell the people that it's really nothing that you expected, it's not the regular music, it's something that you can't put in a box. You just have to open your mind like an umbrella. So I would say it's the No-Maddz' music, same way.
Being the No-Maddz do you feel kind of obligated to present something different from what everybody else does?
Evie: It's past obligation. There was a consensus that we were going to go very Reggae. And as the process evolved we didn't even know what it was really. It's not even by choice. It's what we represent, it's just roots music in an original form.
What did you focus on lyric-wise? Did you follow a concept or did it fall in place naturally?
Sheppie: I would say definitely both. Before the studio we were preparing, actually from way down, even before 2016 we were preparing the ideas of the songs, the lyrics, and who and what No-Maddz represent, that will always come out when we put forward our material. So, yes it was deliberate, it's really a proposal, somewhat a business proposal and somewhat for us a request to focus more on our similarities, and to open conversation with ones we did not normally open conversations with, and to move forward with a forward state of mind. It has elements of reparatory justice in it, repairing the damage that was done. It has elements of the mind, also the love of life and the love of family within that whole mix. But it also has the rich roots of Dub Poetry. And as you know Dub Poetry is really the observer, the social comment, the No-Maddz travelling.
As dub poets, how do you approach music and writing songs differently? Would you write lyrics independently from the melodies? Give the words a bigger role than the sound?
Sheppie: I think it's total balanced. We have been writing Dub Poetry more often than anything else. Dub Poetry is musical poetry. So you can tell the story within the language and the music that comes with it. But the music comes as a thought, as a sound within thought. When that process starts it comes with various patterns, it comes with various sounds, as colours as well, and it paints a picture before you. I personally cannot say how other persons would think when they are constructing their art, but for me personally in my small corner, it's more of my surroundings, and then something speaks to me and I interpret what I'm hearing. It's not like we went out and planned on doing an album that has these elements of social construct but it happened because of our social construct and we just kind of interpreted what was laid upon us, our consciousness.
Why did you do over the songs Wha Dis, The Trod, and Mountain Lion, that you released on previous records like Sort Out Yuh Life Jamaica!? What is different from the earlier versions?
Evie: Given the evolvement of the No-Maddz it was even necessary for us to build an archive of the sound that we now have, which is me and Sheppie. And then it's much more collaborative effort in terms of vocals and input towards the project. Back then we were not willingly selfish, but we were more selfish with the production because we were young and finding the identity. So now it's a good vibe where we got to have other expertise, input, and ways of looking at it. So that works. It's like being an actor and going through the many different experiences with different directors to express yourself differently.
Sheppie: I also think that not everyone heard the ones we put out in our early days. They are still there, so you can hear the contrast. And we can see how we progress. Because now we are examining the same thing. Many people don't get that chance to do things over. So we look at it in a way where we presented it in one way at a time and then we got the opportunity based on the power of these songs, poems, renditions. The tracks are long time music songs that we used to play at Jamnesia from 2007. To remake them was such an honour. We wouldn't have it any other way. It never finishes. A song is like a painting, like a river with many tributaries.
Evie, you just mentioned it: the band now consists of two members. How come? Where did the way lead the other former members?
Evie: I can only tell what I am sure about, and I am only sure about the Don Shepherd and myself. We've been doing it for a while, about two decades since High School. I think it's just a matter of everybody growing up and it reached a stage where we had to decide to hang on to the dream because our passion for it didn't wear out yet. Especially in terms of the formation, the idea of it. The No-Maddz deserve to be seen and heard by everyone. It deserves to be a part of the creative world because it is significant in terms of what it represents, or what it could represent for future people, future artists or creative persons, what it represents for the industry. It's always special to be in a lane like this where you can be an artist that is memorable and really touching so many different terrains and performing arts, bringing the industry together by the way we approach the different disciplines and put them all together. Just like the Africans did back in the days.
Being a duo now, has it made things like decision-making easier or is it harder to carry the workload with only two people? What do you consider the benefits of the new band format?
Evie: Well, it's kind of obvious when you have a table with just two legs instead of four… We have a lot of help from various people. It's like a tree whose roots don't get destroyed, so it grows new branches and pushes forward same way. We give thanks for the strength that we get so far from our team, also the energy that Walshy Fire and The Wizard came in with. It's a family vibe. We have a lot of youngsters that help us with our social media too. It's a different time now, the social media landscape changed and how you approach the industry is always evolving. It gives us an opportunity to stay closer to the youths, which is very exuberant and life full filling.
As you mention others... You have some guests on the record. Who is on board on songs like Babylon Paper, Wretched, Clarkz Like Dis and Beat Them Down, and why were they featured?
Sheppie: We figured it was the time for it and it all happened very naturally. Take for instance the song Wretched. That song was originally called Electric Ones and we renamed it and worked on it. The Wizard was in the studio and she said she wanted a different hook for this song. I was in Indonesia at the time and Evie sent it to me. I worked on a few hooks, sent them in, but they just weren't saying much. Then Evie asked "Do you think we should ask Kumar to sing on it?" He listened to the song and he came up with the lines because he was reading The Wretched Of The Earth by Frantz Fanon at that time. It is so topical that he just picked the title and turned it into a hook. That was so beautiful and it just happened spiritually. Take for instance with Idris Elba, who is on the album as well. Myself and Idris were in California working on the Yardie film. We were in the studio and had just finished the ADR, the voiceover and he said he was going to another studio, if I wanted to come. I said "Sure, what you talking about?" We jumped into an Uber, went to the studio and he was playing this Hip Hop beat. He asked me if I can work with this and I said "How you mean?" The beat was playing, we were all in the studio writing and Idris said "Yo, do the hook!" So I was doing the hook, Beat Them Down and all of that. When it was time for the album I reached out to him and asked him to send me the project because I wanted to include it. He was happy to do so, sent it to us and we chopped it up, and me and Evie went back into the studio to do some more verses, make it nice, and yeah, that's what we got. The song Beat Them Down was very topical for the album as well because it is saying beat down oppression. So we allowed divine principle to lead us. When something like that happens it's a gift. It's a little nugget from the universe within your journey. Evie and I didn't ask for it verbally but we wanted something like that for the album. Idris is very similar to us because of the art form that we all do. He's into music, we're into music. He's into fashion, we're into fashion. He's into film, we're into film. So it was just a perfect collaboration.
You worked with Idris Elba also as actors for the film Yardie. How did you first meet him and how did you get to collaborate with him for both the film and your track Beat Them Down? How is working with him?
Evie: I met Idris throughout the whole Yardie process. I auditioned and when Idris came to Jamaica it was a surprise because they didn't tell any of the actors about him before. When I came into the room, to my pleasant surprise it was him. He quickly broke the fourth wall of the hype and the celebrity because he is such a cool dude, a nerd, and an actor's director. And he is a super cool bredrin, so the relationship was easy. As Sheppie just said we are kind of the same type of artists, just no-maddic about the talent, not afraid to be involved in anything.
Sheppie: Actor's directors like him, actors who also direct, are sensitive of both areas. They know what's going through the actor's psyche in a particular situation and they have an awareness of how they would structure the environment to make the actor shine best in it. That's also a talent to see these things.
Just like Idris, you have many facets: you are actors, musicians, dub poets, authors… how do you see or introduce yourselves?
Sheppie: No-maddic man! Every one of us has to be No-Maddz, are No-Maddz, and will continue being No-Maddz because when you stop being a No-Madd that is when you decide not to grow and not to learn. That is why this name has been with us for over two decades. Sometimes, honestly, we try to run from ourselves. But as Kumar says "If you run from yourself, you will lose." Our music represents what we think about, who we are and what we feel. That's why we do the music and share it. We are not trying to glorify any particular thing. Or maybe we are… we are glorifying balance and the no-maddic nature of life.
Evie: It is a responsibility, a purpose that we feel, in compatibility with other iconic Jamaican culture representatives like Miss Louise Bennett who is an author, a dub poet, actress, singer… Ranny Williams, Harry Belafonte, Jimmy Cliff, Horsemouth, who was so encouraging because he showed us that it's not limited. That's the direction we want to represent.
What else is coming up, for instance in terms of music videos? A visual for the single In Town is on the way already…
Sheppie: Yes, and another one for Wretched is coming up. It is a very special one we shot in Indonesia with Kumar.
Heaven On Earth is a big title. Why did you choose it?
Sheppie: Is it really? Is it a big title?
Evie: It's a massive title!
Sheppie: All of our titles have this grand feel, like film feel. They are supposed to be synced with a feature film or something. It is not necessarily very deliberate. When we realised it, we started to make it deliberately but initially I guess it's a state of our mind, our mindset. Because we are in theatre and how we were schooled as well. We see things maybe a bit grander. With Heaven On Earth it's really the idea of balance and accepting what is. The idea of being in the present moment totally, which is very hard for most of us to do. That's the kind of feel Heaven On Earth represents.
Is there anything you would like to add to this interview?
Sheppie: Please subscribe to our YouTube channel to follow the no-maddic movement!
Evie: I am just inviting everybody to give us their support. We can't do without that and our music is not lacking of deserving that.