Review
Album Review: Vybz Kartel - of Dons & Divas
06/26/2020
by Steve Topple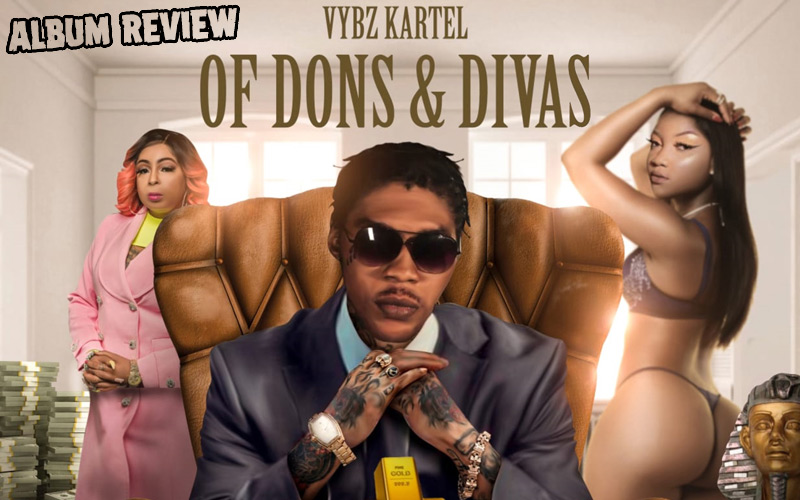 Vybz Kartel is one of the busiest artists in the music business. One check of his YouTube channel sees tracks being dropped week after week. And now, he's back with his second album of 2020. But is it Grammy-worthy, as the Dancehall legend has been touting?
Of Dons & Divas, released via Short Boss Muzik/Vybz Kartel Muzik and distributed by Zojak Worldwide, is a musically and thematically expansive project from Kartel. Moving up and to the side of the RnB/Hip Hop-led vibe of his previous release To Tanesha, the album is undoubtedly Dancehall and Afrobeats-driven. But Kartel (who's the album's main producer) and the executive production team of Zoe Espitia, Tanesha Johnson and Aaron Mahlfeldt have masterfully made it more intricate than that.
The album is spilt into two parts, as per the title: Divas and Dons. These musical acts serve several purposes. First, they split the album into themes. Divas' nine tracks focus on women as a subject, from the overly sexual Cute Rider to the love songs No Prison and the JonFX collab It Was Heaven. Dons then moves Kartel and Co. into broader territory: from the damning (and personal) take-down of the criminal justice system on State Evidence (with Lisa Mercedez), to his and TeeJay's cautious warning to remain humble and charitable even if you're rich in Big Bizniz via Worldboss's scathing analysis of the system – again with Mercedez, some grimy synths and a nod to Kartel's son in the title.
Of Dons & Divas' two thematic parts work well. But Kartel has also used the acts to break the music up, too – with help from Jheneal "Jay Crazie" Witter, who produced beats for the majority of tracks, and the impressive mixing engineer Ricardo "Redboom" Reid.
In short, Divas is undoubtedly lighter and airier in its compositions, their arrangements and overall engineering. Dons becomes heavier, more brooding – almost unsettling at times. And both match the subject matters well. But here's where the album gets interesting. Because labelling it as just a Dancehall album really doesn't do it justice.
Modern Dancehall with its ostensibly Afrobeats influences features heavily. Nice Tingz is full-on 2020, with its broken clave ('oneeeeee-twooo-andddddd-three-four'), stabbing strings and some gorgeous, traditional Afrobeats horns to boot. Dons & Divas with the sensational Danii Boo slows things down. And Depend on You with Sikka Rymes smooths the Afrobeats out into something more soulful, as does the JonFX-featured Stay with Me.
Trap is another big influencer across Of Dons & Divas. It's clear from It Was Heaven with its furious, rapid-fire buzz rolls on the snare, which also feature elsewhere - including on and the album's closer, Jump on the Beat with Likkle Vybz and Squash. But RnB also gets a look-in – not least on Bad Gyal, with beats from Guala Beatz. Kartel, along with Skillibeng, Jucee Froot and Tommy Lee, are on fire across Trap and Afrobeats' percussive devices that merge with RnB arpeggio (broken) chords on guitars and a grimy bass that hits two beats in the bar.
Pretty Butterfly with Lisa Hyper is a stroke of genius. It takes the album back to its Dancehall roots, with a pure Sound System vibe going on - complete with a rich, resonating full bass clave, keys on a bubble rhythm and the focus on one root chord. And Cute Rider's Reggaeton Mix from producer JonFX and engineer Jimmy Douglas is pure class.
Meanwhile, Militant Coup from beatmaker Dan Sky and featuring Likkle Vybz, Likkle Addi and Slimatic, is one example of the fusing of Toronto Hip Hop/RnB into the mix, with the heavy use of reverb, otherworldly synths and excessive vocoder – plus an 808 hitting the one, four and some offs. Presidential, with Rymes once more, has this vibe too.
Then, what Kartel has also done so masterfully (and commendably) is to expand the Dons and Divas theme into the roster of artists he's included on the project. The album is not only a vehicle for him, but also one to showcase up-and-coming talent, all of whom impress. Not least among these is Mercedez, who's intricate and powerful vocal and singjay styles are unique and really pleasing. Likkle Vybz and Likkle Addi have obviously inherited their father's artistry. And Rymes is a forceful, controlled and emotive artist.
Kartel is, of course, also at the top of his game; perhaps none more so than on Say a Praya, again gorgeously produced by JonFX. It's pure Afrobeats meets RnB; an 'Afroballad'. The triple time hi-hat rolls and snare rim clicks on the two and four plus the offs and transport you to the modern Motherland, as does the synth balafon. But the inclusion of a delicate piano and acoustic guitar line, plus the syncopated bass on a lower dB, hammer home the RnB ballad vibe. And Kartel is perfection, personified - showcasing his skill as a vocalist with intuitive use of intonation and some emotive changes in embouchure ('say' becomes 'sahy' to phonetically sound more like 'prayer', with 'for' becoming 'fwor' to enhance this). Moreover, he's lyrically vulnerable, has he muses "I'm writing this with tears in my eyes". No vocal engineering in sight, either – just a stunningly created track.
And this more delicate side perhaps sums-up well what Kartel has skilfully done with the album as a whole. Because he's mixed more bruk-out tracks with some scorching, conscious cuts to give a balanced and detailed project; one that's not 'in-your-face' message music – but it still makes you contemplate.
Of Dons & Divas is perhaps Kartel's strongest work to date. Unlike many albums from Dancehall artists, there are no filler tracks. Each one is top class across all measures; perhaps an indication of the thought that's gone into this. Its mix of styles, genres and subject matters is revelatory. And Kartel shows no signs of diminishing talent. A masterclass in what modern Dancehall artists should be producing, and one of the albums of the year. Perfect – so, where's the Grammy?

---
Release details
Vybz Kartel - Of Dons & Divas
DIGITAL RELEASE
Release date: 06/26/2020
Tracks
01. Nice Tingz Intro (Divas)
02. Nice Tings (Divas)
03. Cute Rider Intro (Divas)
04. Cute Rider (Divas)
05. Bad Gyal feat. Skilliebeng, Jucee Froot & Tommy Lee (Divas)
06. Say A Praya (Divas)
07. No Prison (Divas)
08. Pretty Butterfly feat. Lisa Hype (Divas)
09. Love Things Solved feat. Sikka Rymes (Divas)
10. It Was Heaven (Divas)
11. Presidental feat. Sikka Rymes & Daddy1 (Dons)
12. State Evidence feat. Lisa Mercedes (Dons)
13. Militant Coup feat. Likkle Vybz, Slimativ & Likkle Addi (Dons)
14. Depend On You feat. Sikka Rymes (Dons)
15. Worldboss feat. Lisa Mercedes & Redboom (Dons)
16. Dons & Divas feat. Danii Boo (Dons)
17. Big Bizniz feat. Teejay (Dons)
18. Jump On The Beat feat. Liklkle Vybz & Squash (Dons)