Review
Album Review: Vybz Kartel - King Of The Dancehall
06/10/2016
by Dan Dabber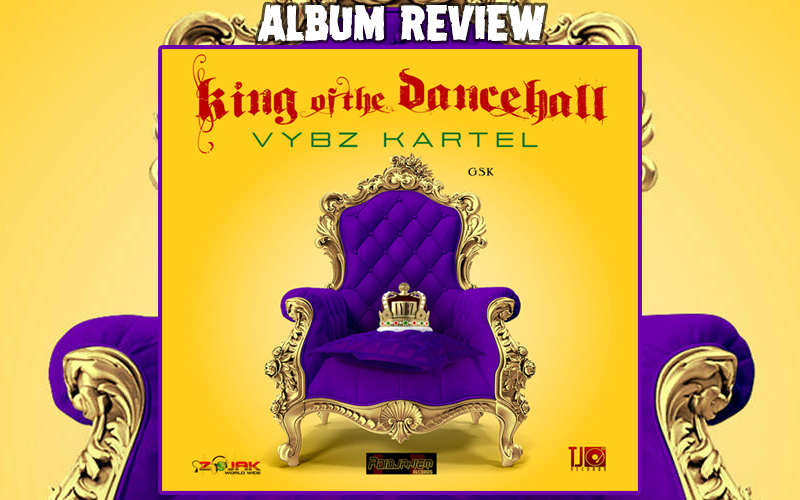 When Beenie Man released the single King Of The Dancehall in 2004, he was arguably the artist most worthy of the title. Similarly, Sean Paul, who Billboard anointed "king of dancehall" in an article about Rihanna's Work from early March, enjoyed the peak of his success over a decade ago. While Beenie Man and Sean Paul were getting plays on US urban radio in the early-to-mid aughts, a celebrated lyricist named Vybz Kartel was just coming into his own as a major presence on the dancehall scene. With inexhaustible talent and a larger-than-life personality, Kartel quickly became the most important figure in Jamaican music - inspiring a love in his fans beyond the music. He challenged the norms of Jamaican society with taboo lyrics and with his celebration of skin bleaching. He became a divisive figure in dancehall culture for five years during which he and Mavado played out one of the longest and most infamous rivalries in musical history. He was arrested in 2011 and subsequently found guilty of murder, but has, against all odds, maintained his dominant role in the genre, although he has been incarcerated for almost half a decade. While he serves a 35-to-life sentence, he continues to make music, creating songs that are consistent hits in Jamaica and within the global dancehall community.

Aside from Kartel's folk hero status and amazing professional accomplishments, the title of his newest album, King Of The Dancehall, would ring hollow were it not for the incredible music on the release. Not every song will appeal to every listener, but the production is rock solid and Kartel is as brilliant and dynamic as he has ever been, cementing the inevitable fact that this album will have a large impact on dancehall in 2016. Self-anointed appellations from Kartel's past like Dancehall Hero, Di Teacha, and World Boss are as relevant now as they were when he first uttered them, and Vybz Kartel as King Of The Dancehall seems like the proper progression for both the title and the artist.

Though some listeners may have reservations about Kartel's right to the throne, King Of The Dancehall has a variety of extraordinary heat to convince them otherwise. From softer tunes like the opening track, Colouring This Life, to more streetwise songs like Enemy Zone, Kartel does it all. The first single from King Of The Dancehall, Fever, is one of the highlights of the album, showcasing World Boss' signature gyal lyrics over a poppy, synth-driven riddim laden with arpeggiators and panning effects. Both Fever and the second single, Western Union, were released prior to the album and Fever has already caught a buzz in the dance. Western Union is a more serious piece than Fever and thus is probably less likely to take off with the party-centric dancehall market, but it is still another brilliantly written and expertly delivered Kartel masterpiece.

The track Most Wanted stands out because of its unique production and because it contains some of Kartel's most aggressive lyrics on the album. His delivery is also in rare form on this song, calling upon several of his patented styles to match the intense energy of a dark, edgy riddim built from an exotic, distortion-heavy drum kit. Despite its minimal instrumentation, the bass line, organs, and sexy narrative of Hey Addi make it another tune with undeniable appeal. Kartel's relaxed, playful delivery effortlessly floats on the riddim, and becomes extra potent when juxtaposed with the uncredited female vocalist who provides the counterbalance to both the story and World Boss' vocals. The song that best shows Kartel's full range of vocal acrobatics is Open Up Di Door, a harsh reality tune framed as a promise from son to mother to provide a better life for the family. The singjay's approach on the track is much more sing' than 'jay, which leaves the song, complete with sentimental piano and prominent back up vocals, bordering on R&B or contemporary gospel. Kartel actually sings on several tracks from King Of The Dancehall, and despite being the biggest reach for the artist vocally, he has an uncanny knack for melody and his singing rarely feels awkward or forced.

In order to put Vybz Kartel's immense talent and cultural impact in some context for those unfamiliar with dancehall, I can only reference the King Of Pop as a ready musical analogy. They have similar catalogues in terms of volume and variety, and it is all better than pretty much everybody else's music. Other notable similarities include their practice of skin bleaching (though World Boss has extolled its virtues, the King of Pop never publicly admitted to it), their armies of obsessed fans, and their criminal trials with attendant media storms. Kartel is that level. He is superhuman. He IS a king. King Of The Dancehall both proclaims and proves that. Perhaps even more awe-inspiring - all the tracks from his newest album were recorded BEFORE he was incarcerated, even though Kartel is still recording music in prison. Whether he remains locked up for the duration of his sentence or, as his many legions of devoted subjects hope, he is released back to his kingdom, he will continue to rule dancehall in 2016 with songs recorded half a decade ago, while one-dimensional, over-the-hill artists still try to figure out how to sound future. Vybz Kartel is lightyears beyond any potential rivals to the dancehall throne. All hail the king!
---
Release details
Vybz Kartel - King Of The Dancehall
DIGITAL RELEASE [TJ Records, Adidjahiem Records]
Release date: 06/10/2016
Tracks
01. Colouring This Life
02. Every Girl
03. Lipstick
04. Fever
05. Can't Say No
06. Don't Know Someeone
07. Hey Addi
08. Open Up Di Door
09. Most Wanted
10. Enemy Zone
11. Like Google
12. Sorry Babe
13. Western Union
14. Which Friend