Vybz Kartel - Voice of the Ghetto: Preview of Chapter One - Thank You Jah
06/04/2011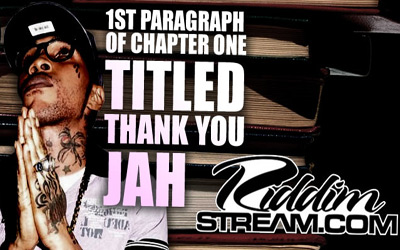 After announcing the release of his book Voice of the Ghetto (July 23rd 2011), we will get now the first preview of the upcoming book by Vybz Kartel.
Chapter One: Thank You Jah
I start this book as I start each day of my life, with a "Thank you Jah" for giving Adidja Palmer the inspiration to be Vybz Kartel; may the words on the pages of this book be well received, may it touch the heart of the oppressors of my people so that they may treat the poor with compassion. May it be a tool that Society will utilize to understand ghetto livity so that you may change your impression of us and start treating ghetto people with respect whether they are your helpers, gardeners, bar maids, drivers or any marginalized person in Jamaica.
May it reach the desks of the prison officials so that they may implement more humane and positive procedures in our jails so that our people can be welcomed back into society after they have done their time. May it be a reference point for Jamaican males that have never taken the time to understand what our mothers, baby mothers, sisters and women in general go through. Most of all, may it be a source of motivation for my people especially the young ones as they find their way through life in this lovely place Xaymaca, its original name before the genocidal Christopher Columbus came to plunder and destroy an entire Amerindian people under the guise of Christianity.
It is with this hope that I have taken the time to write this book in between my musical career and my role as father, son and baby father; I ask that this book is blessed. The hate from the haters is expected but guess what, Kartel sending you a blessing too because the Gaza nuh bad mind. Come on, I know you going to read this book, that's okay with me, the only way we can have a better Jamaica is if we spend the time learning from each other.[…]
Exclusive preview by riddimstream.com