Reggaeville Riddim Corner #7 [June 2015]
07/11/2015 by Dan Dabber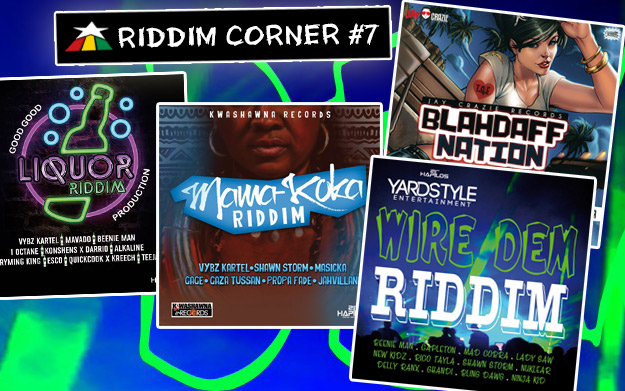 WIRE DEM RIDDIM
Yard Style Entertainment is fresh to the scene, but they are quickly building a catalogue of quality dancehall jugglings. Their newest riddim, Wire Dem, was released in early June and is the most recent in a string of riddims that the young label has put out so far in 2015. JJ Wizzle, the radio DJ who founded Kingston-based Yard Style, was once an engineer for Konshens' Subkonshus Music imprint, but this year he has struck out on his own with Yard Style and production partner Rico Tayla.

Wire Dem is the most aggressive riddim so far from Wizzle and Tayla. Their previous jugglings, Chill Out, Pure Pleasure, and Sweet Escape, leaned more to the sexy side of dancehall, featuring sultry instruments, like piano and acoustic guitar, set to a slower tempo.
Wire Dem is more synth-heavy and it depends heavily upon the drums and bass to push the energy up. This riddim exudes power and bravado but it also has a fun side, as its greatest strength is its infectious danceability. Another huge draw for Wire Dem is the artiste roster that it boasts. Dancehall's undisputed queen, Lady Saw, appears with a sexy tune called Last Night, and we also hear from other established icons like Capleton, Bling Dawg, and Delly Ranx. Mad Cobra's tune, If You Bad, makes interesting use of the contrast between Cobra's singing and chatting style and is probably the "baddest" tune on the juggling, taking full advantage of the mean side of this riddim. Beenie Man also contributes a killer selection, Naa Stress, which is carried by one of Beenie's money-making choruses. This song epitomizes the lighter take on this riddim and is good enough to possibly make a mark in the months to come.


MAMA KOKA RIDDIM

Kwashawna Records is Shawn Storm's imprint and, although Storm received a life sentence alongside Vybz Kartel for the murder of Clive "Lizzard" Williams, Kwashawna has been more prolific than at any other time in their six year history. In addition to several singles that have been released over the last year, Kwashawna has also dropped the Tanbad Riddim, Kuminar Riddim, and most recently, the Moma Koka Riddim. Moma Koka is rather simple in terms of its components and structure, but the overall effect is laidback, opulent, and party-centric. The syncopated strings provide a bouncy backbone that is club appropriate, but they also carry a classical tone as well, conjuring visions of expensive champagne, chandeliers, and designer tuxedos. Mama Koka also features some very distinct drum programming that balances all that class with some grit. The entire cycle culminates in powerful pitched-down drum fills that serve to release tension and to set up the next movement.

A couple of lesser-known artistes made some big contributions to the seven-song juggling. Gaza Tussan provided a Popcaan-like flow for his tune, Gaza Badness, and Propa Fade put forth a top notch performance on Gal Pulla, which is surprisingly the only "gyal chune" on what seems to be a riddim tailor-made for dancehall's sexiest sub-genre. Like Tussan, most artistes chose to come with a more gangster approach for this riddim, like Masicka and Gage, who are two of the bigger names on the release. Of the two, Gage's version, Nuh Lef This, stands out the most because his style and lyrical prowess is showcased nicely by some slight customizations that were applied to his version only. Incarcerated Kwashawna founder, Shawn Storm, also employed a gangster perspective for the titular Mama Koka track, which is rich with details and storytelling. However the power of Worl' Boss is unsurpassed, making Vybz Kartel's Everybody, a clever and playful hybrid of a money tune and a badmind tune, the one to watch from this juggling.


LIQUOR RIDDIM
When Satday and Zum aren't producing Brit Jam, their massive annual spring party in Montego Bay, they are producing records for their Good Good Productions label. With riddims like Happy Tyme, Real Estate, and Brit Jam Flesh under their belt, their impact on the scene continues to grow, and their newest release, Liquor Riddim, has all the ingredients for an iconic summer cocktail. There is nothing musically novel about Liquor Riddim. The genius of the production lies in how well it employs previously established dancehall trends to create a riddim with broad appeal and massive pop potential. Good Good blends an intoxicating combination of happy piano chords, dizzying arpeggiators, and dreamy filters balanced with drums and bass that provides a steady and energetic propulsion to the riddim. The perfect soundtrack for any pool or beach party,
Liquor Riddim boasts an amazing line up of contributing artistes including top names like Beenie Man, Mavado, and Vybz Kartel. While Kartel's Party and Mavado's My League are likely the top two selections from the Liquor juggling, the true strength of this riddim is in the depth of its versions. For the dancers, Quick Cook and Kreecha's Back On The Floor may get the party started and, if you are the type that needs a YOLO pep talk to let loose, I-Octane's got you with One Life. Alkaline keeps the energy skybound with his catchy contribution, Up, but Beenie Man is a little more serious on Jamaica, an anthem-by-design that is both critical of Jamaican politics and proud of the resilience of the island's amazing people. This riddim is likely to hit heavy rotation status worldwide if it has not already done so.


BLAHDAFF NATION RIDDIM
Raytid is an up-and-coming artiste that took his career to the next level this past spring with his single, Blah Daff, and the dance craze it inspired. A sexy track made to provoke movement, Blah Daff was jointly produced by two dancehall labels on the rise, SocialYaad Records and JayCrayzie Records. The instrumental featured elements of dancehall, soca, and EDM, including a repetitive scratch pattern that anchors the hook in a disorienting sea of strings, bell hits, and tom tom flurries. The true spark that lit the Blah Daff fire was the extremely talented Raytid and, while the track is rather gimmicky, there is no doubt that the single has already made a significant impact on dancehall. JayCrazie is smart enough to know that you cannot have too much of a good thing. The label's newest project is called Blahdaff Nation and, although the riddim is not the same instrumental over which the Blah Daff single was voiced, the spirit of the original production is present in the most recent release. Somewhat less reliant on EDM influences,
Blahdaff Nation is more melodic and built with a more complicated chord structure. The riddim is very close to the same tempo as the Blah Daff single, with very similar drum patterns. It is also fitting that one of the top selections of the juggling, Wuk, Wuk, is by none other than Raytid. The other song on Blahdaff Nation that may compete with Wuk, Wuk for top selection is RDX's Climb, Bubble & Back It Up, which, like the Raytid contribution, is a track lyrically dedicated to the noble cause of inspiring ladies to dance. Keeping with the original Blah Daff theme, most of the tracks in this juggling are overtly aimed at that goal, including Demarco's Yuh Nuh Dead and Voicemail's Bicycle Wine, both quality versions that flesh out the riddim. In addition, a couple of breakout artistes featured on Blahdaff Nation gave unpredictably solid performances. Rhogue's All Eyes This Way and Devin Di Dakta's Run Mi Down are both nice selections that will fit well into any selector's Blahdaff Nation mix up.



These four June releases are perfect for pool parties and other summer fare, but they also have another very important thing in common… 21st Hapilos. Now the top distributor of reggae and dancehall music worldwide, New York-based 21st Hapilos first appeared in 2009 and helped the genre usher in the digital age by giving small, production-focused labels assistance with digital distribution and promotion. Previous to Hapilos' existence, reggae and dancehall fans did not have an option for legally purchasing most contemporary music in an MP3 format. Conversely, many of the financially-strapped small labels making reggae and dancehall did not have the necessary means to press vinyl or print CDs and bring their music to market. In fact, a decade ago it is likely that the above riddims would have been pressed in limited numbers to 7" vinyl and stocked in only a handful stores outside of the Caribbean, possibly available to order on one of the few websites worldwide that sold such records. Thanks to 21st Hapilos, anybody needing a killer soundtrack for their pool party this summer will just have to log in to their iTunes or Amazon account.

LISTEN TO THE MIX